Three don't-miss collections from rising stars.
Click here for additional new Prepub Alert columns
Orhan, Kenan. I Am My Country: And Other Stories. Random. Apr. 2023. 240p. ISBN 9780593449462. $27. LITERARY/SHORT STORIES
Setting his stories in a Turkey submerged in oppression yet rimmed with absurdist, even magical touches, O.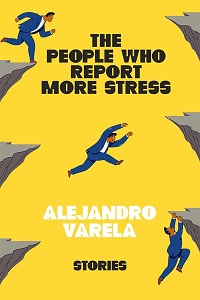 Henry Award winner Orhan debuts with a collection of new and previously published stories, one of which appeared in 2022 Best American Short Stories. Here, a florist trains a stray dog to blow up a corrupt president, an impoverished cage-maker uses his gift for speaking to birds as he courts a childhood sweetheart on the eve of the 1955 Istanbul pogrom, and a garbagewoman who finds banned instruments and eventually their players dumped in the trash brings them home to form a secret orchestra.
Porter, Andrew. The Disappeared: Stories. Knopf. Apr. 2023. 240p. ISBN 9780593534304. $27. Downloadable. LITERARY/SHORT STORIES
Pushcart and Flannery O'Connor honoree Porter follows up his debut novel, In Between Days, with a collection featuring characters dealing with loss, loneliness, and troubled relationships. Among them are a father missing the closeness he once shared with his son and a troubled soul who becomes dangerously intertwined with a married couple
Varela, Alejandro. The People Who Report More Stress: Stories. Astra House. Apr. 2023. 256p. ISBN 9781662601071. $26. LITERARY/SHORT STORIES
Having debuted with The Town of Babylon, recently long-listed for the 2022 National Book Award for Fiction, Varela returns with a collection of interconnected stories focusing with bite and humor on parenting, relationships, racism, and class conflict. Among its characters are a queer man hunting for a partner, a restaurant worker trying to earn extra money so that he can move his family to the suburbs, and a childcare worker in Sweden trying to teach his charges Spanish while carefully observing the well-to-do in his employees' coop building.