Click here for additional new Prepub Alert columns
Bullwinkel, Rita. Headshot. Viking. Mar. 2024. 224p. ISBN 9780593654101. $28. MARRIAGE
From personal tragedy to family expectations to the desire simply to be the best, eight teenage girl boxers each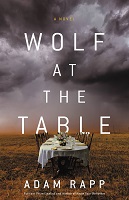 have their own reasons for competing in a national competition held in Reno, NV. Whiting Award winner Bullwinkel, who won the Believer Book Award for her collection Belly Up, articulates the tensions and sheer physical joy they experience.
Hazell, Lottie. Piglet. Hot. Mar. 2024. 320p. ISBN 9781250289841. $27.99. Downloadable. POP
A rising-star cookbook editor in London, Piglet is about to get married to upper-class fiancée Kit and loves everything about her life except maybe her childhood nickname. Then, two weeks before the wedding, Kit confesses to a betrayal, and Piglet doesn't know how to proceed—except now she's suddenly really, really hungry. Bought at auction and one of the publisher's biggest 2024 fiction titles; with a 100,000-copy first printing.
Kuku, Damilare. Nearly All the Men in Lagos Are Mad: Stories. HarperVia. Mar. 2024. 256p. ISBN 9780063316362. $26. SHORT STORIES
A hardworking woman protects her business interests by defusing allegations that her pastor husband has cheated. Another threatens to cut off her slovenly husband's penis if he doesn't shape up. Yet another, fed up with Nigerian men, decides to date only white men but finds they're just as bad. Kuku's boldly envelope-pushing collection was a huge hit in her native Nigeria. With a 40,000-copy first printing.
Lee, Ela. Jaded. S. & S. Mar. 2024. 336p. ISBN 9781668010990. $27.99. COMING OF AGE
The daughter of immigrant parents, stuck with a Starbucks name (something many children of immigrants can claim), Jade has worked hard to succeed at her London law firm. Now, with no memory of getting home from a work gala, she's worried that she's blown it all. London-based Lee's parents emigrated from South Korea and Turkey.
Rapp, Adam. Wolf at the Table. Little, Brown. Mar. 2024. 400p. ISBN 9780316434164. $30. Downloadable. FAMILY
Haunted by a triple murder that occurred down the street in the 1950s, the Larkin children spin far from home when they grow up, with Myra serving as a prison nurse, sisters Lexy and Fiona washing up on opposite sides of the class-and-power divide, and former altar-boy Alex thrown out of the house and drifting. Then their mother starts receiving threatening postcards, with a hint that there's a serial killer in their midst. From Pulitzer Prize and Tony Award finalist Rapp.
Wan, Sophie. Women of Good Fortune. Graydon House: Harlequin. Mar. 2024. 336p. ISBN 9781525804304. $28.99. FRIENDSHIP
Lulu is not in love, but how can she refuse when one of Shanghai's most eligible bachelors unexpectedly proposes? It will help her struggling parents, and the wedding will be the event of the season. But Lulu's not ready for marriage and with two friends, career-focused Rina and unhappily married Jane, plans to steal the wedding money on the big day to achieve their own dreams. Lots of in-house excitement; with a 100,000-copy first printing.
Yablon, Hillary. Sylvia's Second Act. Pamela Dorman: Viking. Mar. 2024. 368p. ISBN 9780593493618. $29. POP
When 63-year-old Sylvia discovers her husband cheating on her at their Boca Raton retirement home, she does what any sensible woman would do. Realizing that she's fed up with her life, she escapes Florida with widowed best friend Eva for ever-exciting New York, never mind the shrimp-sized apartment she lands. She even revives her old wedding-planning business, but she's not so sure about dating. Billed as the perfect book club book.