Click here for additional new Prepub Alert columns
Alexander, Kwame. Why Fathers Cry at Night: A Memoir in Love Poems, Recipes, Letters, and Remembrances. Little, Brown. May 2023. 256p, ISBN ‎9780316417228. $28. MEMOIR
Biggs, Joanna. A Life of One's Own: Nine Women Writers Begin Again. Ecco. May 2023. 288p. ISBN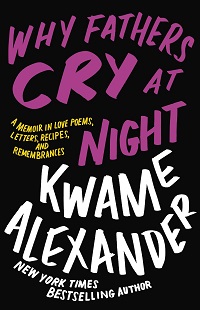 9780063073104. $28.99. MEMOIR
Ellison, Mark. Building: A Carpenter's Notes on Life & the Art of Good Work. Random. May 2023. 304p. ISBN 9780593449127. $28.99. MEMOIR
Ford, Leon with Jeffrey Renard Allen. An Unspeakable Hope: Brutality, Forgiveness, and Building a Better Future for My Son. Atria. May 2023. 320p. ISBN 9781982187279. $28.99. MEMOIR
James, Aurora. Wildflower: A Memoir. Crown. May 2023. 272p. ISBN 9780593239452. $27. MEMOIR
Kelly, Minka. Tell Me Everything: A Memoir. Holt. May 2023. 288p. ISBN 9781250852069. $28.99. Downloadable.
Lagoze, Miles. Whistles from the Graveyard: My Time Behind the Camera on War, Rage, and Restless Youth in Afghanistan. One Signal: Atria. May 2023. 320p. ISBN 9781668000038. $29.99. MEMOIR
McCarthy, Andrew. Walking with Sam: A Father, a Son, and Five Hundred Miles Across Spain. Grand Central. May 2023. 240p. ISBN 9781538709207. $28. MEMOIR
Ng, Fae Myenne. Orphan Bachelors: A Memoir. Grove. May 2023. 256p. ISBN 9780802162212. $27. MEMOIR
Pittard, Hannah. We Are Too Many: A Memoir [Kind of]. Holt. May 2023. 224p. ISBN 9781250869043. $26.99. MEMOIR
Possanza, Amelia. Lesbian Love Story. Catapult. May 2023. 288p. ISBN 9781646221059. $27.
Rannells, Andrew. Uncle of the Year: And Other Debatable Triumphs. Crown. May 2023. 256p. ISBN 9780593443439. $28. MEMOIR
Zara, Christopher. Uneducated: A Memoir of Flunking Out, Falling Apart, and Finding My Worth. Little, Brown. May 2023. 272p. ISBN 9780316268974. $29. MEMOIR
In Why Fathers Cry at Night, Newbery Medalist and New York Times best-selling author Alexander (Swing) blends memoir and love poems, recalling his parent and his first years of marriage and fatherhood as he ponders learning to love (50,000-copy first printing). After abandoning her marriage as the wrong path, Biggs looked at women from Mary Wollstonecraft to Zora Neale Hurston to Elena Ferrante as she considered how to find A Life of One's Own. A celebrated New York–based carpenter (e.g., his iconic Sky House was named best apartment of the decade by Interior Design), self-described serial dropout Ellison recounts how he found his path to Building. Shot five times at age 19 by a Pittsburgh police officer (a case of mistaken identity that amounted to racial profiling), Ford awoke paralyzed from the waist down and learned he was a new father; a decade later, he recounts his path to social activism and An Unspeakable Hope for himself and his son. From the first Black American female designer to win a CFDA Award, Wildflower takes James from high school dropout to designer of a sustainable fashion line showcasing traditional African design to founder of the booming social justice nonprofit Fifteen Percent Pledge (businesses pledge to dedicate 15 percent of their shelf space to Black-owned brands). Minka's fans will proclaim Tell Me Everything when they pick up her hand-to-mouth-to Hollywood memoir (30,000-copy first printing). In Whistles from the Graveyard, which aims to capture the experience of confused young millennials in the U.S. Marines, Lagoze recalls serving as a combat cameraman in the Afghan War and witnessing both bonding with locals against the Taliban and brutality toward innocent people by young men too practiced in violence. To cement ties with his eldest son, star of Netflix's hit Dead to Me, veteran actor and New York Times best-selling author McCarthy found himself Walking with Sam along Spain's 500-mile Camino de Santiago. A first-generation Chinese American with a seafaring father and a seamstress mother, Pen/Faulkner Award finalist Ng (Bone) recounts being raised in San Francisco's Chinatown by the community's Orphan Bachelors, older men without wives or children owing to the infamous Exclusion Act. Thought-provoking novelist Pittard ( Reunion) turns to nonfiction with We Are Too Many, an expansion of her attention-getting Sewanee Review essay about her husband's affair with her best friend (80,000-copy first printing). Delighted by all the queer stories she encountered when she moved to Brooklyn, book publicist Possanza uses Lesbian Love Story to recover the personal histories of lesbians in the 20th century and muse about replacing contemporary misogynistic society with something markedly lesbian. In Uncle of the Year, Tony, Drama Desk, and Critics Choice Award nominee Rannells wonders at age 40 what success means and whether he wants a husband and family; 19 original essays and one published in the New York Times. Describing himself as Uneducated (he was tossed out of high school and never went to college), Zara ended up as senior editor at Fast Company, among other leading journalist stints; here's how he did it (30,000 copy first printing.)