Buffalos and alligators, aliens and onions, science and technology.
Click here for additional new Prepub Alert columns
Duncan, Dayton & Ken Burns. Blood Memory: The Tragic Decline and Improbable Resurrection of the American Buffalo. Knopf. Oct. 2023. 352p. ISBN 9780593537343. $40. HISTORY/SCIENCE
Frank, Adam. The Little Book of Aliens. Harper. Nov. 2023. 256p. ISBN 9780063279735. $27.99. CD. SPACE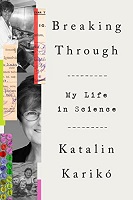 SCIENCE
Galizia, Paul Caruana. A Death in Malta: An Assassination and a Family's Quest for Justice. Riverhead. Nov. 2023. 304p. ISBN 9780593543733. POLITICAL SCIENCE
Golbeck, Jen & Stacey Colino. The Purest Bond: Understanding the Human-Canine Connection. Atria. Nov. 2023. 256p. ISBN 9781668007846. $28. PETS/DOGS
Graff, Garrett M. UFO: The Inside Story of the US Government's Search for Alien Life Here—and Out There. Avid Reader: S. & S. Nov. 2023. 368p. ISBN 9781982196776. $30. HISTORY
Karikó, Katalin. Breaking Through: My Life in Science. Crown. Oct. 2023. 336p. ISBN 9780593443163. $28. Downloadable. MEMOIR/MEDICINE
Kurlansky, Mark. The Core of an Onion: Peeling the Rarest Common Food—Featuring More Than 100 Historical Recipes. Bloomsbury. Nov. 2023. 256p. ISBN 9781635575934. $28. COOKING/HISTORY
MacLean, Harry N. Starkweather: The Untold Story of the Killing Spree That Changed America. Counterpoint. Nov. 2023. 432p. ISBN 9781640095410. $30. TRUE CRIME
Renner, Rebecca. Gator Country: Deception, Danger, and Alligators in the Everglades. Flatiron: Macmillan. Nov. 2023. 288p. ISBN 9781250842572. $29.99. NATURE/CONSERVATION
Safina, Carl. Alfie and Me: What Owls Know, What Humans Believe. Norton. Oct. 2023. 352p. ISBN 9781324065463. $32.50. NATURE/BIRDS
Suleyman, Mustafa with Michael Bhaskar. The Coming Wave: Technology, Power, and the Twenty-first Century's Greatest Dilemma. Crown. Sept. 2023. ISBN 9780593593950. $32.50. Downloadable. TECHNOLOGY
Tree, Isabella & Charlie Burrell. The Book of Wilding: A Practical Guide to Rewilding, Big and Small. Bloomsbury. Oct. 2023. 560p. ISBN 9781526659293. $40. NATURE/CONSERVATION
In Blood Memory, Duncan (Out West) joins forces with award-winning producer/director Burns to unfold the story of the buffalo—the Western Hemisphere's largest land animal—from its prehistoric beginnings to near-extinction owing to white settlers to complicated rescue in recent years (281 four-color photographs). University of Rochester astrophysicist Frank answers all your questions about humanity's search for extraterrestrial life in The Little Book of Aliens (50,000-copy first printing). In A Death in Malta, multi-award-winning journalist Galizia profiles his journalist mother, Daphne Caruana Galizia, whose efforts to expose corruption in Malta led to her assassination in 2017; also addressed, the family's struggle to hold someone accountable. A computer science specialist whose social media platform, Golden Ratio, celebrates her many golden retrievers, Golbeck joins with health/psychology journalist Colino to provide scientific evidence that dog companionship—what might be called The Purest Bond —is really good for us. Author of the New York Times best-selling The Only Plane in the Sky, Graff moves from the Cold War to the Pentagon's Advanced Aerospace Threat Identification Program to chronicle the U.S. government's hunt for life in space. In Breaking Through, biochemist Karikó explains how her research (and longtime perseverance as both a scientist and an immigrant from postwar Hungary) led to the COVID vaccine. As with Cod and Salt, the New York Times best-selling, James Beard Award–winning Kurlansky homes in on something singular—The Core of an Onion—as he runs through every climate and culture worldwide to explain why Julia Child once proclaimed, "It is hard to imagine a civilization without onions." From the Edgar Award–winning MacLean (Broad Daylight), Starkweather presents new information regarding 19-year-old Charles Starkweather's rampage through 1958 Kansas, where he dispatched the parents and sister of 14-year-old girlfriend Caril Ann Fugate and others they encountered as they fled. In Gator Country, National Geographic contributor Renner tells the story of Officer Jeff Babauta, who sought to protect nature by infiltrating the underground world of alligator poaching in Florida (150,000-copy first printing). With Alfie and Me , ecologist Safina relates bonding with an injured baby owl he and his wife rescued and what it taught them; now freed, Alfie continues to visit them as she raises her own brood (eight pages of color photos). Cofounder of the AI company DeepMind, Suleyman reflects on the dangers posed by fast-developing technologies—and our complete lack of preparedness—in The Coming Wave. The author of Wilding, which has sold a quarter of a million copies worldwide, Tree joins with ecologist husband Burrell to give us The Book of Wilding—practical advice on helping nature revive by rewilding failing farms, landed estates, allotments, churchyards, urban parks, public spaces, and even window boxes.