Historical depth, depth in writing.
Click here for additional new Prepub Alert columns
Diop, David. Beyond the Door of No Return. Farrar. Sept. 2023. 256p. tr. from French by Sam Taylor. ISBN 9780374606770. $27. LITERARY
Author of the scorching At Night All Blood Is Black, an International Booker Prize winner and LJ Best Book, Diop's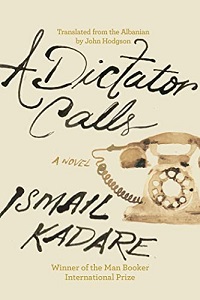 latest chronicles celebrated 1700s botanist Michel Adanson's search for the mysterious Maram, a noblewoman from the African kingdom of Waalo who was sold into enslavement but escaped to a remote village. His journey through Senegal, where Diop was raised, limns the atrocities of French colonialism and the depths of human passion. With a 25,000-copy first printing.
Groff, Lauren. The Vaster Wilds. Riverhead. Sept. 2023. 272p. ISBN 9780593418390. $28. LITERARY
A three-time National Book Award finalist and New York Times best-selling author, Groff returns with the story of a servant girl who flees her settlement in U.S. colonial days with the aim of making a life for herself in the wilderness. What she finds is something far beyond what she ever imagined and compels her—and surely readers with her—to rethink everything she's been taught.
Kadare, Ismail. A Dictator Calls. Counterpoint. Sept. 2023. 256p. tr. from Albanian by John Hodgson. ISBN 9781640096080. pap. $16.95. LITERARY
Winner of the inaugural Man Booker International Prize, Albanian author Kadare considers the ramifications of a momentous three minutes in history—Joseph Stalin's call to Boris Pasternak to ask what he thought about the arrest of the remarkable poet Osip Mandelstam. Reconstructing the reactions of witnesses, reporters, other writers, friends, lovers, and KGB archivists, Kadare plumbs the nature of power and the dangerous dance of literature and authoritarianism.
Mason, Daniel. North Woods. Random. Sept. 2023. 352p. ISBN 9780593597033. $28. lrg. prnt. LITERARY
In hist latest, Pulitzer Prize finalist Mason takes us on a journey through time via place—a cabin in the New England woods first inhabited by two young lovers who have fled their Puritan colony. Other inhabitants include an English soldier gone AWOL and unmarried twin sisters who survive war only to pick each other apart through envy. There's even a panther and a mystified crime reporter, who can't make sense of a mass grave nearby.
Meyer, Margaret. The Witching Tide. Scribner. Sept. 2023. 336p. ISBN 9781668011362. $28. LITERARY
Praised upon its UK publication, this debut revisits the witch hunts of 1600s England. Witchfinder Silas Makepeace has arrived in the town of Cleftwater and is soon rounding up local women. To midwife/healer Martha Hallybread's horror, she's tasked with searching the accused for "devil's marks" and must decide whether to protect herself or them. Will her mother's old witching doll shield her—and the secret she hides?
Rash, Ron. The Caretaker. Doubleday. Sept. 2023. 256p. ISBN 9780385544276. $28. LITERARY
In 1950s North Carolina, Blackburn Gant works a lonely job as caretaker of a hilltop cemetery, his life having been utterly waylaid by a childhood case of polio. Then his one friend, the kindly Jacob Lampton, is drafted and asks him to watch over his wife, Naomi. Naomi was poor and poorly educated when she and Jacob married, earning his parents' wrath, and she and Blackburn bond as outsiders until tragedy strikes.
Smith, Zadie. The Fraud. Penguin Pr. Sept. 2023. 464p. ISBN 9780525558965. $29. lrg. prnt. LITERARY
At the notorious Tichborne trial in 1873 London, a butcher from Australia argues that he is the rightful heir to the estate and title claimed by Sir Roger Tichborne. Among those affected by the trial are Mrs. Eliza Touchet, the ever-skeptical Scottish housekeeper to a has-been novelist, and Andrew Bogle, who grew up enslaved in Jamaica and is a star witness at the trial, his fate depending on telling the right story. Smith shapes true events to her own excellent advantage.