New Libraries open at Anne Arundel County, Edmonton, and East Baton Rouge Parish; work is almost finished at the Joseph Anderson Cook Library on the University of Southern Mississippi's (USM) Hattiesburg campus; Bayport is transforming a convent into a "world-class" library; and Michael Bloomberg has given a large gift to help build a new Medford PL.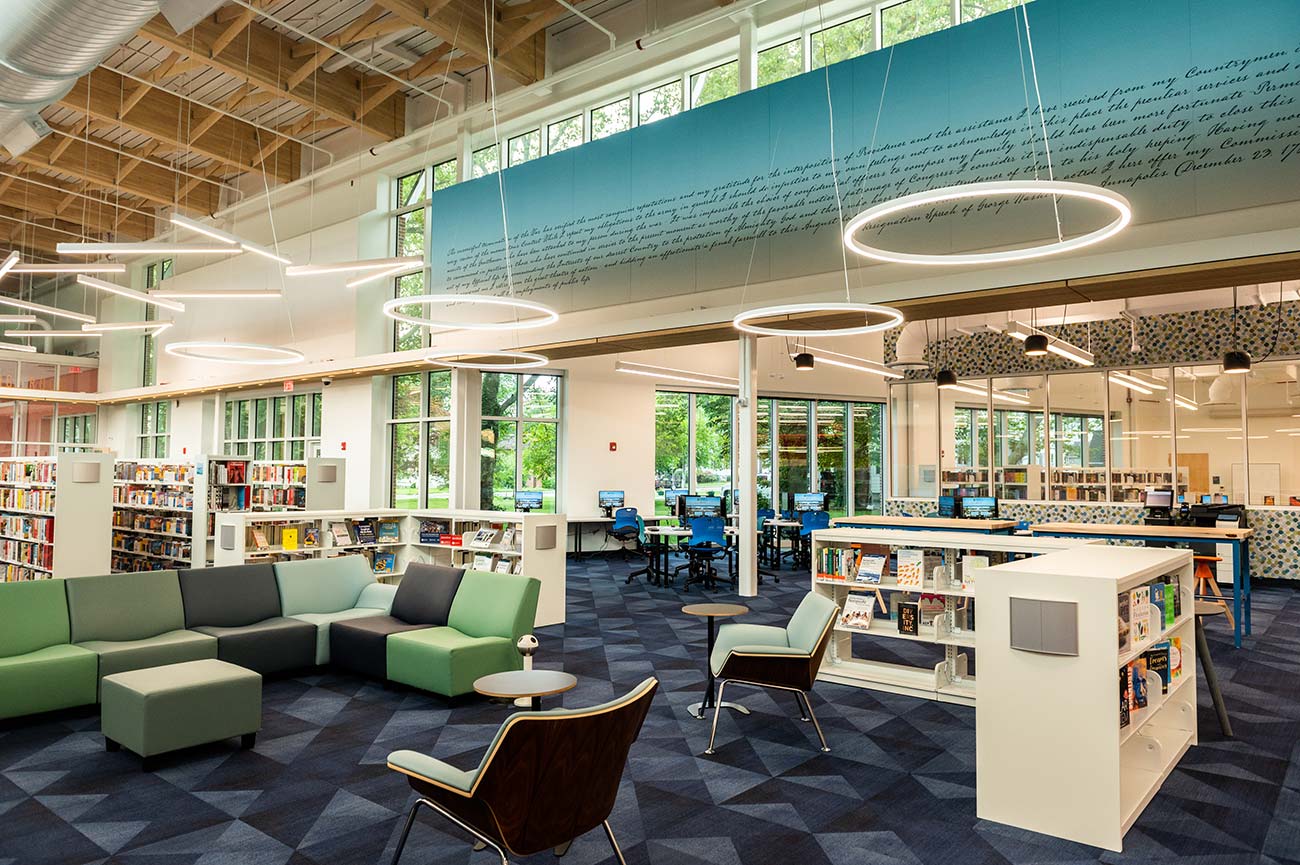 Anne Arundel County Public Library's new Michael E. Busch Annapolis Library
The Anne Arundel County Public Library, MD, celebrated the grand opening of its new Michael E. Busch Annapolis Library on July 22 with a virtual ribbon cutting. The 32,500 square foot, $24 million building, designed by a team that includes WGM Architecture + Interiors, Margaret Sullivan Studio, and Louis Cherry Architecture features space for 85,000 books and materials, a Maker space, a tech zone and teen area, an expanded children's area and outdoor play space, six collaboration spaces, two meeting rooms, a café, and more. Environmentally friendly features of the LEED Gold–certified building include geothermal heating and cooling, five electric vehicle charging stations, and 222 individually programmed electro-chromic windows. A digitized nautical map of the Chesapeake Bay, made up of 1,569 individualized bricks, serves as flooring in the lobby and café, community living room, and walkway. Wall hangings in the new library display a copy of George Washington's resignation speech from the Continental Army and the original poem created by Vincent Godfrey Burns, former Poet Laureate of Maryland, for the opening of the former Annapolis Library in 1965.
Renovations to the Joseph Anderson Cook Library on the University of Southern Mississippi's (USM) Hattiesburg campus are nearly finished. The $12.1 project, begun in spring 2019, will transform the 60-year-old library into a state-of-the-art resource center through a total renovation of the first and second floors to create a University Academic Advising Center. Other upgrades and additions will include new administrative offices, a computer lab, one-on-one tutoring space, new LED lighting, an iTech help desk, and space for student support services, career advising, and student retention. The outdated fire alarm and sprinkler systems will be upgraded throughout all five floors, the mechanical and electrical system brought up to code, and the roof replaced. The work is supported by state bond funds, with the help of $1.7 million in private gifts toward the library's Bower Academic Center, which will allow USM's Athletics Department to offer assistance to student athletes. Work on the new library is scheduled for completion in January 2021.
Another grand opening is slated for this month: the renovated Stanley A. Milner branch of the Edmonton Public Library (EPL), Canada will open its doors on September 17. The ribbon-cutting will also happen digitally, with a select few in-person tickets hidden throughout EPL locations between August 27 and September 5; Edmontonians can also attend a virtual open house on September 13. The library closed at the end of 2016 for its $84.5 million revamp—up from the original price of $69 million—which included an exterior makeover, asbestos removal, mechanical and electrical upgrades, and floor-to-ceiling second floor windows. The new design features a larger children's library, 10,000 square foot Maker space, Fabrication Lab, multi-story interactive digital wall, the Thunderbird Lodge—an Indigenous gathering space—a Gamer space, and more than 150,000 items.
In other opening news, the East Baton Rouge Parish Library , LA, hosted a Soft Opening of the $22.36 million River Center Branch Library on June 26. In keeping with COVID-19 social distancing guidelines, a celebratory dedication ceremony will take place at a later date to be determined. The new library includes a Maker space for high-, low-, and no-tech projects, a Media Production Studio for podcasting and sound mixing, with free Wi-FI and mobile printing available throughout the building, as well as an outdoor video wall facing onto the public green space and concert area and a large indoor video wall. A historic map of the Mississippi River flows throughout the custom wall coverings on the first floor. The first floor holds a computer commons and laptop bar, the second is a dedicated children's area, the third has amenities adults and teens, and the fourth contains public programming and meeting space. The rooftop terrace deck spans three-fourths of the building and offers views of the Mississippi River, the Old State Capitol, Repentance Park, Galvez Plaza, Town Square, and beyond.
Former New York City Mayor Michael Bloomberg has donated $3 million toward a new $27.5 million library building in his hometown of Medford, MA, to be named the Charlotte and William Bloomberg Medford Public Library. The 44,000 square foot building, scheduled to open in fall 2021, will nearly double the library's usable space and address issues of accessibility, noise, and technology. It will feature multiple meeting rooms, private study spaces, a large performance room, a Maker space and tech lab, a local history room, a café, and a gallery. Bloomberg's gift covers more than half of the private funds that the Medford Public Library Foundation is raising for the project, with other funding coming from city borrowing and a $12.2 million state grant.
Construction has begun on New York's Long Island to transform the St. Ursula Center Convent into the $16.85 million Bayport–Blue Point Public Library. Ground was broken on July 10 for the project, which was approved by library districts in a December 2018 referendum. Construction on the 28,573 square foot library is expected to take 12 to 15 months, with the new 28,573 square foot library—more than twice the size of the current 63-year-old facility, located about a mile away—set to open by fall 2021. The convent will be converted into a "world class" library, according to Library Board President Ronald F. Devine Jr., featuring reading rooms, community spaces, areas for children and adolescents, and meeting rooms, with the addition of a new entrance.