Present conflicts and future dangers to U.S. society.
Click here for additional new Prepub Alert columns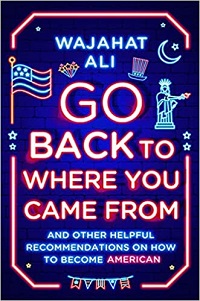 Ali, Wajahat. Go Back to Where You Came From: And Other Helpful Recommendations on How To Become American. Norton. Jan. 2022. 256p. ISBN 9780393867978. $26.95. MEMOIR
Having grown up an awkward outsider in the San Francisco Bay Area, Daily Beast columnist Ali became a writer to challenge stereotypes and portray the Muslim American world as he knew it. His activism intensified post–9/11 as he was constantly told "Go back to where you came from." His acid-wit response—what, go back to the Bay Area, where the rents are unaffordable?—reveals his approach to such provocations.
Allan, Hawa. Insurrection: Rebellion, Civil Rights, and the Paradoxical State of Black Citizenship. Norton. Jan. 2022. 240p. ISBN 9781324003038. $26.95. POLITICAL SCIENCE
Passed for fear of slave rebellions, the Insurrection Act of 1807 authorizes the U.S. president to counter domestic uprisings by deploying federal troops. It was used during Reconstruction and the Civil Rights movement to support Black Americans in their quest for equal citizenship but has also been a tool of repression, most recently during the 1992 Los Angeles riots following the Rodney King assault and the protests following the 2020 George Floyd killing. Attorney Allan shows how the act mirrors tensions and hard truths in U.S. society.
Gordon, Lewis R. Fear of Black Consciousness. Farrar. Jan. 2022. 288p. ISBN 9780374159023. $28. PHILOSOPHY
Head of the philosophy department at the University of Connecticut–Storrs and a leading scholar of Black existentialism and anti-Blackness, Gordon tracks the historical development of racialized Blackness and its consequences for both Black and non-Black communities. In particular, he addresses the bad faith evident in many conversations about race and racism, challenging claims of "color blindness" and calling out white self-congratulation. Informed not just by Gordon's philosophical acumen but by his upbringing in Jamaica and the Bronx and the impact of the COVID-19 pandemic and Black Lives Matter protests.
Greenblatt, Jonathan. It Could Happen Here: Why America Is Tipping from Hate to the Unthinkable—And How We Can Stop It. Houghton Harcourt. Jan. 2022. 208p. ISBN 9780358617280. $25. POLITICAL SCIENCE
When he became head of the Anti-Defamation League in 2015, Greenblatt—who served as special assistant to President Obama and director of the Office of Social Innovation—upped the league's efforts to battle both anti-Semitism and hatred of all kinds. New initiatives include the Center on Extremism, which monitors extremist behavior across the ideological spectrum. Drawing on these initiatives and the league's long-standing research, Greenblatt sees the possibility of genocide in America's future.