Before the Fall author Hawley returns with a new thriller.
Click here for additional new Prepub Alert columns
Hawley, Noah. Anthem. Grand Central. Jan. 2022. 400p. ISBN 9781538711514. $28. lrg. prnt. CD. THRILLER
Award-winning screenwriter/director/producer Hawley's recent Before the Fall won lavish love, New York Times best-selling credentials, and both Edgar and ITW thriller honors. So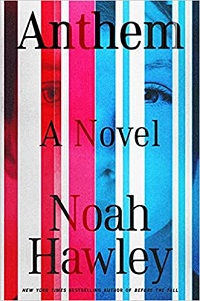 it's no surprise that his new literary thriller is being billed as the first big novel of 2022. With opioid addiction, environmental devastation, and clownface-dabbed vigilantes corroding their surroundings, U.S. teens desperately communicate with memes only they know and understand. Seeking to mend his grief over his sister's death, Simon Oliver attends the Float Anxiety Abatement Center near Chicago, where he meets Louise and The Prophet and joins in their wild-hare quest to free a young woman from a dangerous man called The Wizard. Immediate concerns within an ageless mission-driven, phantasmagorical format.