With the COVID-19 vaccine rollout gaining momentum in the United States, libraries continue the process of reopening. They'll need to get the word out to patrons about changing hours, resumed services, and in-person events. This product spotlight focuses on marketing platforms for libraries designed to help streamline outreach efforts via social media, email, newsletters, mobile messaging, and more.
---
PRODUCT: LibraryAware
COMPANY: EBSCO Information Services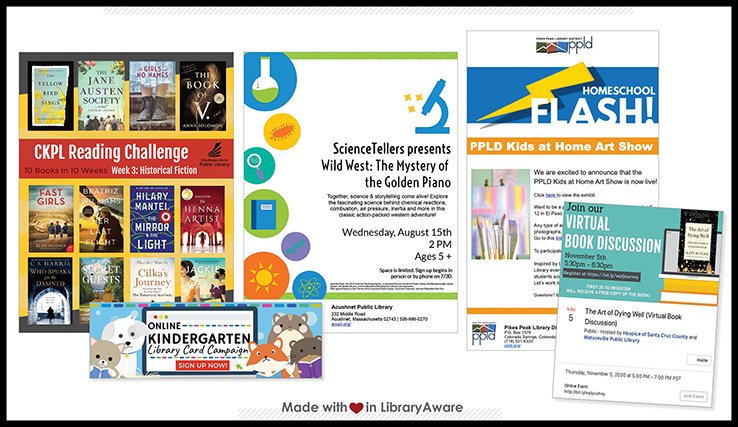 LibraryAware offers libraries a suite of tools to create professional marketing materials including templates for targeted emails, e-newsletters, and social media campaigns; digital booklists, program and event carousels, and widgets for library websites; and templates and images for print posters, flyers, reading maps, bookmarks, and digital signs. As part of NoveList, LibraryAware leverages the reading advisory platform to automatically embed reading recommendations into many of its templates.
LibraryAware provides access to "millions of book records, including book jackets and annotations, so it's really easy to just pull information about books into anything that you're going to send to your patrons," says Danielle Borasky, VP of NoveList.
In addition, LibraryAware features NextReads e-newsletters. Written by reviewers and librarians at NoveList, the selection of more than 20 monthly and bimonthly newsletters are curated by genre—such as mystery, historical fiction, armchair travel, biography and memoir, and tween reads. Titles are linked back to the library's catalog for easy navigation. NextReads can be automatically sent to patrons, or edited and customized by the library prior to sending.
"The breadth of options that we make available for libraries to really stay connected to their readers" is key to LibraryAware's appeal. "We base it on the foundation we have—helping libraries match books and readers for the past 25 years," Borasky says.
LibraryAware also regularly tweaks and updates features based on library surveys, librarian feedback, and current events. In one recent example, many libraries received an influx of new cardholders via online signups during the COVID-19 pandemic. "They wanted to make sure these patrons stayed engaged throughout the pandemic and afterward," explains Angela Hursh, senior engagement consultant for NoveList. "So we created a series of emails they could use to onboard their new cardholders, to let them know about all of the services available at their library…and drive attendance at virtual programs."
---
PRODUCT: Patron Point
COMPANY: Patron Point, Inc.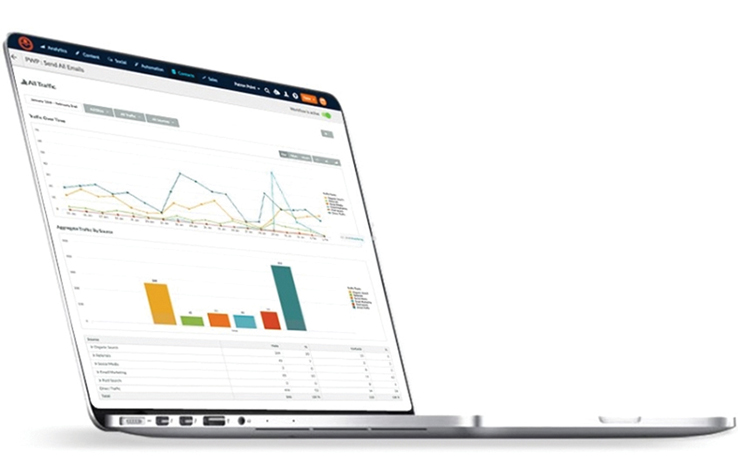 Patron Point is a marketing automation platform designed to help libraries engage with patrons via email, e-newsletters, social media, website forms and pop-ups, web widgets, and SMS texts. Drawing data from any ILS, as well as library systems such as ebook platforms, databases, library websites, and event and room booking platforms, Patron Point enables libraries to segment patrons into an unlimited number of groups based on behavior and interests to create targeted campaigns and ensure that emails and other messages will be relevant to their recipients.
"Hooking library data up to Patron Point gives [librarians] a view of what people are doing at the library in all of its facets, whether it's checking books out, downloading ebooks, using the computers, visiting the library to attend programming, [or] using streaming video services…. From that snapshot, they can figure out what their strategy should be," and what segment of their patron base to target with a newsletter or a campaign, says Ian Downie, VP of growth for Patron Point.
The back end of the platform includes an email editor with a drag-and-drop interface, customizable email templates, web form and mobile-friendly landing page builders, customizable dashboards to track and view data including email opens, clicks, unsubscribes, website page views and traffic sources, and a patron engagement index. A reporting tool can be used to aggregate data and schedule automatic reports to be sent to selected library staff members.
The platform also offers optional add-ons, including Patron Point Verify, a GIS-based address verification system that facilitates library card sign-ups and renewals. Separately, in January, the company partnered with ProQuest to launch Patron Point Recommends, a new add-on service that uses LibraryThing recommendations along with book covers and summaries from ProQuest's Syndetics Unbound catalog enrichment solution to automatically generate reading recommendation newsletters based on a library's own holdings.
---
PRODUCT: Gale Engage
COMPANY: Gale, a Cengage Company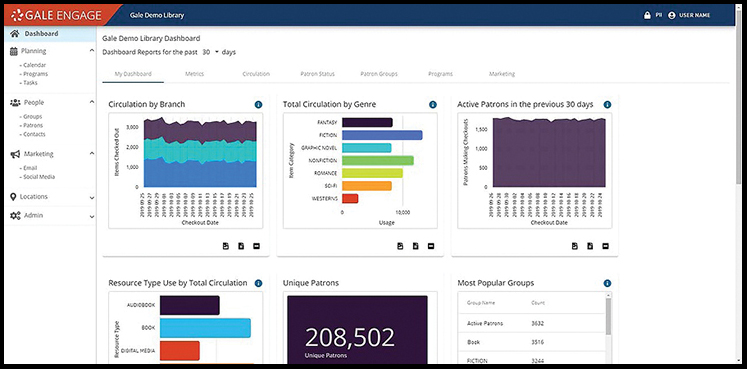 Gale Engage is an ILS-agnostic, cloud-based marketing platform designed to aggregate and synthesize data from multiple library systems and vendor platforms. Engage then uses this synthesized data to generate ready-to-use visualizations to help librarians understand how patrons are currently interacting with library resources and services, including a dashboard and reporting tool that aligns circulation to IMLS benchmark data. Integrated marketing features enable libraries to categorize patrons into groups based on their transaction history and engagement with library services to ensure relevant messaging from outreach emails; post to multiple library social media accounts including Facebook, Twitter, and Pinterest; and track engagement metrics via the Gale Engage dashboard.
"Gale Engage allows libraries to communicate with their patrons in a targeted format," says Amanda Winchel, says Gale's North American sales manager–Library Analytics. "It centralizes data…it's taking all of these data sets that are currently in silos for libraries—ILS data, OverDrive and hoopla data, door counts, whatever you can possibly think of—and it's combining them all with the common denominator being the patron bar code." This gives libraries a holistic view of how patrons are engaging with the library, rather than how they are engaging with specific vendors or services, Winchel says.
David Ziembiec, senior director of public sales for Gale, adds that during the past 10 to 15 years, people have come to expect "more intentionality" in the marketing messages that they receive from businesses. "'You bought this, you might like this. You watched this, you might like that.' The luster is fairly lost, I think, in terms of mass messages that will be sent to everyone with no customization," he says.
Developed in partnership with Deziner Software, the platform uses end-to-end encryption to protect patron privacy. Winchel says that Gale Engage was designed with patron privacy as a priority. "When we talk about targeted marketing—let's email everyone at branch 'B' for example, or let's email everyone who likes the mystery genre—when those emails go out, there is no way that anybody at the library who is using [the platform]…can actually see any kind of patron bar code or information that's associated with that," she explains.
---
PRODUCT: SocialFlow
COMPANY: TLC/The Library Corporation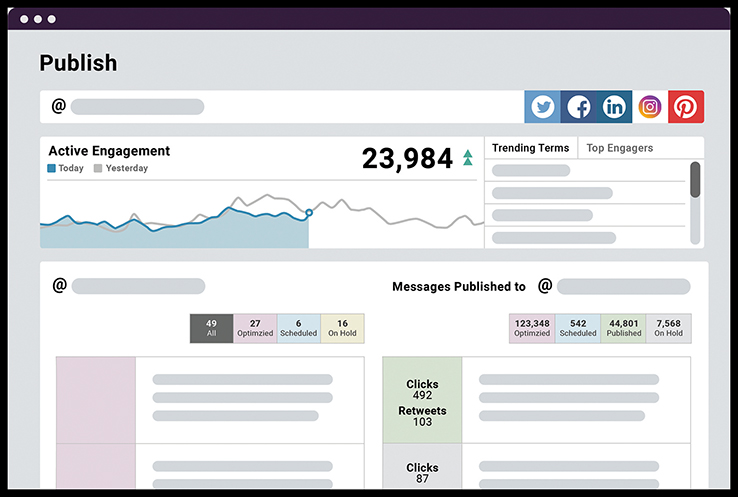 Dozens of major media companies including the Associated Press, the BBC, Condé Nast, Disney, the New York Times, and the Washington Post use SocialFlow, a social media optimization platform, to keep readers and subscribers engaged with their content. The platform's predictive algorithms sequence and time posts for when they're most likely to get attention on Twitter, Facebook, Instagram, and LinkedIn. Its reporting dashboard helps spot trends, track performance of campaigns, and inform social media strategy and content planning. A tiered permissions system on the back end enables organizations to set up profiles that give staff members different levels of access and control over specific handles or feeds.
TLC (The Library Corporation) is the exclusive provider of SocialFlow to the library field, and the company uses it for its own social media outreach. "I like the built-in optimization functionality," says Jamison Reynolds, director of marketing strategy for TLC. "It's able to take a look at the audience you're trying to target, the social media platform you're targeting, and the content you're posting, and it knows when to prioritize" different posts. Another useful feature, Reynolds says, "is the ability to use the platform to follow trending topics and hashtags…so if I start seeing different trending topics start to rise with the people that I follow, I can start tweaking my messaging to fit into that narrative as well."
Gerry Davies, senior library consultant for TLC, explains the utility of the optimization features, noting that it is exceedingly common for organizations to schedule social media posts on the hour, and then every quarter hour. "And if your library is doing the same as everyone else, you're [competing with] 400 percent more noise when you post," he says.
---
PRODUCT: Wise
COMPANY: OCLC
Integrated library systems traditionally have been designed with a focus on bibliographic records; OCLC says its Wise platform was designed with a focus on patron records, describing it as a "community engagement system" that combines customer relationship management (CRM), marketing, and analytics features, along with ILS functions including acquisition, cataloging, and circulation tools. In addition, Wise includes a customizable, patron-facing website integrated with the ILS, built on the Joomla! open-source content management system.
"While we do manage bibliographic data in Wise, the heart of the system is the CRM itself," says Scott Livingston, OCLC executive director, management services. "It knows what the library has, but it also knows what the user is interested in—through express declarations such as 'I like gardening books'…and also user behaviors."
There are several ways that Wise leverages this data. Notably, an integrated collection management suite uses patron and circulation data to automatically offer recommendations for acquisitions or weeding at the system and branch level. If historical fiction looks like it would perform particularly well in a downtown branch, but the genre appears to be overrepresented in a suburban location, Wise will recommend a shift. And, like other marketing systems, Wise enables libraries to build lists of patrons based on stated interests and past use of the library in order to create targeted emails, newsletters, and outreach campaigns.
With Wise, "you'll see, over time, just based on how the community is using the library, that the library will become a natural reflection of the community. Because it's serving them what they want to be served, based on what their interests are," says Tara Roe, product marketing manager for OCLC.
This targeted communication does require Wise to collect and store data on patron interactions with the library such as reading history, event registrations, and click-throughs on newsletters. But patrons can opt out, and since the system is currently used by 75 percent of the libraries in the Netherlands, it is designed to adhere to the European Union's strict legal standards for consumer privacy.
---
PRODUCT: Community Engagement Platform
COMPANY: SirsiDynix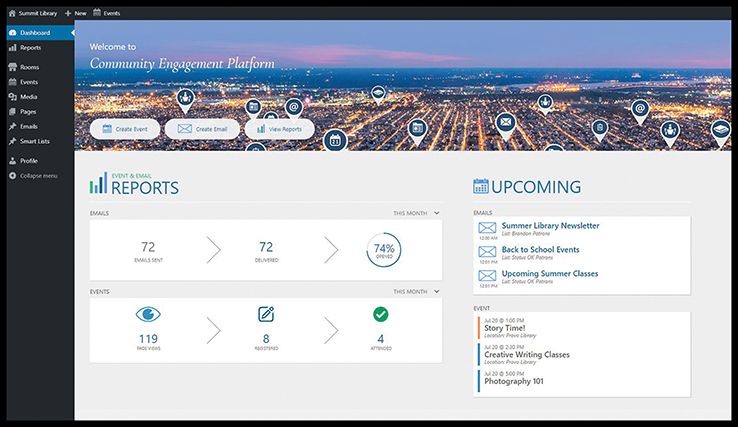 Last August, SirsiDynix launched its Community Engagement Platform (CEP), a comprehensive, automated marketing system that streamlines patron outreach. Using ILS data, CEP enables libraries to create "smart lists" of patrons grouped by a variety of categories based on factors ranging from demographics to activity levels, and then target those groups with tailored campaigns.
Tools include custom branded templates for email newsletters, announcements, and event promotions; a built-in calendar with an integrated event registration and ticketing system; and a room booking system that enables libraries to set capacity limits, add locations and maps, and make all information available on the calendar. A reporting dashboard allows libraries to track the performance of each email or event and use insights to plan future campaigns.
Robert Storer, product manager of CEP and director of marketing for SirsiDynix, notes that while libraries are not businesses, they do compete with businesses for the attention of their patrons. "We have expectations for brands to interact with us in a certain way." People want to hear about events at their favorite local shops and sales of their favorite brands. They expect easy-to-navigate websites and apps, and clear, consistent messaging. "That's what patrons are measuring the library by now," he says. Libraries "need an integrated solution that does marketing, that does mobile, that does all of the transactional, operational stuff, too."
Recognizing that many libraries do not have marketing departments or experts on staff, SirsiDynix is also planning free training and best practices webinars on topics such as crafting effective outreach emails. Like several of the vendor representatives contacted for this spotlight, Storer believes the coming months will be an important time for libraries to engage with patrons.
"We're all going to be competing for each other's attention as life goes back to normal" during recovery and reopening, Storer says. "And it's crucial that libraries have a platform that puts them top of mind with their community."
---
PRODUCT: Vega
COMPANY: Innovative Interfaces Inc.
Last fall, Innovative, a ProQuest company, launched its Vega platform for the Sierra and Polaris ILS with the introduction of Vega Discover, a discovery solution with built-in features including search by related terms, automatic spelling corrections, natural language interpretation, and a robust set of APIs to integrate with third-party vendors (for example, last month, full integration with Hoopla was announced, enabling direct checkouts of Hoopla content via Discover).
In March, the company announced the Vega Library Experience (LX), a suite of products that includes Discover as well as five additional modules: Vega Connect, Interact, Promote, Program, and Analyze. Connect, which will be provided at no charge with the purchase of any other Vega module during 2021, includes an email designer and automated service to generate welcome emails, courtesy notices, renewal reminders, and anniversary emails.
Three of the other Vega LX modules—Interact, Promote, and Program—are collectively described as the "Vega Engagement Suite." Available in July 2021, the Engagement Suite will enable "library staff to easily communicate and manage the full range of materials, programs, and services available to their community and personalized for their patrons" according to an announcement. Methods of outreach will include communication channels such as SMS texts, voice messages, chatbots, social media, and messaging apps (including Facebook Messenger and WhatsApp), as well as broader communication solutions including newsletter, campaign, and event management tools.
Marketing "is all about trying to help the community understand what the library has to offer," says Toni Minick, VP, product management for Innovative. "Are they taking up the library on their services?" If not, then what are the best channels for reaching different groups of patrons? The Engagement Suite, as well as Vega LX more broadly, aims to provide libraries with a breadth of options. "Companies that are successful are creating a conversation" with customers, Minick adds. "That's the way we're looking at it…. Building engagement."