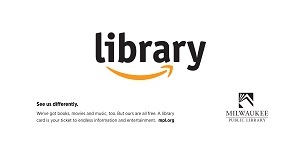 At first glance, the image looks like the logo of a well-known shopping site or search engine; a closer look reveals the clever new marketing campaign from Milwaukee Public Library (MPL), WI. "In today's society, which is built almost entirely on digital experiences, the very idea of a public library was in danger of being perceived as woefully analog," said Sarah Schmidt, director of earned media with Milwaukee advertising agency BVK. "How do you convince a skeptical generation—some of whom may never have set foot in a public library—that the stodgy old stone building filled with books is actually a portal to today's digital universe?"
The "See Us Differently" campaign aims to inform Milwaukee residents about the plethora of digital services on offer from MPL: downloadable books, movies, music, and more from library vendors such as OverDrive, hoopla, and Freegal. Brian Ganther, coexecutive creative director at BVK, initially came up with the idea to hijack the logos of brands such as Amazon, YouTube, Netflix, LinkedIn, and Spotify. He had the library on his mind thanks to his friendship with MPL community relations and engagement director Eileen Force Cahill. "I knew she has this strong desire to contemporize the library," he said. "We had this idea, and I said: 'We need to call Eileen!' This is an unusually subversive idea for a public institution, but it's one that resonates with people whose perception of the library has become outdated."
Cahill, who has been with the library since 2016, is ready to battle the traditional perceptions of libraries. Initially hired as a consultant on an earlier MPL awareness campaign, she has over 20 years of cross-sector experience in communications and marketing. Her hopes for the campaign are to let residents know "we go beyond basic digital tools" like free Wi-Fi and public computers. "We want to take it a step further," she says, especially with the area's millennial population. When Ganther pitched the idea, Cahill was immediately on board.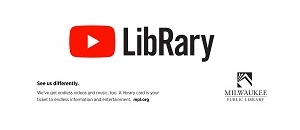 While the co-opted logos may bring up concerns about trademark infringement, Kyle K. Courtney, copyright advisor for Harvard University, notes that "parody, as expressed in these reimagined library logo designs, is a powerful exception to infringement, for either copyright or trademark…. Under the law, a 'successful' parody (not an infringement) must both call to mind and differentiate itself from the original, and communicate some articulable element of satire, ridicule, joking or amusement. The trick with a parody is that you have to use enough of the original for the viewer to recognize that it is a parody."
Courtney told LJ that other major corporations such as Wal-Mart and Starbucks have also had their logos parodied, and some of these cases have made their way to court. In many instances, "the parody logo was protected and found to be a valid expression for purposes such as satire, ridicule, joking or amusement," he said.
BVK began work on the advertisements in late spring of 2017 and the campaign launched in September 2018, corresponding with National Library Card Sign Up Month. "The ads were strategically placed in unexpected establishments throughout the city—such as restrooms of buildings close to Central Library and some branches—in an effort to break through the clutter and modernize the way people think about their local library," Schmidt told LJ. Public transit also provides a great venue for the advertisements, many of which can be seen on routes that run near the library.
The ads carefully avoid library lingo or product names in order to capture new users. "They don't know what these specific resources are, so words like hoopla or Freegal don't connect," noted Cahill. Ganther agreed: "This is less about calling out specific resources and more about changing the perception of the library by using current cultural conversations." One of the posters with a Netflix-esque design simply states: "We've got thousands of movies, too. But ours are all free. A library card is your ticket to endless information and entertainment."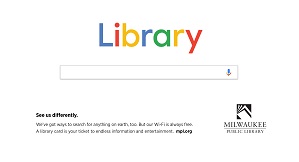 As of October 2018, year-to-date database usage is up 57 percent, ebook checkouts are up 50 percent, audio book downloads are up 26 percent, and other digital downloads are up 18 percent compared to 2017. And it's not all remote access; program attendance is up, as is use of the library system's meeting rooms. "Best of all," says Schmidt, "new card registration went up 53 percent and card renewal went up 12 percent. Now, three out of every four Milwaukee residents has a library card."
The See Us Differently campaign fits right into to Cahill's overarching efforts to rewrite outdated stereotypes, such as her series of Library Loud Days. "Gone is the notion of the sleepy, quiet library, where all you hear is 'shush.' We're changing the Milwaukee Public Libraries into lively, vibrant gathering places," states the MPL website. Past Library Loud Day events have included a hip-hop concert and a haunted house, both taking place in MPL's Central Library. In December of 2017 over 300 people attended a free event at the Mitchell Street Branch that featured Milwaukee's Mondo Lucha, a professional Mexican-style wrestling organization.