Information on nearly 30 new and forthcoming databases and online products.
Art Magazine Collection Archives. EBSCO.
EBSCO offers indexing, abstracting, and full text for the complete archive (including covers and advertisements) of three publications: ARTNews (starting in 1922), Art in America (starting in 1913), and Magazine Antiques (starting in 1922). Researchers interested in fine arts, art history, interior design, decorative arts, and architecture will find this resource useful.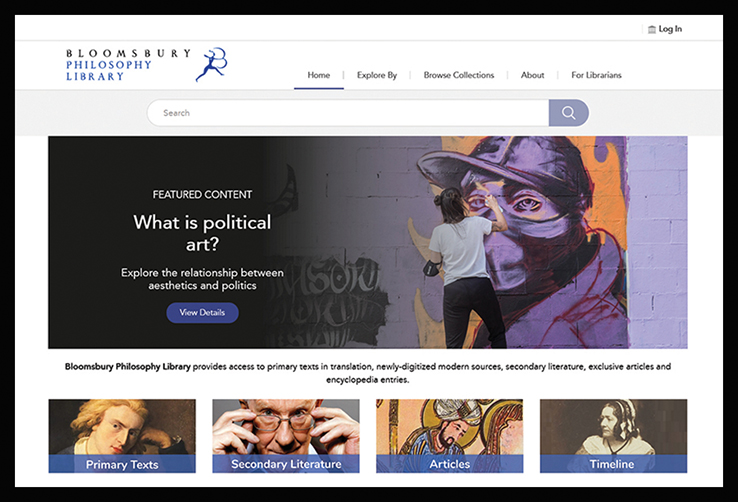 Bloomsbury Contemporary Aesthetics. Bloomsbury.
Bringing together case studies, primary source material, secondary literature, and images, this resource devoted to aesthetics in the 21st century is the newest forthcoming collection from Bloomsbury Philosophy Library.
China and the Modern World: Imperial China and the West Part II, 1865–1905. Gale.
The latest module in the China and the Modern World program offers primary sources for those researching Chinese-Western relations during this period. Materials are digitized primarily from the FO 17 series of British Foreign Office Files—Foreign Office: Political and Other Departments: General Correspondence Before 1906, China—together with several volumes of Law Officers' reports from the FO 83 series. Consisting of about 611,000 pages, the archive covers topics ranging from diplomacy to trade, economics, politics, warfare, Chinese emigration, law, and translation.
CINAHL Ultimate. EBSCO.
CINAHL, a research tool for nursing and allied health literature, introduces CINAHL Ultimate, which will offer more journals in full text than are available in CINAHL Complete.
Colonial Caribbean. Adam Matthew Digital.
Compiling documents from the UK's National Archives, this second module of Colonial Caribbean covers the passing of the Slavery Abolition Act and its impact on the government of islands colonized by the British, and also examines the introduction of apprenticeships and resistance to the changes.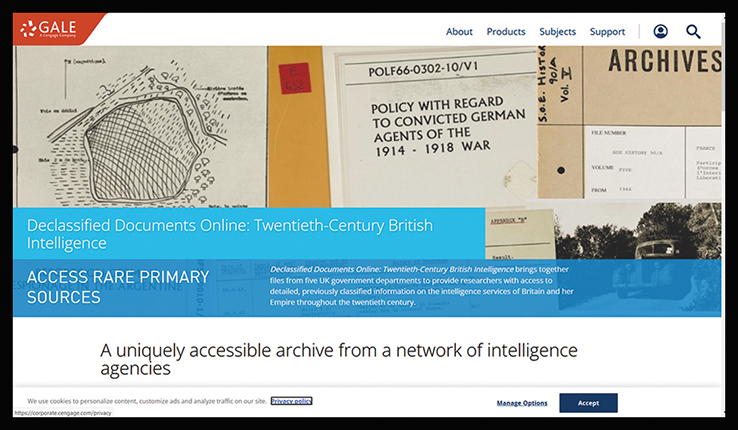 Declassified Documents Online, Twentieth Century British Intelligence Part II: Monitoring the World.
Gale makes available previously highly classified files from the UK Government Communications Headquarters (GCHQ) along with key series from the Cabinet Office focused on central intelligence machinery, to provide information and detail on British Signals Intelligence work worldwide from 1914 to 1985. Included here are intelligence summaries, decrypts, analysis, and reports covering the scope of British interests and diplomatic alliances.
Diversity Collection Database. ProQuest.
This resource brings together three full-text databases on the ProQuest platform: Ethnic NewsWatch, which features magazines, journals, and newsletters from Black, Jewish, Indigenous, Eastern European, and Arab American communities (as well as other marginalized communities); GenderWatch, which supports women's, gender, and LGBTQ studies; and Alt-PressWatch, which compiles news articles from small and independent presses.
Diversity, Equity and Inclusion Ebook Subscription. ProQuest.
This collection of ebooks is intended to help libraries support curricula in the areas of Black studies, Asian studies, women's studies, and more. Included here are books from small presses and by authors from marginalized backgrounds; most titles were published within the last 10 years.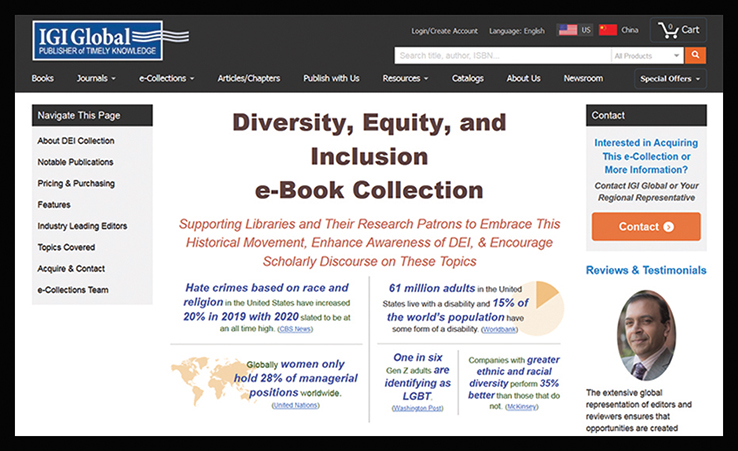 Diversity, Equity, and Inclusivity (DEI) e-Collection. IGI Global.
To support libraries doing work in the area of diversity, equity, and inclusion, IGI Global offers a curated collection of 320-plus ebooks that cover accessibility, gender and identity, culture and race, religion, human resources, civic engagement, and more.
EBSCO eBooks DRM-Free—Diversity, Inclusion and Social Justice Collection. EBSCO.
This collection compiles ebooks on antiracism, diversity, inclusion, and social justice. Each title is DRM-free with unlimited user access, so users can download whole ebooks or choose a more granular experience without the need for an Adobe ID or additional software.
Ethnic Diversity Source. EBSCO.
This full-text resource supports universities and colleges with ethnic studies and diversity, equity, and inclusion programs. Ethnic Diversity Source covers culture, traditions, social treatment, lived experiences, and other aspects of underrepresented groups across North America, including Black Americans, Arab Americans, Asian Americans, Latinx Americans, Indigenous peoples of the Americas, Pacific Islander Americans, and multiracial Americans.
Gale Case Studies: Political Extremism. Gale.
Users will find 12 case studies that explore terrorism and political violence, the role of women activists within radical movements, and how extremists (defined as those critical of the current political order but who don't wish to overthrow it) and radicals (those who wish to do away with the current political system and start anew) use propaganda and marketing techniques to promote their ideas to mainstream audiences. Each case study includes a selection of annotated primary sources and discussion questions.
Gale Case Studies: Race and Civil Rights. Gale.
Gale Case Studies: Race and Civil Rights brings together 12 case studies featuring curated primary sources and discussion questions. Documenting such historic campaigns as the Montgomery Bus Boycott and the lunch counter sit-ins, case studies are particularly timely given the current climate of increased social justice activism in the United States. Case studies such as "The Cold War Backdrop to Civil Rights" and "The Emergence of the Black Power Slogan" chronicle the government's persistent fear of the possible revolutionary implications surrounding the fight for Black freedom.
Gale Case Studies: Refugees and Migration. Gale.
Gale Case Studies: Refugees and Migration compiles 12 case studies focused on issues related to refugees. Created using selected annotated primary sources and discussion questions, these case studies focus on various topics, such as the non-refoulement principle of the 1951 Refugee Convention, which forbids a country receiving asylum seekers from returning them to a country where they would face persecution on the basis of race, religion, nationality, membership in a certain group, or political opinion. The resource also examines the plight of refugees trapped in legal limbo between two countries.

Gale Case Studies: Women's Issues. Gale.
Using primary sources, 12 case studies each explore a different topic, such as abortion and Roe v. Wade. The resource adopts an intersectional lens—the case study on mental health addresses the pathology ascribed to lesbians by mental health professionals, while the case study on forced sterilization focuses on how poor Black women were disproportionately affected and how these women led efforts to stop the practice.
Gale Presents: Excel Adult High School. Gale.
Using this online program, library patrons can earn an accredited high school diploma (not a GED). The resource consists of a 21.5-credit curriculum, and users have access to more than 100 standard, elective, and college-level courses and tools such as on-demand, live tutoring. It replaces Career Online High School, which Gale stopped offering in December 2020 owing to a decision made by its previous school partner.
Gale Primary Sources Learning Centers. Gale.
Aimed at student researchers, this product helps them learn to use primary source databases and discover best practices for searching, browsing, citing, and reusing primary sources.
Indigenous Peoples of North America (Part II): The Indian Rights Association. Gale.
Gale makes available an almost complete record of the work of the Indian Rights Association, a nongovernmental organization founded in 1882 to support the well-being of Indigenous people in the United States. The archive includes correspondence, organizational records, annual reports, administrative files, court proceedings, the papers of founder Herbert Walsh, and more.
Interwar Culture. Adam Matthew Digital.
Adam Matthew Digital highlights popular and lesser-known periodicals published between the world wars. Covering arts and culture, fashion, home and family life, travel, world current affairs, class, and social and welfare issues, articles offer insight into technology, media, and other forces influencing society.
Jet Magazine Archive. EBSCO.
Aimed at the Black community, Jet covered the civil rights movement, politics, education, fashion and beauty, and other topics. EBSCO compiles more than 3,000 issues from the magazine's history, from 1951, when it was founded, to 2014, when it ceased publication.
The Making of Modern Law: Landmark Records and Briefs of the U.S. Courts of Appeals, 1891–1950. Gale.
Gale chronicles the evolution of the U.S. appellate courts, offering more than one million pages of briefs from appellants, appellees, and supporters, as well as appellant and appellee replies, appendixes, memoranda, petitions, plaintiff statements, and transcripts.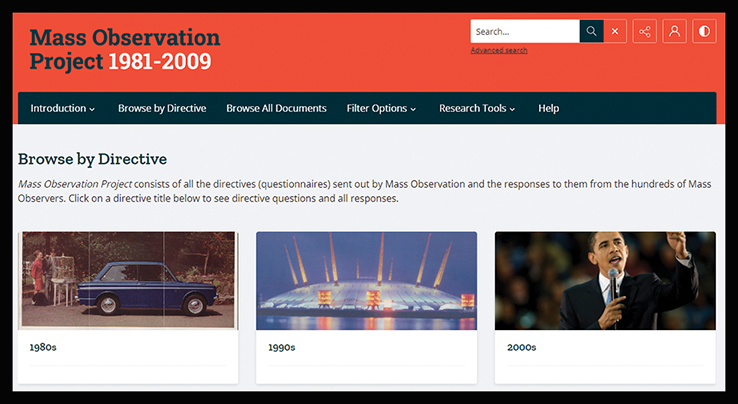 Mass Observation Project: 2000s. Adam Matthew Digital.
For the Mass Observation Project, the University of Sussex surveyed the British public on a variety of topics; Adam Matthew Digital has collected the results of three decades of these questionnaires. Earlier modules covered the 1980s and '90s; this latest module explores the 2000s; users will gain insights into the terrorist attacks of September 11, environmental issues, the thoughts and opinions of respondents, and more.
MEDLINE Ultimate. EBSCO.
Intended for doctors, nurses, and health professionals and researchers, MEDLINE Ultimate will be the largest companion to the MEDLINE index, providing full text for many top quality biomedical and health journals.
MLA Handbook Plus. MLA.
Now in its ninth edition, the MLA Handbook, a guide to citation, grammar, and more, will be available online via subscription.
National Theatre Collection: Volume II. ProQuest.
Alexander Street offers high-definition streaming videos of award-winning productions and archival material from the UK's National Theatre. This latest volume offers an additional 20 video productions, including All My Sons (2019), Hedda Gabler (2017), and The Seagull (2016).
Nursing & Allied Health Premium. ProQuest.
Intended for nursing and allied health students and educators, this resource combines the Nursing & Allied Health Database and Alexander Street's Nursing Education in Video into an ever-growing collection on the ProQuest Platform. The database was developed in collaboration with an advisory board of nursing faculty, researchers, and librarians and offers both practical and theoretical content intended to help students build research and clinical skills.
Perspectives on Systemic Racism. EBSCO.
Designed for students and faculty at the high school and college levels, this free database supports research and dialogue on the key issues surrounding systemic racism. Each issue includes a fact-based overview and potential solution.
ProQuest One Business. ProQuest.
ProQuest provides practical and theoretical content to guide business students through common assignments involving SWOT analyses, case studies, and industry reports.
SAGE Research Methods: Doing Research Online. SAGE.
This multimedia collection will support users conducting social science research online. SAGE covers online surveys and interviews, digital ethnography, social media, and text analysis. It also addresses privacy and other ethical considerations and how to manage, store, and archive digital data.
SAGE Research Methods Video: Research Ethics & Integrity. SAGE.
This collection of streaming video covers issues related to research ethics including institutional review board review, privacy, working with vulnerable populations, and replication. The video player allows users to create and embed custom clips, and learning tools interoperability (LTI) functionality is available.
UK & Ireland Points of View Reference Centre. EBSCO.
This database encourages research and debate on current global issues, with special focus on those topics relevant to Ireland and the UK. For each topic, users will find an overview, point and counterpoint articles, and a Guide to Critical Analysis, designed to help secondary school and university students evaluate the issues, enhance their critical reading skills, develop a position, and construct an effective argument.
U.S. Declassified Documents Online (Part VI). Gale.
Gale presents about 5,000 documents that have been newly declassified. Subjects covered include the 2020 presidential election, the January 6 insurrection, and the 1918 influenza pandemic.
Women's Studies Archive: Female Forerunners Worldwide. Gale.
The fourth installment of the Women's Studies Archive explores trailblazing individuals and organizations; topics covered include health and medicine, social reform, politics, prison reform, religion, and the depiction of women in media and advertising. The resource also highlights the role of Black women, with materials provided by the New York Public Library's Schomburg Center for Research in Black Culture, the Amistad Research Center, and the Smithsonian Institute.