Life stories that matter.
Click here for additional new Prepub Alert columns
Attenberg, Jami. I Came All This Way To Meet You: Writing Myself Home. Ecco. Jan.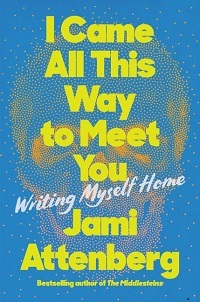 2022. 272p. ISBN 9780063039797. $27.99. MEMOIR
Bertinelli, Valerie. Enough Already: Learning To Love the Way I Am Today. Houghton Harcourt. Jan. 2022. 304p. ISBN 9780358567363. $27. CD. MEMOIR
Gomez, Edgar. High-Risk Homosexual. Catapult. Jan. 2022. 304p. ISBN 9781593767051. pap. $16.95. MEMOIR
Harris, Taylor. This Boy We Made: A Memoir of Motherhood, Genetics, and Facing the Unknown. Catapult. Jan. 2022. 272p. ISBN 9781948226844. $26. MEMOIR
James, Kendra. Admissions: A Memoir of Surviving Boarding School. Grand Central. Jan. 2022. 336p. ISBN 9781538753484. $28. MEMOIR
Lindsay, Rachel. Miss Me with That: Hot Takes, Helpful Tidbits, and a Few Hard Truths. Ballantine. Jan. 2022. 224p. ISBN 9780593357071. $26. Downloadable. MEMOIR
Miller, Larry & Laila Lacy. Jump: From the Streets to the Suites. Morrow. Jan. 2022. 304p. ISBN 9780062999818. $27.99. MEMOIR
Pentland, Jenny. This Will Be Funny Later: A Memoir. Harper. Jan. 2022. 256p. ISBN 9780062962928. $27.99. MEMOIR
Schulz, Kathryn. Lost & Found: A Memoir. Random. Jan. 2022. 256p. ISBN 9780525512462. $27. lrg.prnt. CD. MEMOIR
Vonn, Lindsey. Rise: My Story. Dey Street: Morrow. Jan. 2022. 304p. ISBN 9780062889447. $28.99. CD. MEMOIR
Ypi, Lea. Free: A Child and a Country at the End of History. Norton. Jan. 2022. 256p. ISBN 9780393867732. $27.95. MEMOIR
In I Came All This Way To Meet You, New York Times best-selling author Attenberg explains that as the daughter of a traveling salesman she came by her wanderlust naturally and shows how reflecting on her early years during her travels led her to writing—and particularly her theme of troubled families (75,000-copy first printing). Award-winning actress and Food Network star Bertinelli follows up her No. 1 New York Times best-selling memoir Losing It with inspiration as she turns 60 in Enough Already (100,000-copy first printing). In High-Risk Homosexual, a memoir ranging from funny (a baby speaking an ancient Jesuit language) to heartbreaking (the Pulse Nightclub in Orlando), Gomez explains how he came to embrace his gay, Latinx identity within a culture of machismo. In This Boy We Made, Harris relates her efforts to determine what is suddenly wrong with her bouncy 22-month-old boy in a system frequently inhospitable to Black mothers and her discovery when meeting with a geneticist that she has medical issues of her own. In Admissions, James relates the complications of being a diversity recruiter for select, largely white prep schools after attending The Taft School as its first Black legacy student. Attorney, podcaster, and Extra correspondent Lindsay discusses growing up in Dallas, TX; her career in law; and why she chose to be the first Black Bachelorette on The Bachelor in Miss Me with That. Miller reveals how he made the Jump, taking Nike's Jordan Brand from a relatively modest $150 million sneaker producer to a $4.5 billion worldwide footwear and apparel phenomenon while also recalling his teenage jailtime and the nightmares from which he still suffers and arguing for criminal justice reform and greater educational opportunities for the currently or formerly imprisoned. After her mother, actress Roseanne Barr, moved the family to celebrity-soaked Hollywood from working-class Denver, using personal details from their lives there for her sitcom's storylines, the teenaged Pentland endured anxiety and eating issues and various 1980s-sanctioned self-help interventions while muttering to herself This Will Be Funny Later (evidently proved here). In Lost & Found, the Pulitzer Prize–winning New Yorker staffer Schulz explores the bittersweet reality of meeting the woman she would marry just 18 months before losing her father. Readers Rise with Vonn as she earns 82 World Cup wins, 20 World Cup titles, seven World Championship medals, and three Olympic medals to become one of the top women ski racers of all time. Raised in Albania, the last Communist country in Europe, where the final tumble of Stalin's and Hoxha's statues soon led to economic chaos, political violence, and the flight of the disillusioned, Ypi has earned the right more than most to ponder what it means to be Free.