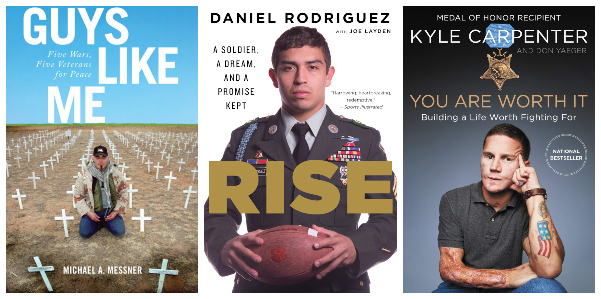 The United States has more than a million active military service members and over 19 million veterans, according to 2019 data from the Bureau of Labor Statistics. The skill sets of those returning from the field are many, including the ability to manage difficult environments and work collaboratively within a team. Yet these individuals can face serious challenges in transitioning from active duty to civilian life.
Veterans often return home with critical health issues, including physical pain, brain injuries, and post-traumatic stress disorder (PTSD), and may face further difficulties in receiving treatment. Health care manuals for service members are a solid starting point for sorting through and identifying available options. Guidebooks are available for other veteran concerns as well, such as homelessness, career advice, home loans, and financial management.
Through memoirs and biographies, returning combat veterans have shared how they readjusted to civilian life and rehabilitated from major injuries. Their experiences pave the way for service members following in their footsteps. They also increase awareness among civilians, helping them to understand the veteran experience and identify ways to encourage and assist others. An uplifting trend in military memoirs is a focus on veterans and their service animals. The companionship and support of service animals have positive, life-altering effects, as they can help injured service members increase mobility, promote independence, and relieve emotional stress.
One way to offer support is by providing open and easy access to information and resources. In their book Serving Those Who Served, Sarah Lemire and Kristen Mulvihill explain how libraries are well-positioned to address these needs. Included among the selections here are books that pay homage to service members and recognize their contributions throughout U.S. history. Other relevant works cover the history of foreign wars, the legacy of the Department of Veterans Affairs, and the history of veterans' advocates and activism. Librarians committed to developing collections with service members, veterans, and their families in mind, will find a wealth of both print materials and online resources from which to choose. Starred (
) titles are considered essential for most libraries.
---
An LJ reviewer since 2015, Dave Pugl is a librarian at the Ela Area Public Library, Lake Zurich, IL. He has also served on LJ's Best Reference Committee in 2018 and 2019
---
BIOGRAPHIES & MEMOIRS
Carpenter, Kyle & Don Yeager. You Are Worth It: Building a Life Worth Fighting For. Morrow. 2019. 320p. ISBN 9780062898548. $27.99.
While serving in Afghanistan in 2010, U.S. Marine Carpenter threw himself in front of a grenade to save a comrade. In this memoir, he tells the story of the long process of rebuilding his life and body.
Finkel, David. Thank You for Your Service. Picador. 2014. 256p. ISBN 9781250056023. pap. $16.
In Finkel's follow up to The Good Soldiers, a best-selling account of the men of the 2-16 Infantry Battalion, the author details returning home from Baghdad and finding his place in civilian life.
Rodriguez, Daniel with Joe Layden. Rise: A Soldier, a Dream and a Promise Kept. Houghton Harcourt. 2014. 272p. ISBN 9780544570368. pap. $15.95.
After fighting in Iraq and Afghanistan, Rodriguez manages to keep a promise he made to a fallen soldier: earning a position on Clemson University's football team.
Shulkin, David. It Shouldn't Be This Hard To Serve Your Country: Our Broken Government and the Plight of Veterans. PublicAffairs. 2019. 384p. ISBN 9781541762657. $29.
Shulkin looks back at his time as VA Secretary and how his efforts to save veteran health care from partisanship were derailed by political appointees; he also offers his own plans to fix the agency.
Thorpe, Helen. Soldier Girls: The Battles of Three Women at Home and at War. Scribner. 2014. 416p. ISBN 9781451668100. $28.
Thorpe recounts the stories of women of the Indiana National Guard who served in Afghanistan and Iraq, and how they navigated a male-dominated culture.
Voss, Tom & Rebecca Anne Nguyen. Where War Ends: A Combat Veteran's 2,700-Mile Journey To Heal. New World Library. 2019. 288p. ISBN 9781608685998. pap. $16.95.
Seeking relief from PTSD, Voss and a fellow veteran walked from Milwaukee to the Pacific Ocean, healing mentally and physically along the way.
HISTORY & CURRENT AFFAIRS
Childers, Thomas. Soldier from the War Returning: The Greatest Generation's Troubled Homecoming from World War II. Houghton Harcourt. 2010. 340p. ISBN 9780547336923. pap. $18.95.
Childers draws on government documents, interviews, and oral history to examine the lives of World War II veterans.
Gordan, Suzanne. Wounds of War: How the VA Delivers Health, Healing and Hope to the Nation's Veterans. ILR: Cornell Univ. 2018. 464p. ISBN 9781501730825. $29.95.
After examining the Veterans Health Administration (VHA) over a five-year period, Gordon argues that the VHA provides better service than private health care providers and is worth protecting.
Jordan, Brian Matthew. Marching Home: Union Veterans and Their Unending Civil War. Liveright: Norton. 2015. 384p. ISBN 9780871407818. $28.95.
Using several archives, Jordan traces the difficult transition faced by Union veterans following the Civil War.
Kinder, John M. Paying with Their Bodies: American War and the Problem of the Disabled Veteran. Univ. of Chicago. 2016. 368p. ISBN 9780226420714. pap. $20.
Kinder explores the complicated history of war and disability in the modern U.S., placing an emphasis on World War I.
Lehring, Gary L. Officially Gay: The Political Construction of Sexuality by the U.S. Military. Temple Univ. 2003. 230p. ISBN 9781592130351. pap. $27.95.
Lehring covers the military's century-long attempt to identify and exclude gays from serving, and the consequences of these policies within and outside the military.
Levinson, Nan. War Is Not a Game: The New Antiwar Soldiers and the Movement They Built. Rutgers Univ. 2014. 308p. 9780813571140. pap. $25.95.
Levinson chronicles the formation of the antiwar group Iraqi Veterans Against the War: why it came about, how it grew, and its struggles and accomplishments.
Messner, Michael A. Guys Like Me: Five Wars, Five Veterans for Peace. Rutgers Univ. 2018. 292p. ISBN 9781978802810. $24.95.
The story of five veterans who became activists, each of whom served in World War II, the Korean War, the Vietnam War, the Gulf War, the Iraq War, and the two-decade wars in Afghanistan.
Owen, Mark with Kevin Maurer. No Easy Day: The Firsthand Account of the Mission That Killed Osama Bin Laden. Dutton. 2014. 315p. ISBN 9780451468741. pap. $17.
The extraordinary, first-person account of Operation Neptune Spear, the mission that took down Osama Bin Laden, as told by a former Navy SEAL who was there.
Sherman, Nancy. The Untold War: Inside the Hearts, Minds, and Souls of Our Soldiers. Norton. 2011. 338p. ISBN 9780393341003. pap. $16.95.
Through interviews with soldiers and families, Sherman explores the long-term consequences of combat and the emotional toll carried by service members.
Teigen, Jeremy M. Why Veterans Run: Military Service in American Presidential Election, 1789–2016. Temple Univ. 2018. 320p. ISBN 9781439914366. pap. $35.95.
Teigen chronicles the history of veterans who run for U.S. political office, specifically for the role of commander in chief.
Whyte, Mary. We the People: Portraits of Veterans in America. Univ. of South Carolina. 2019. 136p. ISBN 9781643360119. $49.99.
Whyte displays moving portraits of military veterans from each of the 50 states, and of varying ages and ethnicities.
SERVICE ANIMALS
Drury, Bob. A Dog's Gift: The Inspirational Story of Veterans and Children Healed by Man's Best Friend. Rodale. 2015. 256p. ISBN 9781623361013. $24.99.
Drury examines a year in the life of Paws for People, an organization that trains service dogs and pairs them with those in need of healing.
Grossi, Craig. Craig & Fred: A Marine, a Stray Dog, and How They Rescued Each Other. Morrow. 2018. 288p. ISBN 9780062693396. pap. $16.99.
An inspiring account of Fred, a dog rescued from an Afghan battlefield, who won the hearts of Sergeant Grossi and his comrades—and who alleviated Grossi's PTSD after they returned home together.
Guerin, Dava & Kevin Ferris. Vets and Pets: Wounded Warriors and the Animals That Help Them Heal. Skyhorse. 2017. 232p. ISBN 9781510721937. $21.99.
Through 15 moving stories, Guerin and Ferris investigate the bonds between wounded warriors, veterans, other service members, and their service animals, including dogs, cats, horses, and birds.
Montalvan, Luis Carlos with Bret Wittner. Until Tuesday: A Wounded Warrior and the Golden Retriever Who Saved Him. Hachette. 2011. 252p. ISBN 9781401324292. $27.
After two tours in Iraq, Montalvan wondered if he would ever recover from PTSD and feelings of alienation. Then he met a service dog who helped him heal.
Morgan, Jason & Damien Lewis. A Dog Called Hope: A Wounded Warrior and the Service Dog Who Saved Him. Atria. 2019. 336p. ISBN 9781476797014. pap. $17.
Special Forces warrior Morgan suffered a serious injury while serving in Central America. At his lowest point, he was introduced to a Labrador named Napal.
Weintraub, Robert. No Better Friend: One Man, One Dog, and Their Extraordinary Story of Courage and Survival in WWII. Back Bay: Little, Brown. 2016. 416p. ISBN 9780316337052. pap. $17.99.
Judy, the only official canine POW of World War II, provided hope for Air Force technician Frank Williams and other POWs. After their rescue, Judy spent the rest of her life with Frank.
SERVICES & HANDBOOKS
Care of Military Service Members, Veterans, and Their Families. APA. 2014. 315p. ed. by Steven J. Cozza & others. ISBN 9781585624249. pap. $53.
This comprehensive guide provides practical information and guidelines for civilian care providers to effectively understand, support, and address the needs of service members and their families.
Homelessness Among U.S. Veterans: Critical Perspectives. Oxford Univ. 2019. 296p. ed. by Jack Tsai. ISBN 9780190695132. $79.95.
Tsai summarizes the data and research of the U.S. Department of Veterans Affairs campaign to end veteran homelessness, while highlighting recent advancements and developments in the agency.
Lawthorne-Scott, Cheryl & Don Philpott. Military Finances: Personal Money Management for Service Members, Veterans, and Their Families. Rowman & Littlefield. 2013. 227p. ISBN 9781442222144. $47.
The authors have created a helpful manual intended to help veterans navigate financial questions they may face while serving and throughout their post-military careers.
Lawthorne-Scott, Cheryl & Don Philpott. Military Mental Health Care. Rowman & Littlefield. 2013. 229p. ISBN 9781442220935. $47.
This easy-to-use handbook gives an overview of available treatments for veterans with debilitating mental and physical health challenges, and the best ways to access those treatments.
Lemire, Sarah & Kristen Mulvihill. Serving Those Who Served: Librarians' Guide to Working with Veteran and Military Communities. Libraries Unlimited. 2015. 181p. ISBN 9781440834325. pap. $55.
Compiled by Lemire and Mulvihill, both of whom are veterans and librarians, this is the essential resource for library staff to become better aware of how to assist veterans and their families.
Moore, Janelle & others. The Wounded Warrior Handbook: A Resource Guide for Returning Veterans. 2d ed. Rowman & Littlefield. 2015. 462p. ISBN 9781442251960. pap. $34.
This well-organized, comprehensive guide provides straightforward answers about medical treatment, rehabilitation, counseling, financial matters, and more.
Murphy, James D. & William M. Duke. Down Range: A Transitioning Veteran's Career Guide to Life's Next Phase. Wiley. 2014. 218p. ISBN 9781118790151. pap. $25.
As veterans who have successfully transitioned into civilian careers, Murphy and Duke offer advice on how to do the same.
Nelson, David E. Jr. Making the Most of Your Veterans Affairs (VA) Home Loan Benefits: An Active Duty Service Member and Veteran's Guide to Home Ownership. Atlantic. 2018. 109p. ISBN 9781620235218. pap. $19.95.
Nelson, a real estate agent and former Navy member, outlines the real estate market in simple terms, along with instructions on VA Home Loan benefits.
Parent, Jaime B. Moving Past PTSD: Consciousness, Understanding, and Appreciation for Military Veterans and Their Families. Rowman & Littlefield. 2019. 200p. ISBN 9781538126967. pap. $30.
This poignant book serves as a forum for veterans and caregivers to describe, in their own words, ways of improving the transition from military to civilian life.
Romer, Joanna. Helping the Disabled Veteran: How To Assist Your Disabled Veteran's Adjustment to Civilian Life. MSI Pr. 2018. 124p. ISBN 9781942891789. pap. $19.95.
Based on interviews with disabled veterans, this guide offers ways to help veterans reintegrate back into civilian life.
WEBSITES
Disabled American Veterans; dav.org
Support for disabled veterans and their families.
Arlington National Cemetery; arlingtoncemetery.mil
The resting place for active duty service members, veterans, and their families.
Hire Heroes USA; hireheroesusa.org
Provides free job search assistance to U.S. veterans and military spouses.
National Coalition for Homeless Veterans; http://www.nchv.org
The National Coalition for Homeless Veterans (NCHV) is the leading authority on veteran homelessness.
Patriot Paws; https://patriotpaws.org
Provides service dogs to disabled veterans in order to help them regain independence.
Pet for Vets; https://petsforvets.com
Pets for Vets improves the lives of both veterans and animals by bringing them together.
U.S. Department of Veterans Affairs; https://www.va.gov
Connects veterans to health care services, benefits programs, and access to national cemeteries to former military personnel and their dependents.
Veterans Crisis Line; veteranscrisisline.net
A free, confidential resource, even for veterans not enrolled in VA health care.
Veterans' Service Records; archives.gov/veterans
The place to request military records and learn about other services.
Wounded Warrior Project; woundedwarriorproject.org
Supports those who incurred an illness while serving on or after September 11, 2001.
---
This article was originally published in Library Journal's February 2020 issue.