LJ's long-standing debut novels feature draws on news, reviews, and personal reading to determine what new works are best bets for library collections. In this list, "Books To Get" covers September through November titles that have received our reviewers' imprimatur, while "Books To Anticipate" highlights the most promising titles of the coming season. For more fall titles, see "Summer/Fall Bests," LJ 7/19.
---

Books To Get

Chillers
Colt, Peter. The Off-Islander. Kensington. (Andy Roark, Bk. 1). Oct. 2019. 240p. ISBN 9781496723413. $26; ebk. ISBN 9781496723451. M
A Vietnam War veteran working as a private investigator in his native Boston, circa 1982, Andy Roark is tasked by a Southie childhood friend–turned–hotshot lawyer to find the long-vanished father of upper-crust Deborah Swift. Here, Nantucket chills rather than charms. "This atmospheric debut…should appeal to fans of the early works of Dennis Lehane and Robert B. Parker." (LJ 10/19)
Ellett, Heather Harper. Ain't Nobody Nobody. Polis. Sept. 2019. 336p. ISBN 9781947993709. $26; ebk. ISBN 9781947993839. M
When a corpse is found sitting pretty on a fence delimiting the land once owned by the best friend who cost him his job, former sheriff Randy Mayhill drops his Dr Pepper bottle long enough to launch his own out-of-bounds investigation. "Readers looking for a fresh, offbeat voice in the mystery genre will find it here." (LJ 9/19)
Johnson, Sara E. Molten Mud Murder. Poisoned Pen: Sourcebooks. (Alexa Glock, Bk. 1). Sept. 2019. 320p. ISBN 9781464211232. pap. $15.99; ebk. ISBN 9781464211249. M
Wrapping up a job in New Zealand, American forensics expert Alexa Glock leaps at the chance to help identify a body found in the mud pits in Rotorua, its head boiled in the muck. Was the victim killed for treading on sacred land without permission, or are the Maori being framed for his death? "A compelling debut novel…[with] a strong sense of place, history, and Maori culture." (LJ 9/19)
Sveistrup, Søren. The Chestnut Man. Harper. Sept. 2019. 528p. tr. from Danish by Caroline Waight. ISBN 9780062895363. $28.99; ebk. ISBN 9780062895387. THRILLER
Acclaimed producer/scriptwriter Sveistrup takes the book plunge with the story of a psychopath who is terrorizing Copenhagen, leaving his victims with a doll made of matchsticks and chestnuts and pushing Detectives Naia Thulin and Marl Hess to the limit. "The best kind of terrifying….Sveistrup creates a plot so intricately woven that even a seasoned crime reader won't guess the ending." (LJ 9/19)
---
SF/Fantasy

Givhan, Jennifer. Trinity Sight. Blackstone. Oct. 2019. 288p. ISBN 9781538556726. $25.99; ebk. ISBN 9781538556740. SF
After a car crash, anthropologist Calliope Santiago awakens in a violent world of volcanic eruptions and rapidly disappearing humans. Poet Givhan's story fuses Puebloan, Zuni, and Mexican American worldviews. "[A] harrowing debut…[that] reveres the power of nature, exploring what could happen if Earth punished humankind for the atrocities committed against it." (LJ 7/31/19)
Hackwith, A.J. The Library of the Unwritten. Ace: Berkley. (Hell's Library, Bk. 1). Oct. 2019. 384p. ISBN 9781984806376. pap. $16. ebk. ISBN 9781984806383. FANTASY
Seeking a character that has escaped from one of the never-completed books in The Unwritten Wing in Hell, head librarian Claire, assistant Brevity, and the demon Leto charge earthward and run afoul of the angel Ramiel, who thinks they are after the dangerous Devil's Bible. "Elaborate worldbuilding, poignant and smart characters, and a layered plot [blend in this]...ode to books, writing, and found families." (LJ 7/31/19)
Harrow, Alix E. The Ten Thousand Doors of January. Redhook: Orbit. Sept. 2019. 384p. ISBN 9780316421997. $27; ebk. ISBN 9780316421980. FANTASY
Ward to the rich and arrogant Cornelius Locke, for whom her father collects artifacts, January feels trapped in Locke's stuffed and stuffy mansion. Then she discovers a mysterious book showing her the opportunities afforded by 10,000 doors leading to 10,000 worlds. "[A] magical coming-of-age tale and allegorical commentary on social justice." (LJ 9/6/19)
Hayes, Tyler. The Imaginary Corpse. Angry Robot. Sept. 2019. 400p. ISBN 9780857668318. pap. $12.99; ebk. ISBN 9780857668325. FANTASY
Stillreal, where abandoned dreams, nightmares, and imaginary friends gather to find new meaning, is ruled over by the giddy detective Tippy, a stuffed yellow triceratops. When Man in the Coat suddenly starts killing residents, Tippy has his claws full. "This special and distinct novel… feels like Pixar's 'Toy Story' movies scripted by Dashiell Hammett." (LJ 9/6/19)
McGovern, Emily. Bloodlust & Bonnets.Andrews McNeel. Sept. 2019. 216p. ISBN 9781449497477. pap. $19.99. FANTASY/GN
Eager for some worldly experiences, 19th-century British debutante Lucy seeks out the regal vampire Lady Violet Travesty, then follows Lord Byron and later bounty hunter Sham on an uncertain quest involving suppressed passion. In graphic format. "An exuberant debut." (LJ 10/19)
Pinsker, Sarah. A Song for a New Day. Berkley. Sept. 2019. 384p. ISBN 9781984802583. pap. $16; ebk. ISBN 9781984802590. SF
With public gatherings banned by the government owing to bomb threats and a flood of lethal viruses, performers like Luce Cannon must present their works in secret. Enter virtual customer service specialist Rosemary Laws, who is tasked with finding musicians for a virtual concert firm. "A moving alternate future in which technology provides everything a person could want, except human contact." (LJ 7/31/19)
Sharma, Priya. Ormeshadow. Tor.com. Oct. 2019. 165p. ISBN 9781250241443. pap. $14.99; ebk. ISBN 9781250241436. FANTASY
Distraught about leaving the life he knew and loved in Bath, England, to live on his uncle's farm in Ormeshadow, where a dragon is buried, Gideon Belman comes to realize that his family has a dark history. "Fraught with emotional tension, built upon a harsh, beautiful setting, this [is a] fantastical look at family secrets and a young boy who must navigate the sins of his kinfolk." (LJ 8/19)
Valdes, Valerie. Chilling Effect. Harper Voyager. Sept. 2019. ISBN 9780062877239. pap. $15.99; ebk. ISBN 9780062877246. SF
Capt. Eva Innocente is cruising through space with the crew of La Sirena Negra, delivering modest goods for barely there prices, when her sister is kidnapped by a syndicate called the Fridge that demands dangerous services of Eva in return for her sister's release. "Featuring memorable Cuban-descended characters, this engaging space opera debut delivers a story that dances between hilarity and seriousness." (LJ 8/19)
---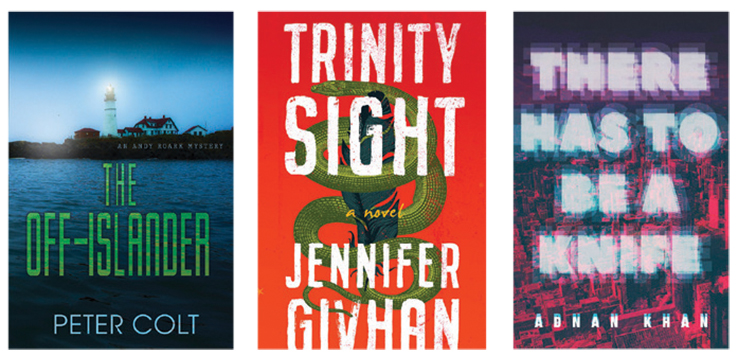 Literary Gems

Borgo, Karina Sainz. It Would Be Night in Caracas. Harper. Oct. 2019. 237p. tr. from Spanish by Elizabeth Bryer. ISBN 9780062936868. pap. $24.99. LITERARY
In tempestuous Caracas, Venezuela, Adelaida Falcón must find a way to survive not only the death of her mother, the only family she has ever known, but the escalating violence that forces her from her apartment and into a whole new way of life. "A heartfelt, personal story told without sentimentality … [and] graphic enough to make the reader feel afraid of the knocking on the door." (LJ 10/19)
Frank, Michael. What Is Missing. Farrar. Oct. 2019. 320p. ISBN 9780374298388. $27; ebk. ISBN 9780374719500. LITERARY
Author of the memoir The Mighty Franks, Frank here relates the story of part Italian, part American translator Costanza Ansaldo, who returns to a beloved Florence pensione to mourn her dead husband and the child she never had. There she encounters 17-year-old Andrew Weissman and his father, Henry, who specializes in reproductive medicine, with resounding consequences. "The human dynamics of the difficult situation are palpable." (Forthcoming LJ review)
Khan, Adnan. There Has To Be a Knife. Arsenal Pulp. Oct. 2019. 224p. ISBN 9781551527857. pap. $15.95. LITERARY
Working as a line cook in Toronto, Omar Ali spirals down rapidly after the father of a former girlfriend calls to report her suicide. He launches a desultory affair, gets fired for slapping a coworker, and vents online in a way that has the Royal Canadian Mounted Police targeting him as a terrorist. "A raw, provocative, fluidly written account highlighting how Omar's Muslim identity complicates his personal pain." (Forthcoming LJ review)
Vercher, John. Three-Fifths. Agora. Sept. 2019. 272p. ISBN 9781947993679. $24.99; ebk. ISBN 9781947993822. LITERARY
Unacquainted with his black father, at odds with his white mother, and raised by his bigoted grandfather, Bobby has always passed as white but must face facts when friend Aaron, now a white supremacist, batters a young black man with a brick. "Fans of realistic social issue narratives will be immersed in the moral dilemmas of this timely novel." (LJ 9/19)
---
Top Pop

Dunmore, Evie. Bringing Down the Duke. Berkley. (League of Extraordinary Women, Bk. 1). Sept. 2019. 368p. ISBN 9781984805683. pap. $15; ebk. ISBN 9781984805690. HISTORICAL ROMANCE
Annabelle Archer wins a scholarship from a women's suffrage group to study at the new women's school in Oxford but in return must join in its activities, which include challenging the Married Women's Property Act. One of her targets is the icy Duke of Montgomery, Sebastian Devereux, which will surely lead to fireworks. "Chock-full of verve, history, and passion." (LJ 9/19)
Sanchez, Eileen Harrison. Freedom Lessons. She Writes. Nov. 2019. 256p. ISBN 9781631526107. pap. $16.95; ebk. ISBN 9781631526114. WOMEN'S/HISTORICAL
When she moves to Louisiana in 1969 with her husband, a Cuban immigrant and Vietnam War veteran, Colleen Rodrigues battles racism on many levels and eventually becomes the only white teacher at the local black elementary school. "A moving and timely story…about school integration in the South in 1969 and the issues that still linger today." (LJ 10/19)
Scott, Caroline. The Poppy Wife. Morrow. Nov. 2019. 448p. ISBN 9780062955326. pap. $16.99; ebk. ISBN 9780062955319. WOMEN'S/HISTORICAL
Edie Blythe's husband went missing during World War I and is presumed dead, but now she has received a picture of him in the mail without explanation, and she starts to hope against hope. "A beautifully evocative reminder of what it means to come back from war and to face the age-old question of whether it is better to have survived or to have died." (LJ 10/19)
---

Books To Anticipate

Adams, Sean. The Heap. Morrow. Jan. 2020. 224p. ISBN 9780062957733. $25.95; ebk. ISBN 9780062957740. LITERARY/DYSTOPIAN
Standing 500 stories tall, a condominium called Los Verticalés is a wonder to behold—until it comes crashing down, burying thousands of residents. Now it is called the Heap, and workers shifting through to see if anyone is still alive are joined by Orville Anders, whose radio DJ brother Bernard is still broadcasting from within the debris. "It was a sick joke among Dig Hands to talk about the smell, not because it was funny, but because to them it wasn't anything. A dead could compost itself for months…and still go undetected." A sharp, evocative look at human arrogance and the sense of community we build after tragedy.
Anappara, Deepa. Djinn Patrol on the Purple Line. Random. Feb. 2020. 352p. ISBN 9780593129197. $27; ebk. ISBN 9780593129203. LITERARY
Award-winning journalist Anappara uses bright, propulsive prose that only accentuates the seriousness of her subject: the disappearance of children from villages in India, a real-life issue given intimate treatment here. Nine-year-old Jai obsessively watches TV police shows, so he's convinced that despite the danger, he can lead his friends in a hunt for their missing classmates. "I peer into ditches for the rest of our walk to school, just in case Bahadur has fallen into one of them. All I see are empty wrappers and holey plastic bags and eggshells and dead rats and dead cats and chicken and mutton bones sucked clean by hungry mouths. No sign of djinns, no sign of Bahadur."
Andrews, Jessica. Saltwater. Farrar. Jan. 2020. 304p. ISBN 9780374253806. $26; ebk. ISBN 9780374719173. LITERARY
Lucy grew up skin-close to her mother in working-class northern England, and as an out-of-place student at university in London misses her terribly. Then her father disappears, and her grandfather's death drives Lucy to his tiny house in Ireland for comfort and the chance to master her life. "As a teenager…I wanted things that flashed and fizzled. Now that I am here, beneath the peat smoke and the penny-coloured skies, brown seems like a safe place." A sensitive, gorgeously told story of a young woman's coming-of-age.
Atakora, Afia. Conjure Women. Random. Mar. 2020. 416p. ISBN 9780525511489. $27; ebk. ISBN 9780525511496. HISTORICAL
Around the time of the Civil War, Rue lives with her mother on a plantation, where they serve as midwives, healers, and conjurers of curses. Her story, told in lilting, luscious language, is one of secrets and closeness. "Since the end of slaverytime, Rue has birthed every last child in that town. She knew their mamas and their daddies, too, for she was allowed into sickbeds for healing and into birthing beds alike, privy to the intimate corners of joy and suffering." All that Rue has seen is related here, but how will her life change now that "slaverytime" has ended?
Bevacqua, Dan. Molly Bit. S. & S. Feb. 2020. 320p. ISBN 9781982104580. $26; ebk. ISBN 9781982104573. LITERARY
Live-for-her-career actress Molly Bit is one of the more self-confident characters you'll meet: "She went through the scene with Roger as her partner. She tried to give the lines some mystery, some depth. She ignored the exclamation marks, and showed the writers how the one-note-ness of them was too constraining." But this is no glittery Hollywood story; it's one of hard work and laser concentration and finally getting the role of a lifetime by sacrificing a friend. Bevacqua captures exactly the performer's tough-as-tap-shoes life while also clarifying both youthful angst and how the choices we make to get ahead can bend our souls.
Bonnaffons, Amy. The Regrets. Little, Brown. Feb. 2020. ISBN 9780316516167. $27; ebk. ISBN 9780316516143. lib. ebk. ISBN 9780316422888. LITERARY
When she sits down to chat with a charming young man she keeps seeing at a Brooklyn bus stop, Rachel discovers that Thomas is dead. He's just stuck on Earth for 90 days owing to a heavenly snafu and really shouldn't be talking to her. Instead of offering a meet-cute scenario or yet another variation on the undead theme, Bonnaffons gives the situation a fresh weirdness, exploring the wonder and complications of being alive in resonant, unexpected prose: "You do not exist. But I'd never felt my existence more sharply, the painful way you might feel the light in the room when it starts to flicker."
Fleischmann, Raymond. How Quickly She Disappears. Berkley. Jan. 2020. 320p. ISBN 9781984805171. $26; ebk. ISBN 9781984805195. SUSPENSE
In 1941 Alaska, Elisabeth endures an unhappy marriage and devotes herself to her daughter, a near match to her own twin sister, Jacqueline, who vanished two decades ago when they were children. Then creepy German bush pilot Alfred Seidel shows up, claiming to know what happened to Jaqueline and willing to reveal all if Elisabeth fulfills three requests: "I can't tell you everything I know, not in one sitting….You'll have no more use for me, and then I'll be alone again." Interleaving their ongoing confrontation in a remote and chilly terrain with scenes of Elisabeth's childhood, Fleischmann creates a certain suspense.
Missaghi, Poupeh. trans(re)lating house one. Coffee House. Feb. 2020. 296p. ISBN 9781566895651. pap. $17.95; ebk. ISBN 9781566895736. LITERARY
After Iran's 2009 election, a woman notices that statues are disappearing from Tehran's town squares and sets out to find them. She moves from teahouses to buses to hookah bars and has one significant encounter, but it's the disappearance of the city's residents that really matters. Editor/translator Missaghi writes in a distinctively lyrical and meditative voice that often feels like prose poetry. "I desire for her to create a map that can reinvent itself every time the city does. A secret map, a personal map, and an internal map." Astonishing reading for the sophisticated.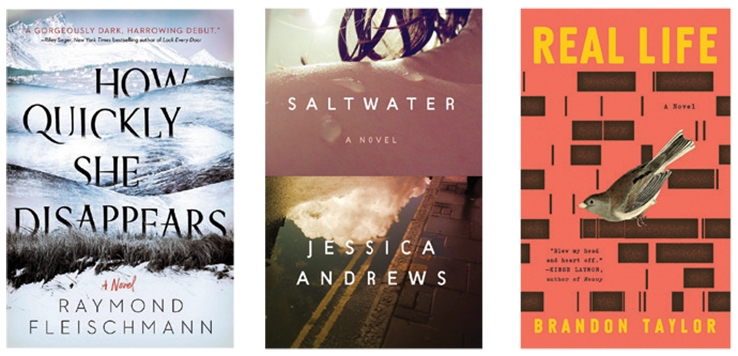 Rosner, Jennifer. The Yellow Bird Sings. Flatiron: Macmillan. Mar. 2020. 304p. ISBN 9781250179760. $25.00; ebk. ISBN 9781250179777. HISTORICAL
As the Holocaust descends on Poland, Roza and five-year-old daughter Shira survive by hiding in a barn. To stay safe, they must stay still. But prodigy Shira positively sparkles with music, so Roza tells her the story of an enchanted garden where a yellow bird does the singing. "Only birdsong is safe—yet there is a princess who can't stop sneezing and the giant must never hear them. There are adventures and threats averted by the little girl's quick thinking." Threats indeed, for soon the mother must depart from the daughter to save her, yet the story remains as vibrant as it is heartbreaking.
Schaitkin, Alexis. Saint X. Celadon. Macmillan. Feb. 2020. 352p. ISBN 9781250219596. $26.99; ebk. ISBN 9781250219589. WOMEN'S
On the Caribbean island of Saint X, where well-to-do Americans deny feeling superior, seven-year-old Claire is vacationing with her family when her older sister is murdered. Claire and her parents are estranged by their grief, and she sharply portrays a life inevitably altered: "The worst part was seeing people's surprised reactions…that this had happened to me…yet, somehow, I had managed not to be made interesting by it." Years later, she recognizes her cab driver as one of the suspects in her sister's murder and strikes up a relationship to draw him out. A deft, absorbing study of how death changes everything and obsession can take hold.
Staples, Dennis E. This Town Sleeps. Counterpoint. Mar. 2020. 224p. ISBN 9781640092846. $26; ebk. ISBN 9781640092853. LITERARY
On a Minnesota reservation, a mid-twenties gay Ojibwe man named Marion Lafournier launches an affair with firmly closeted former white classmate Shannon. "He gives me a faint, dark smile in the evening light and hesitates. Is this a cue? I think so. I step forward, rise slightly to my toes, and lean in to kiss him. He loses his smile and takes a few quick breaths." Their nighttime sojourns lead them to an old playground where they inadvertently rouse the spirit of a dead dog, which scurries them along to the grave of murdered teenage Ojibwe basketball star Kayden Kelliher. In frank, urgent language, the narrative explores the mystery of this murder and so much more.
Stuart, Douglas. Shuggie Bain. Grove. Feb. 2020. 448p. ISBN 9780802148049. $27; ebk. ISBN 9780802148056. LITERARY
Essentially telling his own story, Stuart chronicles the life of Hugh "Shuggie" Bain, who lives in rock-bottom public housing in 1980s Glasgow with his philandering taxi-driver father and a mother increasingly disappointed by the gap between her dreams and her reality. Her drinking splinters the family, though Shuggie remains loving and loyal while struggling with his own sense of being "no right." "Agnes sank to the edge of the bed. Shuggie could feel her can of lager spill on the mattress and start to soak through his socks. Burying her face in his hair, she sobbed her dry, frustrated tears." A big, richly detailed study of generational poverty, a boy's confused sexuality, and the mother-child bond.
Taylor, Brandon. Real Life. Riverhead. Feb. 2020. 336p. ISBN 9780525538882. $26; ebk. ISBN 9780525538905. LITERARY
At a Midwestern university far from his Alabama home, introverted African American Wallace works toward a graduate degree in biochemistry while moving cautiously even among his friends. His latest project seems to have been sabotaged, he reacts mutedly to his father's death, and he's picking his way through his own sexuality. "Yes, he thought about leaving, and yes, he hated it here sometimes. But running through that feeling like hard, resolute bone was something else: It wasn't so much that he wanted to leave graduate school as that he wanted to leave his life." A smart, elegantly written book.

Weinberg, Kate. The Truants. Putnam. Jan. 2020. 320p. ISBN 9780525541967. $26; ebk. ISBN 9780525541981. LITERARY
Attending university in East Anglia so that she can study with the darkly charismatic Dr. Lorna Clay, who uses her feminist-sharpened mind to investigate (of all writers) Agatha Christie, Jess Walker befriends aristocratic wild-girl Georgie, who's begun dating a treacherous South African journalist named Alec. Even as Jess becomes involved with geologist Nick, she careens dangerously toward Alex, finally landing in a complex, compromised relationship with Lorna that delivers the book's final surprise. The engrossing story unfolds swiftly in precise, beautiful language to reveal the book's theme: "People disappear when they most want to be seen."

---
CORRECTION: In "Summer/Fall Bests," LJ 7/19, the first sentence in the preview for Kiley Reid's Such a Fun Age should reference her family rather than her son. LJ apologizes for the error.
---
Barbara Hoffert is Editor, Prepub Alert, LJ