Clark, Alicia H. with John Sternfeld. Hack Your Anxiety: How To Make Your Anxiety Work for You in Life, Love, and Work. Sourcebooks. Aug. 2018. 400p. illus. notes. ISBN 9781492664130. pap. $15.99. SELF-HELP
While most of us try to keep anxiety at bay by squelching it, numbing it, or working feverishly against it, licensed psychologist Clark, joined by writer Sternfeld ­(Crisis Point), says the emotion can be a mighty energy source, enabling a person to grow, succeed, and even find peace. Using new research based in neuroscience and case studies, as well as interviews and personal experience, the author encourages listening to our angst, cluing in to its message, and acting with fresh insight. After exploring anxiety's role in the areas of relationships, self-esteem, parenting, and so on, Clark outlines a toolkit that guides readers through steps and key questions geared to harness powerful feelings and turn them into motivators. VERDICT While lengthy, this worthy resource offers workable solutions for a common struggle.
Englander, Arlene B. Let Go of Emotional Overeating and Love Your Food: A Five-Point Plan for Success. Rowman & Littlefield. Aug. 2018. 172p. ISBN 9781538111192. $36. SELF-HELP
Englander, a licensed psychotherapist and former emotional overeater, identifies the stressors of emotional eating—using food as a way to distract oneself from painful thoughts and feelings—and demonstrates how to rework negative thoughts into productive actions. The goal is to eat in a more pleasure-oriented, self-regulated manner and to maintain a better balance between joys derived from life and those derived from food. Readers further learn how positive self-talk can help them lower stress, love healthy foods, savor meals, and even enjoy exercise. She also speaks to situations in which overindulging is likely to occur, including late-night eating, parties, and vacations.
VERDICT Compassionate wisdom for all who suffer from emotional overeating.
Garrison, Gary. Raising Grandkids: Inside Skip-Generation Families. Univ. of Regina. Aug. 2018. 212p. ISBN 9780889775541. pap. $14.95. SELF-HELP
Garrison (Playwright's Survival Guide; Verticals and Horizontals) aims his book at grandparents who serve as full-time caregivers to grandchildren who would otherwise end up in foster care. Drawing from his own stories and those from other grandparents, the author talks about the joys and challenges of raising a grandchild, from battling case workers, dealing with aging, and yet finding a new vitality in living with young children. Particularly hard issues are the guilt and anger grandparents experience toward their own child, who is either unable or unwilling to care for their offspring. Add that to the red tape of child protective services, and being part of the skip generation can be an overwhelming job. Garrison imbues honesty and compassion into his writing, comforting those in similar situations.
VERDICT Recommended for social workers as well as grandparents raising their children's children.
Headon, Abbie. The Power of Yes: Positive and Practical Advice To Help You Live Life to the Full. Ilex. Sept. 2018. 160p. ISBN 9781781576007. pap. $12.99; ebk. ISBN 9781781576137. SELF-HELP
Headon (Poetry First Aid Kit; Literary First Aid Kit) is all about positivity and self-empowerment. Here, she shows readers how to overcome self-doubt and reawaken their power to dream and to make those dreams a reality. The book's nine chapters focus on energizing various aspects of life (e.g., careers, relationships, world change) and feature inspirational quotes, short bios, and tips to tune out inner and outer critics. "Yes Labs" included under each heading—"Get Outside Your Comfort Zone," "Relight Your (Learning) Fire," "Tune Out the Critics," and more—present concrete ideas for enhancing a can-do attitude. Headon then inspires readers to learn a new skill, listen instead of talk, follow a historic path, and more. ­
VERDICT The text, layout, and realistic suggestions all make for an ­enlivening read. ­Recommended.
Inglis, Kate. Notes for the Everlost: A Field Guide to Grief. Shambhala. Sept. 2018. 208p. ISBN 9781611805505. pap. $16.95; ebk. ISBN 9780834841383. SELF-HELP
In this part memoir, part handbook for the bereaved, Inglis (The Dread Crew; If I Were a Zombie) tells the raw, emotive story of surviving the loss of a child. Acting as a companion on the road no one chooses to travel, the author guides readers in paving a way through grief during the first year, then integrating (not healing) a new reality with a future one. Discussions on how to interact with well-meaning friends as well as deal with guilt round out her moving account. Inglis freely expresses her innermost thoughts and rages, thus bonding with those who have experienced similar sorrows, making her narrative particularly effective and compelling.
VERDICT Highly recommended for ­anyone in the throes of grief, recent or past.
Lipsky, Laura van Dernoot. The Age of Overwhelm: Strategies for the Long Haul. Berrett-Koehler. Jul. 2018. 192p. index. ISBN 9781523094738. pap. $17.95. SELF-HELP
For those who battle worrying over everything from daily to global issues, best-selling author Lipsky (Trauma Stewardship) says the first step is to separate what is and isn't within our control; the second step is to act on that which is in our power to change and relinquish what is not. ­Combining New Yorker cartoons and sage advice, Lipsky moves readers through the process of minimizing distraction and heightening intention. By paring away the unnecessary, advises the author, people do less of what erodes them and more of what sustains them, asserting that only then can we be a force for good in the world.
VERDICT An engaging read that will appeal to anyone who is feeling overwhelmed and looking for support.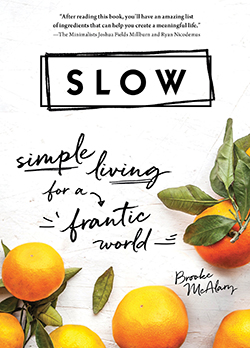 McAlary, Brooke. Slow: Simple Living for a Frantic World. Sourcebooks. Jul. 2018. 272p. photos. ISBN 9781492665540. pap. $25.99. SELF-HELP
Several years ago, McAlary found herself consumed by busyness, sky-high expectations, and a lot of clutter. She set out to change all that and found that a slower life was a more contented one, offering this practical guide to living simply. ­Photographs, guided exercises ("Check in with Your Why," "Taking Stock of Your Senses," "Spreading Kindness"), personal experience, and helpful lists assist in showing readers how to declutter, disconnect from technology, and employ mindfulness as a tool for savoring every moment of every day.
VERDICT A highly readable and attractive resource for anyone looking to slow down and decompress.
Nieuwhof, Carey. Didn't See It Coming: Overcoming the 7 Greatest Challenges That No One Expects and Everyone Experiences. WaterBrook. Sept. 2018. 224p. notes. ISBN 9780735291331. pap. $19.99; ebk. ISBN 9780735291348. SELF-HELP
Astute readers may be wondering about the seven challenges former lawyer and pastor of Connexus Church (Barrie, Ont.) Nieuwhof discusses in his book. Organized by sections—"Cynicism," "Compromise," "Disconnection," "Irrelevance," "Pride," "Burnout," and "Emptiness"— the work demonstrates how a reliance on God and His word can help instill curiosity and strengthen character. Serving as a helpful companion on the journey of life, Nieuwhof shares lessons in how to accept change and offers antidotes to embracing today's challenges. Writing from firsthand experience and describing both struggles with and victories over life's obstacles, his advice provides an invigorating way through setbacks and adversity.
VERDICT Recommended, particularly for readers of faith-based works.
Santos, Chester. Mastering Memory: Techniques To Turn Your Brain from a Sieve to a Sponge. Puzzlewright. May 2018. 160p. index. ISBN 9781454920809. pap. $12.95. SELF-HELP
Former U.S. National Memory Champion Santos claims that having razor-sharp recollection can assist readers in all areas of life, such as increasing rapport with others, demonstrating expertise, or playing cards. The author supplies numerous techniques—visualizing words, storing concepts in one's mind, and going on a journey—whereby readers can remember movies, statistics, and foreign languages. An especially helpful chapter offers step-by-step instructions for remembering names using repetition, imagination, and the "name game." The volume concludes with a Memory Workbook, challenges, and advanced challenges.
VERDICT Useful tips for both young and old in building the ability to recall people, places, and things.
Smith, Grace. Close Your Eyes, Get Free: Use Self-Hypnosis To Reduce Stress, Quit Bad Habits, and Achieve Greater Relaxation and Focus. Da Capo: Perseus. Jul. 2018. 288p. index. ISBN 9780738219714. pap. $15.99 ; ebk. ISBN 9780738219721. SELF-HELP
Self-hypnosis, or as hypnotherapist Smith calls it, "meditation with a goal," allows us to reprogram our subconscious minds to create a stronger sense of self-worth, develop mental freedom, and extinguish bad habits. Applying case studies, professional readings, and recordings (which the author provides through her website Grace Space ­Hypnosis), Smith guides readers on how to lower stress, stop nail-biting, quit smoking, and remove other undesirable behaviors through basic exercises and affirmations. While some remedies require weeks of practice, others, such as the "60-­Second Stress Relief," can be used immediately with no extra training.
­ VERDICT A simple, realistic way to rid oneself of self-destructive patterns and ­proactively pursue change.
Spooner, Rebecca. Journal Me Organized: The Complete Guide to Practical and Creative Planning. Get Creative 6: Sixth & Spring. Jul. 2018. 144p. illus. ISBN 9781640210134. pap. $19.95. SELF-HELP
In this colorful and imaginative book, blogger (homeschoolon.com) and ­stay-­at-home mom Spooner details how planning one's days and weeks not only helps us stay on track but also releases our artistic side and can serve as a diary of sorts. She discusses both cerebral and creative planning and offers suggestions for devising schedules, listing weekly meals, and setting goals. Spooner combines art and organizational ideas through illustrations using fanciful fonts and cartoon drawings. Those who have difficulty with planning or journaling will be inspired by the multitude of projects and options for personalizing their daily and overall life story.
VERDICT A unique approach to both journaling and daily planning. Highly recommended.
Storm, Cristien. Empowered Boundaries: Speaking Truth, Setting Boundaries, and Inspiring Social Change. North Atlantic. Sept. 2018. 208p. ISBN 9781623172749. pap. $15.95; ebk. ISBN 9781623172756. SELF-HELP
According to mental health therapist and social justice activist Storm (cofounder, former executive director, Home Alive), most people don't have the tools they need to create and articulate effective boundaries, nor do they know how to enforce the boundaries they do set. Storm emphasizes the nature of boundary setting, particularly among vulnerable groups such as people of color, immigrants, the LGBTQ community, and women, defining along the way topics of power and privilege and the connections between individual and community safety. She further examines the fear behind and avoidance of communicating one's needs and then offers methods for establishing boundaries—"Naming the Behavior," "the Broken Record," "Freeze Framing," "the Reflective Loop," and "Trusting Intuition"—with everyone from family members and bosses to strangers at the bus stop.
VERDICT Highly recommended.
Remedies for Recovery
Adams Recovery Center. Assess, Rebuild, Connect: Creating a New Life Beyond Addiction. KiCam. Sept. 2018. 128p. ISBN 9780999158128. pap. $12.95; ebk. ISBN 9780999158135.
Williams, Rebecca E. & Julie S. Kraft. The Gift of Recovery: 52 Mindful Ways To Live Joyfully Beyond Addiction. New Harbinger. Jun. 2018. 248p. ISBN 9781684030705. pap. $17.95; ebk. ISBN 9781684030729. RECOVERY/ADDICTION
According to various counseling professionals of the Adams Recovery Center (ARC), Loveland, OH, leading a fulfilling, sober life is similar to owning a car in that the body requires constant care and regular maintenance. Their slim but comprehensive volume provides exercises, reflections, and practical examples to help readers assess obstacles to recovery, rebuild the most meaningful parts of their lives, and connect with the world through repairing relationships and managing challenges that come with sustaining lifelong sobriety. Included are tools to help those in recovery reestablish trust, live with integrity, better understand difficult family dynamics, and move forward realizing their passions.
In The Gift of Recovery, clinical psychologist Williams and marriage/family therapist Kraft navigate similar terrain but with a focus on the practice of mindfulness. They offer 52 meditations, or "gifts," for reducing stress, and managing depression and strong emotions, along with skills based in cognitive behavior therapy, dialectical behavior therapy, and acceptance/commitment therapy. Readers are provided with strategies that teach them how to change their perspective about anxiety, release old ways of coping, and find joy in the process. Covering parallel aspects of recovery—relinquishing control, altering one's thoughts and behaviors—but using slightly different techniques, both books address and enrich the process of transformation.
VERDICT Recommended for anyone in recovery, with Gift being more suitable for those open to meditation and affirmations.
Deborah Bigelow is Adult Services Librarian, Dexter District Library, MI
This article was originally published in Library Journal's July 2018 issue.