For fans of The Little Book of Hygge comes a new offering on discovering one's inner cozy; out of literally dozens of tips and ideas, readers should be able to find at least one to employ to make their lives better; full of emotion, humor, and vulnerability, these stories skillfully illustrate and evoke empathy for the human condition; readers will benefit from the wisdom of saving today in the hope of a brighter tomorrow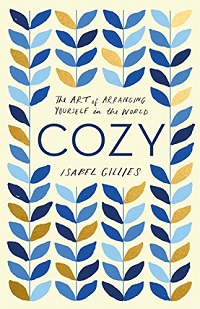 Gillies, Isabel. Cozy: The Art of Arranging Yourself in the World. Harper Wave. Feb. 2019. 256p. ISBN 9780062654151. $22.99; ebk. ISBN 9780062654175. SELF-HELP
For fans of Meik Wiking's The Little Book of Hygge comes this new release offering advice on how to withstand uncertainty and discomfort in the world by discovering one's inner cozy. Gillies (Happens Every Day) proposes getting to know oneself, eccentricities and all, accepting those qualities, then designing one's home around what works for them, not what's popular in Architectural Digest. The author goes on to tackle more difficult spheres of life, including being comfortable with mammograms and hospital visits, peppering the text with antidotes about the unpleasantness of it all. Comfort-meal recipes round out the final chapter.
VERDICT A pleasant read that reassures us it's okay to lounge around in old sweats and socks.
Horn, Sam. Someday Is Not a Day in the Week: 10 Hacks To Make the Rest of Your Life the Best of Your Life. St.Martin's. Mar. 2019. 256p. ISBN 9781250201225. $27.99; ebk. ISBN 9781250201232. SELF-HELP
In this handy little book, Horn (IDEApreneur) recommends not waiting to build a fulfilling life but starting right now. Presenting ten hacks, or steps, as a framework for success, which include abdicating outdated beliefs and behaviors, celebrating what's right with life, and negotiating for the things one needs and deserves, Horn makes use of stories, quizzes, and questions for self-examination to prod readers forward.
VERDICT Out of literally dozens of tips and ideas, readers should be able to find at least one to employ to make their lives better. Recommended for all public libraries.
Johnson, Lise & Eric Chudler. Worried? Science Investigates Some of Life's Common Concerns. Norton. Feb. 2019. 382p. bibliog. ISBN 9780393712896. $25.95; ebk. ISBN 9780393712902. SELF-HELP
Biomedical engineer Johnson (physician assistant, Rocky Vista Univ., CO) and neuroscientist Chudler (both, Brain Bytes) take a witty yet scientific look at the many fears disseminated by traditional news sources and social media in an effort to discern their real threat and harm. They categorize popular concerns into areas such as food (gluten), medicine (medical errors), environment (mobile phones), chemicals (mercury), animals (shark attacks), and travel (public ­restrooms). For each, the authors provide a narrative evaluation (the item's preventability, likelihood, and consequences), complete with a worry index.
VERDICT Validated information that will assist readers in determining what is and isn't worth fretting about and how to mitigate the dangers.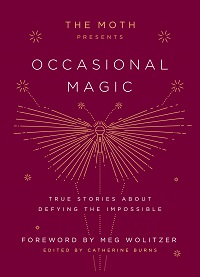 The Moth Presents Occasional Magic: True Stories About Defying the Impossible. Crown Archetype. Mar. 2019. 368p. ed. by Catherine Burns. ISBN 9781101904428. $25; ebk. ISBN 9781101904435. SELF-HELP
More a collection of inspirational stories than a self-help manual, this volume compiles pieces chosen by the staff of the popular podcast the Moth that portray moments of beauty and wonder, often stumbled upon, when a truth is discovered that reveals something about one's life. All of the tales were told at live events in which the authors shared personal and challenging experiences that helped them find a path forward. Readers hear from both well-known authors such as Adam Gopnik, Meg Wolitzer, and Andrew Solomon, and individuals across the globe. In one entry, a young girl living in a shelter recounts a week at summer camp; in another, a mother with a prosthetic arm describes bathing her baby for the first time. Full of emotion, humor, and vulnerability, these stories skillfully illustrate and evoke empathy for the human condition.
VERDICT Highly recommended for individuals and all libraries.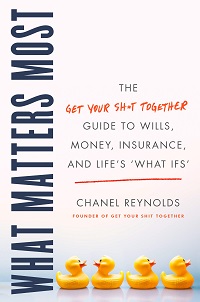 Reynolds, Chanel. What Matters Most: The Get Your Sh*T Together Guide to Wills, Money, Insurance, and Life's "What Ifs." Harper Wave. Mar. 2019. 256p. ISBN 9780062689436. $25.99; ebk. ISBN 9780062689450. SELF-HELP
Reynolds, founder of the website Get Your Shit Together (gyst.com), here helps readers devise written plans for the unexpected before it happens. Practical advice, from checklists and must-dos, supplies detailed guides for taking care of the mortgage, kids, insurance, and so on, in the event of a loved one's death or incapacitation. Reynolds uses her own response to the unexpected death of her husband as an outline to assist readers in preparing essential contact information for family members, account usernames and passwords, and other legal documents. She also addresses the grief that accompanies such loss, citing a list of things to say and not to say.
VERDICT Reynolds provides not only sound counseling but a straightforward plan for when the unthinkable occurs. Sally Balch Hurme's Checklist for My Family is another excellent resource for end-of-life matters.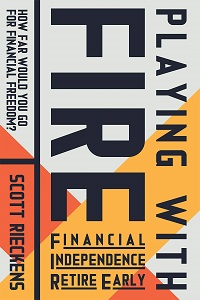 Rieckens, Scott. Playing with FIRE (Financial Independence Retire Early): How Far Would You Go for Financial Freedom? New World Library. Jan. 2019. 272p. notes. index. ISBN 9781608685806. pap. $16.95; ebk. ISBN 9781608685813. SELF-HELP
Documentary filmmaker Rieckens has built a career as a storyteller and bridging people with ideas, one of which is his latest project—the adoption of a plan for early retirement and extreme frugality. The serial entrepreneur explains how, by paring down wants to needs, he and his family were able to put away enough money to retire early and spend their time enjoying the truly meaningful and simple things in life, such as taking walks and bonding with friends. He introduces numerous investment charts for those considering this option and delves into both the positives and negatives of a frugal lifestyle and postponing gratification.
VERDICT While Rieckens began his austere existence after a lifestyle of affluence, readers will benefit from the wisdom of saving today in the hope of a brighter tomorrow.
Rubin, Gretchen. Outer Order, Inner Calm: Declutter & Organize To Make More Room for Happiness. Harmony: Crown. Mar. 2019. 240p. ISBN 9781984822802. $16.99; ebk. ISBN 9781984822819. SELF-HELP
Rubin (Better Than Before) maintains that people feel more in control of their lives in general when they are in of control of their stuff. To that end, the author delivers more than 150 clutter-clearing ideas to get one's possessions in order. The benefits of achieving organization are many, including fostering peace within relationships and a sense of possibility. Tips for decluttering consist of assigning each day a task, using hooks instead of hangers, and being cautious of promotional giveaways. The beauty of this book is its brevity and practicality. Readers can easily pick and choose methods that make sense to them, while preventing unnecessary items from accumulating in the future.
VERDICT Rubin's many fans will flock to this title, as will anyone seeking a quick and easy fix to the persistent problem of clutter.
Santomero, Angela. Radical Kindness: The Life-Changing Power of Giving and Receiving. Harper Wave. Mar. 2019. 240p. ISBN 9780062913364. $21.99; ebk. ISBN 9780062913388. SELF-HELP
Cocreator of many PBS children's shows, Santomero (Preschool Clues ) contends that kindness is the key to recognizing others and ourselves as worthy of love and understanding. In short, concise chapters, the ­author teaches readers to "heart-see" those around us, to identify their inner child, and be kind to oneself. She channels Fred Rogers when advocating that we act from a place of compassion and to be considerate even when it's hard. Thirty-two gestures of generosity offer a springboard to a new way of being.
VERDICT A powerful salve in the midst of rudeness and disrespect seen in society today.
Winston, Diana. The Little Book of Being: Practices and Guidance for Uncovering Your Natural Awareness. Sounds True. Mar. 2019. 180p. ISBN 9781683642176. pap. $16.95; ebk. ISBN 9781683643340. SELF-HELP
For anyone struggling to manage stress, who have sought out meditation or mindfulness practices in the past, or simply wish to add something different to their daily routine, comes this latest work from ­Winston (coauthor, Fully Present). Proposing ways to "natural awareness" and enjoy moments of peace, connection, and spaciousness in their lives, the author sets forth "glimpse practices," which encourage readers to take in the multiple facets of an experience, in other words, to stop and pay attention. Additional exercises include listening and asking questions and identifying moments of distraction or "spacing out" as beneficial and to one's advantage. ­
VERDICT An efficient, handy guide to mindfulness techniques for those already embracing the concept but who aren't sure they're doing it right.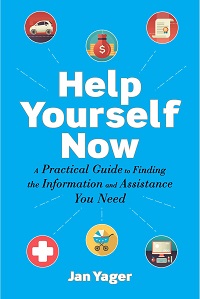 Yager, Jan. Help Yourself Now: A Practical Guide to Finding the Information and Assistance You Need. Skyhorse. Mar. 2019. 384p. ISBN 9781621536307. pap. $16.99; ebk. ISBN 9781621536314. SELF-HELP
Yager (When Friendship Hurts) asserts that there is direct help available for every kind of life issue, if one only knows where to seek it out. This reference gives readers a head start on that search, listing more than 100 agencies that deal with everything from addiction and financial assistance to pregnancy and eating disorders. In a more positive vein, Yager lists resources for people interested in volunteerism and travel. The entries in all 30 categories are annotated with informative descriptions, contact information, and instructions on how to handle an immediate situation.
VERDICT An excellent reference for all ­libraries and counseling centers.