Poets, Papa, Patterson, and authentic voices of migration.
Click here for additional new Prepub Alert columns
Calhoun, Ada. Also a Poet: Frank O'Hara, My Father, and Me. Grove. Jun. 2022. 272p. ISBN 9780802159786. $27. MEMOIR
Grande, Reyna & Sonia Guiñansaca, eds. Somewhere We Are Human: Authentic Voices on Migration,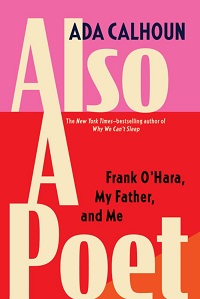 Survival, and New Beginnings. HarperVia. Jun. 2022. 224p. ISBN 9780063095779. $26. CD. ANTHOLOGY
Hemingway, Ernest & Patrick Hemingway. Dear Papa: The Letters of Patrick and Ernest Hemingway. Scribner. Jun. 2022. 240p. ISBN 9781982196868. $25.99. CD. LITERATURE
Horn, Lars. Voice of the Fish: A Lyric Essay. Graywolf. Jun. 2022. 240p. ISBN 9781644450895. pap. $16. ESSAYS
McGrath, Charles. The Summer Friend: A Memoir. Knopf. Jun. 2022. 240p. ISBN 9780593321157. $25. MEMOIR
Patterson, James. James Patterson by James Patterson: The Stories of My Life. Little, Brown. Jun. 2022. 368p. ISBN 9780316397537. $29. CD/downloadable. lrg. prnt. MEMOIR
Seymour, Miranda. I Used to Live Here Once: The Haunted Life of Jean Rhys. Norton. Jun. 2022. 368p. ISBN 9781324006121. $32.50. BIOGRAPHY
In Also a Poet, New York Times best-selling author Calhoun blends literary history and memoir, examining her relationship with her father, art critic and poet Peter Schjeldahl, and their shared passion for Frank O'Hara's work as she draws on taped interviews he conducted for a never-completed biography of O'Hara. In Somewhere We Are Human, distinguished writers/activists Grande and Guiñansaca compile 44 essays, poems, and artworks by migrants, refugees, and Dreamers that help clarify the lives of those who are undocumented. Featuring a selection of letters exchanged by Ernest Hemingway and his son Patrick over two decades, Dear Papa was edited by Patrick Hemingway's nephew Brendan Hemingway and his grandson Stephen Adams (40,000-copy first printing). Winner of the Graywolf Press Nonfiction Prize, Horn's Voice of the Fish uses fish, water, and mythic imagery to illuminate the trans experience, with travels through Russia and a devastating injury the author suffered as backdrop. Former deputy editor of The New Yorker and former editor of the New York Times Book Review, McGrath looks back on childhood summers as both joyous memory and obvious idealization in The Summer Friend, also considering a close friendship with someone from a very different background. Starting out with his nearly dying on the day he was born, the world's best-selling novelist has some amazing stories to tell in James Patterson by James Patterson (250,000-copy first printing). Having probed the lives of Mary Shelley and Annabella Milbanke and Ada Lovelace, Lord Byron's wife and daughter, acclaimed biographer Seymour takes on Jean Rhys, the celebrated author of Wide Sargasso Sea in I Used to Live Here Once.