Coming of age and dealing with loss: from nine exciting new voices.
Click here for additional new Prepub Alert columns
Andreades, Daphne Palasi. Brown Girls. Random. Jan. 2022. 224p. ISBN 9780593243428.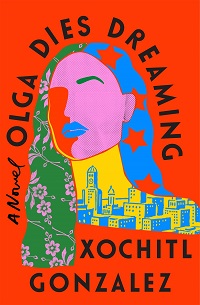 $24. Downloadable. LITERARY
Speaking as a choral "we," Andreades's "brown girls"—among them Nadira, Gabby, Naz, Trish, and Angelique—grow up together in Queens, New York, wrestling with their immigrant roots, their parents' rules, their aspirations (regarding both careers and boys), and their desire to fit into American culture. Will they always be friends, loyal to the end, as they swear? Excerpts from this debut novel have claimed O. Henry and Kenyon Review Short Fiction honors.
Chan, Jessamine. The School for Good Mothers. S. & S. Jan. 2022. 336p. ISBN 9781982156121. $27. LITERARY
Frida Liu boasts neither a faithful husband nor the jaw-dropping career that she feels would recompense her long-suffering Chinese immigrant parents, but with her beloved daughter, Harriet, she feels completely fulfilled. One inattentive moment, though, and she is branded a bad mother, and spookily authoritarian government officials consider consigning her to a program that will measure her true maternal potential—lest she lose her daughter. Plenty of today's parents will identify. With a 150,000-copy first printing; from a former reviews editor at Publishers Weekly with an MFA from Columbia.
Freeman, Sara. Tides. Grove. Jan. 2022. 256p. ISBN 9780802159175. $26. LITERARY
Freeman here profiles a woman blasted by grief who ends up in a posh seaside town after running from her family. She barely survives, cadging food and swimming in the ocean at night, until the tourist season ends and she lands a job at the local wine store. There she starts building ties with the lonely owner, and the reasons for her grief emerge. First serial to Granta magazine; Freeman won a Henfield Prize from Columbia University while earning her MFA there.
Gonzalez, Xochitl. Olga Dies Dreaming. Flatiron: Macmillan. Jan. 2022. 384p. ISBN 9781250786173. $27.99. CD. LITERARY
Of Puerto Rican heritage, Olga Acevedo is a wedding planner to the rich and powerful while brother Pedro ("Prieto") serves their gentrifying Latinx neighborhood as congressman in their hometown, New York. Maybe, just maybe, Olga has finally found a love of her own, but then the mother who deserted the siblings years ago to pursue her increasingly radical beliefs crashes back into their lives. With a 300,000-copy first printing; Iowa Writers' Workshop graduate Gonzalez won the Michener-Copernicus Fellowship.
Ho, Jean Chen. Fiona and Jane. Viking. Jan. 2022. 228p. ISBN 9780593296042. $26. Downloadable. LITERARY
Linked stories from doctoral writing candidate Ho, who has already published in venues like Guernica and the Rumpus, tell the story of close friends Fiona Lin and Jane Shen. The two take risks together as teenagers in the scrappier reaches of Los Angeles, seeking love and escape from family chaos. Fiona soon moves to New York to care for a sick friend, Jane stays home to cope with her estranged father's unexpected death, and together they try to maintain their friendship despite past pain and future uncertainty.
James, Chantal. None but the Righteous. Counterpoint. Jan. 2022. 240p. ISBN 9781640094598. $26. LITERARY
Fearfully making his way from Atlanta to his hometown, New Orleans, after its devastation by Hurricane Katrina, 19-year-old Ham holds tight to a pendant given to him by his foster mother, Miss Pearl, who may or may not be alive. He doesn't know that a centuries-old spirit has taken possession of him, but he senses he needs to free his body and soul. From Fulbright fellow James, a regular contributor to the radio program "On the Ground: Voices of Resistance from the Nation's Capital."
Navarro Aquino, Xavier. Velorio. HarperVia. Jan. 2022. 272p. ISBN 9780063071377. $26.99. LITERARY
An ACLS Emerging Voices Fellow at Dartmouth College, Puerto Rican–born and –raised Navarro Aquino portrays characters in crisis after Hurricane Maria sweeps the island. The utopian community Memoria springs up to help those in need, including Camila, who remains haunted by sister Marisol, lost in a terrible mudslide; a tough-acting but ultimately gentle woman named Morivivi; and on-the-verge-of-manhood Bayfish. Unfortunately, Memoria leader Urayoán is becoming increasingly authoritarian. With a 40,000-copy first printing.
Prins, Mark. The Latinist. Norton. Jan. 2022. 336p. ISBN 9780393541274. $26.95. LITERARY
In this retelling of the Daphne and Apollo myth by Iowa Writers' Workshop graduate Prins, the winner of multiple scholarships, Tessa Templeton learns just before her thesis defense at Oxford that her beloved mentor, classics professor Christopher Eccles, has secretly sabotaged her chances for being offered a job at any other institution. He wants her for himself at Oxford, but Tessa has other plans.
Sanchez, David. All Day Is a Long Time. Houghton Harcourt. Jan. 2022. 256p. ISBN 9780358572015. $25. CD. LITERARY
In this coming-of-age age tale from Sanchez, winner of Michener and PEN America Writing for Justice fellowships, 14-year-old David runs away from his Florida Gulf Coast home in pursuit of a girl and ends up trying crack cocaine. He is instantly under its sway, his life ripped apart for a decade, but then encountering Dante, Melville, and Hemingway in a literature class at a community college changes everything.