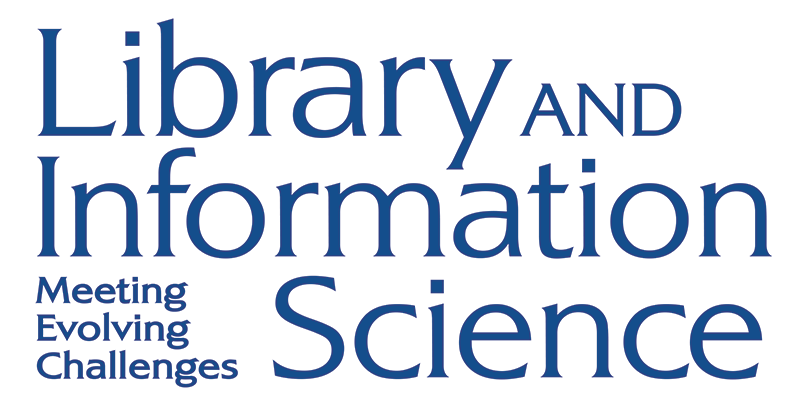 For library professionals, keeping up with a constantly changing information landscape can be demanding. A master's in library and information science (MLIS) degree program prepares librarians with the skills they'll need to navigate this shifting landscape successfully, both now and in the future.
The best MLIS programs combine core concepts around information storage and retrieval with exposure to emerging technologies, as well as skills that allow librarians to meet evolving challenges. Today, for instance, libraries are experiencing an unprecedented and well-organized attack on intellectual freedom—and MLIS programs have responded by equipping students with the tools and skills they need to face this challenge head-on.
"Librarianship today exists in a politicized context, with organized efforts to challenge library materials, deny access to information, spread disinformation, and silence diverse perspectives," says Sue C. Kimmel, a professor and graduate program director for Old Dominion University's Library and Information Studies. "The enduring values of the profession—including intellectual freedom, responsiveness to all members of the library community, and a commitment to equity and access—continue to guide professionals to address these challenges. An MLIS education should provide new professionals with the tools and skills to advocate for their communities and to engage compassionately and respectfully with a variety of perspectives."
"As libraries find themselves at the forefront of the culture wars, it is essential to have librarians with strong interpersonal and communication skills for supporting libraries," adds Stacy Creel, director of the University of Southern Mississippi School of Library and Information Science.

Here are some of the leading MLIS programs rising to the challenges of our times, including programs that have trained many of the library leaders honored by Library Journal as Movers & Shakers in 2023.

University of Wisconsin-Milwaukee
The MLIS program at the University of Wisconsin-Milwaukee School of Information Studies (SOIS) allows students to focus on traditional librarianship but also includes courses in areas like data science, information security, and information technology. Students can complete the MLIS program online, on campus, or through a combination of the two. The program enrolls nearly 400 students altogether.
"Our MLIS program was one of the first fully online programs in the U.S. We've been delivering courses online for more than 20 years," says Assistant Dean Chad Zahrt. "Our students have a dedicated academic advisor from the point of admission through enrollment and graduation, a dedicated career services advisor, and a curriculum that is grounded in core library concepts but also offers an elective array that lets students explore topics from children's literature to data science to law and policy."
The program, which prepares graduates to pursue both traditional and nontraditional library and information science careers, is committed to supporting students and alumni throughout their professional lives. A Professional Immersion Day held each fall features panel discussions and "speed-dating" roundtable sessions with working professionals in the field. SOIS also holds Enhance Your Chance events that focus on résumé reviews, mock interview sessions with hiring professionals, and career-related workshops. A weekly career newsletter includes job announcements, internship opportunities, and information about networking events.
The university's online tuition rate eliminates residency distinctions, creating an affordable MLIS option. The launch of a new Prior Learning Assessment next year will reduce the cost of attending even further. Incoming students—many of whom arrive with professional-level library experience—will be able to have this work evaluated and counted toward their MLIS degree, reducing the time it takes to earn a degree.
"We are proud of our many graduates who are impacting their communities in very important ways," Zahrt says. "From the smallest public library to large research centers or the Library of Congress, you can find SOIS graduates everywhere contributing to the profession and our society. SOIS alums have become Movers & Shakers because our program works hard to be grounded in core concepts while also emphasizing new and emergent technologies, tools, and concepts. SOIS has a strong commitment to foster information-curious professionals who are always looking for opportunities to use these new tools, technologies, and services to better serve their community.

Emporia State University
As the first library science program west of the Mississippi River, Emporia State University's School of Library and Information Management (SLIM) has been preparing the next generation of librarians since 1902.
"We really focus on librarianship," says Dean Wooseob Jeong. "We are not an iSchool." It is this focus on teaching the skills that professionals will need to thrive as librarians, as well as small class sizes, affordable tuition, and an extensive alumni network of more than 3,000 librarians worldwide, that sets Emporia State apart from other MLIS programs.
SLIM's Master of Library Science program is a 36-credit degree program accredited by the American Library Association. Classes are delivered in a fully online, asynchronous environment. There are close to 400 students participating at any time, about 30 percent of whom enter the program directly from college.
The program's goal is to prepare creative problem solvers who will provide proactive, client-centered services within libraries and other information agencies. To meet this goal, the curriculum includes core theory courses that provide the foundational skill sets necessary for the information management profession; tools-based courses that focus on how to catalog, classify, retrieve, and repackage information, plan and evaluate information services, and use print and electronic information sources; applications courses that focus on information transfer, global information infrastructure, library management, and technology; elective courses devoted to current issues in the profession; and a capstone experience that synthesizes the educational experience in preparation for entering the field.
Concentrations are available in Archives Studies, Health Information Professionals, Informatics, Youth Services, Leadership Administration, and Outreach and Community Engagement. This latter concentration focuses on how to aid underserved, diverse, and hard-to-reach populations.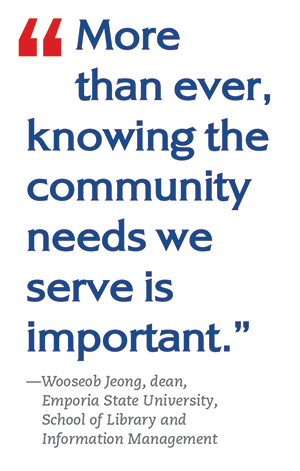 "More than ever, knowing the community needs we serve is important," Jeong says. This is why community needs analysis and outreach play a key role in Emporia State's curriculum, regardless of what area students concentrate in.
SLIM faculty teach all the required theory courses in the curriculum and most of the elective offerings. The program also hires qualified practitioners to teach certain elective courses that match their areas of expertise. In this way, students receive a high-quality educational experience grounded in theory and in touch with the latest best practices in the field.
Because many of their classes involve working with practitioners in the field, SLIM students benefit from outstanding opportunities for professional networking. In fact, the program places a great deal of emphasis on job placement after graduation. In addition to an academic advisor, each student is paired with a designated professional advisor who helps with getting a job. The program also sends out weekly job announcements, including direct requests from employers.
SLIM takes many steps to create a sense of community among students and equip them with the modern skills they'll need for success. For instance, the program offers numerous synchronous enrichment programs such as guest speakers, alumni gatherings, and career discussions. In one recent webinar, Professor Mirah Dow led a timely talk on how librarians on the front lines should respond to the spate of book challenges taking place in libraries nationwide.
"Even in this fast-moving technological society, we still need many caring professional librarians in our communities," Jeong says. "We will continue to provide a high-quality library science education with affordable tuition and wonderful student services."

University of Southern Mississippi
The 40 credit-hour MLIS degree program from the University of Southern Mississippi (USM) School of Library and Information Science is unique in that it's a fully online program delivered mostly synchronously.
"We really focus on relationship building between faculty and students, students and practitioners, and the program and alumni," says Director Stacy Creel. "Class sizes average fewer than 35 students, and with live online course offerings, students get to interact with one another and their professors."
USM offers a traditional, library-focused MLIS program, with a major emphasis on technology embedded throughout the curriculum. Students have the option of earning two graduate certificates along with their master's degree: the Archive and Special Collections Certificate and the Youth Services and Literature Certificate.
There were 277 students enrolled in the MLIS program in spring 2023. Many of the undergraduate students from USM's online Bachelor of Science in Library and Information Science program continue on into the graduate degree program, especially because USM offers an Accelerated Master's option where students can earn credit toward a BS and MLIS simultaneously. The MLIS program also includes adult students from all over the U.S. and abroad.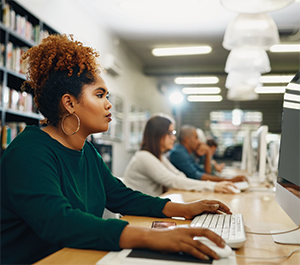 Creating community among students is an important goal of the university's MLIS program. Offering synchronous online classes allows faculty to engage students in small-group activities and discussions via Zoom breakout rooms. There are two active student groups available: the Southern Miss Student Archivists (SMSA) and the Library and Information Science Student Association (LISSA). The university also aims to build community outside the classroom by hosting Lunch-and-Learn webinars and offering just-for-fun virtual activities throughout the year, such as trivia nights.
"Our fully online, synchronous program allows students to earn their MLIS degree from anywhere in the world without having to move, while still allowing for relationship- and community-building," Creel says. "One of the advantages of being a school with an overall enrollment of fewer than 500 is that students are more than just a number and can be mentored throughout the program and beyond. Additionally, our program is among the most affordable in the country, as USM does not charge out-of-state tuition for online students."
She concludes: "We are extremely proud to have an alum that has been recognized as a Mover & Shaker. We see this as a validation of our commitment to creating passionate, qualified information professionals."

Dominican University
The Dominican University School of Information Studies (SOIS) offers on-campus, online, and hybrid courses that prepare information professionals for the challenges of the future.
"What distinguishes Dominican's MLIS program includes our long history (since 1930) in the information-rich and amazingly diverse Chicagoland area and our commitment to prepare professionals who will pursue truth, give compassionate service, and participate in the creation of a more just and humane world," says Program Director Don Hamerly.
SOIS currently enrolls 355 students. They can complete the school's MLIS degree program entirely online, but SOIS also accommodates students who prefer an on-campus experience at a small university with a strong relational focus.
"At Dominican, we don't strongly distinguish 'L' from 'IS,'" Hamerly says. "Students in our program find a balance of traditional library science courses and information science courses. Because technology is an important part of information wrangling now, many traditional courses integrate technology aspects, and IS courses are always grounded in the traditional values of librarianship. Students can take courses in storytelling, literature, and history along with courses in database management, web design, and informatics."
Hamerly says he hears from alumni how quickly they find themselves in leadership positions at their institutions and how challenging it is to face hostile patrons, board members, and other decision makers, especially in today's environment. "We now address those issues in our scholarship and in our curriculum," he explains, "helping to prepare future professionals with strategies to manage such interactions successfully and fruitfully."
As a requirement for graduation, students complete an e-portfolio and interact with a number of bridge-to-career videos that help prepare them for their transition to work. Students also have access to a Career Programs and Employer Relations team and platforms that help with job seeking, writing résumés and cover letters, and interviewing.
SOIS graduates find work in a wide range of career fields, and multiple alums have been honored by LJ. "I am always pleased when our alumni are recognized as Movers & Shakers," Hamerly says. "It's a testament to their hard work and dedication and a reflection of our commitment to educating library leaders. I believe we graduate professionals whose grounding in values and preparation for leadership naturally make them movers and shakers."

Pratt Institute
Pratt's MSLIS program is unique in that it builds on the strength of Pratt Institute, which is known primarily as an art and design college. "We look to lead the information field in making connections with arts, culture, and technology," says Anthony Cocciolo, dean of the Pratt Institute School of Information.
This goal leads to particular strengths in areas such as archives and cultural heritage. For example, the school is developing a course in Rome for spring break 2024 on the topic Artist Archives: New York and Rome. Pratt also offers a dual-degree program, MSLIS and MA in History of Art and Design, for those interested in the world of art librarianship and archives.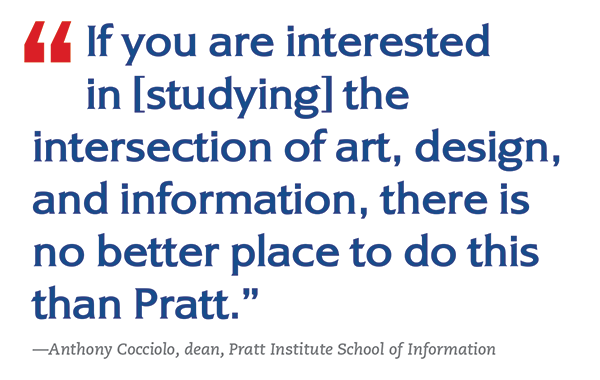 "If you are interested in the intersection of art, design, and information, there is no better place to study this than Pratt," Cocciolo says.
With that said, the Pratt School of Information also excels in youth and children's librarianship, academic librarianship, user experience design, data analytics and visualization, and intersections with museum studies.
Pratt's MSLIS program is a traditional in-person degree program enrolling 140 students at the school's Manhattan campus. About 10 percent of its classes are offered online. "These classes are typically for second-year students who might appreciate some flexibility while trying to balance competing demands," Cocciolo says.
The program has a four-course core curriculum that every student must complete: Foundations of Information, Knowledge Organization, Reference and Instruction, and Information Technologies. From there, students have a very large array of electives they can take, which can be organized by advanced certificates (such as Archives, Conservation and Digital Curation; Digital Humanities, Spatial Analysis, and Design; and User Experience), as well as by program concentrations.
The average age of Pratt's MSLIS students is 28. They comprise a mix of students who are fresh out of college, as well as those who have worked for several years in related fields and want to make the transition to library or archival work.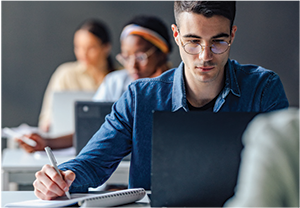 The school's Manhattan location affords many opportunities for students to make connections, such as doing internships at world-class institutions while in the program. The Pratt School of Information also offers a fellowship program for students in their second year, in which recipients get paid through Pratt to work on a project with a major organization such as the Metropolitan Museum of Art, Museum of Modern Art, Whitney Museum of American Art, Center for Brooklyn History, Brooklyn Public Library, Lesbian Herstory Archive, New York Public Library, or Franklin Furnace Archives.
In addition to the fellowship program, the Pratt School of Information offers merit scholarships that can cover up to 80 percent of tuition. All students who apply are automatically considered for a merit scholarship.
"As an entirely face-to-face program, we are able to do a lot to support community, such as holding social events and parties," Cocciolo says. "Our students develop friendships and connections that will sustain them throughout the program and into their career."
Graduates of Pratt's MSLIS degree program have gone on to work in colleges and universities; museums and other cultural organizations; public libraries; publishing; nonprofit organizations; and art studios and foundations. Frequent job titles of graduates include archivist, digital archivist, digital initiatives librarian, emerging technologies librarian, metadata specialist, and young adult reference librarian, among others.
The Pratt School of Information is proud to count LJ Movers & Shakers Rakisha Kearns-White (MSLIS '03) and Robert Weinstein (MSLIS '14) as its alums.

Old Dominion University
Old Dominion University's (ODU) MLIS program, which is fully online and asynchronous, is a new but rapidly growing program. It earned initial accreditation from the American Library Association in January 2022 and currently serves more than 250 students.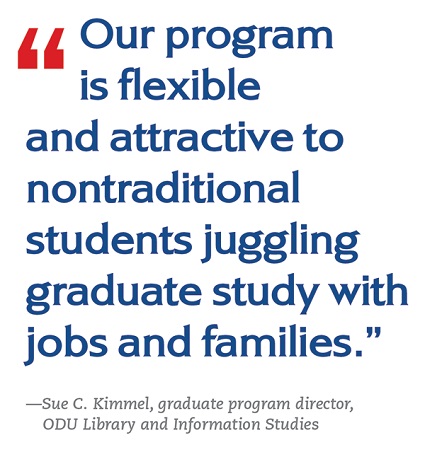 "Our program is flexible and attractive to nontraditional students juggling graduate study with jobs and families, including current library paraprofessionals," says Sue C. Kimmel, a professor and Graduate Program Director for ODU Library and Information Studies.
Although the program itself is new, ODU has been a pioneer in distance education for many years, and it offers significant support to ensure that students are successful. Students entering the program participate in small-group advising, and all students start with a Foundations course that encourages interactions with classmates and instructors. All courses include some partner or group work, and a space within the program's learning-management system is a hub for information about the program and for connecting with classmates.
Students are admitted in the spring, summer, or fall semester and are advised through a plan of study that allows them to choose their pace of learning and complete 30 credit hours (10 courses) in a timely manner. All students complete a shared core of four courses and an internship course. They move into areas of career interest and exploration in school, public, academic, and specialized libraries and collections, along with electives such as Assessment and Evaluation, Information Literacy Instruction, and Storytelling.
Students who don't have a teaching license but who want to pursue school librarianship can take additional coursework to earn a license as a school librarian. ODU also offers a certificate for students who have an MLIS and wish to meet the requirements for a teaching license.
Recognizing that new graduates will face a competitive job market, ODU encourages students to build a network of current professionals, market themselves with an e-portfolio, and seek internships that expand their knowledge, skills, and network. The program hosts a job board, and faculty share job openings from employers. Practitioners in various information fields are invited as guest speakers to share career advice. Webinars on résumé writing and other job-seeking topics are provided annually.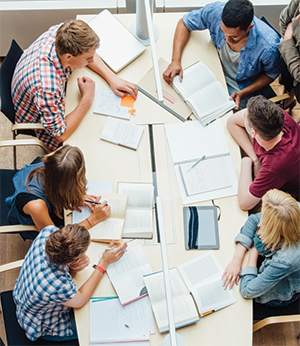 "We develop high-achieving professionals by encouraging students to take leadership roles in the program and to become active members of the profession by volunteering for committees, attending conferences, and presenting course projects at conferences," Kimmel says. Numerous program graduates have gone on to take leadership positions at the state and national levels, including elected offices and prestigious committee appointments.
The MLIS at ODU is flexible and affordable; out-of-state students are eligible for a discounted, technology-delivered tuition rate. ODU is military-friendly as well, and demographically diverse. One quarter of the student body is affiliated with the U.S. armed forces, and in 2022, the Times Higher Education World University Rankings listed ODU at No. 5 nationally for reducing inequality.
"Earning my MLIS has challenged me to consider how my occupation influences society. I have loved the camaraderie of my ODU classmates and the practical knowledge of my professors," one graduate wrote. Another said, "I am so thankful for ODU's emphasis on inclusion, accessibility, and creating libraries that serve all their patrons' needs. As I watch my students fall in love with our library this year, I know it's because I was taught to meet the needs of those in front of me when designing lessons or selecting books."
University of Iowa
The University of Iowa School of Library and Information Science (SLIS) prepares creative information professionals to support equitable knowledge-sharing practices at institutions across North America.
"As a humanities-centered school of library and information science, our curriculum continuously calls on students to ask, 'What does it mean to be human?' and 'What is the role of the library in the ethical recording and uplifting of human development?'" says Professor and Program Director Lucy Santos Green. "We believe this is what sets us apart and helps us graduate LIS professionals who deeply care about the growth and development of their communities."
SLIS offers courses in both online and on-campus modalities to meet a wide range of student needs. The program currently serves 110 students altogether. "We are especially excited about our Undergraduate to Graduate (U2G) program, which allows undergraduate students at the University of Iowa to begin their graduate coursework during their senior year and finish the MA in LIS with only one additional year of study," Santos Green says.
Recent SLIS graduates have gone on to become a conservator at the Library of Congress, software engineers at the Digital Public Library of America, digital humanities specialists at the UI Libraries, and curators at other institutions in the U.S. and Canada—as well as LJ Movers & Shakers.
"We are proud of the outstanding, empowering, and life-changing work of our alumni," Santos Green says. "I believe it is because here at the University of Iowa, we value inquiry, community, and the knowledge and connections that result from practice. By centering the crucial connection between what is discussed in the classroom and what is applied in the field, we graduate librarians who consistently question, challenge, and demand more from the status quo."

San Jose State University
San Jose State University's School of Information (iSchool) is among the largest MLIS programs in the world. A fully online, asynchronous program, it currently includes 2,500 students across all 50 states—the majority of whom are working professionals.
"We are different from a lot of other iSchools in that teaching is our top priority and not research," says Professor and Director Anthony Chow. "Our focus is on teaching excellence, preparing students for LIS positions, and hiring instructors who are active practitioners and leaders in the field. We are Silicon Valley's School of Information; our goal is high tech, high touch, and high quality."
As an example of the program's high-touch approach, four full-time student advisors are available to answer students' questions via live chat, Zoom, and email 24 hours a day, seven days a week.
Students begin the program with training in how to learn online successfully. They must complete 43 units to earn an MLIS degree, and they can choose from among 14 career pathways. "Because of the size of our program and our 200-plus faculty and instructors, students can focus on all aspects of library and information science and technology," Chow says.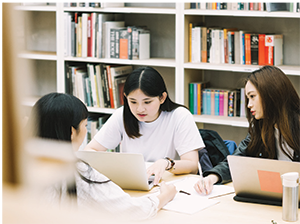 With close to 12,000 alumni worldwide, students have access to an extensive alumni network to help them secure a job upon graduation. The program also provides hundreds of internships and a dedicated career counselor who meets with students one-on-one to provide coaching and review their résumé. "Furthermore, we provide each student with two years of free membership to ALA and their state's local library association," Chow says.
San Jose State's iSchool is the most racially and ethnically diverse information sciences program in the country. "This diversity exists in every class, networking event, student group, and assignment," Chow says. In addition, the school invests 64 percent of every dollar back into its students through services such as student travel scholarships, free memberships and global symposiums, and robust tech support, instructional design, advising, programming, and career placement.
"High expectations lead to high performance," Chow concludes. "We are extremely proud of our Movers & Shakers, and they reflect the high quality we expect of all our students and alumni. They are a tribute to the iSchool, the organizations they work in, and the field in general."



SPONSORED CONTENT