Where the Appalachian Trail meets the French Broad River in western Madison County, NC, 21,000 citizens celebrate their great library. On operating revenue of just $25 per capita, the Madison County Public Libraries (MCPL) has totally engaged its community with partnerships, outreach, relationships, and top-notch professional service. The result is a rejuvenated three-branch system that is such an excellent model, it has been recognized as LJ's 2018 Best Small Library in America, sponsored by Baker & Taylor.
County librarian and MCPL director Melanie Morgan arrived on the scene four years ago, with ten years' experience in big libraries in Florida under her belt. Bringing new creativity and community outreach skills, she has built partnerships and relationships and energized staff to reawaken the library system. Before entering libraries, she had a career as a teacher. Morgan frequented the local library so often that one day a librarian on duty told her the library had a part-time vacancy and suggested she apply. "I applied, was hired, and within six months I became a full-time employee of that library system," says Morgan. "I just fell in love with it." She went on to earn her MLIS (Master of Library and Information Science ) at the University of South Florida, Tampa.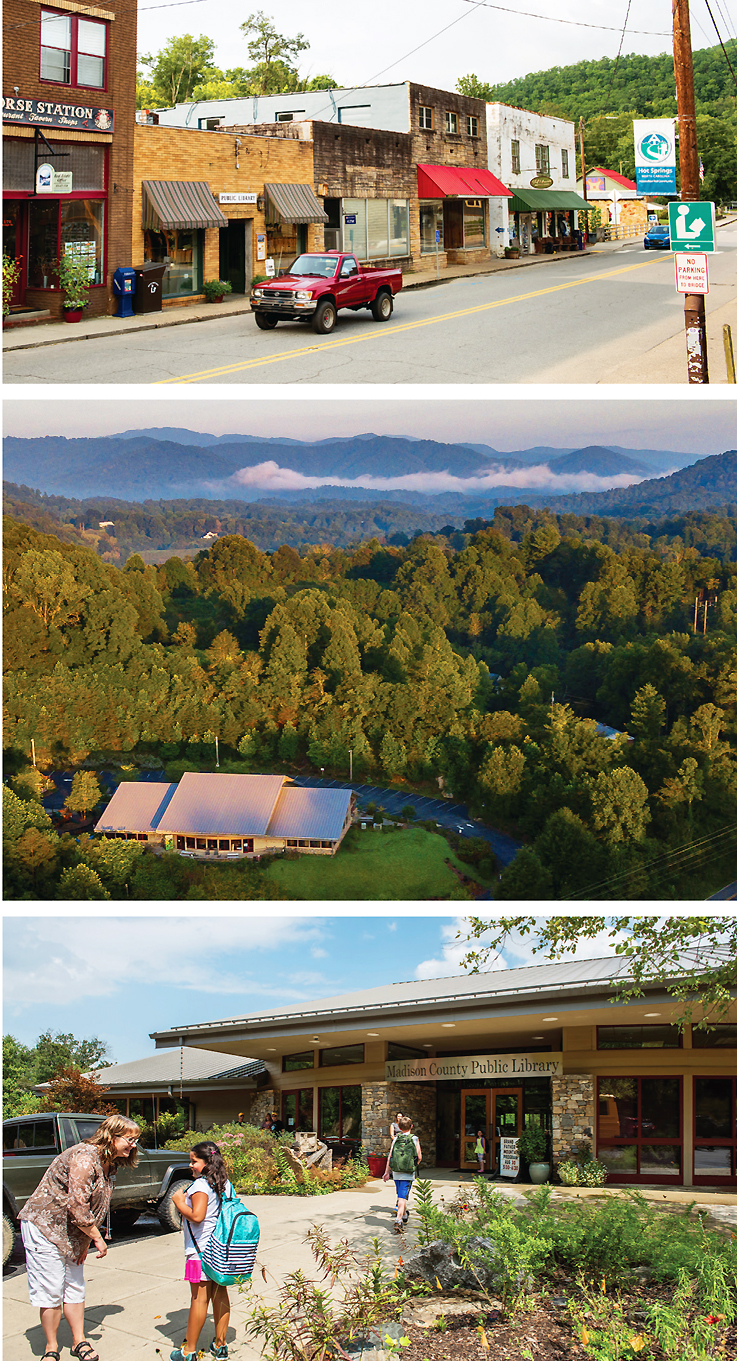 HOT ON THE TRAIL Madison County's newest branch, the Hot Springs facility, is one of only two libraries located directly on the Appalachian Trail; bird's eye view of MCPL's Marshall branch, set in North Carolina's Appalachian Mountains; the Marshall Library welcomes young patrons. Photos by Jack Flame Sorokin
ENGAGED AND READY FOR MORE
The community served by MCPL, Morgan notes, was already tuned in. "Our communities were already invested in our libraries when I came here. I didn't have to sell our libraries," says Morgan. "We worked to build libraries and services that fit into our Appalachia culture." The library draws incredible participation for the size of its population. This year 16,000 people attended MCPL programs, with 12,000 of them attending children's events.
MCPL's libraries include the main Madison County Library in Marshall and two branches, the Mars Hill library and the newly relocated Hot Springs Library. Hot Springs, with its population of 560, now claims MCPL's smallest branch. The new 1,000 square foot, three-room library opened in January 2017.
"When I came on board, that library did not have a permanent location," says Morgan. "We were in a decrepit building. It took the librarians, the Friends, the county manager, and myself about three years to get it done."
"We scouted many locations and finally found one that we were happy with and could see as right for the library," Morgan adds. "It was there at the Appalachian Trail, and we are happy with that because it is one of two libraries that are on that trail." The Hot Springs population includes outdoor enthusiasts, artists, small business owners, farmers, retirees, and young families. MCPL established the new library as an anchor for the town and the surrounding community.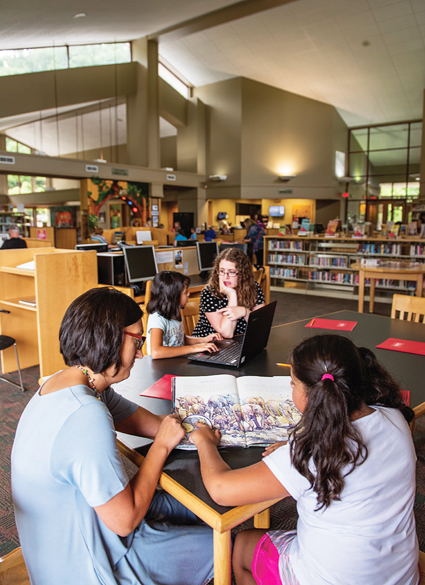 LIT UP The Literacy Leaps program springs into action at Marshall, with Caroline Blevins (c), assistant children's programming coordinator. Photo by Jack Flame Sorokin
In the new library, orange and gray walls complement natural wood, while flexible, mobile furnishings make the space both beautiful and versatile. A sensory wall in the children's area entertains and educates.
"The Hot Springs Library renovation was a tremendous learning experience. To our surprise, it turned out exactly as we had envisioned. That rarely happens, so we are ecstatic that it did," says Morgan. Hot Springs, like MCPL's other libraries, was built and supported by funds raised by the Friends, trustees, and members of the community. This has helped create a strong belief in MCPL as a communal investment.
MCPL also got financial help from the OCLC/Web Junction "Small Libraries Create Smart Spaces Project," which selected 15 U.S. libraries to help systematically plan such spaces. MCPL worked with the project online and submitted regular progress reports.
An OCLC project grant of $5,100 was added to a $40,000 grant from the Duke Energy Foundation. The Hot Springs Branch cost only $24,000; the remaining grant money was used to create additional STEAM (science, technology, engineering, arts, mathematics) programs and pay to staff them.
THE SCHOOL CONNECTION
"I am glad I had teaching experience. It has helped me create MCPL's strong partnerships with the Madison County schools," says Morgan. "I speak teacher language, so I can talk to educators almost as colleagues. It makes the process easier when we are creating partnerships."
MCPL partners with Madison County schools to make sure every student is issued an MCPL e-library account, providing access to MCPL ebooks and NC LIVE databases. "The e-library program has given our students at Brush Creek Elementary access to thousands of books in both the home and school environments. Thanks to the e-library program, we have a building full of passionate, enthusiastic readers and teachers who have around-the-clock access to an entire world of books!" says school principal Monica Ponder.
The MCPL technology instructors go into the high school to teach research skills and share how students can access e-resources, including MCPL ebooks and the NC LIVE databases. Often they connect with the teacher beforehand to find out on which databases they want to focus.
MCPL also offers two after-school programs in collaboration with the schools to help struggling students: one-on-one tutoring and small group tutoring for students identified by teachers as being at risk of falling below grade level. It's having an impact: 65 percent of participating students passed one or more end of grade exams.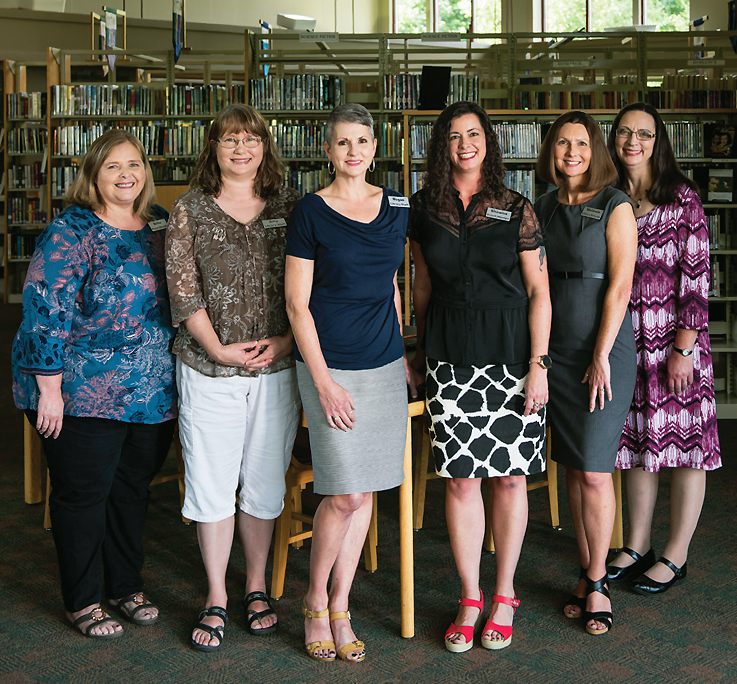 MCPL'S LEADERSHIP TEAM (l.–r.): Billie Chandler, MCPL branch manager; Amy Shetley, children's programming coordinator; Megan Adams, marketing coordinator; Shawna Bryce, Mars Hill branch manager; Melanie Morgan, director; and Peggy Goforth, administrative manager. Photo by Jack Flame Sorokin
Madison County's population of 21,000 is spread out over some 449 square miles. This means that the average bus ride for public school students is 4.5 hours a day. Those school buses bring all the school children right to MCPL branches after school each day. There, they engage in MCPL programs and activities, along with homework help and tutoring, until their parents pick them up. For many of them, MCPL is a safe place, with programs that last until their parents' workday is over.
Weekly STEAM and LEGO after-school clubs help fill the gap. "I didn't realize how smart I am!" says one student. "I like coming here." The libraries' teen summer reading program, winner of the 2016–17 Outstanding Teen Programming Award from the North Carolina Public Library Directors Association (NCPLDA), is another collaborative partnership with the Madison County school system. Teachers and administrators worked with MCPL's six full-time employees (plus part-time staff who bring that total up to 11 FTE) to create a program that encourages students to avoid the "summer slide" and develop strong lifelong learning habits through interactive workshops focused on Appalachian literature via digital platforms. The teen program has grown over the past two years, with a total of 284 participants in 2017. Overall, the Summer Reading Program for children from age 0–17 is up 245 percent since 2014.
"The program gives our students the opportunity to make meaning of novels in an engaging community atmosphere during the summer months when they need this structure and instruction the most. The positive experiences our students have at the library are not only memorable, they are a huge contributor to their developing understanding of the importance of literacy as a lifelong and necessary survival skill in today's world," reports Madison High School teacher Kristen Vann.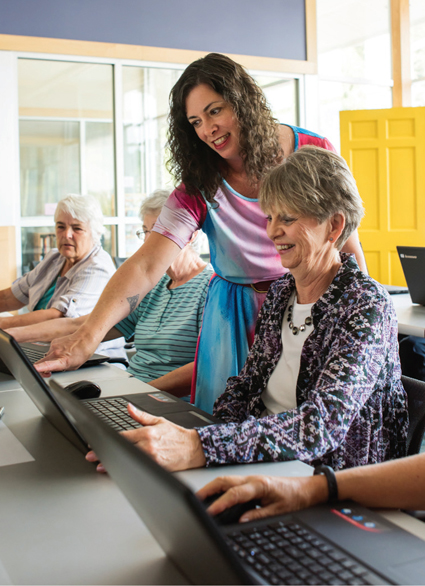 TECH FOR ALL Technology instructor Shawna Bryce leads an adult tech class at the Mars Hill Library. Photo by Jack Flame Sorokin
LIFELONG LEARNING + PARTNERSHIPS
The library's learning opportunities begin long before formal schooling and continue long after. For the 65 percent of county children who do not attend formal preschool programs, MCPL and Kith and Kin programs provide the youngest patrons with a chance to participate in pre–K activities such as story times, beginning to read skills, learning the alphabet, and singing, dancing, and STEAM activities.
Once adults leave school, literacy and high school equivalency instruction empower learners through tutoring and workshops packed with essential skills for gaining employment. Some 81 percent of participants in those programs come through confident about using what they learned.
Rebecca Shook, recycling coordinator at the Madison County Solid Waste Department and a technology class participant at MCPL, puts her experience this way: "Although I have a long way to go, the Excel class was very helpful to me for my job. It was also very helpful that the library visited the office to work with us." Says GED mom Michelle ­Honey­cutt, "I'm getting better. Now I can help my kids with some of the things they are learning in school."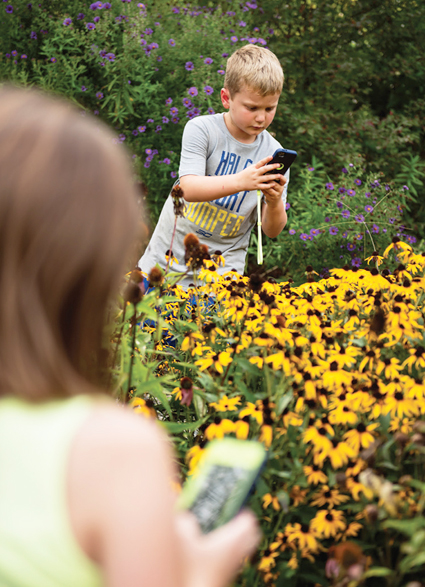 IN FULL BLOOM Naturally educational, the ecoExplore program in MCPL's Butterfly garden (in partnership with NC Arboretum); the Marshall Library welcomes young patrons. Photo by Jack Flame Sorokin
MCPL's collaborations to help its patrons' life skills are robust. To win the 2015–16 Outstanding Teen Programming Award of NCPLDA, MCPL partnered with PAGE (Partnership for Appalachian Girls' Education) as well as Madison middle schools to provide innovative learning opportunities for adolescent girls in Appalachia. Designed to help rural mountain girls enter a society that is global, digitally connected, and navigated through literacy and leadership skills, PAGE participants read books, learn to think critically and creatively, and design digital learning projects throughout the school year. This is particularly crucial because for many Madison County residents the barriers to Internet access at home are physical, not just economic. The mountains block connectivity for about a third of the county. For many individuals, MCPL is the technology hub: Wi-Fi use has increased by 600 percent in four years.
MCPL's ELITE (Education Leads into Excellence) Jail Program operates in partnership with AB Tech Community College. The program connects inmates in the Madison County Jail with high school equivalency (HSE) preparation classes and one-on-one literacy tutoring. The program is designed to help those most in need; 65 percent of participants graduated with HSE diplomas since it began last year. One inmate put it this way: "I've made up my mind, I'm getting out of here with a high school diploma, and I'm never coming back."
MCPL's partnership with the NC Arboretum provides an incentive-driven science enrichment program for students from kindergarten through eighth grade using programs and guided, self-directed science activities. In each season, a particular area of field ecology is studied. Students participate in the scientific method, recording observations of organisms found in their own backyards.
THE WINNING TEAM
Morgan and MCPL's don't-go-it-alone approach means they get a lot of encouragement and help from other librarians in the state. The members of NCPLDA share advice, ideas, and policies. Morgan often starts with them when she wants input on an issue or problem. "I rely on my fellow library directors for a lot of help," says Morgan. She often asks David Singleton, director of the Charlotte-Mecklenburg Library. "David is a great leader; we are blessed to have him," says Morgan.
About MCPL and Morgan, Singleton says, "They are leading the way to the future of rural and small public libraries by providing innovative programs, delivering outreach to underserved populations, building literacy and digital library skills among residents of all ages, and serving as the community hub of a growing and changing rural area."
Morgan is also in regular contact with Anna Yount, director of the Transylvania County Library System. She gets great advice and help from Madison County manager Forest Gilliam, who calls MCPL "a critical and valued hub." Morgan is also well supported by Wayne Brigman, who chairs the Madison County Board of Commissioners.
Despite the reality that Madison County and MCPL are economically challenged, Morgan says the system is successful because of its collaborations and outreach.
Along with incredible Friends, trustees, and, of course, local staff, "we would not be able to do all we do without strong partnerships in the community," says Morgan. "That is our strength" and a strong foundation on which to build.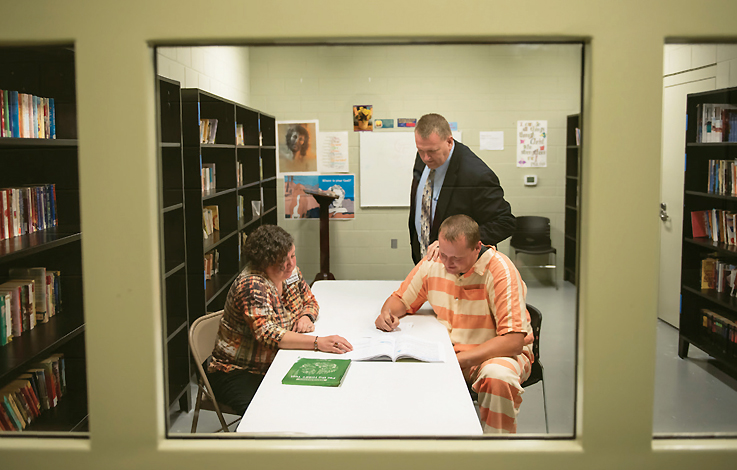 MOVING FORWARD Madison County Jail H.S. Equivalency (HSE) program, with Elizabeth Madorin, literacy services coordinator (l.), and Sheriff J.E. (Buddy) Harwood. Photo by Jack Flame Sorokin
---
Best Small Library in America 2018 Finalists
This year's finalists, chosen from among a large and strong array of nominees, share a focus on innovative programs and collaborations to deliver exceptional service with limited resources.
---
About the Best Small Library in America Award
LJ's annual award, relaunched this year with the support of sustaining sponsor ­Baker & Taylor (B&T), was originally created in 2005 to encourage and showcase the exemplary work of libraries serving populations under 25,000. The winning library will receive a cash prize of $5,000 from B&T; its representatives will be recognized at the Association for Rural & Small Libraries (ARSL) conference in Springfield, IL, thanks to support from ARSL. Two honorable mention institutions will each receive $1,000 prizes.
JUDGES LJ thanks the judges:
---
Craig Anderson Director, Boundary County District Library, ID, LJ's 2017 Best Small Library in America
---
Fred Harvey Director of Sales—Book Leasing and Inside Sales, Baker & Taylor, Charlotte, NC
---
Kieran Hixon
Technology & Digital Initiatives Consultant, Colorado State Library, Florence; President, Association for Rural and Small Libraries
---
Michael Lambert Acting City Librarian, San Francisco Public Library, Gale/LJ 2018 Library of the Year
---
The panel also includes LJ editors Matt Enis, Rebecca T. Miller, Lisa Peet, and Meredith Schwartz
---
For guidelines for the 2019 nomination, visit www.libraryjournal.com/?page=Best-Small-Library-Guidelines