Indie publishing's inclusive ecosystem offers ever-expanding opportunities for writers and readers alike. This season's indie booklists include unique and underrepresented voices like a Santa Claus specialist, a revered gospel singer, and a Jamaican-Maltese master chef. The wide range of authors and subjects parallels the wide variety of indie business models and missions—from MIT Press's academic foundations in Boston to Interlink's scrappy start in a Brooklyn basement.
The MIT Press extends the reach of cutting-edge academic research by publishing trade titles for the general public. "Our editors work with the world's best researchers, scientists, and scholars. We encourage them to write for non-specialist readers so they can influence a wider audience," says Gita Manaktala, editorial director at MIT Press. "We have more and better books than we've ever had. Business is good."
Grafton and Scratch Publishers's Pamela McColl knows first-hand about indie publishing, since she founded Grafton to put out her first book. About her publishing strategy, McColl says, "I am a true entrepreneur; I look for holes in the market."
This year, Inc. Magazine named Dexterity to its list of the 5000 Fastest-Growing Private Companies in America. Explaining Dexterity's success, Marketing and Publicity Specialist Ashley Harris says, "A lot more people are venturing out on their own and turning to indie publishers and self-publishing. We see an influx of influencers building their brands with books. They are not waiting for traditional publishing deals."
Managing director Harrison Williams continues Interlink Publishing's decades-long mission to impact society by promoting diverse viewpoints: "Giving marginalized voices the opportunity to be heard is the core our business. We want to make the world a better place."
Read on for the best of these four indie publishers offerings for the fall.
MIT Press
Since 1962, MIT Press has been a leading university publisher in the fields of science, technology, art, social science, and design. In addition to scholarly publishing, the press's large trade division publishes 150 titles per year for a general audience across numerous subject areas, including art and architecture, business and management, environmental science, economics, and computer science and technology. "We advocate for greater knowledge, awareness, and public understanding of key issues," says Editorial Director Gita Manaktala. "That's the foundation for change that needs to happen."
Adults will learn how to help teenagers navigate the digital world in Behind Their Screens: What Teens Are Facing (and Adults Are Missing) by Emily Weinstein and Carrie James, August 2022, ISBN 9780262047357. The authors surveyed young people ages 13–17 to study the complex social and sexual pressures teens face online. This book conveys the teenagers' actual experiences and offers support strategies for parents, teachers, and counselors. "You can just take screens away, but that's not a real response," says Susan Buckley, acquisitions editor. "Understanding what kids are going through and giving them good advice is a much better solution.
Cloud Empires: How Digital Platforms are Overtaking the State, and How We Can Regain Control by Vili Lehdonvirta, September 2022, ISBN 9780262047227, reveals how digital platforms like Amazon and Upwork make global policy decisions like a nation-state. These platforms create new economic opportunities but are governed from Silicon Valley with little or no accountability. "Oxford professor Lehdonvirta describes profound changes that have been occurring under the radar," says Manaktala. "The substantial concluding chapter shows how citizens can take their power back and regain some control."
Selfie Democracy: The New Digital Politics of Disruption and Insurrection by Dr. Elizabeth Losh, September 2022, ISBN 9780262047050, illustrates how mobile devices reshape civic participation and deepen partisan divides. Dr. Losh describes cultural disruptions related to ubiquitous computing, identity politics, and hostility to representative democracy. "This isn't a left-right phenomenon," says Manaktala. "Smartphones hold out the promise of direct democracy—but it is an illusion, a fantasy of disintermediation."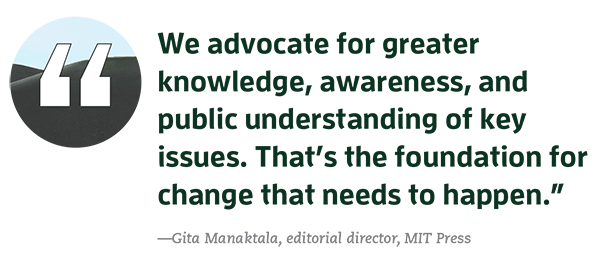 The Leak: Politics, Activism, and the Loss of Trust at Brookhaven National Laboratory by Robert P. Crease with Peter D. Bond, October 2022, ISBN 9780262047180, recounts how the media frenzy surrounding a harmless leak discovered in a storage pool in 1997 led to the shutdown of one of the world's finest research reactors. "This book demonstrates how political opportunists will distort the truth for their own advantage, even if they mislead the public," explains Manaktala. "The authors name names and set the record straight."
In Connected in Isolation: Digital Privilege in Unsettled Times, November 2022, ISBN 9780262047371, Eszter Hargittai, a world-renowned expert in digital media use, looks at how digital inequality played out during the imposed isolation in the early days of the coronavirus pandemic. Hargittai, a media research professor at the University of Zurich, gathered data during the COVID lockdowns in Switzerland, Italy, and the United States. She discovered major inequities in how people used the Internet to access health information, register for government services, and connect with educational resources. "Digital media were a lifeline for so many of us during COVID," notes Manaktala. "But there were major disparities in access and skills, even in well-off countries."
Grafton & Scratch Publishers
Pamela McColl created an international firestorm when she jettisoned Santa Claus's tobacco habit from her 2012 edition of Twas The Night Before Christmas. The smoke-free Santa story was covered by major media like NBC Nightly News, the Colbert Report, the Wall Street Journal, and BBC News. "The media went absolutely crazy," recalls McColl, owner of Grafton & Scratch Publishers. "At the Troy Library in New York, a man hit me over the head with the book and called me a heretic! They had to call the police."
To celebrate the bicentennial of Clement C. Moore writing his famous poem, McColl's Grafton & Scratch is releasing Twas the Night: The Art and History of the Classic Christmas Poem, September 2022, ISBN 9781927979303. This full-color coffee table book is the first cultural history of the classic poem to be published and features over 300 images inspired by it, including vintage illustrations and artwork by 20th-century legends Norman Rockwell, N.C. Wyeth, and Andy Warhol.
"Dickens might have given us Christmas dinner, but Moore gave us Santa Claus and Christmas Eve. Nobody had Santa coming on Christmas Eve before Clement C. Moore—he really invented how America celebrates Christmas," says McColl. "So many people were touched by this poem, from Mark Twain to Harriet Beecher Stowe to FDR."
McColl spent 10 years researching and finding images for this collection. "Working on this book took me on an amazing journey through cultural history," explains McColl. "Although it was written in 1822, this poem was centuries in the making."
Dexterity Collective
Matt West founded Dexterity Collective in 2017 after 20 years of working for companies including Barnes & Noble, Thomas Nelson, and Amazon. Dexterity offers a menu of customized publishing services for authors and publishers, from product idea to launch. The company describes itself as "book people with start-up hustle" who help clients develop, distribute, and market new titles. "We have a family-friendly, inspirational focus," says Ashley Harris, marketing and publicity specialist. "By sticking to our values, we've seen phenomenal growth in the last two years. We can't keep up with the influx of proposals and people."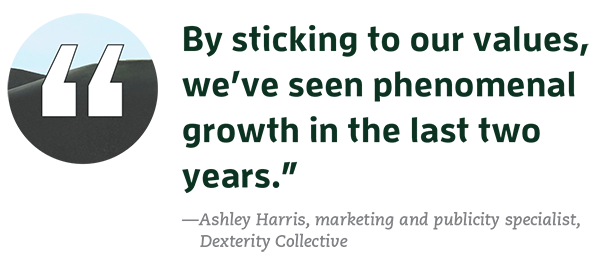 America's best-selling female gospel artist offers her wisdom in Believe for It: Passing on Faith to the Next Generation by Ce Ce Winans with Suzanne Gosselin, November 2022, ISBN 9781954201347. Winans recounts pivotal moments that shaped her faith, from her childhood in Detroit through her blockbuster music career. Each chapter ends with thought-provoking questions to inspire intergenerational conversations. "Ce Ce shows readers how to use her experiences to inspire people in our own lives to have faith," says Harris.
Pastor Dewey Williams serves the congregation at the historic Mount Bright Baptist Church in Durham, North Carolina. He shares the stories of men and women facing execution in Finding Joy on Death Row: Unexpected Lessons from Lives We Discarded, February 2023, ISBN 9781947297555. Williams, whose own father was murdered, expected to encounter only anger and despair on death row. Instead, he ministered to inmates who'd found joy and peace under grim circumstances. "The inmates tell their stories in their own words," says Harris. "Their testimonies offer a unique opportunity to hear from people we wouldn't otherwise hear from."
Oh Love, Come Close: A Memoir by Lindsey Frazier, January 2023, ISBN 9781947297586, describes the author's healing journey after her teenage friend is sexually assaulted and murdered. Years later, she feels an acute sense of loss on her honeymoon and begins therapy. Frazier's therapist helps her face the past and allow herself to be loved. "After her close friend was taken so suddenly and so violently, Lindsey was left with unresolved trauma," notes Harris. "Her therapist became a guide through the darkness." Frazier later became a Victims of Violent Crime assistant in a local prosecutors' office.
Interlink
Michel and Ruth Moushabeck founded Interlink Publishing 35 years ago in their Brooklyn basement. As refugees from the Middle East, the Moushabecks wanted to bring the world closer together by publishing work from a global, cosmopolitan perspective.
Today, Interlink operates out of a converted sawmill in Northampton, Massachusetts. The company publishes 50–60 titles each year, using premium recycled paper and vegetable ink. "We do not skimp on production," says Managing Director Harrison Williams. "We produce the best quality books in the most sustainable way possible."
Culture, identity, and food history combine in Chinese-ish: Home Cooking, Not Quite Authentic, 100% Delicious by Rosheen Kaul, illustrated by Joanna Hu, November 2022, ISBN 9781623717995. Kaul and Hu, immigrants of Chinese heritage, both moved to Australia as children. In this entertaining collection, the authors celebrate traditional Chinese cooking techniques while creating new culinary and cultural combinations. "I'm a millennial trying to find my identity, and this cookbook hit my sweet spot," says Publicity Manager Sadie Trombetta.
Motherland: A Jamaican Cookbook by Melissa Thompson, photography by Patricia Niven and Aaron Dabee, December 2022, ISBN 9781623718015, chronicles the 500-year history of Jamaica through its food. Recipes include classic Jamaican favorites, such as Jerk Pork, Braised Oxtail, Ackee & Saltfish, and Peanut Punch. Thompson does not shy away from controversial subjects including the European colonization of Jamaica and the legacy of enslaved people from Africa, India, and China, all of whom contributed to the country's flavorful cuisine. "This cookbook has fantastic recipes, location photography, and cultural insight," notes Williams. "After you've had your dinner, you can bring along your cookbook to read in bed."
For readers ages 12–16, Ida in the Middle by Nora Lester Murad, November 2022, ISBN 9781623718060, tells the story of a Palestinian immigrant student who feels ostracized in her American school when negative news stories come out of the Middle East. But after eating special olives, Ida goes on a magical journey alternating between her life in Boston and an alternative timeline in which her family never left Jerusalem. "This book covers social emotional learning themes like belonging, empathy, and social connectedness," says Williams. "It also shines a light on daily life and family interactions in a Palestinian home."
The "Against All Odds" series, for children ages 5–8, tells international true stories of young people achieving success in the face of adversity. The Wrestling Cholitas of Bolivia by Claudia Bellante, illustrated by Anna Carbone, November 2022, ISBN 9781623718077, introduces readers to two Bolivian girls who resisted gender norms to become celebrated wrestlers. "It's about standing up for the things you want out of life," says Williams. "It's wonderful to see these young women do their thing—and the illustrations are absolutely brilliant."
From the same series, three Muslim girls form a heavy-metal rock band in Girls Rock Indonesia by Claudia Bellante, illustrated by Josefina Schargorodsky, November 2022, ISBN 9781623718084. Three girls from Java secretly practiced music after falling in love with Metallica on YouTube. When offered a chance to perform on live television, the all-girl band worries about the reaction from their conservative society. But their performance is greeted with enthusiasm and support from the television audience and their families.
"These short, straightforward, hard-hitting stories reveal day-to-day difficulties in different cultures," notes Williams. "Children here will be inspired by young people stepping up to the plateto make a difference in their communities."
SPONSORED CONTENT