Some strong debuts but predominantly big names like Baldacci, Connelly, Deaver, Grisham, McDermid, and Patterson.
Click here for additional new Prepub Alert columns
Baldacci, David. Mercy. Grand Central. Nov. 2021. 416p. ISBN 9781538719725. $29. CD/downloadable. THRILLER
FBI Agent Atlee Pine is back in her fourth sojourn, and as the title suggests she is continuing her search for information regarding her twin sister, Mercy, abducted as a child. No plot details yet, but the one-million-copy first printing speaks volumes.
Cameron, Marc. Tom Clancy Chain of Command. Putnam. Nov. 2021. 512p. ISBN 9780593188163. $29.95. lrg. prnt. CD/downloadable. THRILLER
In President Jack Ryan's latest outing, a truly evil pharmaceutical billionaire spends big bucks supporting various radical groups whose violence is meant to distract officials as he floods the U.S. market with counterfeit drugs. Now that people are dying of bad medicine, he sets in motion the ultimate power grab, which means getting rid of the president himself.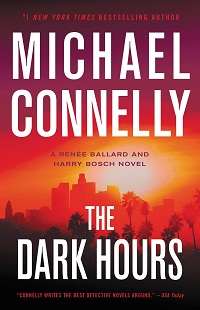 Connelly, Michael. The Dark Hours. Little, Brown. Nov. 2021. 400p. ISBN 9780316485647. $29. THRILLER
On a raucous New Year's Eve in Hollywood, a friendly neighborhood auto shop owner lies dead in the midst of a street party, and LAPD Detective Renée Ballard quickly determines that he was not killed by a stray bullet among those traditionally shot skyward in celebration as midnight chimes. She also sees connections to an unsolved murder once investigated by the legendary detective Harry Bosch, and soon they are teaming up to solve the cases together. With a 750,000-copy first printing.
Cussler, Dirk. Clive Cussler's The Devil's Sea. Putnam. Nov. 2021. 400p. ISBN 9780593419649. $29. lrg. prnt. CD/downloadable. ACTION & ADVENTURE
Adventures featuring NUMA Director Dirk Pitt and his buddy Al Giordano remain the top sellers in the Cussler universe, and they surface only once every two years, so NUMA fans need to grab this title now. Clive Cussler passed away in February 2020; son Dirk has coauthored eight previous Dirk Pitt titles.
Deaver, Jeffery. The Midnight Lock. Putnam. Nov. 2021. 448p. ISBN 9780525536000. $28. lrg. prnt. CD/downloadable. THRILLERS
The Locksmith: he's New York City's latest criminal mastermind, capable of defeating any bolted door or security system, as he demonstrates by breaking into an apartment and rearranging the owner's personal possessions while she sleeps. The NYPD knows that much worse is to come, and forensic detective Lincoln Rhyme and NYPD Det. Amelia Sachs are on the case. But when the police fire Rhyme as a consultant owing to a mistake made in an earlier case, he must operate in secret. Fans have waited three years for the next Rhyme/Sachs thriller.
Follett, Ken. Never. Viking. Nov. 2021. ISBN 9780593300015. $36. CD/downloadable. THRILLER
In the Sahara, two intelligence agents counter drug-smuggling terrorists even as a young widow makes her unauthorized way to Europe. Meanwhile, an ambitious Chinese official goes up against his government's old guard, and terrorist attacks, illegal arms trading, and dirty politics push U.S. President Pauline Green into risky territory. Arguing that no government wanted to fight World War I—leaders instead got tripped up on alliances—Follett considers how world war could happen today. Follett's three most recent novels have debuted at No. 1 on the New York Times best sellers list.
Grisham, John. The Judge's List. Doubleday. Oct. 2021. 400p. ISBN 9780385546027, $29.95. CD/downloadable. THRILLERS
In The Whistler, Lacy Stoltz, an investigator for the Florida Board on Judicial Conduct, challenged a crime syndicate paying off a crooked judge. Now she's back, facing the possibility that a judge is committing a crime far worse—murder.
Lescroart, John. The Missing Piece. Atria. Nov. 2021. 304p. ISBN 9781982170493. $27. CD. THRILLER
Exonerated after years in prison for the rape and murder of his girlfriend, lowlife Paul Riley is released—and is promptly dispatched himself. Wes Farrell, the DA who helped convict Paul, is now practicing law with the redoubtable Dismas Hardy and agrees to represent the father of the murdered woman, a main suspect in the new case. Then the father vanishes, and Dismas and Wes send PI Abe Glitsky after him through a landscape of grieving parents, crooked cops, and determined vigilantes. With a 75,000-copy first printing.
McDermid, Val. 1979. Atlantic Monthly. Oct. 2021. 320p. ISBN 9780802159021. $27. THRILLER
Eager to move beyond the women's stories her Glasgow newspaper keeps assigning her, Allie Burns begins working with aspiring investigative journalist Danny Sullivan. They find big stories, from international tax fraud to a Scottish terrorist group planning to wreak havoc before the devolution referendum. But while they make waves, they also make them enemies. Then Danny is murdered. From Cartier Diamond Dagger Award McDermid.
Morrissey, Hannah. Hello, Transcriber. Minotaur: St. Martin's. Nov. 2021. 304p. ISBN 9781250795953. $27.99. THRILLER
Police transcriber Hazel Greenlee wants out of crime-slicked Black Harbor, WI, so when a neighbor confesses to hiding the body of an overdose victim and the police suspect that a nefarious drug dealer called the Candy Man is responsible for the death, Hazel follows the case eagerly. She's collecting material for a novel, but her obsessiveness could be wrecking her life—and placing her squarely in the killer's sights. Let's hope that debut novelist Morrissey, a police transcriber herself, was more careful. With a 50,000-copy first printing.
Patterson, James. Fear No Evil. Little, Brown. Nov. 2021. 400p. ISBN 9780316499149. $29. THRILLER
Deep in the Montana wilderness, Dr. Alex Cross and Det. John Sampson are pursuing the bloodthirsty bad guy who has been stalking Alex's family for years when they find themselves targeted by two rival teams of assassins. And both teams are working for Alex's nemesis. Will our heroes get out alive? Look for special promotions throughout 2021 as the publisher launches the Year of Cross to celebrate 40 years' worth of adventure. With a 760,000-copy first printing.
Scott, Kieran. Wish You Were Gone. Gallery: S. & S. Nov. 2021. 352p. ISBN 9781982153984. $27. THRILLER/DOMESTIC
When Emma Walsh's husband, James, died after smashing his way through the back wall of their garage in his big-bucks sports car, he left behind a reputation as a stellar family man and business owner. Unfortunately, that reputation hid the alcoholic rages and blackouts that kept Emma and her teenage children cowering, and other secrets James shrouded now will out in dangerous ways. New York Times best-selling children's/YA author Scott enters the adult arena with a 75,000-copy first printing.
Willink, Jocko. Final Spin. St. Martin's. Nov. 2021. 224p. ISBN 9781250276858. $26.99. CD. THRILLER
Sick of being a lowly stock clerk, living at home, and having to watch after his brother, Johnny connives with best friend Goat to address all these issues at once. Soon the two are learning that being on the run is not so much fun. From retired U.S. Navy SEAL Willink, the No. 1 New York Times best-selling author of leadership titles and juvenile fiction and creator of the popular Jocko Podcast.