From early Tudor England to post–World War II.
Click here for additional new Prepub Alert columns
Herrera, Adriana. A Caribbean Heiress in Paris. HQN. May 2022. 336p. ISBN 9781335427519. $28.99; pap. ISBN 9781335639844. $16.99. CD. HISTORICAL/ROMANCE
Money-strapped Luz Alana Heith-Benzan Caña wants to take her Dominican family's Caña Brava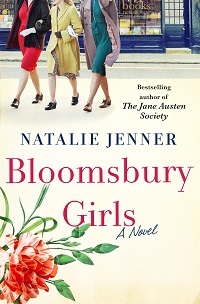 rum worldwide, while Scottish whiskey distiller James Evanston Sinclair could care less about his father's fortune but fall hard for headstrong Luz when they meet at the 1889 Exposition Universelle. From USA TODAY best-selling author Herrera, who identifies as a bisexual Afro-Dominica; with a 100,00-copy paperback and a 10,000-copy first printing.
Jenner, Natalie. Bloomsbury Girls. St. Martin's. May 2022. 368p. ISBN 9781250276698. $27.99. CD. HISTORICAL/WORLD WAR II
Sharp, stylish Vivien, whose fiancé was killed in action; wife and mother Grace, needing to work after her husband's war-wrought breakdown; and Evie, in the first class of female students allowed a Cambridge degree: all are ambitious women, and in 1950 London they have makeover plans for century-old Bloomsbury Books, still run exclusively by stodgy men. From the author of The Jane Austen Society; with a 150,000-copy first printing.
Leary, Ann. The Foundling. Marysue Rucci: Scribner. May 2022. 336p. ISBN 9781982120382. $27. CD. HISTORICAL
In 1927, 18-year-old Mary Engle is glad to get a job as secretary at the disturbingly named Nettleton State Village for Feebleminded Women of Childbearing Age, run by charismatic Dr. Agnes Vogel. Then she encounters a patient named Lillian, who was raised in the same orphanage as Mary and asks her help in escaping; Nettleton, she claims, is not as benevolent as it seems. From theNew York Times best-selling Leary (The Good House); with a 100,000-copy first printing.
Quick, Amanda. When She Dreams. Berkley. May 2022. 352p. ISBN 9780593337783. $28. CD. HISTORICAL/ROMANCE
In the aftermath of a marriage wrecked by betrayal, private eye Steen Colfax accepts a case from Maggie Lodge, who claims someone is impersonating her reclusive advice-columnist boss. Sparks ricochet uncertainly as a mysterious murder brings this odd couple one step closer to blackmail and a vengeful killer. Next in the "Burning Cove" series; from the author of 50 New York Times best sellers.
Ryan, Jennifer. The Wedding Dress Sewing Circle. Ballantine. May 2022. 352p. ISBN 9780593158838. $28. lrg. prnt. Downloadable. HISTORICAL/WORLD WAR II
When the Blitz destroys both home and business of famed fashion designer Cressida Westcott, she to flees to the family manor house she deserted decades ago, arriving with only the clothes on her back. Niece Violet is elated until her conscription letter arrives, while local vicar's daughter Grace now has someone to help repair her mother's wedding dress for her own nuptials. From the author of the beloved The Chilbury Ladies' Choir.
Saint, Jennifer. Elektra. Flatiron: Macmillan. May 2022. 304p. ISBN 9781250773616. $27.99. HISTORICAL
Having triumphed with her internationally best-selling debut, Ariadne, Saint turns to bold Elektra in a story ultimately involving a triumvirate of women. Clytemnestra ignores insinuations of House of Atreus violence and is betrayed when Agamemnon sacrifices their daughter, Princess Cassandra goes unheeded, and Elektra longs to see her father yet wonders if she's doomed to repeat her family's bloody history. With a 100,000-copy first printing.
Sanders, Shelly. Daughters of the Occupation. Harper. May 2022. 400p. ISBN 9780063247895. $26.99; pap. ISBN 9780063226661. $16.99. lrg. prnt. HISTORICAL/WORLD WAR II
At her mother's funeral in 1970s Chicago, Sarah learns her family's devastating history from estranged grandmother Miriam, who gave birth to son Monya during the 1940 Soviet invasion of Latvia and lost her husband in the subsequent German invasion. As Jews, the remaining family sought protection from their staunch housekeeper, but Monya was left behind when they finally fled the country. Now Miriam wants Sarah to find him. From award-winning YA author Sanders; with a 150,000-copy paperback and a 25,000-copy hardcover first printing.
Weir, Alison. The Last White Rose: A Novel of Elizabeth of York. Ballantine. May 2022. 480p. ISBN 9780593355039. $28.99. HISTORICAL/TUDOR
After wrapping up her "Six Tudor Queens" series, New York Times best-selling novelist/historian Weir tracks back to Elizabeth of York—the first Tudor queen, rescued from marriage to Richard III when Henry Tudor stepped up, slew Richard at the Battle of Bosworth Field, and united the swords-drawn houses of Lancaster of York by marrying her himself.