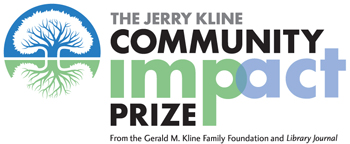 A good library keeps up with change; the best make change happen. When Ed Garcia took the helm of Rhode Island's Cranston Public Library (CPL) in 2012, the library was still rebounding from the 2008 recession, and the city was rapidly transforming. Between 2000 and 2015, the percentage of minority residents increased in every neighborhood, and the percentage of residents living below the federal poverty level increased or remained level in 82 percent of the city's 17 census tracts.
Garcia took on issues of equity at CPL from his earliest days as an information access librarian; he was named an LJ Mover & Shaker in 2010 for his outreach efforts. As director, he understood that CPL should not simply keep programming and services relevant for an evolving city, but help that city keep evolving, and engage civic leadership to improve the well-being of all. The library's success in that continuing mission is what makes it the winner of the 2020 Jerry Kline Community Impact Prize, developed in partnership with the Gerald M. Kline Family Foundation.
CONVENING FOR CHANGE
Over the past five years, the boom in Cranston's immigrant population—as well as increasing economic disparity between the city's congested east side and the more recently developed, wealthier, west side—made it clear that the library needed to take its services to another level.
"When Ed became library director, he really energized the staff, energized the board, and energized the city with his vision of where he really wanted to take the library," says Cranston Mayor Allan Fung.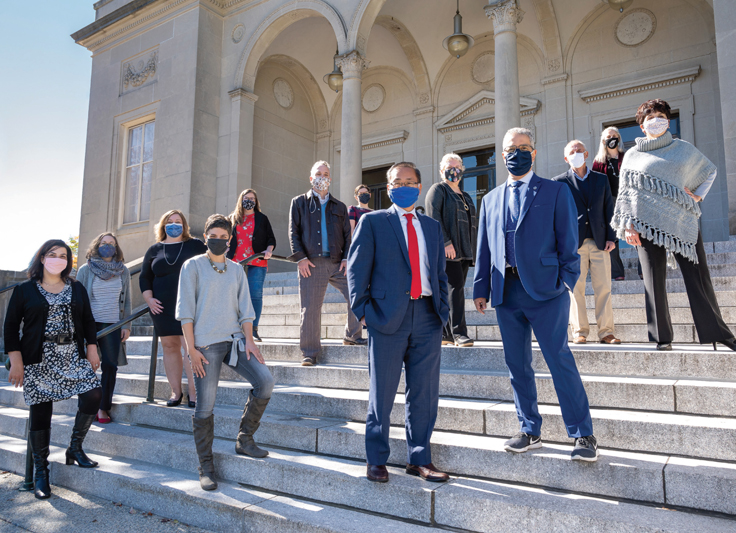 TEAM PLAYERS

Rhode Island's Cranston Public Library's leaders, staff members, and partners (l.-r.) Lisa Kirshenbaum, City Grant Writer; Emily Brown, Youth Services Coordinator; Julie Holden, Assistant Director; Stephanie Mills, Park View Middle School Librarian; Sarah Bouvier, Library Communications Manager; Zach Berger, Reference Librarian; Elise Petrarca, Youth Services Librarian, William Hall Library; Allan Fung, Cranston Mayor; Karen McGrath, Auburn Branch Librarian; Ed Garcia, Library Director; Jack Tregar, Chair, Board of Trustees; Andrea Champagne, Executive Director, Cranston YMCA; and Dana Santagata, Head of Circulation. Photo © 2020 Shawn G. Henry
In 2017, CPL helped convene the OneCranston Working Cities Challenge Initiative, a cross-sector collective impact partnership answering a call to action for cities to create sustainable change. With the help of Economic Development Director Larry DiBoni, the city's Comprehensive Community Action Program (CCAP) procured a $400,000 Working Cities Challenge grant from the Federal Reserve Bank of Boston, and CPL joined partners including the City of Cranston, the Cranston School Department, the Cranston YMCA, the Center for Southeast Asians, the United Way, and others on a 10-year project to identify strategies for social cohesion.
With the library's help, OneCranston brings public, private, faith-based, and nonprofit organizations together with community members to deliberate, collaborate, and connect with one another as they improve their neighborhoods, address opportunity gaps for youth, increase access to employment and post-secondary opportunities, and ultimately address systemic issues that contribute to persistent socioeconomic disparities in the city.
The library hosts OneCranston programming, serving as a safe space for neighborhood groups to meet and talk, and Garcia is closely involved in the initiative's governance. Before the pandemic, OneCranston distributed microgrants to help fund local group activities such as block parties or neighborhood cleanups.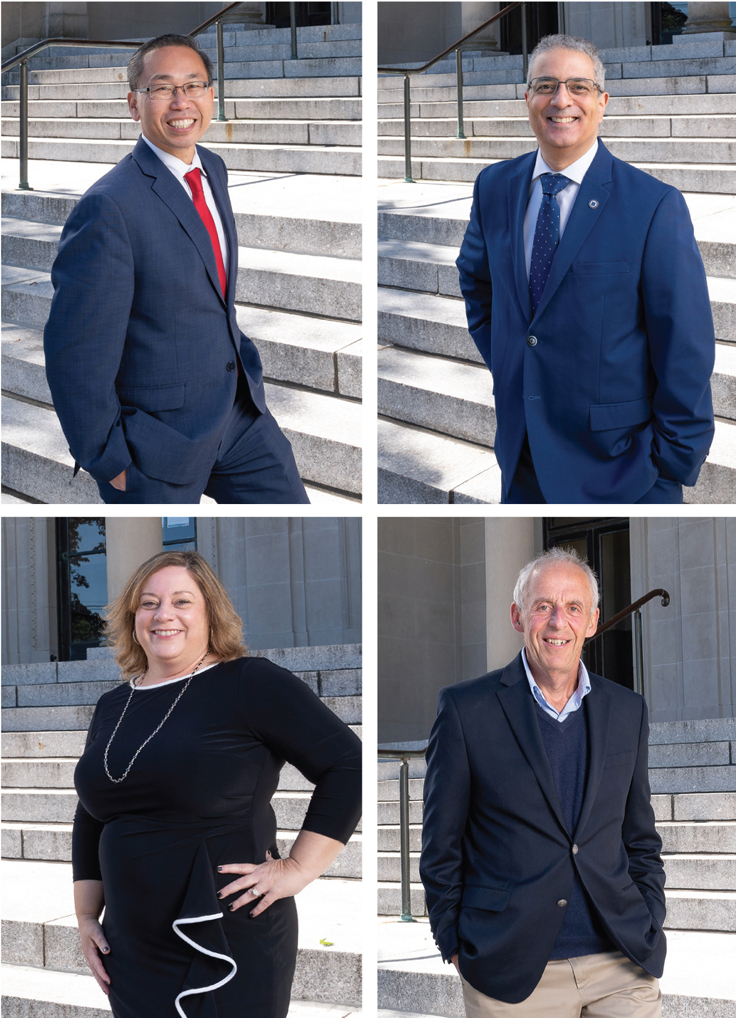 LEADING THE WAY

Library and city leadership work together and learn from each other. Top row, l.-r.: Allan Fung, Mayor of Cranston; Ed Garcia, CPL Director. Bottom row, l.-r.: Julie Holden, CPL Assistant Director; and Jack Tregar, Chair of the CPL Board of Trustees. Photos ©2020 Shawn G. Henry
ACCESS AND OUTREACH
The library's coalition-building to address community well-being is bigger than just OneCranston, though: its roots are in 2013–15's Adult Lifelong Learning Access (ALLAccess), a partnership funded by a $500,000 Institute of Museum and Library Services (IMLS) grant to address Rhode Island's unemployment rate—at the time, the highest in the nation. CPL joined forces with Providence Public Library, the Rhode Island Family Literacy Initiative (RIFLI), the University of Rhode Island, and others to target the needs of underserved populations, including adults with disabilities, low literacy, low digital literacy, and low English language literacy.
"We wanted to make the library the place in the community people could come to get help, because there's really nowhere else," says Garcia. Adult education and workforce assistance, such as one-on-one technology appointments and open tech time in CPL's C-Lab digital media learning space, were provided in the library.
Garcia serves on the steering committee for CCAP's Health Equity Zone, which works to reduce health disparities in the city. He and CPL staff have joined the city's Opioid Crisis Response Committee and the Age-Friendly RI statewide initiative. Garcia has also served on the Governor's Council of Economic Advisors and, currently, Congressman Jim Langevin's Education Advisory Committee. He was appointed Chair of the Cranston Census Complete Count Committee and built a coalition of local partners to conduct census outreach in city tracts that demonstrated low response rates in previous census efforts; with the assistance of a grant from the Rhode Island Foundation and the American Library Association (ALA) Equity Fund, the library hired its own Census Outreach Coordinator. Census outreach events canceled due to the pandemic were moved online, and included a social media campaign, census raffle, and video PSA recorded by Garcia and Fung.
BUY-IN AT ALL LEVELS
CPL is currently developing its newest five-year strategic plan, which requires gathering feedback from outside the library. "We do a lot of community survey work, and community conversations with stakeholders," says Garcia. "We try to achieve what we've put in the plan, and we go back to it a lot" to make sure the library is on target. This involves generating reports, particularly assessing programs and services that had not been in the library's previous plan but have been adopted to meet community needs.
One of the clearest proofs that the public values the library's engagement was the passage of a $1.2 million bond in 2014, largely for capital repairs. Garcia hired the library's first communications manager and partnered with library advocacy PAC EveryLibrary. In addition to an online and social media campaign, says Garcia, library representatives gave presentations across the community, in venues ranging from the Senior Center to farmer's markets to school committee meetings, and the result was overwhelming support that passed the bond measure by 75 percent.
City leadership is firmly behind the library as well. "I bought in from day one, saw their vision, and made sure they had the necessary resources to do what they can," says Fung. "There was a lot going on, a lot of bold new initiatives, that I was happy to support."
"He's always been behind us," says Garcia. "He's been a great partner and spokesperson for libraries, and everyone currently on the city council has been a great supporter of ours."
That support is no happy accident, Garcia adds—he makes time to interact with city leadership. "If I know what their issues and interests are, and see if there's a way that we can integrate that into the library, then it really helps us show them what we do."
Garcia relies on the relationships he's forged throughout Cranston over the years to help him keep his finger on the city's pulse. Working with these groups gives him insight into ways CPL can continue to step up. "I think building those connections really helps you find out about things or people you're not serving, [whom] you might not be able to know about otherwise," he explains, "and try to find ways to then reach out to those communities."
Says YMCA Executive Director Andrea Champagne, who has been a principal partner in OneCranston, "One of the things our library does very well, and that Ed does particularly well, is he's a connector and a collaborator," she says. "He's always finding the best person on his team. If I come to him with an idea and say, 'Is this something that the library wants to participate in?' it's always, 'OK, let me connect you.'"
The library administration and board actively support staff development, encouraging CPL workers to become involved with local, regional, and national professional organizations and to serve on local committees. "Through Ed's leadership I've been able to meet a lot of his staff," says the YMCA's Champagne, "which is why I think they're able to have such a far reach in the community. As a team, they're all so invested in the different pockets of work that are happening all over the city."
Thanks to the library's work with the Center for Southeast Asians as part of the OneCranston initiative, for example, Garcia was able dig into reasons the city's Southeast Asian immigrants weren't using the library and connect with community leaders to find out what they needed. In addition to expanding its programming and collection, CPL brought in monks from three nearby Buddhist temples to perform a blessing ceremony, "because if a building has been blessed by their temple it allows them to know that it's something they can use," says Garcia; with the library's encouragement, the monks blessed local health centers as well.
"I feel like we've built enough community partnerships that if there's something going on in the city, hopefully we'll hear about it," he notes.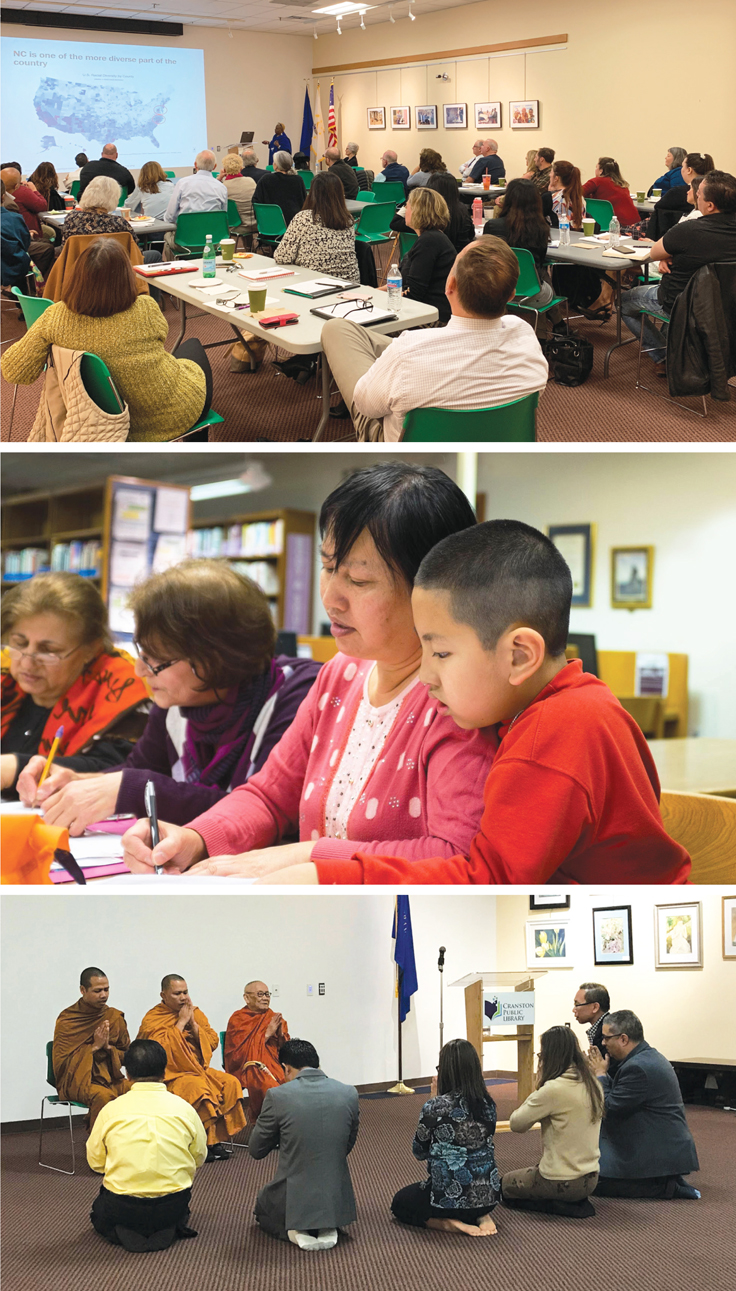 IT TAKES A CITY

Cranston PL's community involvement takes all hands on deck, such as (top-bottom) grant-funded Racial Equity Training for city leadership and outreach ranging from all-ages ESL classes to a blessing by local Buddhist monks held during the Explore Cambodia program. Photos courtesy of Cranston PL
CIVIC LEARNING
Foremost among such issues was an increasing communication divide between city leadership and its growing immigrant communities.
From 2000 to 2015, as Cranston's population grew by just under 2 percent, the number of residents of color doubled, and the city's Hispanic and Asian populations grew by 187 and 65 percent respectively. Garcia felt that the library, trusted by city leadership and community members alike, was well positioned to initiate some important conversations.
"We'd heard anecdotally that sometimes people don't feel comfortable talking to city departments, or people in the city departments don't necessarily understand certain community norms, or there are language barriers because our City Hall does not have anyone that speaks Spanish or some of the Southeast Asian languages," he explains. "We really needed to have all the political leaders [attend the training]—not just heads of community agencies, but as many people as we could get from all the departments in the city, especially the ones that are the most public facing."
In 2019, Garcia engaged the City Council's grant writer and OneCranston's former initiative director to collaborate on a grant from the Rhode Island Foundation to host racial equity training for Cranston leadership, including City Council, city administration, department directors, and other community leaders. His close work with Fung—Rhode Island's first Chinese American mayor—helped ensure buy-in from other city department heads.
Representatives from the Racial Equity Institute in Greensboro, NC, held a full-day equity training session at the library in November 2019, with more than 45 members of the police, fire, and building inspection departments, and the tax assessor's and mayor's offices, in attendance. "The racial equity training provided a context for racial systems, all of which I was raised in, participated in, but never knew," says Joanne McGunagle, CEO of CCAP. "As a result of the training, I see that I was part of an inequitable system that discriminates, sometimes openly, but most times, subtly."
"I was very surprised and happy with the level of interaction that came from the city employees," says Garcia. Many of the participants expressed an interest in pursuing additional grants to continue the training, but the COVID-19 pandemic has put progress on hold for the moment.
"They're holding tough conversations in those trainings to push the envelopes as leaders, and continuing to engage our staff and the public in the best way possible," says Fung. "Those training experiences that they provide have been integral to helping make sure our staff has an understanding of what's going on, so that they can recognize and spot any issues."
EXPLICIT INCLUSION
CPL has also partnered with the YMCA and CCAP to bring a consultant in to do equity work with library staff—first surveying employees and patrons to see where areas of need lie. "I would put our customer service up against anyone's," says Garcia, "but that doesn't necessarily mean that we are all culturally competent" or that there aren't areas of implicit bias that could keep members of some groups away from the library. "I really want to hear from the community to know how we can improve, and if are there other things that we should be aware of."
In 2016, CPL adopted an explicit inclusion policy after hearing complaints about a teenage patron who was transitioning and would use the women's restroom. Garcia is currently investigating how to build gender neutral bathrooms given the Central Library's space constraints, but "we want people to be comfortable using the facilities that they want to be able to use, so we passed an inclusion policy that specifically mentioned that. We haven't had any complaints since that point, so I hope people are becoming more accepting." Staff now place their pronouns on name badges if they choose to.
As part of making sure that the many communities it serves feel welcome at the library "we wanted to do something that would help celebrate the diversity of some of the newer communities moving into the city," says Garcia.
The library has hosted the Cambodian Society Dance Troupe, bilingual story times incorporating its robust Khmer-English collection, and a four-week family program celebrating the geography, language, and arts of Cambodia, sponsored by a "TalkStory" grant from the ALA Asian Pacific American Library Association.
"The Explore Cambodia program was an awesome experience for myself as well as for my children and the Cambodian community," says participant Sileng Kang. "You guys did an awesome job connecting the children with the Cambodian culture." Kang particularly appreciates how the program was broken out into sessions so as not to overwhelm anyone with too much content or technology. "I love that you made the activities hands on throughout," she adds.
ESL and citizenship test prep classes, held in partnership with RIFLI, continue to be a library mainstay. The last year has seen participants from 38 countries, including Syria, China, Cambodia, Ukraine, Guatemala, and the Dominican Republic. In the past four years, 480 students have completed beginner, intermediate, and conversational ESL programs at the library—including a Microsoft Office certification for ESL learners program—and 104 have become U.S. citizens.
WHERE FUN AND LEARNING MEET

Community service includes school activity kits, prepared by CPL Youth Services Librarian Martha Boksenbaum (l.) and Coordinator of Youth Services Emily Brown. Photo ©2020 Shawn G. Henry
REPRESENTATION MATTERS
Garcia understands firsthand the impact that equity, diversity, and inclusion (EDI) initiatives can have on library leadership. His 2008 MLIS degree, from the University of Rhode Island (URI) Graduate School of Library and Information Studies, was subsidized by an IMLS-funded Prism Plus scholarship established to prepare librarians to work with diverse populations.
He was aware that the library was not reflective of its community, and in 2014 Garcia made a commitment to start hiring inclusively. He asked the library board to put together a diversity statement, and began including that information in job descriptions and library advertising. His goal, he tells LJ, is to bring more librarians of color into CPL; out of 106 staff members, currently 20 are people of color, including Garcia. The library's board of trustees is supportive of his efforts, Garcia says. He is also working to diversify the library's seven-member board; he has brought on one trustee of color and plans to continue those efforts as seats open up.
"It's actually a struggle here in Rhode Island to find library workers, especially [degreed] librarians, who are people of color," he notes; he is having ongoing conversations with the URI library school about recruitment. "We probably have the most diverse workforce in the city as a city department—which isn't saying much because we could still do way better," says Garcia. While that's still a work in progress, CPL is being recognized for its efforts. The city council president recently appointed a diversity commission to help the police and fire departments hire more employees of color, and appointed Garcia to serve on it.
STEPPING UP DURING COVID
When CPL closed in mid-March during the COVID-19 pandemic, staff pivoted to online programming without missing a beat. "They were able to switch and start doing virtual programming, which we had never really done before," says Garcia. "My communications manager helped with a lot of the technology behind it."
Between March and June, the library offered more than 200 virtual programs, ranging from a livestreamed summer reading program with professional storytellers celebrating Cranston's diversity to online tech help through the RI Distance Learning Helpline. Using the library's 3-D printer, CPL staff manufactured face shields for workers at CCAP's testing site, and for the senior center, which was providing thousands of meals for senior facilities around the state.
The library stayed closed through late June. Although CPL had messaged patrons asking them to hold onto their books, the book drops filled up every few days and Garcia, with a few staff members, would come in to empty them and quarantine returned materials. Otherwise, all employees except for a few student part-timers and volunteers were kept on payroll. Garcia's only request was that they do two professional development sessions of any kind each week.
The library has reopened with capacity restrictions—computers for patrons who need to file for unemployment benefits have been a critical service—with employees directly involved in reopening committee with administration, and their feedback welcomed.
"Because I had followed the coronavirus from the moment I had heard about it and anticipated that we would need supplies like disinfectant cleaner and hand sanitizer, we were one step ahead of others in the area with a stockpile of much of what would get us up and running," recalls Karen McGuinness, head custodian and president of NAGE Local RI-97, the library's union. "I had the full backing of the administration to get whatever my department would need to 'get it done.'" Thanks to input from another employee, the library was able to purchase and install protective Plexiglas partitions quickly as well.
While some employees were trepidatious about returning to work, and a few have serious health concerns, "through conversations between the union and the administration, we found a mutually acceptable solution that worked well," says McGuinness. "Staff were encouraged by the open and frank conversations that got acceptable results and kept them healthy." That openness on the part of library leadership, adds McGuinness, meant that staff were "exceptionally willing to be innovative and to step up with ideas to constantly improve our virtual programming as a show of good faith in appreciation for the administration's willingness to work with us."
As branches began to reopen with limited hours, employees worked in small teams half a day at a time, with full protective equipment provided as early as April.
"Our staff was on board from the beginning," says Head of Circulation Dana Santagata. "They were adaptable, hardworking and dedicated from the very start and continue to be through every phase of the reopening. We followed all safety procedures for our patrons and for each other while tackling a large volume of work and providing the very best customer service to everyone."
Garcia's pride in his workers is evident. "My staff is amazing," he says, adding, "We made every decision possible to be safe."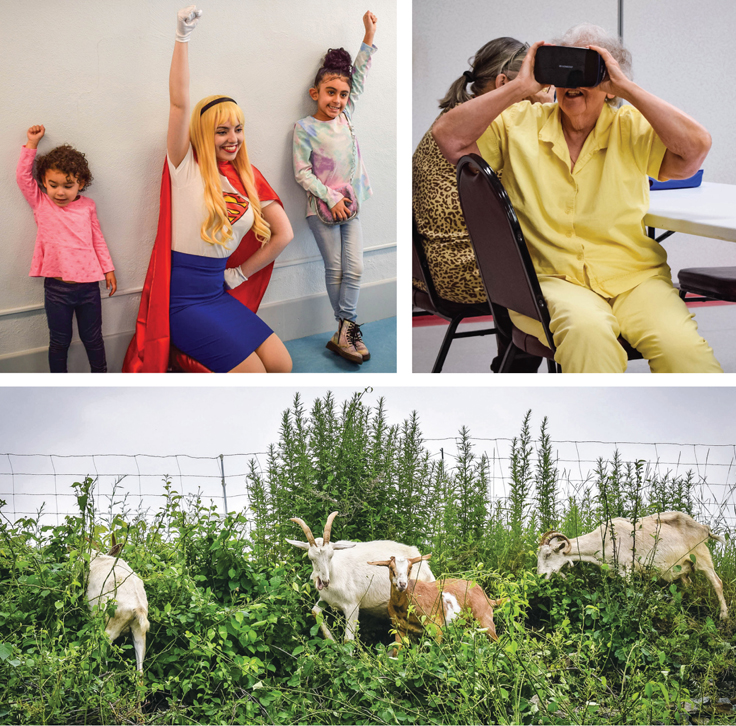 SUPER SENIORS, KIDS, AND GOATS

Cranston PL's innovations know no age—or species—limitations, including (clockwise from top l..) SuperGirl storytime featuring Oak Lawn Branch Librarian Tayla Cardillo, the Virtual Reality Armchair Travel Program at the Cranston Senior Enrichment Center, and goatscaping at the Central Library. Photos by Sarah Bouvier, Cranston PL
THINKING SUSTAINABLY
Sustainable thinking extends throughout CPL's strategies and values, and will be a library core value as CPL begins crafting its new five-year strategic plan, incorporating recommendations from the ALA Special Task Force on Sustainability's 2018 report. Sustainable options are also top of mind as the board begins to discuss constructing a new Central Library in the next five to 10 years, and have guided recent renovations as well: HVAC systems in three of the largest CPL facilities have been replaced with energy efficient, software-controlled systems, and four buildings use LED lights with timers.
All new construction going forward will plan to achieve either Leadership in Energy and Environmental Design (LEED), Green Globes, or Living Building Challenge certification, and leadership is looking into adding solar electric systems at the Central Library and Knightsville branch. In the library's spirit of learning by doing, CPL will use future facilities as a teaching tool to help Cranston residents learn more about passive, sustainable, resilient design choices.
Along those lines, in 2017, a grant from the New England Grassroots Environmental Fund helped teens learn to plant gardens at three library locations; the herb and vegetable garden at CPL's Central Library is still active. CPL's Seed Library, the first in Rhode Island, has allowed community members to share non-GMO, non-hybrid, local varieties since 2014.
CPL also partnered with a city council member to invite teens to plant trees in Cranston's Meshantucket State Park. And CPL is not limited to the production end of the ecocycle: for the past three years, the Central Library has hosted goats from a local farm to eat weeds and brush on the ground—a popular attraction for visitors as well as a form of holistic landscaping.
FROM STUDENTS TO SENIORS
Programming at CPL reflects both its objectives and the community's aspirations. In 2018, the library convened a three-part series of discussions around Angie Thomas's The Hate U Give, that year's Reading Across Rhode Island book, to explore racial equity and police relations in the community. The sessions brought in more than 300 teens and adults, culminating in a virtual talk by Thomas. Says Garcia, "it was great to be able to build on the fact that the library was a safe space to have conversations. I think people felt free to talk about their viewpoints there." CPL does not engage police officers in the library, he notes; a contracted security officer, trained in de-escalation, oversees the Central Library Monday through Saturday, and a retired security officer at the William Hall Library "watches out for skateboarders causing havoc outside" in the afternoons.
CPL was the first library in Rhode Island to feature 3-D printers, and last year brought in virtual reality (VR) equipment as well—using a grant to purchase 30 headsets. That allowed the library to use its innovative technology expansively, including bringing headsets to the Senior Center for "vacation trips."
Cranston's younger residents are also a high priority. In 2017 CPL, Cranston public schools, and the mayor's office joined forces for the Fresh Start initiative, designed to eliminate barriers to the library for the city's youth. Students can sign up for library cards using forms distributed by school librarians, or on CPL's website for homeschooled students. Nearly 1,100 library cards were issued or updated in a single month. However, close to 2,200 young people's cards were still blocked because of outstanding fines. CPL elected to eliminate fines on all children's and teen materials, waiving more than $25,000 in existing fees thanks to an operating budget from Fung's office. The library eliminated fines on adult print books, audiobooks, and periodicals in September.
CPL, says Mayor Fung, "is breaking down barriers." The library's initiatives targeted toward change, as well as its day-to-day work, are transformative. Garcia and his team "make our city not just a better place to live, but also to work and play"—and to those goals, Cranston residents can also add thrive, now and well into the future, thanks to their library and its solidly connected leadership.
---
See also the 2020 Jerry Kline Community Impact Prize honorable mentions: Central Arkansas Library System, Georgia's Gwinnett County Library System, and South Carolina's Union County Library System.
---