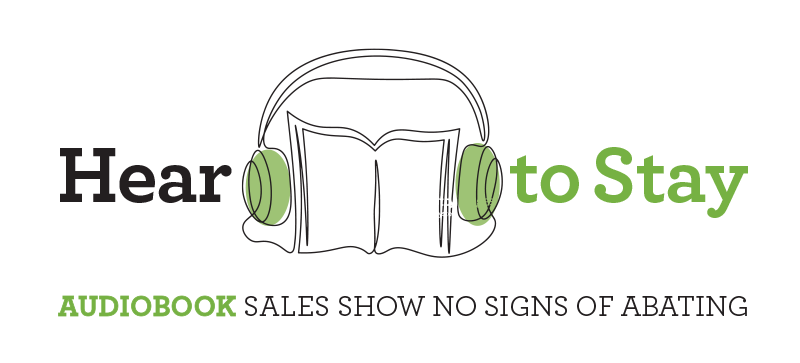 Audiobooks are the fastest-growing format in publishing, and this trend isn't ending any time soon. As audiobook sales continue to rise, publishers are investing in more sophisticated recordings that use multicasting and other creative production techniques to enhance the listening experience.
The audiobook market was growing before COVID-19 began, got a huge boost when people were looking for things to do while isolating during the pandemic, and continues to grow even as we return to more normalcy. According to one report, the global audiobook market was valued at $2.84 billion in 2019 and is expected to grow 27 percent year over year through 2027, reaching more than $19 billion during that time.
A number of key developments are fueling the rise of audiobooks. For instance, the prevalence of smart home technology and the growing number of online audio listeners have opened up new opportunities for audiobook consumption. The surging popularity of podcasts is also a factor.
"The audiobook market is definitely growing and shows no signs of slowing down," says Samantha Edelson, vice president of marketing for Macmillan Audio. What's more, "publishers are doing unique things with sound design."
"Because there is more demand for audio, we're able to take more chances," agrees Anne Fonteneau, chief sales officer for Blackstone Publishing. "Having new audiences gives us the freedom to experiment and do more creative productions."
Here are some of the latest audiobooks of interest to librarians.

Penguin Random House Audio
Penguin Random House Audio (PRHA) publishes a diverse range of adult, children's, and young adult audiobooks for libraries under the Books on Tape and Listening Library imprints.
In addition to audio versions of Penguin Random House print titles, the company also has growing original and Spanish-language audiobook publishing programs. "We publish about 2,000 audiobooks per year," says Karen Dziekonski, vice president of audio production.
The company's 19 full-time, on-staff audiobook producers aim to find the perfect voices for every audiobook. PRHA is also committed to developing new audiobook talent through initiatives such as its Ahab Talent casting platform and narrator mentorship program. PRHA operates 15 of its own recording studios in New York City and Los Angeles, and the company also records worldwide.
All these efforts are intended to create a special, highly compelling listening experience. An example is the expanded audiobook edition of On Tyranny by Timothy Snyder, April 2022, ISBN 9780593666555. This New York Times best-selling guide to preserving our democracy has been updated to include eight hours of timely new material addressing Russia's invasion of Ukraine, read by the author.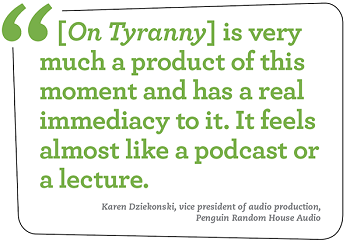 A history professor at Yale, Snyder spoke from an outline and notes over two marathon recording sessions to produce the expanded audiobook version in just six weeks. "The recording isn't your typical audiobook," Dziekonski says. "It's very much a product of this moment and has a real immediacy to it. It feels almost like a podcast or a lecture."
Book Lovers by Emily Henry, read by Julia Whelan, May 2022, ISBN 9780593666555, follows a literary agent who's looking to become the heroine of her own story when she sets off for a month away in a small town. But instead of meet-cutes with a handsome local professional, she keeps bumping into a hardheaded editor she knows from back in the city.
"With a summer getaway, a sweet sibling relationship, and an irritable yet adorable romantic interest, this is the perfect type of women's fiction that people want to get lost in," Dziekonski says.
Best-selling author and master of the legal thriller John Grisham has written a collection of new novellas. Each of the three stories in Sparring Partners, May 2022, ISBN 9780593632352, features a different acclaimed narrator.
"Homecoming," narrated by actor Jeff Daniels, takes us back to Ford County, the fictional setting of many of Grisham's stories, for a homecoming that doesn't go as planned. Four-time Academy Award nominee Ethan Hawke narrates "Strawberry Moon," about a young death row inmate who has one final request just hours before his execution. "Sparring Partners," read by award-winning narrator January LaVoy, features two brothers who must overcome their contempt for each other when they inherit their father's law firm.

The audiobook version of Sparring Partners also features exclusive introductions to each novella read by Grisham himself.

Neruda on the Park by Cleyvis Natera, narrated by Imani Russell, Annette Amelia Oliveira, and Alma Cuervo, May 2022, ISBN 9780593506769, is an electrifying debut novel following members of a Dominican family in New York City who take radically different paths when faced with encroaching gentrification. Each of the three family members' perspectives is voiced by a different narrator.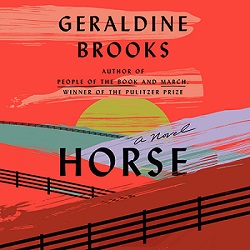 Horse by Geraldine Brooks, June 2022, ISBN 9780593552940, is narrated by a cast of five voice actors. In this literary novel, Brooks—a Pulitzer Prize–winning author—weaves an absorbing tale about spirit, obsession, and injustice across American history from an unusual collection of threads: a discarded painting in a junk pile, a skeleton in an attic, and Man o' War, the greatest racehorse in American history.

Blackstone Publishing
A family-owned business based in southern Oregon, with additional offices in New York City, Blackstone was founded in 1987 and is one of the largest publishers of audiobooks in the United States. The company has more than 17,000 audiobooks in its catalog and publishes about 1,600 new audiobooks per year across all genres and formats.
Blackstone began as an audiobook publisher, and audiobooks are still the company's core business. Blackstone partners with some of the leading publishers in the world to produce and distribute audiobook content, including Simon & Schuster, Scholastic, Disney, and Marvel. However, in 2015 Blackstone also launched its own print and ebook business. This year, the company will publish more than 100 original titles, and its list of projects continues to grow.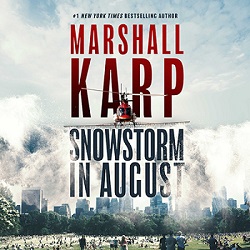 An example of an original Blackstone title is Snowstorm in August by Marshall Karp, narrated by Chris Andrew Ciulla and Michael Manuel, June 2022, ISBN 9798200711673. This new novel from Karp, co-author of the New York Times best-selling series "NYPD Red" along with James Patterson, pits the most powerful drug lord on the planet against his most hated enemy: the city of New York. "It's a smart, funny, and fast-paced thriller," says Anne Fonteneau, chief sales officer.
The Swift and the Harrier by Minette Walters, July 2022, ISBN 9798200918072, is a historical adventure from Blackstone. Set during one of the most turbulent periods of British history, it features "colorful characters that you can't help rooting for," Fonteneau says.
When civil war breaks out between the king and Parliament in 1642, families and communities across England are torn by different allegiances. Jayne Swift, a physician from a Royalist family, offers her services to both sides in the conflict. Wherever she goes, she keeps encountering a man with a mysterious past.
Another Blackstone original, Run Time by Irish crime writer Catherine Ryan Howard, August 2022, ISBN 9798212005203, is a high-concept psychological thriller about the filming of a horror movie deep in the wilderness of West Cork. When the strange occurrences in the script start happening on set as well, the lead actress—who was a last-minute replacement for the original star—begins to fear that the real horror lies off-screen.
The Last Housewife by Ashley Winstead, August 2022, ISBN 9798212005203, is a dark thriller about a woman determined to destroy a powerful cult and avenge the deaths of the women who were taken in by it—no matter the cost. "It's very provocative and downright terrifying," Fonteneau says. The author is an academic-turned-novelist with a PhD in contemporary American literature. Blackstone is producing the audiobook version of this novel from Sourcebooks.
Girl, Forgotten by Karin Slaughter, narrated by Kathleen Early, August 2022, ISBN 9781504780353, is an electrifying new thriller from the New York Times best-selling author of Pieces of Her, which was made into a successful limited series on Netflix.
Girl, Forgotten picks up where Pieces of Her leaves off. The story features newly minted U.S. Marshall Andrea Oliver as she investigates a cold case with links to her father's past. The Huffington Post calls Slaughter "an exemplary storyteller" whose talent is on par with Edgar Allen Poe or Nathaniel Hawthorne. Blackstone is producing the audiobook version of this novel from William Morrow.

Library Ideas
Founded in 2009, Library Ideas develops and distributes products to schools and libraries worldwide. Its customer base includes more than 5,000 institutions in 20 different countries.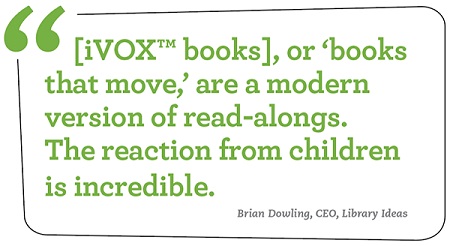 The company's audiobook business developed about four years ago with VOX™ books, or "books that talk." These printed books provide full audio narration at the push of a button. In this way young children can listen as they read along in the text, using an audio reader attached to the book's inside cover.
Library Ideas offers more than 500 VOX titles in nine different languages, including Spanish, Mandarin Chinese, Arabic, Russian, Korean, French, and German. The company is adding six more languages by the end of the year, says CEO Brian Dowling, including Japanese and Ukrainian.
VOX books are titles licensed from other publishers that Library Ideas has enhanced with audio. In choosing which titles to license, the company focuses heavily on diversity, equity, and inclusion.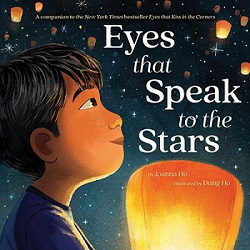 For instance, VOX titles released in April 2022 include Eyes That Speak to the Stars by Joanna Ho, illustrated by Dung Ho (HarperCollins, February 2022), narrated by Justin Chien, ISBN 9781955675581, about a young boy who learns to value his heritage after a classmate draws attention to how his eyes are different; and Brilliant Bea by Shaina Rudolph and Mary Vukadinovich, illustrated by Fiona Lee (Magination Press, November 2021), narrated by Jeanette Illidge, ISBN 9798885190114, about a child with dyslexia who gains confidence in herself.
Library Ideas also publishes VOX sing-along versions of "LyricPop" titles from Akashic Books. These are picture books featuring popular songs, such as Respect by Otis Redding, illustrated by Rachel Moss, sung by Crystal Peterson, April 2022, ISBN 9798885190008, which explores the concept of mutual respect through the eyes of a young girl.
In addition to VOX books, Library Ideas sells immersive ebooks that are built on an augmented reality platform. These iVOX™ books, or "books that move," include images that move and respond to a child's touch. "They're a modern version of read-alongs," Dowling says. "The reaction from children is incredible."
There are more than 30 iVOX titles currently available. Aimed at children ages 2–10, the iVOX books are accessible through any web browser, as well as a native app for iOS, Android, and Kindle Fire devices.
One recent iVOX title is A Different Pond by Bao Phi, illustrated by Thi Bui (Capstone Publishing, August 2017), narrated by Josh Fu, ISBN 9781936348022, which focuses on the relationship between a young Hmong boy and his father. "It's such a resonant book," Dowling says. In the iVOX version, children can listen and watch as the story of how the narrator and his father go fishing early on a Saturday morning is brought to life.
The immersive reading experience provides more than just a "wow" factor. Dana Reisboard, a professor of early literacy at Widener University in Pennsylvania, wrote a paper describing how VOX and iVOX books can help children develop early literacy skills.
These titles "possess important features which lead to advanced literacy development in children," she wrote. "VOX materials enable even preschoolers to engage in listening activities while being read to in a manner which enhances language processing development and sets the stage for the future development of reading and thinking skills. iVOX ebooks possess embedded technological features [that] serve to assist learners to develop age-appropriate, literacy-based skills effectively."

Dreamscape Media
Dreamscape Media was founded in 2010 as a publisher and distributor of audiobooks, but the company also produces ebooks and animated picture books with audio narration.
Dreamscape publishes about 1,000 audiobooks per year across a wide range of genres. Most are licensed audio releases of books from other publishers, but the company also occasionally produces original recordings.
An example of the latter is Cyrano de Bergerac, May 2022, ISBN 9781666582734, an original audiobook production of the famous 1897 play by Edmond Rostand. The audiobook edition was recorded in one location, with the full cast of nine voice actors able to view one another for this dramatic rendering of the play.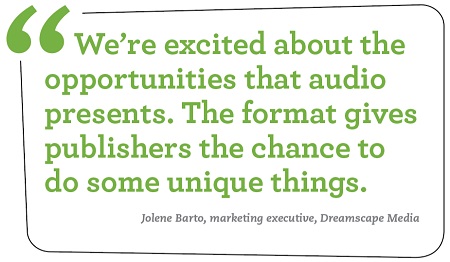 "We're excited about the opportunities that audio presents," says marketing executive Jolene Barto. "The format gives publishers the chance to do some unique things. Hearing the play being performed is a very different experience than just reading it on the page."
Tainna by Norma Dunning, narrated by Tanis Parenteau and Eric Schweig, May 2022, ISBN 9781666568356, is a collection of six short stories grounded in modern-day indigenous culture. The author is part of the Inuit community in Canada, and she has crafted powerful stories that feature characters united by shared feelings of alienation, displacement, and loneliness (Tainna means "the unseen ones"). The print edition of this book from Douglas & McIntyre won the 2021 Governor General's Literary Award, Canada's highest literary honor.
Time Shelter by Georgi Gospodinov, narrated by Jeff Harding, May 2022, ISBN 9781666580822, was a No. 1 best-seller in the author's native Bulgaria for five weeks when it was first published in 2020. The audiobook version of this English translation by Angela Rodel is being released at the same time as the print edition from W.W. Norton & Company.
In this compelling sci-fi/fantasy novel, a revolutionary clinic in Zurich offers an inspired treatment for Alzheimer's sufferers: Each floor reproduces a prior decade in minute detail, allowing patients to transport themselves back in time to unlock what's left of their fading memories. As assistant to the clinic's director, the narrator is tasked with collecting items from the past, such as vintage furniture and even nostalgic scents. But as the charade becomes more convincing, an increasing number of healthy people seek out the clinic to escape from the tedium of their daily lives.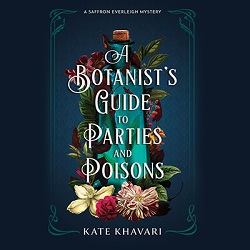 A Botanist's Guide to Parties and Poisons by Kate Khavari, narrated by Jodie Harris, June 2022, ISBN 9781666582017, is a historical mystery that takes place in post–World War I London. It features a female research assistant who must use her training as a botanist to prove her mentor's innocence when he is accused of poisoning the wife of a colleague. The audio version of this debut novel from Khavari is coming out concurrently with the print edition from Crooked Lane.
And There He Kept Her by Joshua Moehling, narrated by Linda Jones, June 2022, ISBN 9781666583434, is a thriller with LGBTQ+ representation, introducing a small-town sheriff who's wrestling with his sexual identity. He's also tasked with finding two missing teens who picked the wrong house to break into when looking for prescription drugs to steal. The audio version of this debut novel from Moehling is being released simultaneously with the print edition from Sourcebooks.

Hachette Audio
Hachette Audio, the audiobook division of publishing giant Hachette Book Group, publishes about 700 audiobook titles per year. Hachette's authors include heavyweights like James Patterson, David Baldacci, Malcolm Gladwell, J.K. Rowling, and Malala Yousafzai, and the company's audiobook productions have been recognized with numerous awards—including more than 24 Grammy nominations and nine wins since 2000.
Speaking of Patterson, he has a new audiobook coming out that he coauthored with David Ellis. In Escape, June 2022, ISBN 9781668605165, Chicago's No. 1 detective, Billy Harney, takes on a billionaire crime boss in this follow-up to the highly acclaimed, multimillion-selling Black Book. Escape is read by Edoardo Ballerini, an actor who has appeared in major film and TV franchises (The Sopranos, Boardwalk Empire) and developed a large following as an audiobook narrator.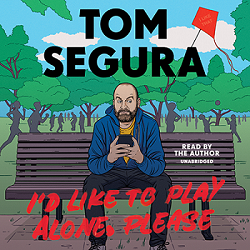 From stand-up comedian Tom Segura comes I'd Like to Play Alone, Please, June 2022, ISBN 9781549160554, a collection of real-life stories on parenting, celebrity encounters, youthful mistakes, and more—as read by Segura himself. "Comedians performing their own work are consistently some of the most anticipated audiobooks, which are often slightly 'off-script' versions as they get into the recording session," says Megan Fitzpatrick, executive director of marketing and publicity for Hachette Audio.
Another new author-read release from Hachette is Bitch: On the Female of the Species by Lucy Cooke, June 2022, ISBN 9781668604342. Studying zoology made Cooke feel like a freak. Not because she loved spiders or would root around in animal feces: All her friends shared the same curious habits. The problem was her gender. Being female in a male-dominated field meant she naturally held less power.
In Bitch, Cooke tells a very different story. Whether investigating same-sex female albatross couples that raise chicks together, murderous mother meerkats, or the titanic battle of the sexes waged by ducks, Cooke reveals a new evolutionary biology in which females can be as dynamic as any male. "This isn't your grandfather's evolutionary biology," Fitzpatrick says. "It's more inclusive, truer to life, and simply more fun. This is great summer listening for the nonfiction set."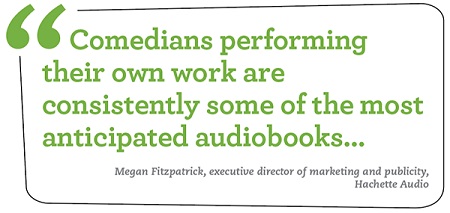 The Ballad of Perilous Graves by Alex Jennings, read by Gralen Bryant Banks, June 2022, ISBN 9781668605332, introduces an imaginative, fantastical version of New Orleans called Nola. This debut novel from Jennings, a teacher and performer living in New Orleans, mixes jazz, zombies, and the supernatural while highlighting Black American culture "in a way that isn't often explored in fantasy," Fitzpatrick notes. The narrator is a New Orleans native himself, and the audiobook score features original music by Andrew McGowan, who studied at the New Orleans Center for Creative Arts.
Illegally Yours, written and narrated by Rafael Agustin, July 2022, ISBN 9781668604519, is a funny and poignant memoir about how TV writer Agustin (Jane the Virgin)—who was born in Ecuador—accidentally discovered he was undocumented as a teenager, and how that revelation turned everything he thought he knew about himself and his family upside down.
And with Hachette's acquisition of Workman Publishing Company in September 2021, Hachette Audio has released Trailed: One Woman's Quest to Solve the Shenandoah Murders by Kathryn Miles, read by Gabra Zackman, May 2022, ISBN 9781649040992. This audiobook from Workman imprint Algonquin Books is a true crime investigation into the unsolved murders of two women in Shenandoah National Park in 1996. When Miles, an award-winning journalist and outdoors expert, began looking into the case, she found conflicting evidence and details that just didn't add up.

HarperAudio
HarperAudio traces its roots back to 1952, when the poet Dylan Thomas first recorded for its Caedmon label. For more than six decades, HarperAudio/Caedmon has been synonymous not only with distinguished poets reading their works, but also with equally distinguished authors and readers performing classic and contemporary texts.
Associate Director of Marketing Elizabeth Ives notes that audiobook recordings have become more sophisticated in recent years, with more multicast recordings of adult titles following a trend seen frequently in children's publishing. There are also more authors integrating mixed media such as podcasts and interviews into their writing, she says—which "allows the audiobook format to shine."
Finding Me by Viola Davis, April 2022, ISBN 9780063037342, tells the story of Davis's inspiring life, from her coming-of-age in Rhode Island to the present day. An Academy Award–winning actress and producer known for her performances in TV shows like How to Get Away with Murder and movies like Fences and The Help, Davis reads her own memoir in this deeply personal audiobook. "Few people can read to you and truly sound like they're having a conversation with you, as opposed to sounding like they're reading a text," says Producer Pavel Rivera. "Her sound is raw, intimate, honest, and just beautifully flows."
For fans of the iconic TV show The Office, The Office BFFs, May 2022, ISBN 9780063007611, is a must-listen. Written and narrated by Jenna Fischer and Angela Kinsey, costars of The Office and cohosts of the Office Ladies podcast, it's an intimate, behind-the-scenes celebration of the two women's friendship, as well as an insider's view of the show. The audiobook contains exclusive bonus material contributed by Rainn Wilson, Creed Bratton, Oscar Nunez, Brian Baumgartner, Steve Carell, Ed Helms, Ellie Kemper, Kate Flannery, and Jennifer Garner.
Dominican-American poet and author Elizabeth Acevedo reads her most famous spoken-word poem with Inheritance, May 2022, ISBN 9780063250390. "They tell me to 'fix' my hair. / And by fix, they mean straighten, they mean whiten; / but how do you fix this shipwrecked / history of hair?" In Inheritance, Acevedo embraces the complexities of her Black hair and Afro-Latinidad heritage. Acevedo won a 2020 Audie Award for her narration of her book With the Fire on High. Listening to her narration, "you feel her words reverberate through your bones," says associate publisher Caitlin Garing.
Remarkably Bright Creatures by Shelby Van Pelt, narrated by Marin Ireland and Michael Urie, May 2022, ISBN 9780063204188, is a charming and witty novel that explores friendship and hope through a widow's unlikely connection with a giant Pacific octopus. The story "is a beautiful examination of how loneliness can be transformed, cracked open, with the slightest touch from another living thing," says Kevin Wilson, author of Nothing to See Here, which Ireland won the Best Female Narrator Audie in 2020 for voicing.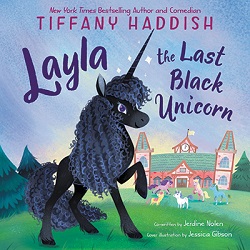 From comedian, actress, and author Tiffany Haddish comes Layla, the Last Black Unicorn, narrated by Haddish and coauthored by Jerdine Nolen, May 2022, ISBN 9780063113909. This children's title features a lovable but awkward unicorn who learns why her uniqueness is her biggest asset. "Picture books in audio format are really fun to put together, because they require a different energy than traditional narration," says Producer Almeda Beynon. "Some of the major plot points happen in pictures only, so we work with the author to find interesting ways to adapt [the story] into audio. We immediately knew we had to have Tiffany record this title—her voice and energy are perfect for this [book]."

Macmillan Audio
Macmillan Audio is the audiobook division of Big Five publisher Macmillan. It was founded in 1987 as Audio Renaissance and acquired by the Holtzbrinck Publishing Group, Macmillan's parent company, in 2001. Audio Renaissance changed its name to Macmillan Audio in 2007.
Macmillan Audio publishes about 500 audiobooks per year. Most of these are fiction and nonfiction titles from Macmillan imprints, although the company also records some titles from other publishers as well as original productions.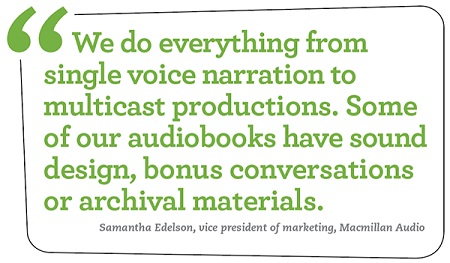 Macmillan Audio productions have been nominated for six Grammy Awards and have won numerous other accolades. "We do everything from single voice narration to multicast productions," says vice president of marketing Samantha Edelson. "Some of our audiobooks have sound design, and many have bonus conversations or archival materials. We want to provide the best possible experience for listeners."
An example of the company's creative audio production is Acts of Violet by Margarita Montimore, July 2022, ISBN 9781250854636. Releasing simultaneously with the print edition, this twisty novel about a famous magician who vanishes in mid-act—leaving her sister to figure out what really happened—is narrated by a cast of 10 voice actors.
As the 10-year anniversary of Violet's dramatic disappearance approaches, the host of a podcast about the iconic magician is determined to land an exclusive interview with Violet's sister, Sasha. Meanwhile, Sasha's daughter, Quinn, who idolized her aunt, begins her own investigation to uncover the truth behind Violet's disappearance. The novel alternates among these multiple points of view, and the audiobook expertly brings them all to life—complete with snippets from the podcast devoted to Violet's vanishing act.
The Bodyguard by Katherine Center, narrated by Patti Murin, July 2022, ISBN 9781250852052, is "the perfect, feel-good summer audiobook," Edelson says. The main character, Hannah, looks more like a kindergarten teacher than a fierce bodyguard. But the truth is, she's someone who could kill you with a wine bottle opener, and she's not thrilled with her latest assignment: protecting Hollywood superstar Jack Stapleton from an obsessed fan.
When Jack's mom gets sick, he returns home to the family's Texas ranch to help out. But he doesn't want his family to know about his stalker, so Hannah poses as Jack's girlfriend for cover. Protecting Jack is the easy part—it's protecting her heart that proves to be the bigger challenge.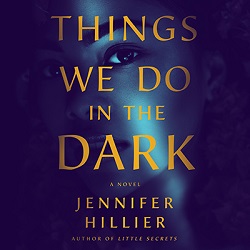 Things We Do in the Dark by Jennifer Hillier, July 2022, ISBN 9781250837097, is a thriller narrated by actress Carla Vega from the TV shows Jane the Virgin and Superstore. When the main character is arrested in her own bathroom—covered in blood and holding a razor, her celebrity husband dead in the bathtub behind her—she knows she'll be charged with murder. But as bad as that looks, it's not what worries her the most. With the unwanted media attention now surrounding her, it's only a matter of time before someone from her long-hidden past recognizes her and destroys the new life she's worked so hard to build.
My Government Means to Kill Me by Rasheed Newson, narrated by Jelani Alladin, August 2022, ISBN 9781250855831, is a queer coming-of-age story about a young gay Black man in 1980s New York City. Daisy Darker by Alice Feeney, narrated by Stephanie Racine, August 2022, ISBN 9781250866677, is another twisty thriller that is an homage to Agatha Christie's And Then There Were None, about a family reunion on a small coastal island that leads to multiple murders.


SPONSORED CONTENT