It's a Golden Age for graphic novels. Readers, creators, and publishers are enjoying a burst of energy as the new decade begins. The expanding graphic novel universe now covers all subjects, reaches all audiences, and erases all boundaries.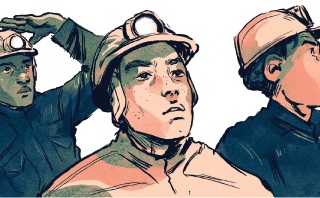 The graphic novel market is booming, with 2018 print sales reaching $635 million. Children's comics, almost exclusively sold in the graphic-novel format, are making huge gains over traditional single-issue superhero comics. In 2019, graphic novel sales rose 16% in bookstores. Significantly, this rise came at time when overall print books sales are still declining. To Heidi MacDonald, editor/journalist, www.comicsbeat.com, "the message is indisputable: Comics are not dying. They are growing and thriving."

Emboldened by exploding revenues, graphic novel publishers are producing courageous, diverse, and progressive fiction and non-fiction works to captivate readers of all ages. Graphic novel publishers joyfully straddle the line between underground counter-culture and blockbuster brands. Recently, we saw non-fiction hits from modern day, unlikely heroes like Congressman John Lewis and Star Trek actor, George Takei. And, soon to come, Robert Mueller's report gets its day. New stories feature queer romance, gender fluidity, dementia, and even in vitro fertilization.

Purpose is now part of the business model. According to Chris Lyall, publisher, IDW Publishing, "Everything we do has a reason to exist. We are competing with every other media in the world. We want to give readers a compelling reason to pick up our books." For both fiction and non-fiction, the twenty-first century playbook includes producing multi-cultural stories by diverse creators for an ever-broadening audience.
BOOM! Studios

Founded 15 years ago, BOOM! Studios has grown into one of America's top comics publishers. They are committed to developing new readers through imprints like Archaia, which targets early-middle YA to adults readers; KaBOOM!, which focuses on early and middle-grade readers, and Boom Box, a YA (ages 13-21) imprint dedicated to under-represented groups, like LGBTQ+. Whatever the audience, Arune Singh, vice president of marketing is confident in the ability of graphic novels to reach diverse audiences and tell important stories. Singh says, "We are unified in our intent to tell stories from a place of passion and authenticity."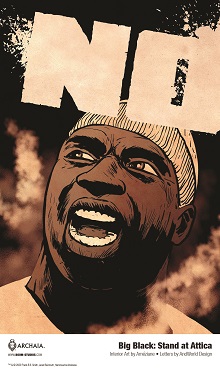 BOOM! Studios is meeting growing demand for serious content by embracing comics as a medium, not just a genre. From BOOM's Archaia imprint, Big Black: Stand at Attica is a new graphic novel about the 1971 uprising at New York's Attica State Prison, by Frank "Big Black" Smith and Jared Reinmuth, with art by Améziane, February 2020, ISBN 9781684154791. Former Attica inmate Smith found himself at the center of the uprising, struggling to protect both prisoners and their hostages. Big Black: Stand at Attica shows Smith's view of the failed negotiations with Governor Rockefeller and the bloody confrontation that resulted in the deaths of thirty-three prisoners and ten civilian employees and officers. This graphic novel takes a timely and unflinching look at the horrors of racism and prison abuse.

BOOM! Studios summer release is the standalone original graphic novel, A Thief Among the Trees, by Sabba Tahir and Nicole Andelfinger, with art by Sonia Liao, July 2020, ISBN 9781684155248. The official prequel to the blockbuster An Ember in the Ashes novels, this new story expands the universe of the earlier novels and features elite military recruits from the Rome-like Martial Empire at Blackcliff Academy. In this story, readers learn the backstory of two of the trilogy's star characters, Elias and Helene. These assassins-in-training are sent on a mission to Isle South to steal heavily-guarded poison. When forced to confront surprising adversaries, they must face the hard truth about their place in the world.

New York Times best-selling author Roxane Gay is collaborating with BOOM! Studios on The Sacrifice of Darkness. This full-length graphic novel is a collaboration between Gay and her best friend Tracy Lynne Oliver, with art by Rebecca Kirby and colors by James Fenner, October 2020, ISBN 9781684156245. Based on Gay's short story from her 2017 collection "Difficult Women," this apocalyptic tale is set after a tragic event that extinguishes our sun and plunges Earth into darkness. The novel examines family, faith, and true love against the grim background of prejudice, sorrow, and systematic oppression. The book also takes on the themes of identity, guilt, and survival as the characters look for light in the bleak world.

Coming later this year, WYND, by James Tynion IV, with art by Michael Dialynasis, and lettering by Aditya Bidikar, November 2020, ISBN 9781684156320, is a brand-new trilogy of original graphic novels from the GLAAD Award-winning team of Tynion ( Something is Killing the Children), Dialynas and Bidikar. This young adult fantasy series centers on Wynd, a pointy-eared teenager who works hidden beneath the floorboards of a tavern. Strange dreams and a chance encounter send Wynd on an adventurous journey of self-discovery. In this personal story for author Tynion, magic is a metaphor for how powerful people can be when the real world becomes too difficult.

Reveling in the breadth of creative voices in this year's titles from BOOM!, Singh says, "No matter who you are, we have at least one graphic novel you will be interested in. We believe comics are for anyone, so we make them for everyone."
"No matter who you are, we have at least one graphic novel you will be interested in. We believe comics are for anyone, so we make them for everyone." Arune Singh, vice president of marketing, BOOM! Studios

Humanoids

Les Humanoïdes Associés started in tumultuous 1970s Paris and featured work by the legendary artist Moebius. Still alive with the revolutionary spirit, the creative team at Humanoids is exposing American audiences to graphic novels with an international worldview and homegrown product as well.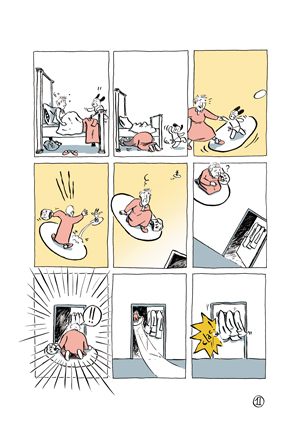 Humanoids' Life Drawn imprint features diverse voices and slice-of-life stories for adults with YA crossover potential. In Little Josephine: Memory in Pieces, by Valerie Villieu, with art by Raphael, April 2020, ISBN 9781643375342, we meet a woman with dementia and her caregiver. The story is told from the caregiver's perspective, describing her unique and emotionally challenging work. The artwork illustrates the missing pieces of memory and captures the jagged mental landscape of the patient.

Versailles: My Father's Palace, by Maite Labat and Jean-Baptiste Verber, with art by Alexis Vitrebert, May 2020, ISBN 9781643376707, tells the true story of the 19th -Century restoration of the Palace of Versailles. The forty-year project is seen through the eyes of the curator's son. Obsessed with bringing back palatial glory, the curator creates both wonder and family heartache. This graphic novel is beautifully rendered in ink and pencil and will delight any history buff or art lover.

Humanoids dramatizes a couple's emotional efforts to conceive a child in In Vitro, story and art by William Roy, March 2020, 9781643379883. After unsuccessful attempts to get pregnant, a newlywed couple copes with the devastating fear of infertility. Husband Guillaume endures the embarrassment of sperm donations and the agony of waiting for test results. He also comes face-to-face with the specter of his own estranged father. Lightened with humor, In Vitro features a pop-up doctor who provides an informative medical play-by-play.

In Humanoids' H1 imprint's Ignited universe, individuals all over the world suddenly discover they have extraordinary powers. Omni Vol I: The Doctor Is In, by Devin Grayson, with art by Alitha E. Martinez, March 2020, ISBN 9781643376196, features Cecelia Cobbina, a gifted young doctor who develops superhuman intellectual abilities. This Doctors Without Borders alumna uses every part of her brain at once and thinks at the speed of light. Created by an all-female team, Omni deploys her genius in the spirit of service and compassion.

Humanoids' Harley Salbacka, sales representative, remembers her librarian mother curating the first-ever graphic novel section in a California public library. "Around 2002, there were only a few shelves," Harley said, "Now there's an entire wall and librarians are looking to expand." As readers' interest grows, Humanoids is finding ways to revolutionize graphic novel storytelling.

IDW Publishing
Now in its third decade, IDW Publishing is generating buzz and sales with graphic non-fiction. March, a trilogy based on the life of Congressman John Lewis, was a huge hit in the educational marketplace. IDW enjoyed similar success last year with They Called Us Enemy, George Takei's graphic memoir of his family's WWII-era internment. Topping the 2019 Publisher's Weekly annual Graphic Novel Critics poll, Takei's book demonstrated the surging power of non-fiction at IDW.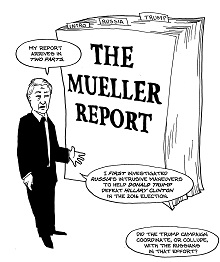 "The graphic novel is a fantastic tool for conveying complex ideas," said Justin Eisinger, editorial director of IDW. With their passion for historic stories that transcend fiction, IDW will release an illustrated version of The Mueller Report: Graphic Novel by Shannon Wheeler and Steve Duin, April 2020, ISBN 9781684056682. RenownedNew Yorker cartoonist Shannon Wheeler collaborated with Oregonian reporter Steve Duin to turn Robert Mueller's unwieldy tome into a page-turning crime thriller. Duin broke the report text into blocks and arranged the incidents for narrative clarity. Then, Wheeler took over to give readers an eye-popping, behind-the-scenes perspective.

The Mueller Report: Graphic Novel will entertain contemporary adult readers and give future students an inside view of the Trumpian drama. Touting the book's approachability and impact, Eisinger explained that the graphic novel is "telling what the report tells and showing through visual metaphor what the report actually means." With Shannon Wheeler's masterful artwork, IDW is turning the graphic novel into a genuine historical artifact.

The graphic novel is "telling what the report tells and showing through visual metaphor what the report actually means." Justin Eisinger, editorial director, IDW Publishing

In January, IDW announced its collaboration with the Smithsonian Institution to create a library of graphic novels based on the holdings of the world's largest museum. IDW will produce a comprehensive range of youth and adult graphic books, including a middle-grade graphic novel series inspired by the National Museum of American History video series "Time Trials." Combining Smithsonian expertise with IDW top creative talent, this landmark project will produce classics for lifelong learners everywhere.

IDW sees long-term growth potential in non-fiction for both adults and middle graders. They already have a strong track record of reaching new readers. "Marvel and Lucasfilm still hire us to hit younger readers," reported Chris Lyall, IDW's President, Publisher, and Chief Creative Officer. For an epic universe like Star Wars, Chris noted that, "we do personal stories about fans' favorite characters. We look at the character under the mask. The stories are bite-sized and more playful."
Mark Sahagian

Self-published graphic novelist, Mark Sahagian, wants Boris & Bella, ISBN 978057840331, to be "the best Saturday morning cartoon show you never got to watch." Sahagian brings his love of monster movies to these imaginative adventures for young readers and their parents. Each book contains seven graphic short stories about kids exploring the wide world and beyond.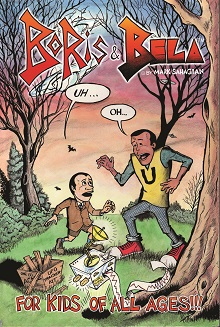 In "The Library," Boris and Bella discover literature and old radio shows on compact discs. Their sidekick, Little Elsa, gets a thrill watching the librarian read to small children. Other stories feature flying saucers, piano lessons, a science fair, and an army of frogs. Sahagian's characters venture out and never stare at smartphone screens.

After a long career as a political cartoonist, Sahagian has three words for the exploding graphic novel market: "Thank you, Universe!"
Conclusion
Graphic novels are reaching more readers and covering more subjects than ever before. The graphic novel is a platform that clearly can handle serious non-fiction and heartfelt stories, as well as deliver entertaining escapes. In fact, the growth and popularity of graphic novels is such that The New York Times brought back its "Graphic Books" bestseller list in October 2019 after a two year hiatus. The returning feature duly notes the range of graphic novels by including fiction, nonfiction, children's titles and manga as part of its coverage.

Purpose-driven publishers are discovering fresh talent to satisfy an ever-growing, passionate, and devoted audience. This year's new releases are more ambitious and challenging than ever before. IDW's Justin Eisinger hopes their new titles will "plant good ideas into readers' minds and help them lead their best lives."


SPONSORED CONTENT