To celebrate this spooky season, we've rounded up some of the scariest films ever made across the world.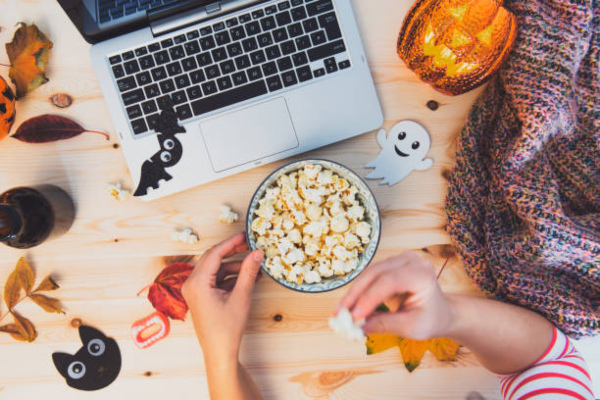 It's spooky season, witches! To celebrate, stop scrolling endlessly through streaming apps, trying to decide what to watch before falling asleep staring at your phone. Instead, check out one of these movies; we've rounded up some of the scariest films ever made across the world. Pick one and you'll be too terrified to sleep, so you can stay up all night staring at your phone. See? Progress!
AUSTRIA: Mistaken identity—or someone who just doesn't seem right—can be a horror movie staple. This 2014 offering, Goodnight Mommy, capitalizes on this spooky concept as twin boys grow suspicious of their mother, who returns home after surgery with a bandaged face. Is anyone who they seem? (No they are not.).
AUSTRALIA: Widowed mother Amelia is still mourning her husband—killed on the way to the hospital while she was in labor—when her son Sam brings home a terrifying children's book: Mister Babadook. Amelia's soon seeing the titular Babadook everywhere, as Sam begins acting out. The ending will leave you unsettled—and scared of the basement.
IRAN: Set in the Iranian ghost town Bad City, the partially crowdfunded A Girl Walks Home Alone at Night was filmed in black-and-white in Tate, California. The 2014 vampire tale tackles tough topics like drug addiction and prostitution while providing haunting visuals sure to say with you after you close your eyes at night.
ITALY: The 1977 cult classic Suspiria features American ballerina Suzy arriving to attend a European dance school—only all is not as it seems. As the bodies pile up, Suzy's terror and unease grows (at one point, maggots rain from the ceiling at dinner—yikes).
JAPAN: Japan
's Ringu may have made us all scared of video tapes (remember those?), but the 2001 film Pulse takes the techo-terror up a notch with haunted discs and computers that begin tormenting and killing college students. Soon the data-themed plague spreads throughout Tokyo, causing mass evacuations and making you rush to your closet to double-check if you recycled your old desktop computer.
PHILIPPINES: The 2011 cyclical tale The Road plays on those old legends about what you see by the side of the road. Listen, there are two kinds of people in this world: those cool with driving on a dirt track in the middle of the night, and those who would very much prefer to be under the covers. For the characters in this psychological thriller, once they're on the road, there's no exit.
SOUTH AFRICA: Gaia, a 2021 eco-thriller, focuses on forestry service employee Gabi, who enters Tsitsikamma National Park to retrieve a lost drone—and comes out with more than she could imagine in her worst nightmares. You'll take the mantra take only pictures leave only footprints a lot more seriously after watching this film.
SOUTH KOREA: Before director Bong Joon-ho wowed the world with the Oscar-winning Parasite, he was busy scaring audiences senseless with monster movie The Host. This 2006 fright fest stars a terrifying, huge fish creature who emerges from Han River and begins attacking people—including the daughter of snack bar owner Gang-du. The government tries to cover the monster's tracks as Gang-du races to save his child.