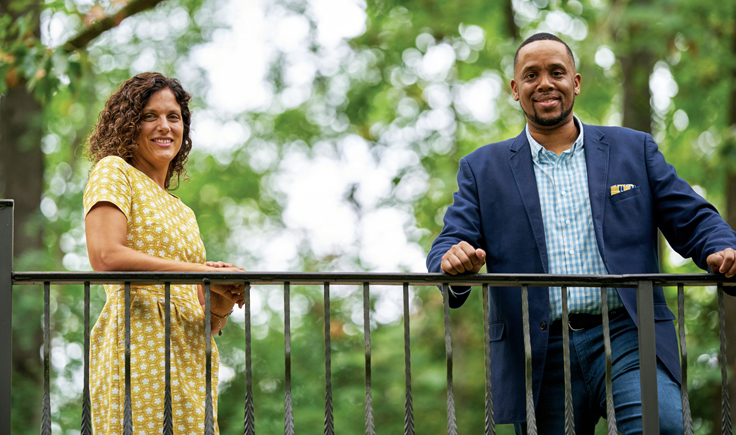 Deborah Hakes (l.) and Roy Cummings. Photo by Michael A. Schwarz
The Georgia Public Library Service (GPLS) is part of the University System of Georgia, an unusual arrangement for a state library. Both the state and the university are big institutions. Yet GPLS's entire marketing department is a small and scrappy two-person team, consisting of Deborah Hakes, communications and marketing director, and Roy Cummings, digital communications manager. Still, that's two more dedicated marketing experts than most public libraries in Georgia can afford. When Hakes joined GPLS, she found that only 12 of 62 Georgia library systems had a dedicated marketing position, and those that didn't also had the smallest percentage of library card holders, local funding support, and programming engagement.
To remedy that, the GPLS team is dedicated not only to getting the word out about the many services public libraries offer beyond books, and creating tools that make it easy for individual libraries to reach their own audiences with effective messaging, but to building capacity and confidence in those libraries' workers to market themselves. That triple play is what makes GPLS LJ's 2020 Marketer of the Year, sponsored by Library Ideas.
Hakes studied the annual statistics for Georgia libraries and spoke with leaders and staff from libraries across the state to learn where marketing could make a difference. She and Cummings rebranded GPLS with a new logo, website, key messages, and "a focus on telling stories of personal impact," whether about patrons learning English, earning a college degree, or moving more to improve their health. The strategy "puts storytelling at the heart of everything we do," State Librarian Julie Walker shared in her nomination.
"Deborah really believes in the power of those stories," Walker tells LJ. "It grew upon me, the value of that. So now when I am talking to a patron and they tell me a story, I immediately know I need to get it in the hands of Deborah and Roy and they will get it placed where it needs to go. It really does make a difference."

CUSTOMIZABLE ASSETS

Marketing toolkits produced by GPLS include a sign-up brochure (cover and interior), library newsletter, and social media graphics promoting library card month
TOOLS AT THE READY
Marketing toolkits and other premade collateral, including a library card sign-up brochure in English and Spanish and a reinvented magazine, are a major component of the support GPLS offers to Georgia public libraries. They promote everything from resources for entrepreneurs and job seekers to downloadable music, summer reading, and more.
Primarily designed in-house by Cummings, who is also a skilled photographer, these focus on showing patrons people they can relate to using the library. "I try to create resources that I think will appeal to a wide group of users," says Cummings. "They picture men, women, children, people of various ethnic backgrounds, so that people can see our collateral and see people who look like them using the resources."
Cummings also makes sure that the collateral is not heavily branded with GPLS logos or colors "so any library can grab them and use them," and includes assets to which libraries can add their own logos "to make it theirs and use them how they see fit," he tells LJ.
"The toolkits are one of my favorite things," explains Cummings. "Before I started working at GPLS I worked in the Clayton County Library system and [was] on the frontlines, and I could see how hard it was to come up with ideas for promoting resources and services."
His goal, he says, is "to make it easy for libraries to talk about what they do…and for patrons to understand what libraries offer besides books."
PROMOTING THE PIVOT TO ONLINE
When the coronavirus closures hit, the already popular and well-used toolkit format was a natural choice for GPLS's response. Within days, the team created an online resources marketing toolkit so libraries could immediately shift to promoting virtual programming, ebooks, teaching resources, job skills workshops, and more. The team got the word out to library staff through webinars and to the general public through social media, email, and radio ads. They also garnered news coverage, including a feature article in the Atlanta Journal-Constitution that highlighted how public libraries continued to offer vital resources even while buildings are closed.
In the early days of COVID-19, says Hakes, "I saw, this is our moment. As libraries we do these great things, but people aren't always listening. But in that [time] frame we were able to say, 'We are lending devices to college students, we have Wi-Fi in our parking lot, we have all these great math and learning and reading online resources,' and we just promoted the heck out of it. We were getting lots of attention. We inserted ourselves into the conversation because we were really needed."
While it's too soon to see improvement in the state's annual metrics, which haven't even been collected yet, one early indicator is soaring already: GPLS has more than doubled its page views from 40,000 to 85,000.
In non-pandemic times, Hakes and Cummings are frequently on the road, conducting trainings for library staff, presenting at conferences, and traveling to libraries where they can interview people, take photographs, and pitch stories to local media. Fortunately, some of their direct outreach can continue unabated: They also launched email and social media marketing, held a card design contest that engaged more than 90 libraries, and ran radio ads reaching all 159 counties in the state.
TEACH A LIBRARY TO FISH
No central repository of toolkits or one-size-fits-all ad can meet the every marketing need of 408 branches across 62 systems serving communities from rich to poor, urban to rural. To help and incentivize local libraries to tackle their own specific challenges, the GPLS marketing team started offering marketing mini grants to public libraries.
Walker credits Hakes with the idea. "She's been really interested in empowering the libraries and building confidence in them so they can tell their own stories," says Walker.
More than 30 systems have applied for the three rounds of five grants, ranging from $500–$1,000 each. Those who get a grant work with Hakes to implement it, gaining knowledge with impact that lasts far beyond the initial grant-funded project.
According to Hakes, in selecting the recipients, GPLS prioritizes those that have a big idea but not the funds to implement it, and "those that are willing to try and want to learn." As such, she says, "there are things that haven't been a success on paper but I still consider a success because there was learning involved."
Recipients have used the funds for things ranging from a stand-up banner to take to outside events to a digital billboard, and have assessed their success through increases in card sign-ups and program participation. Even after the grant is over, Walker cites comments from grant recipients about continuing benefits that range from being contacted by a local paper and asked to write a book column to motivating staff to promote services directly to patrons at the desk, while Hakes points to a library that used the grant to run its first marketing campaign in over a decade, and has taken the know-how it gained to run a series of new ones afterward.
Stacy Brown, one such grant recipient and director of the Azalea Regional Library System, used the funds to create consistent programming kits that could be implemented across the full nine-library, six-county system, as well as consistent online programming. The library also used the funding to get a new WordPress website, which was crucial as its predecessor hadn't been updated since the 1980s. The new site rolled out in May, in time to meet pandemic demand for distance access. The live chat and help form that the new site enables are critical for supporting virtual summer reading.
In addition to better serving users, the grant "has helped us with consistent funding from our various communities," Brown tells LJ. There are 16 different funding agencies that contribute to the libraries in the system, including cities, counties, and boards of education. "The fact that they're able to see that we're out there virtually has been really helpful in our message and staying relevant," says Brown, who credits that visibility with preventing funding cuts. "They see that we're still working, and we're providing for our communities in a different way right now."
REACHING KEY STAKEHOLDERS
While many pieces of GPLS's marketing collateral are aimed at connecting patrons to services they want and may not realize are available, the team is intentional about reaching not only users but stakeholders and supporters who may not personally use the library, something EveryLibrary PAC founder John Chrastka frequently advocates. "We are building awareness of the value of libraries…so that even those who choose not to use it still see libraries as an essential public service worthy of funding and support," Walker said in her nomination.
As such, she counts the single most important metric of GPLS's marketing campaign as zero—the amount cut from Georgia public libraries' state funding this year, despite the deep economic impact of the COVID-19 pandemic. While other agencies saw 10–16 percent reductions, GPLS was cut only 2.8 percent, and public libraries saw no reduction in budget for FY21.
"I nearly fell out of my chair when the final budget came out," says Walker. "We had heard 14 percent cuts, 10 percent cuts. I thought they were going to wipe the materials money off the table. When it came out and they didn't lose a penny in this fiscal year, I could not have been more stunned or delighted. We have so many wonderful library champions in our legislature. We have built those relationships, and they just love their libraries."
To establish that relationship, "when we communicate with library funders, we were careful to be cognizant of what is important to [them]…and share the stories that align with their priorities," says Walker, including education and economic development. Proof of success is that, since its inception in 2018, GPLS's email list has grown to more than 10,000 subscribers—221 of them state legislators, at least 75 of whom regularly read and comment on the contents.
Of course, in Georgia, as in most states, the majority of library funding is not state but local. There, too, says Hakes, the visibility of libraries during the pandemic "really made a difference in building support from the ground up. That's where Georgia libraries lack, local support." The important thing now, she says, is to build on that success and not rest on their laurels. "If they show the value of their library, that support is going to come, but it's not going to come overnight. It's the long game."
Fortunately, GPLS's marketing team is the skilled coach Georgia's libraries need to win.