The mystery genre reveals its range.
Click here for additional new Prepub Alert columns
Armstrong, Kelley. The Deepest of Secrets. Minotaur: St. Martin's. Feb. 2022. (Casey Duncan, Bk. 7). 368p. ISBN 9781250781734. $27.99. CD. MYSTERY/POLICE PROCEDURAL
Deep in the Yukon, off-the-grid Rockton exists to keep the secrets of its residents secret. Now someone is spilling them all, and Det. Casey Duncan (with her boyfriend, Sheriff Eric Dalton) must find out who is responsible, or the town will tear itself to ribbons. With a 50,000-copy first printing.
Barron, Stephanie. Jane and the Year Without a Summer. Soho Crime. Feb. 2022. 336p. ISBN 9781641292474. $27.95. MYSTERY/HISTORICAL
In this latest in a popular series, Jane Austen is feeling queasy and feverish, so she heads to the Cheltenham Spa in Gloucestershire with sister Cassandra. Alas, all is not relaxing; the boarders at the guest house where they stay are a restless, troubled bunch, and we just know something bad is about to happen.
Beaton, M.C. Death of a Green-Eyed Monster. Grand Central. Feb. 2022. 256p. ISBN 9781538746707. $27. CD/downloadable. MYSTERY/COZY
Sgt. Hamish Macbeth falls in love with Dorothy McIver, the constable he has just hired, and she accepts his proposal of marriage. But of course murder gets in the way of the wedding plans. When Beaton passed away in 2019, she was working with Scottish writer Rod Green on both this book and an Agatha Raisin mystery that was published to strong reviews, and he will be taking over both series.
Clare, Alys. Magic in the Weave. Severn House. Feb. 2022. 256p. ISBN 9780727890108. $28.99. MYSTERY/HISTORICAL
In October 1604, Gabriel Taverner, a ship's surgeon turned country physician and, unexpectedly, sleuth, must attend to an actor in Shakespeare's theater troupe who collapses after performing a particularly gruesome play. (Maybe it was Titus Andronicus?) Now Gabriel is worried. Has the man died of plague? Or is something evil afoot? From veteran historical fiction author Clare.
Cosimano, Elle. Finlay Donovan Knocks 'Em Dead. Minotaur: St. Martin's. Feb. 2022. 368p. ISBN 9781250242181. $26.99. MYSTERY
Having broken into the adult market with the attention-getting Finlay Donovan Is Killing It, multi-award-winning YA author Cosimano brings back her heroine for another round of zany mayhem in suburban Virginia. Single-mom suspense writer Finlay is again trying to complete a novel, supported by beloved live-in nanny Vero, when she learns that someone wants to do in her ex-husband. Russian mobsters? Gun-toting soccer mamas? All in a day's work for Finlay. With a 100,000-copy first printing.
Harrod-Eagles, Cynthia. Dying Fall. Severn House. Feb. 2022. 256p. ISBN 9780727850188. $28.99. MYSTERY/POLICE PROCEDURAL
A woman lies dead at the bottom of a staircase. DCI Bill Slider of the Shepherd's Bush murder squad has yet to make an identification, and there's no murder weapon lying about. But he just doesn't think it's an accident. The next outing for DCI Slider after the LJ-starred Headlong.
Ide, Joe. The Goodbye Coast: A Philip Marlowe Novel. Mulholland: Little, Brown. Feb. 2022. 272p. ISBN 9780316459273. $28. Downloadable. MYSTERY
Ide takes a detour from his raved-about "IQ" series by reimagining iconic detective Philip Marlowe in contemporary times. This Marlowe is a reserved and efficient private eye who takes on two tricky cases, agreeing to find the daughter of a difficult Hollywood starlet and a child kidnapped from his mother by his father. Just as important is Marlowe's relationship with his once-admired LAPD homicide detective dad, awash in alcohol after the death of his wife. With a 40,000-copy first printing.
Lovesey, Peter. Reader, I Buried Them & Other Stories. Soho Crime. Feb. 2022. NAp. ISBN 9781641293617. $27.95. MYSTERY/SHORT STORIES
Cartier Diamond Dagger–carrying Lovesey grabbed Ruth Rendell's attention when he published his first story 50 years ago and has since written 100 short-form mysteries. Here are 15 favorites he selected for this collection, along with a personal essay about his sources of inspiration.
McPherson, Catriona. Scot Mist. Severn House. Feb. 2022. 240p. ISBN 9780727890337. $28.99. MYSTERY
In this latest from the Agatha Award–winning McPherson, the pandemic disrupts The Last Ditch Motel, which responds by selecting a few special rooms as a safe haven for those in need. But it's not that safe: first, ominous signs appear, then a dead body. Does this mean that someone inside is responsible?
Preston, Douglas & Lincoln Child. Diablo Mesa. Grand Central. Feb. 2022. 368p. ISBN 9781538736753. $29. CD/downloadable. MYSTERY/POLICE PROCEDURAL
The indefatigable Preston/Child team brings back archaeologist Nora Kelly and FBI Agent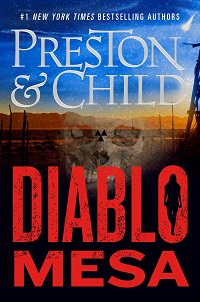 Corrie Swanson in a timely tale featuring the slightly off-the-wall billionaire founder of Icarus Space Systems, who hopes to bring his project publicity (that is, glory) by persuading the Santa Fe Archaeological Institute to excavate the 1947 Roswell Incident site. As Nora's turn of spade uncovers two murder victims, she needs to call on Corrie for help. With a 250,000-copy first printing.
Raybourn, Deanna. An Impossible Impostor. Berkley. (Veronica Speedwell Mystery, Bk. 7). Feb. 2022. 336p. ISBN 9780593197295. $26. MYSTERY/HISTORICAL
Veronica Speedwell returns with natural historian beau Revelstoke "Stoker" Templeton-Vane in tow, doing a favor for Sir Hugo Montgomerie, head of Special Branch. Sir Hugo's goddaughter's globe-trotting brother Jonathan was thought to have perished in the fiery 1883 eruption of Krakatoa, but now a man claiming to be Jonathan—and also claiming amnesia—has arrived home at Hathaway Hall. Can Veronica discover who he really is?
Robb, J.D. Abandoned in Death. St. Martin's. (In Death, Bk. 54). Feb. 2022. 368p. ISBN 9781250278210. $28.99. CD. MYSTERY/POLICE PROCEDURAL
In homicide detective Eve Dallas's futuristic New York City, a young woman lies dead on a playground bench. She has neatly brushed hair, nice clothing decades out of date, fresh but incongruous tattoos and piercings, and a note in childish script proclaiming "Bad Mommy." Now Eve must track down a killer who she suspects is sixtyish and haunted by a traumatic childhood, even as the disappearances of other young women come to light. With a 75,000-copy first printing.
Slocumb, Brendan. The Violin Conspiracy. Anchor. Feb. 2022. 320p. ISBN 9780593315415. $28. Downloadable. MYSTERY/LITERARY
Asserting himself in a profession that has not proved accepting, Black classical violinist Ray McMillian is thrilled to learn that the instrument he plays—once his great-grandfather's—is actually an invaluable Stradivarius. He's devastated when it's stolen before the all-important Tchaikovsky Competition and further learns that descendants of the family that had enslaved his great-grandfather claim it's theirs. Slocumb knows his strings; an award-winning music educator, he has performed with numerous symphonies and serves as concertmaster for the NOVA Symphony Orchestra, serving Northern Virginia Community College.
Todd, Charles. A Game of Fear. Morrow. (Inspector Ian Rutledge Mysteries, 24). Feb. 2022. 336p. ISBN 9780062905598. $28.99. lrg. prnt. MYSTERY/HISTORICAL
It's 1921, and Scotland Yard again hands Inspector Ian Rutledge bizarrely challenging cases, but nothing quite like his latest: the woman presiding over a stately manor called Benton Abbey in sea salt–drenched Essex claims to have seen a brutal murder committed by Captain Nelson. There is no body, Nelson supposedly died during the Great War, yet Lady Benton seems perfectly calm and reasonable when interviewed. What's going on? With a 100,000-copy first printing.