Emma Donoghue, Abdulrazak Gurnah, Monique Roffey, and Marianne Wiggins.
Click here for additional new Prepub Alert columns
Donoghue, Emma. Haven. Little, Brown. Aug. 2022. 272p. ISBN 9780316413930. $28. CD/downloadable. LITERARY/HISTORICAL
Trust the protean author of Room and Slammerkin to take us on an unexpected journey. In seventh-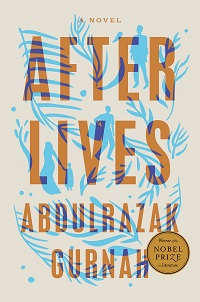 century CE Ireland, priest/scholar Artt seeks to abandon the sinful world by hopping into a boat with two monks and sailing out to sea, where they land on a craggy, bird-mobbed island now famously known as Skellig Michael and build a monastery whose remains stand to this day. High adventure and passionate belief; with a 100,000-copy first printing.
Gurnah, Abdulrazak. Afterlives. Riverhead. Aug. 2022. 320p. ISBN 9780593541883. $28. Downloadable. LITERARY/HISTORICAL
In Gurnah's first book since winning the Nobel Prize, Ilyas is taken from his East African home by German colonial troops in the late 1800s and compelled to fight against his own people. Years later, he returns to find his parents dead and his sister, Afiya, effectively enslaved to their self-professed aunt and uncle. Hamza, too, returns home after having been sold into service and left badly scarred, not just emotionally but physically, and he falls in love with beautiful, unbreakably determined Afiya. As these three young people try to get on with their lives, war is coming after them again, with decades of rebellion and suppression to follow.
Roffey, Monique. The Mermaid of Black Conch. Knopf. Jul. 2022. 240p. ISBN 9780593534205. $26. Downloadable. LITERARY
Literary author Roffey's Costa Book of the Year Award winner is a feminist retelling of an old Taino myth BISACed as Fairy Tales/Romance/Historical Fiction and amplified by a condemnation of colonization in the Caribbean. In the 1970s, David is fishing off the island of Black Conch when he rescues a mermaid netted by some raucous tourists from the States. Actually, she's a beautiful young Taino woman named Aycayia who was cursed centuries ago by envious wives to take the form of a sea creature. As she comes to live with David, who falls in love with her, she takes on human form and begins relearning human ways while bearing witness to the devastation wrought by empire.
Wiggins, Marianne. Properties of Thirst. S. & S. Aug. 2022. 544p. ISBN 9781416571261. $28. CD. LITERARY/HISTORICAL
In this latest from National Book Award and Pulitzer Prize finalist Wiggins, Rockwell "Rocky" Rhodes has long defended his California ranch from the demands of the LA Water Corporation. Now World War II arrives, and after widower Rocky decides to join the war effort, tragedy strikes the family yet again. Meanwhile, the government has decided to build a Japanese American concentration camp next to the ranch, and even as the man in charge begins to question what he's doing, he falls for Rocky's daughter Sunny. Painfully intertwining the political and the personal; with a 150,00-copy first printing.