The spring season is always a good time for debuts, but this April there's an especially strong showing.
Click here for additional new Prepub Alert columns
Ahmad, Aamina. The Return of Faraz Ali. Riverhead. Apr. 2022. 352p. ISBN 9780593330180. $27. Downloadable. LITERARY
Born in the Mohalla, the red-light district within Lahore's walled inner city, Faraz was kidnapped as a child by his powerful father, who wanted his son to have a better life. Now his father has sent him back to head the Mohalla police station and cover up the murder of a child prostitute, a task Faraz cannot bring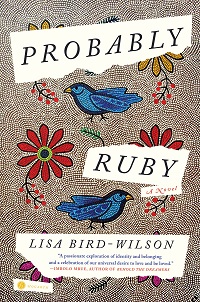 himself to do. Ahmad boasts Stegner, Pushcart, and Rona Jaffe honors.
Bird-Wilson, Lisa. Probably Ruby. Hogarth: Crown. Apr. 2022. 304p. ISBN 9780593448670. $27. Downloadable. LITERARY
A Métis woman in her thirties, Ruby was adopted by white parents who imparted nothing of her heritage, and now she wants to know where she came from. With her, readers learn about her birth parents and grandparents, as well as her children and the lovers, both men and women, who have enriched her life if sometimes bringing her heartache. From Cree-Métis writer Bird-Wilson, who has published poetry and story collections in Canada and debuts in the United States with this first novel.
Chen, Lisa Hsiao. Activities of Daily Living. Norton. Apr. 2022. 288p. ISBN 9780393881127. $26.95. LITERARY
In her after hours, contemporary Taiwanese immigrant Alice seeks to document downtown performance artist Tehching Hsieh, whose yearlong pieces captivated audiences in the 1980s. These pieces start shaping her own life, as she attends street protests, loses contact with a friend, and tries to help her Vietnamese war veteran father, who is battling alcoholism and dementia. From Rona Jaffe award winner Chen,
Johnson, Chantal V. Post-traumatic. Little, Brown. Apr. 2022. 320p. ISBN 9780316264235. $28. Downloadable. LITERARY
A hardworking lawyer for patients with mental health issues at a New York City psychiatric hospital (as her creator once was), Black Latina Vivian survives bad memories from childhood by indulging in reckless dating, edgy humor, and a bit of weed with best friend Jane. A decision after a family reunion to change her life leaves her isolated and clinging to a precipice. This debut from Johnson, a 2018 Center for Fiction Emerging Writers Fellow Johnson, is getting promotional push; with a 30,000-copy first printing.
Kazbek, Katya. Little Foxes Took Up Matches. Tin House. Apr. 2022. 350p. ISBN 9781953534026. $26.95. LITERARY
Growing up in a post-Soviet Russia startled by its past and uncertain of its future, Mitya himself is confused about his sexual identity and travels the Moscow underground to find out where he really belongs. His journey is wound 'round by the durable Russian fairytale featuring archetypal ogre Koschei the Deathless. Lots of in-house excitement for this work from Russian-born Kazbek, who writes on fashion, world culture, and queer, feminist, and migrant issues.
Kohda, Claire. Woman, Eating. HarperVia. Apr. 2022. 272p. ISBN 9780063140882. $26.99. CD. LITERARY
Poor Lydia is hungry. She can't eat the sashimi and ramen her Japanese human father might have favored, but the fresh pig's blood she can digest is hard to find now that she's living away from her vampire mother and trying to make it as an artist in London. And she's lonely, too, despite the proximity of customers at the gallery where she works and her fellow artists, including charming Ben; if she gets too close, she'll want to suck them dry. This first work by British Japanese violinist Kohda generated big book and film rights interest; with a 75,000-copy first printing.
Naga, Noor. If an Egyptian Cannot Speak English. Graywolf. Apr. 2022. 192p. ISBN 9781644450819. pap. $16. LITERARY
After the Arab Spring, an Egyptian American woman probing her roots and a disillusioned photographer of the revolution meet in Cairo and fall in love. Jobless, cocaine-addicted, and living in a rooftop hovel, he soon moves into her balconied, sun-drenched apartment, but their passion for each other and for what they hope to become through each other leads to disaster. Following the Alexandria-based Naga's award-winning verse novel Washes, Prays, this experimental work won the Graywolf Press African Fiction Prize.
Al-Nakib, Mai. An Unlasting Home. Custom House: Morrow. Apr. 2022. 400p. ISBN 9780063135093. $27.99. CD. LITERARY
A philosophy professor at Kuwait University who returned home from Berkeley after her mother's death and now struggles with loneliness and a sense of unbelonging, Sara faces a crisis when she's accused of blasphemy for teaching Nietzsche, which could lead to her execution. Blended into the narrative are the stories of Sara's grandmothers, proud Yasmine and poor-born Lulwa; Sara's ambitious mother, Noura; and Marie, the ayah who left behind her own children to raise Sara. Following the award-winning collection The Hidden Light of Objects; with a 50,000-copy first printing.
Oduor, Okwiri. Things They Lost. Scribner. Apr. 2022. 352p. ISBN 9781982102579. $27. CD. LITERARY
In a small African town, lonely young Ayosa lives in her grandmother's house with her only companions the cruel Jolly-Annas birds, the silent milkman, sweet-natured café owner Sindano, and the mysterious Fatumas, who teach her to dance. Finally, it looks as if she has a chance at lasting friendship, but she can't shake her obsession with her beautiful photographer mother, Nabumbo Promise, who heedlessly comes and goes without warning. Kenya-born, Germany-based Oduor won the 2014 Caine Prize for African Writing for her short story "My Father's Head"; with a 40,000-copy first printing.
Stanford, Claire. Happy for You. Viking. Apr. 2022. 256p. ISBN 9780593298268. $27. Downloadable. LITERARY
Unable to finish her philosophy dissertation, unwilling to accept her boyfriend's proposal, and undone by her father's finally starting to date again after her mother's death when she was 14, Evelyn Kominsky Kumamoto isn't exactly finding joy in life. So why is she taking an up-all-night job at a San Francisco tech company helping to develop an app that can help users quantify their happiness? Current hot-button issues of technology dominance, workplace stress, millennial blues, and identity crises come together in this first full-length fiction from a well-connected, well-published writer.
Wiley, Soon. When We Fell Apart. Dutton. Apr. 2022. 368p. ISBN 9780593185148. $27. Downloadable. LITERARY
Born to an American father and a Korean mother, Min was raised in California but never felt at home there. He moves to Seoul to find himself and falls for cheerful, accomplished university student Yu-jin, whose inexplicable suicide has him reeling. Did she really want to die? Investigating her life reveals that things are more complicated than he thought. From Pushcart-nominated Wiley.
Zhang, Jenny Tinghui. Four Treasures of the Sky. Flatiron: Macmillan. Apr. 2022. 336p. ISBN 9781250811783. $27.99. CD. LITERARY
Kidnapped from China and taken across the ocean to the United States, Daiyu lands in the 1880s Wild West as anti-Chinese hatred surfaces throughout the country and the Chinese Exclusion Act is passed. Her journey takes her from calligraphy school to a brothel to a small shop in Idaho, and she finds a way to survive, finally reclaiming her own story and identity. From Texas-based Chinese American writer Zhang, doing especially well with a 200,000-copy first printing.