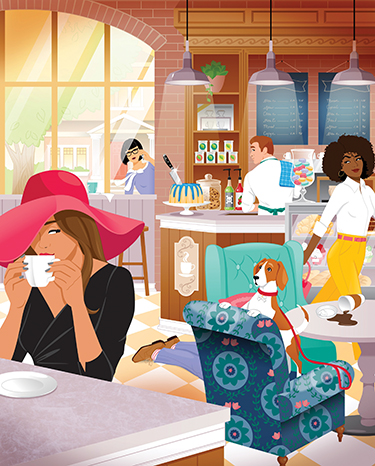 Illustration by Monika Roe
An always popular genre, crime fiction continues to grow and evolve, keeping its core readership solidly engaged but also attracting new readers. In our 2022 preview, looking at books publishing through the fall, we have found that storytelling is king, across subgenres, as authors build cases with even more attention to characterization, with a character's psyche, family, and motivations all powering the story. Already popular cozies—light, nearly violence-free mysteries—are going strong.
We're also seeing more books by and about people of color. Granted, it's a trickle, but the range—from Regency England through the 1920s to the present day—is slightly encouraging.
What we're not seeing are many books set in the pandemic. While a few titles address life post-pandemic, overall, the silence is deafening. Is this because the publishing process is so slow, or that publishers fear that we're too tired of COVID to read about it?
"Given that COVID has been a part of our lives for two years now—and will likely continue to be for far longer in some way or another—I think crime fiction is just starting to come around to figuring out how to deal with it," says Polis Books publisher Jason Pinter. "Since the pandemic began, I think people tended to look more for escapism, but for authors writing contemporary stories, it's going to feel more and more anachronistic to simply ignore COVID." Tyndale publisher Karen Watson notes that she has already begun seeing COVID- and pandemic-related proposals and story lines. "What remains to be seen is if readers have pandemic fatigue or if they'll embrace these plot lines going forward," she says.
COVID-related or not—and we believe it's no coincidence—one of the biggest themes this year is the runaway spouse. Locked-room mysteries are also having a revival; they offer the perfect structure for suspense, plus a deep dive into the past.
Finally, across crime fiction—from police procedurals to traditional mysteries to thrillers—we're discovering a greater emphasis on character, richer backstory, and more depth to the storytelling than ever before. Plot still kicks things off and keeps the party going, but many of this year's books deeply explore the human element. This could also be a reaction to the pandemic, as we look toward fiction to, in E.M. Forster's words, "only connect!"
JOIN THE COZY CLUB
"The cozy is definitely having a moment and finding a larger audience," says Madeline Houpt, assistant editor at Minotaur. "I think in part this has to do with the escapist aspect that can be associated with a cozy. They're light, with hints of romance, a great protagonist, and you don't have to worry about sleeping with the lights on."
While a cozy may be set anywhere, "U.S. audiences seem to love cozies set in the UK," says Carl Smith, commissioning editor at Severn House. "The astounding success of Richard Osman's The Thursday Murder Club in the UK and United States highlighted this." Severn House publishes such popular cozy authors as Simon Brett and G.M. Malliet and will be launching Carol Miller's The Fool Dies Last (Apr.), the first in the "Fortune Telling Mystery" series, which is billed as funny, spiritual, and warmhearted.
Cozy readers will delight in Lorenzo Carcaterra's series debut, Nonna Maria and the Case of the Missing Bride (Bantam, May). Living in Ischia, off the coast of Naples, Nonna Maria is Italy's Jessica Fletcher, who knows everyone on the island—and their business—and everyone knows her. Cheddar Off Dead by Korina Moss (St. Martin's, Apr.) kicks off a new series about a cheese store proprietor in Sonoma Valley who has to solve the murder of a food critic—offering all the attributes cozy readers seek.
Fans of historical cozies should look out for Amanda Flower's Because I Could Not Stop for Death (Berkley, Sept.), the first in the "Emily Dickinson" series, in which the poet teams up with her housemaid to solve a murder.

COZY MUTATIONS
While all cozies share a good amount of DNA, we're seeing some creative mutations. "As the world changes and new readers are brought to the genre, authors are introducing a more realistic cozy, with all the trappings of the genre we love but with more up-to-date attitudes about life and, well, sex," says Chantelle Aimée Osman, editor of Agora Books.
In Zac Bissonnette's A Killing in Costumes (Crooked Lane, Aug.), two former soap opera stars from the 1990s—a married couple—saw their careers go down in flames when their sexual orientations were revealed. Today, they're investing in Palm Springs' hottest movie-memorabilia store, only to end up accused of murder.
How about this for a twist? When Daisy Ellery killed a man with a pie, it was an accident. Now she regularly bakes sweet vengeance into her pastries, which she delivers to the men who've done dirty deeds to the town's women. Wait, our protagonist and criminal are one and the same? Can't wait to see how author Misha Popp pulls this off in the series debut, Magic, Lies, and Deadly Pies (Crooked Lane, May).
COZY-ADJACENT?
A close cousin to cozies are traditional mysteries—which may feature more adult language and settings, and more of a real world feel—but the two increasingly share both authors and readers. Let's call these "cozy-adjacent."
Katharine Schellman's Last Call at the Nightingale (Minotaur, Jun.) "is not a cozy, and it doesn't have a cozy title or cover," says Houpt. But, she continues, "the protagonist is one to root for, you become sucked into the world so seamlessly, and there's a really, really great love triangle set up—all things readers look for in a cozy."
Front Page Murder by Joyce St. Anthony (Crooked Lane, Mar.) is the first in a new series set during World War II and features Irene Ingram, who is editor-in-chief of the local paper while her father is off to war. Strong characterization and meticulous worldbuilding make this a shoo-in for cozy readers. SJ Bennett's All the Queen's Men (Morrow, Mar.) is the second in the marvelous "Her Majesty the Queen Investigates" series. Her majesty takes on a lot, from a missing painting to the death of a staff member to sexual harassment in the royal household—but there's still time for the corgis.
We are also seeing authors crossing over in all kinds of directions. One example is cozy writer G.M. Malliet's new series, launching with Augusta Hawke (Severn House, Aug.). It features a crime writer–turned–amateur sleuth and is being positioned as a traditional mystery that will appeal to fans of Tana French or Georges Simenon's French detective, Jules Maigret.
HEROINES OF COLOR
Increasingly authors are using cozy and cozy-adjacent novels to explore both the history of people of color and their lives in the present.
Readers will root for the protagonist of Louise Hare's Miss Aldridge Regrets (Berkley, Jul.). In the 1930s, jazz singer Lena—passing as white—escapes from a rough situation in London but ends up in even worse straits aboard a transatlantic ocean liner. Will she make it to New York alive?

Established historical and romance author Vanessa Riley debuts Murder in Westminster (Kensington, Apr.), the first in the Lady Worthington Mysteries, set in Regency England, which explores the relationship of a Scottish-African heroine with the ton, as she investigates a murder that is too close for comfort. Hello, Bridgerton fans!
Harlem Sunset (Berkley, Jun.) by Nekesa Afia is the second in the "Harlem Renaissance" series. Here a young Black woman in a hot new speakeasy gets caught up in murder. A racially diverse cast and feminist themes add to the book's appeal.
Moving to the present, the third in Mia P. Manansala's much-loved "Tita Rosie's Kitchen Mystery" series, Blackmail and Bibingka (Berkley, Oct.), focuses on the trouble that ensues when a brand-new winery opens in Shady Palms.
A GENTLER POLICE PROCEDURAL
There's always been a certain amount of individuality to police procedural protagonists, but lately we're getting even greater backstory than ever before. In many cases, the psychological issues driving and surrounding the investigator take up more attention than the crime they're solving, and when this is done well, readers don't mind or even notice that the crime has only a minor role in the book.
These more personal, softer procedurals, which often include family side plots, might be a result of the fear hanging over us during this pandemic.
FAMILY AFFAIRS
The grandfather of logic and procedural steps is of course Sherlock Holmes, and his daughter is now following in his footsteps. The Blue Diamond (Minotaur, Jun.), Leonard Goldberg's sixth "Daughter of Sherlock Holmes Mystery," sees Joanna Watson (she's married to Dr. Watson's son!) step into police procedural territory when she joins Scotland Yard in solving the theft of a huge diamond, with her family life making more of an appearance on the page than Sherlock's did.
Family ties also feature strongly in Anne Hillerman's The Sacred Bridge (Harper, Apr.). When Navajo officer Bernadette Manuelito, one star of the long-running "Leaphorn, Chee & Manuelito" series, works a case involving a cannabis enterprise, it puts her mother and her sister in danger. And in Tessa Wegert's Dead Wind (Severn House, Apr.), danger becomes way too personal when Senior Investigator Shana Merchant must find a killer in her community. She's guarding her own tortured secret—she escaped from a serial killer, a nightmare that's hard to shake while she probes the secrets and grudges in her new town.
TROUBLED OFFICERS
Moving into grittier titles still reveals closer looks at protagonists' psyches than traditionally seen in crime fiction. In Code of Courage (Tyndale, Jul.), part of the "Cold Case Justice" series, author and retired police officer Janice Cantore portrays the turmoil of one of her own, Detective Danni Grace. Grace has already had enough of the job when a colleague is charged with injuring an anti-police protester and she must investigate—along with her ex-husband, a partnership that makes life even tougher for Grace.
Also partnered with an ex is Annalisa Vega, the troubled Chicago PD detective star of Joanna Schaffhausen's Long Gone (Minotaur, Aug.). This second in the series sees Vega again suffering the psychological consequences of a long-ago crime in her family, a difficulty compounded by her turning in members of that clan who were crooked cops. Family issues also compound the nightmare faced by Sheriff Ben Packard in Joshua Moehling's And There He Kept Her (Poisoned Pen, Jun.)—upon his return to his Minnesota hometown, family connections, as well as his sexual identity, complicate his work on a missing-teen case.
Another cop going through the wringer stars in Kelley Armstrong's A Rip Through Time (Minotaur, May; see starred review on p. 123). Homicide detective Mallory Atkinson is bewildered when, trying to foil an attack in modern-day Edinburgh, she's transported to the city in 1869. She must deal with a drop in status: She's now a clueless maid in an amateur sleuth's home, where she secretly uses today's police skills to solve a series of murders.
British history is also mined in Death in a Blackout (Severn House, May), the first in Jessica Ellicott's new "WPC Billie Harkness Mystery" series, in which the courageous officer risks her life to save her city, Hull. The north of England is not as frequent a setting as the posher south; the book's psychological bent and this unusual setting make it a welcome debut.

A SIDESTEP
When the protagonist of a procedural is someone other than a police officer, it can take away some of the violent scenes and add an interesting angle on a murder case. Many upcoming procedurals fit this mold, introducing sleuths who are peripheral to the investigation and soften the book's tone.
In Simon Toyne's Dark Objects (Morrow, Jul.), a forensic science instruction manual is left at a crime scene to taunt officers, and much of the action centers on the identity of the how-to's author. Intriguingly, Soho Crime is releasing two books that feature photographers as crime solvers—Gary Phillips's One-Shot Harry (Apr.), which highlights the fight for civil rights in 1960s Los Angeles, and Shutter (Aug.) by Ramona Emerson, with a Navajo forensic photographer who sees the ghosts of crime victims.
Steve Berry's The Omega Factor (Grand Central, Jun.) introduces an investigator for the United Nations' Cultural Liaison and Investigative Office, who stumbles onto the deadly search for a long-missing artifact that is the subject of competing quests by the Vatican and a secret order of nuns.
In J.A. Crawford's Heroes Ever Die (CamCat, Aug.), part of the "Ken Allen Super Sleuth" series, former actor Allen is perfect for the role of investigator when actors who play superheroes are killed one by one. His friend, a special effects expert, is suspected as the killer, until, in a case of fiction imitating life, Allen finds that someone else is bringing dangerous props onto the set.
On the historical front, the chief sleuth in Evie Hawtrey's And by Fire (Crooked Lane, May) is a lady-in-waiting to Elizabeth I—it doesn't get much further away from a traditional police job than that, unless you count her sidekick, the royal fireworks maker. Police do make an appearance, though, with a modern tale alternating with the historical one. Going back just a little in time, a forensic psychologist gets a turn in Sharon Dempsey's Who Took Eden Mulligan? (Avon, Mar.), a Northern Ireland–set procedural that investigates the cold case of the murder of a mother, with the psychologist ferreting out the truth around a false confession.
COPS WITH A HISTORY
In some upcoming procedurals, intrigue is added, and gore lessened, by a focus on the police officer's unusual hobby or background. The crime solver of Jeremy Scott's When the Corn Is Waist High (Keylight, Apr.), has two titles, sheriff and father—he's a priest who's fighting a serial killer while guarding secrets of his own.
An academic combats crime in Joseph Schneider's The Darkest Game (Poisoned Pen, Apr.). This third "LAPD Detective Tully Jarsdel" title sees Jarsdel on the hunt for the killer of a museum curator. Perhaps most unusual of all, how about a self-appointed sheriff of an Icelandic town, who's neurodivergent and makes his living hunting Arctic foxes and Greenland sharks? Meet Kalmann Odinsson, the protagonist in Joachim B. Schmidt's Kalmann (Bitter Lemon, Jun.).
THE NEW LOCKED ROOM
Don't say we didn't warn you. If your group of besties want to celebrate a special event at a Sedona spa, an island off the Maine coast, or a Colorado ski lodge, for God's sake, DON'T GO.
Locked-room mysteries, set in an isolated location with a limited group of characters, extend back to Edgar Allan Poe, were made hugely popular by Agatha Christie, and are having quite a comeback. In the traditional locked-room mystery, no one can enter or leave the scene of the crime—which is why cruise ships and islands made such excellent venues. But today's locked-room novels are way more relaxed.

In Cassidy Lucas's The Last Party (Harper, Apr.), a group of frenemies are off to the mountains outside Los Angeles to celebrate a 50th birthday. Sounds lovely, right? It would be except for the long-buried tensions and grievances that rise to the fore. Another birthday bash, this time at a safari lodge in Botswana, draws the characters of Phoebe Morgan's The Wild Girls (Morrow, Apr.) together. But as soon as they arrive, things start to fall apart: no greeting, no cell phone reception, no party. What's up?
This is absolutely terrifying: A deadly snowstorm strikes the Icelandic highlands, forcing four friends to seek shelter in a small, abandoned hunting lodge. But what they find—in Ragnar Jonasson's Outside (Minotaur, May)—will change their friendships forever. Lisa Unger's Secluded Cabin Sleeps Six (Park Row, Oct.) offers a classic locked-room experience. Six friends are off on a weekend getaway to a luxury cabin in the woods. The only problems are the storm that's brewing, the creepy rental host, and one of the six trying to ruin their lives.
Carol Goodman's The Disinvited Guest (Morrow, Jul.) has quite the harrowing premise: Lucy has traumatic memories and health problems from the 2020 pandemic. So, when a new virus surfaces years later, she and her husband head to a private island off the coast of Maine, along with their five closest friends. But tempers flare and accidents turn deadly as someone seeks revenge. How about a sinister sojourn to the Greek isles? Six friends are off on a sun-soaked bachelorette trip, but all those sunset swims and late-night cocktails are hiding some big secrets. In Lucy Clarke's One of the Girls (Putnam, Jun.), it will be a miracle if the wedding isn't replaced by a funeral.
Speaking of Christie, Alice Feeney's Daisy Darker (Flatiron, Aug.) gives a nod to And Then There Were None. The venue: a crumbling gothic house on a tiny island, cut off from the mainland during high tide. The occasion: Nana's 80th birthday. The murderer: any one of Nana's beloved family members. Sounds delicious.
PARTNERS GONE AWOL
One of the biggest themes this year is spouses gone missing. Wishful thinking borne of stifling proximity? At the beginning of the pandemic divorce rates were predicted to rise, but in these books one member of the party isn't waiting for the courts' slow wheels to turn.
The quintessential missing spouse book is Chris Pavone's Two Nights in Lisbon (MCD, May). After a romantic night, a woman awakens to find her husband has simply vanished. The sophisticated thriller builds suspense aplenty as readers follow the woman from quizzing the hotel staff to exploring her past to find the truth. Panicked grilling of hotel staff is also the first reaction of the protagonist in D.J. Palmer's My Wife Is Missing (St. Martin's, May). In this dual-point-of-view work, a husband's distress at finding his wife and children gone from their Times Square hotel is called into question once readers get to the chapters featuring his wife's actions.
Amanda Jayatissa's You're Invited (Berkley, Sept.) takes us to Sri Lanka, where a young woman named Amaya learns that an old friend, Kaavi, plans to marry Amaya's ex-boyfriend. As Amaya tries to stop the wedding, Kaavi goes missing, her rival the obvious suspect. Moving in the opposite direction, Nev March's Peril at the Exposition (Minotaur, Jul.) focuses on newlyweds Captain Jim Agnihotri and Diana Framji, who have relocated from Bombay to Massachusetts. As preparations for the 1893 Chicago World's Fair heat up, Jim travels to the Windy City to investigate a murder. Then poof! He's gone, and Diana must get her investigative skills into gear.
The white picket fence on the cover of Hannah Mary McKinnon's Never Coming Home (Mira, May) manages to look both homey and sinister, appropriate given that the danger is at home. Lucas arranges the disappearance of his wife, Michelle. But someone turns the tables on him, and readers will be left wondering who knew about his plot to become a grieving husband. Domestic bliss is also a facade for the couple Casey Fletcher watches in Riley Sager's The House Across the Lake (Dutton, Jun.). Casey is forced into action when the woman disappears and it's obvious that what looked like a happy marriage was anything but.
Situating a story of a missing mate in the wilderness adds another level of suspense and allows the author to use the landscape to ramp up the fear level. In C.J. Box's Treasure State (Minotaur, Sept.), investigator Cassie Dewell hunts for a missing man whom a wealthy divorcée claims has run off with her fortune. Cassie already has a following from the TV series Big Sky; this novel can be book-talked to fans of the show and those who would appreciate the missing mate motif. Those who enjoy an outdoorsy thriller can also look forward to William Kent Krueger's Fox Creek (Atria, Aug.), the 18th Cork O'Connor mystery, which sees Irish and Anishinaabe Indian Corcoran "Cork" O'Connor deep in the Northwoods searching for his wife.
Sometimes the spouse returns and it's not the longed-for happily ever after. In Linwood Barclay's psychological thriller Take Your Breath Away (Morrow, May), it's been six years since Andrew Mason's wife, Brie, disappeared on a fishing trip. Andrew tries to move on and has a new partner, but when a distraught woman resembling Brie shows up at their old address and then disappears again, his life is once more turned upside down.
Emma Fedor's At Sea (Gallery, Apr.) introduces an intriguing character: a disappeared husband who can breathe underwater. Five years after he vanished from her life along with their child, his wife, Cara, gets a report of a man and boy treading water far from shore. Cara sets out to investigate, an effort that dredges up secrets from the depths of her past.
TERROR COMES HOME
Sometimes the only thing worse than your spouse going missing is when they don't go missing. Domestic suspense is big every year, but 2022 has a particularly fertile crop, with a focus on rich, perfect lives going dangerously wrong.
In Claire Douglas's The Couple at Number 9 (Harper, Aug.), Saffy and Tom have everything going for them; Saffy is pregnant, and they've inherited a dream home. It turns less than dreamy, though, when bodies are found during renovations and Saffy's grandmother, who has Alzheimer's, is wanted for questioning. Backyard surprises, and marital suspicions, are also unearthed in Cody Luke Davis's House of a Thousand Lies (Crooked Lane, Aug.), a tale that involves a woman who looks differently at her husband after a girl's body is found on their property.
Look Closer (Putnam, Jul.), by David Ellis—an author best known for legal thrillers—features another rich couple, one whose wealthy suburban perfection starts to crumble when a woman is found hanging in a nearby neighborhood. Get ready for sordid details involving an affair, a trust fund, and a grudge that might have turned deadly. Upper-class Brighton Hills, OR, is the site of suspense in Seraphina Nova Glass's On a Quiet Street (Graydon House, May). In a tale that mixes tension with grief, a pampered woman named Cora believes that her husband is cheating, and enlists the help of an unstable, bereaved mother to prove it. She'll be sorry she did. Also planning to convince us that being rich is a dangerous idea is Erica Blaque, whose Among Wolves (Polis, Sept.) centers on a woman married to a handsome, intelligent pharmaceutical tycoon—but the relationship doesn't seem so idyllic when his past lovers form a chain of murdered women.

In some upcoming novels, threats come from outsiders. Nora Murphy's intricately plotted debut The Favor (Macmillan, May) sees two women who don't know each other become involved from a distance. It all starts when one is strangely compelled to follow the other home and, watching from outside, sees that she is abused. The decisions that follow change each woman's life forever.
True crime has been huge the past few years, and fans of the genre may find Katie Gutierrez's More Than You'll Ever Know (Morrow, Jun.) a compelling fictional read-alike. The book follows true crime writer Cassie Bowman, who becomes engrossed by two marriages that are doomed because they include only three people: Dolores Rivera, married to one man in Mexico and another in Texas, splitting her time between the two places by using her career as an international banker as a cover. Watch what happens when her cover is blown.
A three's-a-crowd problem also crops up in Kate White's The Second Husband (Harper, Jun.). Suspense seems off the table as readers meet Emma Hawke and her handsome, widower husband, Tom. But the murder of Emma's first husband is still unsolved, and now she finds out that Tom knew him in the past. Is Tom the killer? A happy couple beset by an outsider is also the theme of Harrison and Matt Query's Old Country (Grand Central, Jul.), in which a former marine and his wife settle into a secluded ranch only to find that it's haunted. This book began as a short story posted on Reddit, at r/nosleep, and has been picked up by Netflix. Between the Netflix connection and the popularity of horror during the pandemic, this horror-suspense title promises to be popular.
Scares, though more domestic than horror-filled, can also be found in Cate Holahan's The Darkness of Others (Grand Central, Aug.), one of the few upcoming crime titles that takes place during the pandemic. Psychiatrist Imani Banks and her restaurateur husband, Philip, take in a renter when Phil's restaurant closes during lockdown. But Imani begins to fear that the woman is a grifter who may be behind a local murder. Finally, on the scary side, in Riku Onda's Fish Swimming in Dappled Sunlight (Bitter Lemon, Jul.), we travel to Japan, to the close confines of a Tokyo apartment on the last night of a couple's relationship. Aki and Hiro accuse each other of murder, and their tortured session of recriminations has them picking apart a mountain trek on which their guide died.
From dauntless crime-solving cozy heroines to detectives faced with bodies piling up and from vacation strife to domestic relationships turned deadly, these 60 titles help summarize the season, highlight subgenre elements, and explore why readers enjoy them. It is not a hard case to crack: Crime fiction, in its many guises, offers readers a lot to cheer for in the coming months.
---
Brian Kenney and Henrietta Verma are cofounders and coauthors of First Clue, a free weekly newsletter that reviews mysteries and thrillers as far in advance of publication as possible. Librarian and editor Kenney has worked with publications including LJ, SLJ, and Publishers Weekly and is the director of the White Plains Public Library (NY). Verma, formerly LJ's Reviews Editor, is a librarian and the author of How To Get Your Book into Libraries and Reviews Are In.
---
The Case Continues:
Portrait of a Reader: Beth Kava