Seeking to protect our world.
Click here for additional new Prepub Alert columns
Brady, Amy & Tajja Isen, eds. The World As We Knew It: Dispatches From a Changing Climate. Catapult. Jun. 2022. 288p. pap. ISBN 9781646220304. $16.95. ESSAYS
Brady, executive director of Orion, and Catapult magazine editor Isen (Some of My Best Friends) have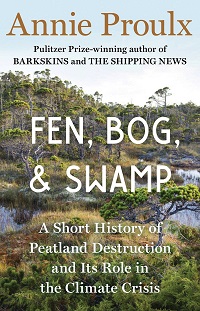 compiled an anthology of essays from leading authors discussing the tragic impact of climate change. Contributors range from Lydia Millet anguishing over the drought-destroyed Saguaro cacti in her Arizona backyard to Omar El Akkad explaining how rising temperatures in the Middle East have destroyed his homeland (a source of inspiration for him) to Terese Svoboda surprised by the cougars pouncing across Nebraska's highways and showing up in kindergarten.
Harvey, Hal & Justin Gillis. The Big Fix: Seven Practical Steps to Save our Planet. S. & S. Jun. 2022. 320p. ISBN 9781982123987. $28.99. CD. CLIMATE CHANGE
Energy Innovation CEO Harvey and award-winning New York Times reporter Gillis join forces to show how we can reduce greenhouse gas emissions to zero and save the earth, focusing on seven key areas where we-can-do-it change will have the biggest effect. Those areas include electricity production, transportation, buildings, industry, urbanization, use of land, and investment in promising new green technologies. With a 50,000-copy first printing.
Proulx, Annie. Fen, Bog and Swamp: A Short History of Peatland Destruction and Its Role in the Climate Crisis. Scribner. Jun. 2022. 208p. ISBN 9781982173357. $26.99. CD. NATURE/CONSERVATION
When she's not busy writing award-winning fiction, Proulx is an active environmentalist who here reports on the key role wetlands play in preserving the environment by storing the carbon emissions that contribute to climate change. As she marches us through the fens of 16th-century England, Canada's Hudson Bay lowlands, Russia's Great Vasyugan Mire, America's Okeefenokee National Wildlife Refuge, and the Amazon rain forest, she also considers the diseases originating in the wetlands (e.g., malaria) and the crucial role now-threatened peat played in industrialization. With a 60,000-copy first printing.
Stodola, Sarah. The Last Resort: A Chronicle of Paradise, Profit, and Peril at the Beach. Ecco. Jun. 2022. 320p. ISBN 9780062951625. $27.99. BUSINESS/TOURISM
Founder and editor of the online travel magazine Flung, Stodola offers a history of beach resort culture, which has led to fun and sun but also irresponsible construction, imbalanced local economies, beach erosion, and a too-heavy carbon footprint. With travel and especially beach culture now an integral part of the globalized world, what happens when rising seas come flooding in? With a 100,000-copy first printing.