Verbal and visual diaries of the year 2020, psychology and philosophy titles that lend us comfort, and a stark look at the Supreme Court in tumultuous times.
Boss, Pauline. The Myth of Closure: Ambiguous Loss in a Time of Pandemic. Norton. Nov. 2021. 208p. ISBN 9781324016816. $21.95. PSYCHOLOGY
An expert in the areas of trauma therapy, grief, and family stress—in March alone, she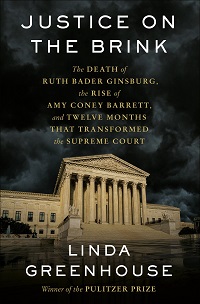 was featured in the Atlantic (We Have To Grieve Our Last Good Days ) and the New York Times (Mom Is Really Different: Nursing Homes Reopen to Joy and Grief )—Boss here addresses the free-floating anxiety, upset, and anger we feel amid the COVID-19 pandemic. She calls it ambiguous loss, as we aren't sure what's missing even as we fret about our families, our jobs, and our futures, and she has advice for coping.
Engler, Elise. A Diary of the Plague Year: An Illustrated Chronicle of 2020. Metropolitan: Holt. Nov. 2021. 304p. ISBN 9781250824691. $32. ART
Five years ago, visual artist Engler decided that her task each morning would be to illustrate the first bit of news she heard on her radio. Then Donald Trump was elected president, and she never stopped creating images. From COVID-19 to George Floyd's murder and the protests in response, to California wildfires and an arduous election, here is a visual diary of one very tough year. With a 40,000-copy first printing; Engler's honors include multiple grants and two MacDowell residencies.
Finch, Charles. What Just Happened: Notes on a Long Year. Knopf. Nov. 2021. 272p. ISBN 9780593319079. $28. Downloadable. MEMOIR
In March 2020, at the request of the Los Angeles Times, Finch began recording his daily thoughts on how his life and the lives of those around him were changing, addressing politics, protests, and pandemic but also those great escapes—Murakami's novels, anyone, or the Beatles? As he is an author par excellence—we owe him thanks for his Charles Lenox mystery series, the excellent literary novel The Last Enchantments, and his award-winning book criticism—the chronicle that resulted should be immediately satisfying.
Greenhouse, Linda. Justice on the Brink: The Death of Ruth Bader Ginsburg, the Rise of Amy Coney Barrett, and Twelve Months That Transformed the Supreme Court. Random. Nov. 2021. 272p. ISBN 9780593447932. $28. Downloadable. POLITICAL SCIENCE/JUDICIAL
As she's been covering the Supreme Court for the New York Times for four decades, the Pulitzer Prize—winning Greenhouse is well situated to give us a real understanding of what happened to the Court during a crucial 12-month period. As she points out, by the end of the 2019–20 term, the Court had released some moderate decisions. But then came Ruth Bader Ginsburg's death and Amy Coney Barrett's ascension to the Court, which tilted it rightward and, she asserts, will shape its rulings for years to come.
Ignatieff, Michael. On Consolation: Finding Solace in Dark Times. Metropolitan: Holt. Nov. 2021. 288p. ISBN 9780805055214. $26.99. MORAL PHILOSOPHY
Human beings have always sought solace through religion, but, argues Booker Prize finalist Ignatieff, since the 1500s many began turning toward science, ideology, and the therapeutic. Here, to show where the less religiously persuaded might find light that illuminates the darkness, he considers writers, thinkers, artists, and musicians primarily from the Western canon, bringing in the Bible's Psalms, for instance, but also turning to the likes of Anna Akhmatova, Albert Camus, and Primo Levi With a 60,000-copy first printing.