David Baldacci and Jack Carr are in the mix, but April thrillers are mostly by women, including Darcey Bell's she-said, she-said mommy chiller, Cara Black's trip to World War II Paris (no Aimée Leduc in sight), and Jennifer Hillier's tale of a missing child.
Thriller Picks
Bell, Darcey. Something She's Not Telling Us. HarperCollins. Apr. 2020. 320p. ISBN 9780062953926. $26.99; ebk. ISBN 9780062953940. lrg. prnt. THRILLER/PSYCHOLOGICAL
Charlotte loves her husband, her big-blooming flower shop, and especially her five-year-old daughter, Daisy, with whom her brother's new girlfriend, Ruth, seems creepily obsessed. Ruth loves her job, her new boyfriend, and her boyfriend's charming niece, but Daisy's mother seems positively hostile—and Ruth senses that she's hiding something. What's really happening, and who just kidnapped Daisy? Following the big-splash debut, A Simple Favor, which sold over a half-million copies across formats and is set for the silver screen. With a 200,000-copy paperback and 20,000-copy hardcover first printing.
Black, Cara. Three Hours in Paris. Soho Crime. Apr. 2020. 360p. ISBN 9781641290418. $27.95; ebk. ISBN 9781641290425. THRILLER
Once again, New York Times best-selling author Black takes us to Paris, but not to continue the long-running sparkle of her "Aimée Leduc" series.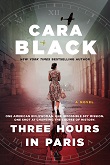 Considering why Hitler spent only three hours in the city upon its fall before departing in haste, she introduces skilled markswoman Kate Rees, an American recruited by British intelligence after her husband and daughter died in the blitz. Kate is dropped into Paris with instructions to assassinate der Führer, but when her plans go astray, she's on the run, with readers right behind her. With a 20-city series of events.
Hillier, Jennifer. Little Secrets. Minotaur: St. Martin's. Apr. 2020. 352p. ISBN 9781250154224. $26.99; ebk. ISBN 9781250154248. CD. THRILLER
Hillier follows up Jar of Hearts, a much-best-booked ITW Thriller Award winner, with an eye popper featuring a mother whose four-year-old son has vanished. When a year-long search by the FBI yields nothing, Marin Machado hires a private eye, who fails to find little Sebastian but does learn that Marin's husband is having an affair with gorgeous young Instagram sensation Kenzie Li. What's worse, there are intimations that Kenzie—and even Marin's husband—might know what happened to Sebastian.
Mores Reason To Be Afraid
Baldacci, David. Untitled. Grand Central. Apr. 2020. 432p. ISBN 9781538761465. $29; ebk. ISBN 9781538761502. lrg. prnt. CD. THRILLER
Yes, Baldacci has a new thriller coming your way in spring, and no, there's no word yet on plot. All I can tell you is that Baldacci is now serving as honorary chair of the Amelia Island Book Festival, taking place this coming February in Florida.
Bolton, Sharon. The Split. Minotaur: St. Martin's. Apr. 2020. 304p. ISBN 9781250300058. $27.99; ebk. ISBN 9781250300065. CD. SUSPENSE
Felicity Lloyd has found the perfect place to hide from her former husband, Freddie: she works as a glaciologist on the distant Antarctic island of South Georgia. But it appears that back in Cambridge, England, Felicity was always a little nervily out there, and a string of murders in town have put police on alert. A standalone from the Mary Higgins Clark Award winner.
Carr, Jack. Savage Son: A Thriller. Emily Bestler: Atria. Apr. 2020. 416p. ISBN 9781982123703. $28; ebk. ISBN 9781982123727. CD. THRILLER/POLITICAL
A turncoat CIA officer hiding out with the Russian mafia persuades them to target former Navy SEAL James Reece, who's in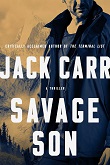 Montana recovering from brain surgery but quickly feels compelled to infiltrate that merry murderous band. Meanwhile, a woman is on the run in icy-cold Siberia from a man who wants to kill her. Third in a series from an author who's himself a former Navy SEAL; with a 200,000-copy first printing and a ten-city tour to Boston, Chicago, Dallas, Denver, Houston, Phoenix, Pittsburgh, Salt Lake City, San Antonio, Washington, DC.
Hooper, Kay. Hidden Salem. Berkley. Apr. 2020. 304p. ISBN 9781984802897. $27; ebk ISBN 9781984802910. SUSPENSE
Though he's a veteran of the FBI's Special Crimes Unit, Grayson Sheridan still feels uneasy when he arrives in Salem, MA, to investigate the disappearance of three stranger amid reports of Satanic activities. Nellie Cavendish has also come to town. Disturbed by the crows trailing her and how electronic equipment shorts at her touch, she is following an exhortation in a letter from her long-dead father that she do something about the evil in Salem—before her 30th birthday. From the New York Times best-selling author.
Kamal, Sheena. No Going Back. Morrow. Apr. 2020. 352p. ISBN 9780062869777. $27.99; pap. Morrow Paperbacks. ISBN ebk. 9780062869760. $16.99; ebk. ISBN 9780062869784. lrg. prnt. SUSPENSE
In The Lost Ones, Kamal's best-selling multi-award-winning debut novel, feisty Nora was asked to rescue Bonnie, the teenage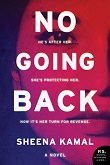 daughter she gave up for adoption, after Bonnie's kidnapping by the wealthy Zhang family. Now Nora has a bitter enemy in triad enforcer Dao, former head of the Zhangs' private security, and goes after him to protect both herself and Bonnie. She's got help from an offbeat playboy billionaire with his own grudge to settle. Third in a series; with a 75,000-copy paperback and 25,000-copy hardcover first printing.
Mejia, Mindy. Strike Me Down. Emily Bestler: Atria. Apr. 2020. 336p. ISBN 9781982133238. $27; ebk. ISBN 9781982133252. SUSPENSE
A forensic accountant and partner in a Minneapolis firm, Nora Trier always gets her thief. Then her firm is hired by Strike, a feminist, corporate-resistant athletic company owned by famed kickboxer Logan Russo, which is launching a kickboxing tournament meant to find a new face for the company. Now the hefty prize money has gone missing, but Nora is reluctant to get involved; she has secret ties to Strike that could compromise her integrity. From the author of Leave No Trace; with a 60,000-copy first printing and a five-city tour to Houston, Milwaukee, Minneapolis, Phoenix, and Madison (WI).
Sligar, Sara. Take Me Apart. MCD: Farrar. Apr. 2020. 368p. ISBN 9780374272616. $27; ebk. ISBN 9780374719593. THRILLER/PSYCHOLOGICAL
Years after celebrated photographer Miranda Brand died unexpectedly, upending her California town, her son Theo asks one-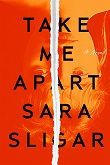 time journalist Kate Aitken to create an archive of his mother's work. Miranda evidently cracked under the strain of balancing work and family, but soon Kate must navigate nasty rumors about what really happened, her attraction to Theo, and her growing obsession with Miranda, fueled by her discovery of a diary that could explain everything. A debut starting to buzz.
White, Kate. Have You Seen Me?: A Novel of Suspense. Harper. Apr. 2020. 368p. ISBN 9780062972088. $26.99; pap. ISBN 9780062747471. $16.99; ebk. ISBN 9780062747488. lrg. prnt. SUSPENSE
When finance journalist Ally Linden walks into her Manhattan office, her boss nearly drops his coffee mug; she hasn't worked there in five years. Interviews with a hospital psychiatrist help her determine that she's now a freelance journalist living on the Upper West Side with her kindly husband Hugh. But she's lost two days of her life owing to a fugue state, and she looks to be in danger if she doesn't figure out what happened. From the New York Times best-selling White, former editor-in-chief of Cosmopolitan magazine; with a 40,000-copy paperback and 20,000-copy hardcover first printing.