In fall 2016, the County of Los Angeles Public Library (as it was then called) was having an identity crisis. Customers were largely unaware of the plethora of services offered, such as free e-resources, Maker spaces, parenting help, tutoring assistance, and family activities. They also didn't know that each individual location belonged to a larger system that serves everyone in the county. "With the library serving 49 cities plus unincorporated areas, via a system of 87 libraries...the challenge was breaking through the noise...especially when other library systems coexist in the area," says Janice Hahn, supervisor of the fourth district of Los Angeles County.
That's when the in-house marketing team, which at the time had been in place only a few months, went to work on a reboot of brand awareness. "The rebranding is not superficial but holistic, increasing organizational value for both staff and customers by going beyond updating promotional efforts to letting the new brand drive everything they do," says Corey Calaycay, chair of the LA County Library ­Commission.
BRAND NEW The LA County Library's award-winning marketing team: (standing, at l., l.–r.): Pamela Broussard, public information officer, and Karol Sarkisyan, marketing manager. (Standing at r., l.–r.): Tamera Tarver, graphic artist, and Joshua Irwin, Internet services manager. (Seated, l.–r.): Carol Lopez, staff assistant; Esmeralda Delgado, data analyst; Geraldine Lin, marketing director; Mary Yogi, social media manager; and Jessie Towers, marketing analyst . Photo ©2018 Monica Almeida
The effort netted the group of nine—Geraldine Lin, marketing director; Karol Sarkisyan, marketing manager; Jessie Towers, marketing analyst; Tamera Tarver, graphic artist; Joshua Irwin, Internet services manager; Mary Yogi, social media manager; Pamela Broussard, public information officer; Esmeralda Delgado, data analyst; and Carol Lopez, staff assistant—LJ's 2018 Marketer of the Year Award, sponsored by Library Ideas, LLC. The honor, which comes with a $2,000 prize, recognizes the importance of innovative approaches to marketing library services and the role of marketing in building library engagement and defining a library's relevance in the community.
SHARING A VISION
The LA County Library, based in Downey, CA, roughly halfway between East Los Angeles and Long Beach, serves a population of 3,373,360. Los Angeles County is the most populous county in the United States and one of the most diverse. Director Skye Patrick has put an emphasis on increasing equity of access beyond the library walls, championing MākMō vehicles, a new delivery system to support Maker spaces, and Reading Machines, early literacy mobile vehicles. A new fine-free student library card was just introduced. (For more info on going fine-free, see Lisa Peet's "The End of Fines?")
The rebranding process began with the most obvious touch point: the library's name. Through a series of visioning sessions in which community members and internal stakeholders provided feedback, the team found that the existing name, "The County of Los Angeles Public Library," was forgettable and a bit clunky. "LA County Library" was deemed more memorable and modern and received unanimous board approval. The website URL, ­Colapublib.org, was also found unintuitive.

EMPOWERING TOOLS LA County's Brand Center offers resources so the entire library team can create a consistent look and feel on everything they touch. Below, the redesigned website is mobile-friendly, letting users find what they need from anywhere. Images courtesy of LA County Library
The team encouraged the vision session participants to express their ideal picture of their library vs. its current embodiment with clever questions: "If the library were an animal [and a celebrity, and a car], what/who would it be?" and "How does the brand talk? How does the brand dress? What we have done is establish a very clear image of who this person is, what he looks like, how he talks, how he dresses, what he believes in, what his personality is like," explains Lin. "Then [the brand] impacts how we service our customers. Ultimately, it helps shape the customers' experience with the library."
This discovery phase allowed the team to identify not only the library's weaknesses but at least one major strength: exceptional customer service. "Over and over, our customers gave us high marks on the friendly and personal services we provide," Lin tells LJ. It also became clear that patrons think of "customer service" as more than just direct staff assistance. They lauded the cleanliness of the system's branches and its policies, such as ten pages of free printing per day and lower fines compared to other systems.
TRANSMITTING A NEW IDENTITY
Armed with the insight gleaned from the discovery phase, the team turned to defining the brand position. They distilled the library's values into a mission statement:
For the curious person who seeks free resources and knowledge, LA County Library is a trustworthy, community-driven guide that provides accurate information and enriching experiences in welcoming spaces with excellent customer service, because we believe every perspective matters.
At the same time, a tagline was established to convey succinctly the library's identity: Curiosity Welcomed.
Previously, each piece of library collateral had been designed as a stand-alone, but now a consistent look and feel were imperative. With the essence of the brand crystallized, a graphic designer was hired (on a $15,000 contract) to use it as inspiration for several iterations of a new logo. The public voted, and the winner served as the springboard to an internal brand guide to color palette, fonts, layout templates, even a copywriting style guide. The marketing team rely on librarians and other employees to help them with creating flyers and staffing outreach events. Now everything from holiday closure announcements to email signatures would be consistent.
The team also had to create brand architecture to dictate how branding should be handled with materials designed by third-party vendors. As is the case for most libraries, outside companies such as OverDrive, Kanopy, Career Online High School, and Discover & Go provide collateral. "Due to limited resources, libraries usually use whatever these third-party vendors provide. However, it creates confusion for customers, as they do not necessarily distinguish between product vendors and the library," Lin tells LJ.
Meanwhile, the team was simultaneously working with a web design company to develop a new site, at a cost of approximately $350,000. LACountyLibrary.org launched in July 2018, a mobile-friendly site with more modern graphics and easier navigation compared to its predecessor. The focus of the homepage is an oversized search bar, a wink at the overarching idea of curiosity. Lin feels that the fun and creative design approach of the site, as well as other visual components of the brand, is what customers now first notice.
TARGETED MESSAGING
The next move was getting the word out. After strategizing with field staff, they pinpointed a key audience for non­traditional services: Spanish-speaking immigrants. Targeting was narrowed further by using the "Portrait of Los Angeles County" report, which identified 19 branches that sit in "precarious" communities. These communities are more than 80 percent Latinx and nearly 40 percent foreign-born.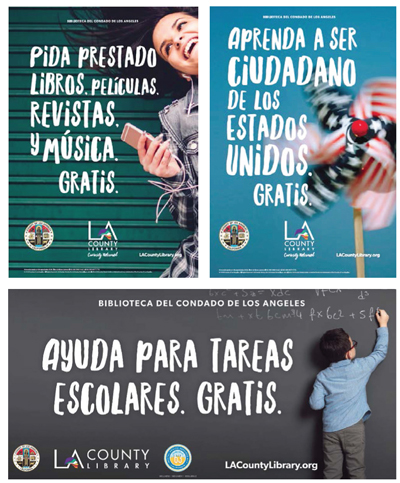 ATENCIÓN, POR FAVOR Targeting Spanish-language patrons, the library's awareness campaign highlighted such services as free music, citizenship assistance, and homework help. Images courtesy of LA County Library
A massive awareness campaign, doubling as a rollout of the new brand style, blanketed the vicinities of those 19 libraries. It included 40 digital billboard and 70 bus stop ads. TV and radio advertising on Spanish-language outlets was also purchased. The emphasis of these ads was that services such as homework help, assistance with U.S. citizenship, and use of computers and printers are free. The targeted populations often come from countries where such services, if they're available, come at a cost. The priority was breaking through the assumption that what the library offers has a fee.
"The way I look at rebranding," Lin concludes, "is that it's not an attempt to create something completely new...rebranding is a process of examining your organization, checking it against customer expectations, finding the key group of customers you can best serve, and communicating in a way that resonates with these customers."
MANAGING COSTS
The team is taking a phased approach to be fiscally responsible. "We are able to reduce the overall impact of rebranding and spread the cost over multiple years," explains Lin. For instance, old materials are being used up before new ones are ordered. With the exception of building signage, the entire rebranding process should be completed by June 2019.
Lin, who previously worked in the private sector as a brand manager, has expertise that allowed the project, except for design services, to be handled in-house. Designers' fees were minimized because they were handed a specific idea of the direction in which to go. Had the entire project been outsourced to an agency, costs would have been ­prohibitive.
While Lin led the rebranding, she emphasizes that it was a true team effort. In particular, she insists she couldn't have pulled it off without Sarkisyan and Towers, the project managers tasked with the implementation of the brand while Lin was building it. Still, the project represented a considerable expense. "We have set aside funding from the library's operating funds," says Lin. "The value of the rebranding work far exceeds the financial investment."
WINNING AUDIENCE WITH TEAMWORK
That return on investment can already be seen in the engagement of new audiences. In June 2018, only one month after the new brand was officially introduced, there was a 32 percent increase in total active new customers compared with June 2017.
"We are so honored to be recognized for this award," Director Patrick tells LJ. "Our marketing team has done a tremendous job in rebranding our library. It is so much more than just a design refresh. Not only has the rebrand helped our staff gain a deeper understanding of our organization and our mission, it also allows us to better communicate to our customers about who we are and what we offer, and, ultimately, it changed community members' perception of the library."
---
Freelance writer Christina Vercelletto writes for Education Dive, Family Circle, Trip Advisor, and NY Metro Parents.
---
HONORABLE MENTIONS
NASHVILLE PUBLIC LIBRARY
Andrea Fanta | Team Lead, Media Relations
Allison Price | Digital Content
Kayla Head | Social Media
Matt Fox | Freelance Writer
Edward Patton | Freelance Designer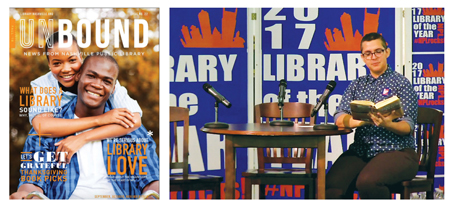 After garnering top honors as the 2017 Gale/LJ Library of the Year, it's no surprise that Nashville Public Library would be exceptional. Nonetheless, the efforts of its marketing team stand out. Using marketing analytics that allowed them to learn about the communities the library serves at a neighborhood level, they produced two geocampaigns. One added eight branch profiles on Facebook, in addition to the systemwide presence, and provided training to branch staff that empowered them to become storytellers, recruiting 3,301 hyperlocal followers. The second geographically based initiative, a hyperlocal email newsletter, debuted as a three-branch pilot, complementing the system's existing monthly newsletter and interest-based newsletters (not to mention its quarterly print publication, Unbound). The marketing team worked with managers to grow membership among underrepresented groups. The email lists grew by tens of thousands in six months. Then there are the blogs, data-driven advertising, and more. But the marketing team didn't only focus on digital: the members created Nashville's first reading marathon, a 12-hour success, as well as creating an in-person celebration for the mayor-proclaimed "NPL Day" and driving a citywide celebration of the Library of the Year win. The Nashville marketing team knows how, and when, to parse
its users into fine distinctions and to bring them together as a unified whole.—Meredith Schwartz
---
SEATTLE PUBLIC LIBRARY
Helen Tapping | Head of Marketing and Online Services
Kitty Ireland | Content Strategist
Marites Mendoza | Project Manager
Annie Vasquez | Design Manager
Danny Ramirez | Designer
Lisa Zicherman | Web Development Manager
Jenny Chen | Web Developer
Daniel Nguyen | Web Content Librarian



The Seattle Public Library launched its newly redesigned website at spl.org in April, the culmination of a nearly two-year project promised as part of the 2012 levy and the first time the site had been redesigned in 14 years. The library hired design agency Domain 7 to facilitate discovery, conduct usability testing, and carry out wireframing and front-end coding, while website design direction, content, community outreach, and the launch marketing campaign was developed by the in-house team, for a total budget of $250,000.
Domain 7 became a strong advocate for the library's approach. The firm's Kevan Gilbert credits SPL with using "deep community engagement to pursue real digital innovation.... Often, 'catching up to the future'...is done at the expense of democracy...not so at Seattle Public Library," enthuses Gilbert. In addition to optimizing for mobile use, the library involved its race and social justice team to ensure the inclusion of all voices at each stage of the design, made accessibility a core project pillar, and held open community workshops to involve the public in decision-making. The latter extended even after the site was complete: the library opened a public beta period for more than three weeks prelaunch so users could test the site, garnering mostly positive responses.
To introduce the site to new and existing audiences, SPL launched a multiphase campaign in May called "Bookmark It," drawing on design elements of the new site such as the "folded corner" effect on images to reinforce the connection between the online and offline senses of the term. While the campaign will continue into 2019, early results look promising: in the 90 days after launch, unique page views increased by 13% and bounces decreased by 13%. Certain pages saw even higher increases, including hours and locations (36%), magazines and newspapers (40%), museum passes (48%), event calendar (53%), reserve a room (55%), and ask us (153%). Requests for meeting room reservations at the Central Library (an important revenue stream) have increased fivefold over previous years.—Meredith Schwartz