A twelve-year-old boy struggles with the worst kind of fame—as the sole survivor of a notorious plane crash—in Ann Napolitano's Dear Edward. Jen Dayton, Reference Librarian at Fairfield Public Library, spoke with the author about her inspiration for the novel, the fascinating characters we meet throughout, and the central message of the book.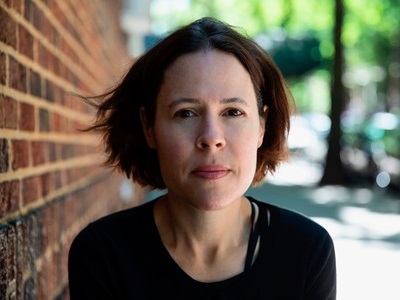 Ann Napolitano Photo © Jake Chessum
A twelve-year-old boy struggles with the worst kind of fame—as the sole survivor of a notorious plane crash—in Ann Napolitano's Dear Edward, a "stunning novel of courage and connection" (Helen Simonson, bestselling author of Major Pettigrew's Last Stand). Jen Dayton, Reference Librarian at Fairfield Public Library, spoke with the author about her inspiration for the novel, the fascinating characters we meet throughout, and the central message of the book.

You have said that Dear Edward was inspired by the true story of Ruben Van Assouw, the sole survivor of a plane crash in 2010. What was it about this story that grabbed you as hard as it did?
I think I couldn't let go because I was both deeply worried about Ruben and deeply curious about how he could go on after such a terrible tragedy. His aunt and uncle did an amazing job of protecting Ruben's privacy once he was released from the hospital, but that meant I couldn't know that he became okay. I had to create a set of circumstances under which a little boy in that situation could believably become a whole person, in spite of—or even because of—what he'd lost. I needed him to be okay, so I had to write my way into believing that was possible.

Your books really focus on changed circumstances and their ripple effects. Was there something in your own life where changed circumstances forced you to step back or forward and re-evaluate?
That's interesting. Yes, there was. Just after my junior year of college, I got sick with a virus called Epstein Barr and was ill for about three years. Epstein Barr is a large virus that wipes out your immune system, so effectively I caught every illness in my radius: flus, colds, bacterial infections, etc. I had food poisoning at least twice a month, and experienced a kind of bone-deep fatigue I'd never known before. I returned to college for my senior year, but took a half-load of classes (it took me an extra year to finish college). I lived in a dorm with my twenty-year-old friends, and I looked like a normal twenty-year old, but I felt eighty. I spent my days pretending to be a normal college kid whenever I was around other people. This experience helped me relate to Edward during the writing of this book, because after the tragedy he has to pretend to be a normal kid, and try to figure out what a normal kid would do, even though he is something else altogether.
The other impact of this illness was that it made me aware of my mortality in way most young adults simply aren't. The illness hit me like a bus, and so I was aware that other buses could hit me in the future. I had always wanted to be a writer, but before I got sick I'd decided I would go into publishing and maybe write as a personal hobby on the side. That path seemed safer, and more socially acceptable. But the experience of being sick made me decide to live the life I truly wanted to live. If I failed, it least it would be my failure. I've lived differently, with more intentionality, ever since I was ill.

Lacey and John are totally unprepared for the parenthood thrust upon them. And yet it was their fondest wish to start a family. Was the unconventional way it was forced upon them hard to navigate as a writer?
When my book was for sale to editors (and thankfully sold to Dial Press and the amazing Whitney Frick) the only consistent editorial note was that the characters of John and Lacey needed more attention. They needed to be fleshed out as people, and their individual situations within the maelstrom of Edward arriving in their home needed to be more clear. So yes, their stories were difficult for me to navigate as a writer! Lacey's reception of Edward was inevitably a hundred times more fraught, for instance, than Shay's. Lacey had lost her sister in the crash, and had been in a dark time in her marriage when the crash occurred. Also relevant was that my orientation within the story, and particularly within Edward's chapters (as opposed to the plane chapters) was always with Edward. It was his heartbeat I wrote in rhythm to. I think that's why John and Lacey remained fuzzy until the final edit. I was within Edward's experience and forcefield within the story, which made it more difficult for me to fully inhabit John and Lacey. Additionally, I think the recalibrating Lacey and John had to do, to move from wanting a baby to inheriting a child, was complicated.

Relationships are everything in Dear Edward and they continue even after death. Louisa and Crispin fascinated me in this regard. Even though they had been divorced for decades they still thought of each other every day. It seemed to me that this bond was stronger than most married couples and it had an impact on Edward and his mission. Where did this come from?
I appreciated the impact Louisa and Crispin had on each other for decades after their divorce, and I had a lot of fun writing both characters. It was delightful to me that their duel continued, and even thrived, despite Crispin re-marrying again and again. There's something in the vitality of their post-divorce relationship—and this is only occurring to me now—that mirrors the way the plane continues to fly, within the framework of the book and within Edward, after the crash. You can divorce a person and still have him or her be the main figure in your life. Your brother can die and you still love him just as much as you ever did. Edward can stand outside his aunt and uncle's house and believe he's also seated beside his family in a plane far above his head. Life doesn't keep within tidy boundaries, and connection is not necessarily severed by either death or divorce papers.

Also, the bond that Edward maintains with his brother Jordan is exceptionally strong even after death. Can you tell us about this?
I wanted to honor the love between the brothers as something that would never erode, despite death or time. If you lose someone you deeply love, I suspect that that love, and that loss, never leaves you. And Jordan and his brother are so young, and so close, that they were imprinted on each other; they were growing up together. I have two sons, and though my boys are nothing like Jordan and Edward, their love inspired the love between the brothers in the book. My boys have been devoted to each other since they met, and seem to be connected by a million invisible threads. They were toddlers when I started writing Dear Edward, and as I walked into and through the tragedy with Edward, it became clear to me that Edward's greatest loss would be not his parents, but his brother.

Edward never stops thinking about Benjamin, the soldier on the plane and the only other passenger aside from his family who he spoke to. "I only met him for a few minutes but I think about him at least once a day and want to get strong because of him." What was it about this encounter that resonated so deeply with Edward?
Part of the resonance comes from the simple fact the Benjamin was the only other passenger Edward spoke to, and therefore connected with, on the plane. They introduced themselves, and so spoke each other's names aloud. It becomes important to Edward to know the names of everyone on the plane, and perhaps his connection to Benjamin contributes to that mission. Additionally, Benjamin is physically imposing—he's massive and clearly incredibly strong. When the gym teacher suggests that Edward lift weights, it occurs to him for the first time that Benjamin's type of strength is something that can be achieved. Because Edward feels so vulnerable to danger and death, becoming physically powerful is appealing. He hopes that with additional strength, he will feel safer.

Florida was another minor character I became obsessed with. I got the feeling that she was going to be the spirit guide for everyone on the plane. By bringing up her past lives are you trying to reassure us that there is something on the "other side" for the rest of the passengers?
I think I was trying to reassure myself that there was something on the "other side" for the rest of the passengers. There is a paragraph that I cut from the book, from the section when the plane loses control, where Florida thinks, What's next? I think that's a valid (and interesting) question when faced with possible death, no matter what you think about reincarnation. And in fact, it's possible that Edward meets Florida in her next form, in one of the chapters after the plane crash.

Shay is a remarkable character. I loved the way she became Edward's family and his home. Where did she come from?
There were only two things I knew would happen in Edward's post-crash life, when I started writing the book. The first was that his aunt and uncle would adopt him and bring him to live with them in New Jersey. The second was that he was going to sleep on the floor of a girl his age who lived next door. That's all I knew. Shay just showed up as herself, from the moment she and her mother appeared on John and Lacey's doorstep to welcome Edward.

Edward's father's last thought is one we will all probably have, "I need more time." Edward packs a lot of life and a lot of good into the six years we share with him. The last paragraph of the book is in Jordan's voice exhorting us not to waste time or love. Do you feel this is the central message of your book?
Yes, although to be honest I don't think in terms of messages for the book—I'd rather leave that to the reader. Interestingly though, a few of the foreign publishers are changing the title of the novel, because they think Dear Edward won't translate well in their language, and the Italian title is (in Italian, obviously): Don't Waste Time, Don't Waste Love. How great is that?

Reading and stories are important to Shay and Edward from the beginning of their relationship. I know for myself reading is a very ritualized experience. I have a favorite chair; I like a little soft music there may or may not be a beverage. Do you have a reading ritual and does it flow over into any rituals you have when you write?
Reading is more interstitial in my life than part of my daily routine. I read in captured moments—on the subway, in bed for ten minutes before the lights turn out, while walking around the apartment, and sometimes in front of my computer when I'm stuck in my own writing. I listen to audiobooks when I drive or do dishes. I'm awash in books. Also, all rituals or preferences for my reading and writing basically went out the window when I had children. I like to write in the morning, alone, but I will write whenever I have a chance.

---

"A rich, big-hearted tapestry that leaves no one behind . . . Ann Napolitano brings clear-eyed compassion to every character."— Chloe Benjamin, bestselling author of The Immortalists
"Penetrating . . . What makes this narrative so effective is its alternating between the ordinary events unfolding on the flight and the aftermath of the crash. . . . [A] vivid story of one's boy coming of age redirected by tragedy."—Library Journal
Dear Edw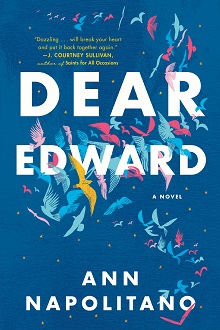 ard is at once a transcendent coming-of-age story, a multidimensional portrait of an unforgettable cast of characters, and a breathtaking illustration of all the ways a broken heart learns to love again.

Request an eGalley on Edelweiss.

Request an eGalley on NetGalley.

Watch Ann Napolitano Speak to Librarians About Dear Edward.
Ann Napolitano is the author of the novels A Good Hard Look and Within Arm's Reach. She is also the associate editor of One Story literary magazine. She received an MFA from New York University and has taught fiction writing at Brooklyn College's MFA program, New York University's School of Continuing and Professional Studies, and Gotham Writers Workshop. She lives in Brooklyn with her husband and two children.
Jen Dayton, a self-proclaimed Book Savant, is always on the hunt for her next great read. She can be found on random Reference Desks in Connecticut at random times.
SPONSORED BY