In Maryland, public libraries across the state have developed models for maximizing the impact of social justice–focused virtual programs by copresenting and cross-promoting selected events. Maryland libraries were able to rely on high quality programs from neighboring systems to provide a more robust lineup of virtual events.
Examples of audience posts from Instagram (@DCStyleFactory and @Kate_Sundin)
The senseless murders of George Floyd, Breonna Taylor, Eric Garner, Freddie Gray, Michael Brown, and too many others have prompted a greater sense of urgency in libraries for combating systemic racism and violence directed against Black Americans. While many libraries have a longstanding commitment to producing programs that promote dialogue around equity, diversity, and inclusion, new presenting models need to be considered to see if libraries can have a greater and more tangible impact on advancing antiracism.
In Maryland, public libraries across the state have developed models for maximizing the impact of social justice–focused virtual programs by copresenting and cross-promoting selected events. The effort to share virtual programs across jurisdictions arose early in the COVID-19 pandemic, as each library has different strengths in technical production, staff expertise, and access to external presenters. By working together, Maryland libraries were able to rely on high quality programs from neighboring systems to provide a more robust lineup of virtual events. An added benefit of this approach is cost sharing. By turning to partners to fill local programming gaps, funding could be stretched further, which is especially important given the existing and potential future impact of the economic crisis on library budgets.
A standing statewide outreach/marketing group open to all Maryland public libraries meets monthly, and during the meeting in early June, communications staff from various Maryland libraries—the Prince George's County Memorial Library System (PGCMLS), Enoch Pratt Free Library, Howard County Library System, Calvert Library, Anne Arundel County Public Library, Harford County Public Library, and Carroll County Public Library—coalesced behind the idea of conducting a pilot for copresented high-profile author events as part of local and statewide antiracism efforts.
PGCMLS took the lead production role, as it had already scheduled several author events focused on Black identity and intersectionality for LGBTQ+ Pride Month and the PGCMLS Foundation's Authors for Truth Series. Virtual events with R. Eric Thomas (Here for It), George M. Johnson (All Boys Aren't Blue), and Christopher James Bonner (Remaking the Republic) were copresented by up to six libraries in Maryland, which saw a gradual uptick in attendance (from 227 to 1,193). PGCMLS serves a majority Black community that also has a large Hispanic and immigrant population. Services and programs that focus on equity, diversity, inclusion, and antiracism are an essential part of the library's commitment to being a social impact organization rather than simply a transactional institution.
IDENTIFYING NEW OPPORTUNITIES
Following the initial pilot, PGCMLS turned attention to an event that had been postponed earlier due to the pandemic. Ibram X. Kendi was scheduled to appear in Prince George's County in early April as part of a local consortium led by nonprofit arts organization Joe's Movement Emporium, the library, the PGCMLS Foundation, the Prince George's County Human Relations Commission, and the Prince George's Community College Center for Performing Arts. In mid-June, Kendi was able to confirm a date for a virtual appearance on July 20 to discuss his book How to Be an Antiracist. In spite of tight timing, the statewide consortium mobilized within a few days to announce and promote the event. Kendi was interviewed by Charlene M. Dukes, then-president of Prince George's Community College. Their conversation and the subsequent audience questions were provocative and inspiring, and motivated self-reflection for all.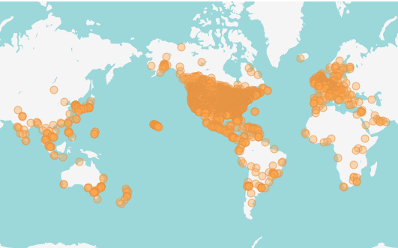 Geographic distribution of advance registrations for the Kendi event (Source: Eventbrite).
PGCMLS worked with the Maryland State Library to provide all public libraries in Maryland with the opportunity to co-present Kendi's event. Libraries received logo placement and recognition on all promotional materials, all agreed to promote the event to their local customers through email and social media, and many developed complementary programs like community discussions of How to Be an Antiracist. Nineteen libraries joined the consortium with PGCMLS, Maryland State Library (MSL), and the Prince George's County partners. This wide network resulted in significant grassroots and word-of-mouth promotion online, leading to arguably the first viral public library virtual event in Maryland, with 276,782 advance registrations, 226,000+ live views, and 122,920 on-demand views over 30 days following the event.
Viewers tuned in from across the United States, Canada, Europe, Africa, Asia, and Australia. Maryland's state librarian Irene M. Padilla shared, "It was a terrific program and I am glad to hear that the audience included so many people from all over the world!" The program was made possible by the Wells Fargo Foundation, through Joe's Movement Emporium, and the Institute of Museum and Library Services through the Library Services and Technology Act, administered by MSL.
Buzz about the Kendi event was fueled in part by the important national and global conversation happening around systemic violence and racism against Black Americans. Kendi's books have put forward bold ideas that challenge all to reconsider their role and actions in furthering racism or antiracism. After the initial announcement in June, organizers noticed that advocacy organizations, professional associations, and universities were sharing the event details with their constituents, both on social media and on listservs. The fact that American Sign Language (ASL) interpretation and open captions were advertised in advance of the event also helped increase awareness of the event among the Deaf community.
LIVE PRODUCTION LESSONS
The Kendi event provided some important lessons for all libraries pursuing major virtual events. PGCMLS took the lead on production among the Prince George's County presenters, because of its experience: the library has produced well over 600 live virtual events since mid-March. The program was scheduled to be broadcast through Crowdcast to a private YouTube link, using a combination of Zoom and OBS Studio for the live production. Despite advance assurances from Crowdcast that the platform could handle up to 10,000 guests plus the multi-stream to YouTube, the system crashed at broadcast time. Fortunately, the backup stream from Zoom webinar to YouTube was functioning well, though all libraries involved had to mobilize quickly to answer a flurry of questions regarding the change in broadcast links. Having the secondary broadcast feed in place saved the event and is a must for any high-profile live virtual event.
The production team also experienced challenges with Eventbrite, which was used to manage registrations. Eventbrite has had significant staff cuts during COVID-19 and was unable to provide timely technical support when the system was failing to send out reminder emails with the private broadcast links. PGCMLS was ultimately able to use its Savannah by Orangeboy email marketing platform to send broadcast links to registered viewers. Kendi's publisher, Penguin Random House, generously permitted access to the archival video for 30 days following the event. It also permitted broadcast through PGCC-TV, the local community college's public access television station. These two elements created significant additional access to Kendi's message.
CYBERSECURITY CHALLENGES
Between the announcement of the event and its broadcast, several cybersecurity challenges arose. Spam Facebook events began appearing regularly, claiming to be presented by the participating libraries, Kendi, or other individual Facebook users. Cohost requests were sent to official copresenters to direct library customers to spam registration links. Fortunately, communications staff responded promptly and were able to delete the spam events immediately. The spammers set up webpages asking customers to register through them (and to provide names and email addresses) in order to access an embedded version of the official YouTube broadcast. This challenge required regular messaging to customers through official channels, as the spam events and broadcasts were causing customer confusion. This type of spam activity has been increasing since the start of the pandemic, even with regular library virtual programs. It is imperative that libraries monitor their platforms for this constantly.
STRENGTH IN COLLABORATION
The Kendi event provides a case study of the benefits of collaboration across library systems for important, timely programs that can galvanize local, statewide, and national interest. Beyond the value of sharing resources and expertise, it showcased the active and substantive role that libraries can take in fostering change and progress from the perspective of basic human rights.
The success of the event led the MSL to commit additional funding for statewide equity, diversity, inclusion, and antiracism programming through FY21. A task force, composed of programming and communications staff from various libraries, is developing a framework for these programs that is focused on sustainability over multiple years.
The 11 task force members were invited to participate by MSL (by Organizational Learning and Innovation Projects Coordinator Nini Beegan, on behalf of Padilla), based on interest and leadership in the consortium approach to high profile programming. The members are a mix of programming and marketing/communications leaders throughout Maryland's public libraries.
In the meantime, many Maryland libraries are continuing to share local programs across jurisdictions, with the Enoch Pratt Free Library, Howard County Library System, Calvert Library, and PGCMLS leading the way. Large library systems are grateful for the opportunity to have their programs reach additional audiences. Small/medium-sized systems benefit from additional content for their patrons that may otherwise be out of reach because of budget constraints or limitations to staff bandwidth. By working together, libraries can leverage their existing strengths to ensure that individuals and communities can engage in the education and self-reflection that is needed to support Black Americans and dismantle systemic injustice.
---
Nicholas Alexander Brown is the COO for Communication and Outreach at the Prince George's County Memorial Library System in Maryland. He is a 2019 Library Journal Mover & Shaker, a former music specialist at the Library of Congress, a past president of the DC Library Association, and a former Army bandsman. Follow him on Twitter @Frenchhorn88.