Internships and practicums are important to learning and jobseeking. During COVID, LIS programs and students have had to get creative at a distance
Though less common than their in-person counterparts, virtual internships in library and information science (LIS) existed well before the COVID-19 pandemic, complementing the growing number of hybrid and online-only graduate programs. San José State University, which has taught its LIS courses exclusively online since 2009, offers robust student support for virtual internships on its website, including an internship database that can be filtered by virtual opportunities and examples of student success stories. The Virtual Student Federal Service program has also offered remote internships since 2009, including library-focused roles at federal agencies like the Institute of Museum and Library Services, the National Park Service, and the National Library of Medicine.
But as the pandemic necessitated a large-scale shift to online work and learning, more internships have had to shift as well. Faculty at library schools across the country have stepped up to ensure that their students are able to pursue meaningful learning experiences through virtual internships.
Last March, Helene Williams, teaching professor and coordinator of the Directed Fieldwork program at the University of Washington (UW) iSchool, worked one-on-one with 17 site supervisors to convert fieldwork from on-site to virtual projects, just in time for the start of the spring quarter.
"It was amazing how many sites came through," Williams says. "I have been so impressed with how libraries have adapted and continued to host students and make things work."
The iSchool at UW partnered several years ago with the Law Library of Congress to offer remote directed fieldwork projects. This foundation enabled the Law Library to expand the program in summer 2020, providing additional opportunities for students from UW and other LIS programs across the country. Librarians were able to build on the original focus area of metadata to add student projects developing skills in reference, exhibitions, and research guides.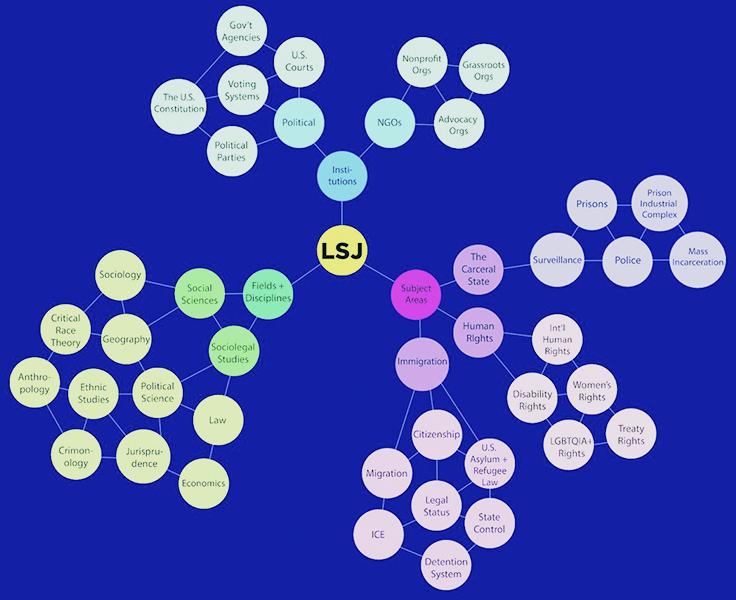 MAPPING FROM AFAR

This concept map is one of the artifacts in Tania María Ríos Marrero's directed fieldwork repository, used to support the development of a research guide for the Law, Societies, and Justice program at the University of Washington. Chart by Tania María Ríos Marrero
REMOTE WORK(S)
If a site isn't prepared to offer a remote internship, Dr. Aisha M. Johnson, assistant professor and program coordinator of the Archives and Records Management concentration at North Carolina Central University's (NCCU) School of Library and Information Sciences, says she will propose a plan for a virtual practicum based on their needs and the student's learning goals.
"I'm really keen on giving archives a different route to continuously educate a new generation of archivists," she says. Considering the vital importance of tasks that promote the visibility, access, and discoverability of archival collections which can be completed remotely, such as metadata creation and building digital exhibits, Johnson notes, "It's almost like [the field of] archives and records management was perfectly situated for business continuity during the pandemic."
For some library school students, the shift to virtual internships fit seamlessly with their career goals. Kenyarna Harden, a recent graduate of NCCU, set out to work on a digital content management project to prepare for a career in digital libraries and archives. Even before the pandemic, Harden was curious about remote librarianship opportunities, and was enrolled in NCCU's fully online program while working in-person as a circulation technician at Kentucky State University. Although her internship at the International Museum of the Horse was originally supposed to take place on-site in Lexington, she was able to shift her project to work remotely on building and maintaining a digital exhibition.
Harden acknowledges that working on-site might have exposed her to other elements of museum work like curating and physically maintaining exhibitions, but she believes it would have meant sacrificing a focused and structured project that was more in line with her overall goals.
"I would have been able to learn a little bit about a lot of things, instead of being able to zero in on my special task and this one particular topic," she says.
"This experience gave me a sense of security and independence when working remotely, because I understand that I don't have to have my boss over my shoulder," Harden says. She added that the ability to work from home offered work/life balance that could otherwise be complicated by commutes, childcare, or other variables.
DISTANT CONNECTIONS
While the flexibility of remote and often asynchronous fieldwork was a common theme in speaking with students about their experiences, others highlighted the invaluable professional and personal connections that they gained despite being separated by computer screens and time zones.
Karli Cotton, an online student at the UW iSchool interested in special librarianship, completed remote fieldwork at the Howard University Law Library during the fall 2020 semester. Her projects included developing a LibGuide page on the topic of access to justice and exploring analytics features on the Alma library services platform. In addition to working closely with her supervisor, Cotton was invited to attend weekly library staff meetings, where she was able to observe and experience what it was like to work for a historically Black university.
"Being from Montana, working in a more diverse environment was a change for me, and I found that rewarding," she said. "They have such a focus on equity integrated into their work, which is something that I feel like I'm going to bring forward into any career that I have in the future."
Tania María Ríos Marrero, another online iSchool student at UW based in Philadelphia, worked with the political science and public policy librarian at UW to create a research guide for the Law, Societies, and Justice department. Marrero said that being able to develop a meaningful mentoring relationship with her supervisor was the best part of her fieldwork experience, and the two continue to meet regularly to discuss the ins and outs of working in academic libraries.
"[My supervisor] was able to speak anecdotally and openly about her experiences and how she got to where she is now, what her day in and day out looks like," Marrero said. "That has been very fruitful to me and has really helped contribute to my own perception of academic librarianship and my vision for future directions in my career."
PUBLIC PRACTICE
For students interested in public librarianship, being unable to serve patrons or work with collections in person means they have had to get more creative about the skill sets they can develop through virtual internships. At the same time, working virtually has presented opportunities for connecting with organizations where an in-person experience would not have been feasible.
Karen Wang, an MLIS student at Pratt Institute in New York interested in a career as a youth services librarian, had been volunteering at the Brooklyn Public Library since March 2019 and had just begun working with children's librarians on story time programming last January. When libraries were forced to close their doors, she applied for a summer internship at Diverse BookFinder, an initiative based at Bates College in Maine that focuses on diverse representation in picture books.
"It was really great to be able to do an internship that helped me hone my skills and knowledge to prepare to be a better children's librarian, at a time when there really wasn't a lot of opportunity for a more traditional internship or volunteer experience in the field," Wang says. "It gave me tools and perspectives that probably would not have been the focus of a different kind of internship."
Kat Wyly, a residential student at UW's iSchool in Seattle, also completed fieldwork at Diverse BookFinder during the fall 2020 quarter. In addition to her background as an elementary school teacher, Wyly works as a research and learning services specialist through a graduate assistantship at UW's Suzzallo and Allen libraries. Without these prior in-person experiences, which some of her classmates lack, Wyly says she's not sure that remote fieldwork would have fully prepared her for a career as a public librarian.
"I felt pretty open to doing an online asynchronous experience because the goals of this internship—collection development work and social media—are things that happen in online platforms," Wyly says. "I'm really interested in working with kids and that's where a lot of my experiences have been. I've spent a lot of time with picture books, so I was looking for experiences that would build upon this prior knowledge."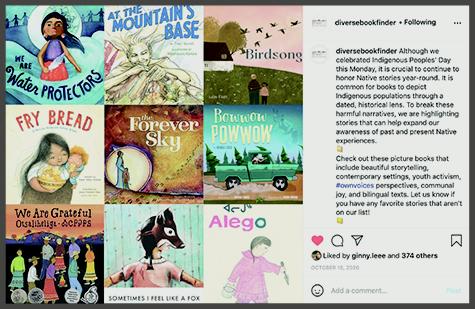 SOCIAL CONTENT

Kat Wyly created an Instagram post using the Hootsuite social media mangemnet platform as part of her fieldwork at Bates College's Diverse BookFinder. Image by Kat Wyly
PRACTICAL CONSTRAINTS
Though a practicum course is generally part of the Archives and Records Management (ARM) track at NCCU, Johnson reports that this requirement is currently waived due to the pandemic. While continuing to encourage her students to seek out virtual practicum opportunities, Johnson has also worked to build live client projects into the ARM courses that she teaches. These projects might include revising collection development policies, contributing metadata, or facilitating legacy software migration and data cleanup, often to support institutions in the greater North Carolina region.
Other LIS programs, however, are bound by licensing requirements that involve a mandatory number of supervised work hours. Students in the School Media Program at NCCU, for example, must take a practicum course to document and reflect upon their 120 hours working in a school library.
Dr. Kim P. Mayo has taught the practicum course at NCCU in the past and teaches the sole practicum course being offered there this spring. According to Mayo, the faculty at NCCU met with the dean of the School of Library and Information Sciences last summer to address the difficulty of meeting this hourly requirement given the constraints of virtual work. While affirming that the vast majority of those 120 hours still needed to involve face-to-face interaction with students and teachers, they came up with a number of alternative activities that promote experiential learning to help students meet the requirement. These include attending virtual conferences, developing skills to support remote work, and taking on small projects at local school libraries outside of their regularly scheduled work.
"My main mantra is, 'Are you getting enough hours in?'" said Dr. Mayo. She meets virtually with practicum students on a weekly basis, where they discuss their work and their challenges. While practicum courses are typically limited to only five students, combining all eligible students into one course this semester has meant that the students are able to learn from and network with a slightly larger cohort.
OPENING DOORS
Despite raising the same equity issues that arise with in-person internships and practicums—that they are paying for course credits while they work—students are finding remote fieldwork to be a valuable source of experience. In addition to enhancing their technological skills, Dr. Mayo suggests that completing virtual internships during a crisis has helped her students reflect more introspectively on their roles as future librarians and leaders.
Since completing their internships or fieldwork for course credit, several MLIS candidates have already gone on to pursue additional virtual opportunities. Wyly is planning her Capstone project in partnership with her supervisors across the country at Diverse BookFinder, Wang is currently pursuing another virtual internship with the Library of Congress Young Readers Center, and Marrero will participate in the Library of Congress Junior Fellows Summer Intern Program from her family's home in Puerto Rico, where she will create research resources related to Latin American Food Studies.
"I'm really grateful for the flexibility to be able to advance in my career and continue pursuing professional opportunities and academic growth," Marrero says. Of the coincidence that she will be based in Latin America while working in this particular subject area, Marrero adds, "Remote work opens the doors for those types of flexible configurations, which end up being really cool!"
---
Elizabeth Kobert is a Processing Archivist at the Library of the Jewish Theological Seminary (JTS), New York. JTS offers remote internships for LIS students, and Elizabeth served as the site supervisor for a remote LIS intern during the fall 2020 semester.