Faced with a major post-lockdown attendance drop, the marketing team at Baltimore's Enoch Pratt Free Library is re-engaging patrons with creative, data-driven campaigns. Patchogue Medford Library, NY, received honorable mention
When Heidi Daniel stepped in as president and CEO of Baltimore's Enoch Pratt Free Library in July 2017, the library had a communications department of one: Meghan McCorkell. Today the department—renamed Marketing, Communications, and Strategy—employs nine people, including McCorkell. During those six years, the marketing team rode a rollercoaster: watching the library's profile rise, enjoying one of its most robust years ever in 2019, and then seeing its customer base cut in half after the COVID-19 shutdown. Undiscouraged, they directed their passion and experience into creative channels to encourage existing and new library visitors to come in and see what the library can do for its community.
McCorkell, now chief of Marketing, Communications, and Strategy, and her team—Art & Design Studio Manager Andrew Klein; Social Media Manager Vianey Becerra; Digital Marketing Specialist Ashley Barnes; Graphic Designers Jamillah Abdul-Saboor, Eric Archibald, Katherine Marmion, and Jack Young; and Photographer/Videographer John Cassini—honed their marketing focus and talents to drive significant results. Currently the library is on track to exceed 2019's 300,000 active cardholders, and this rebound, driven by a range of imaginative and essential solutions, earned the Pratt team LJ's 2023 Marketer of the Year award, sponsored by Library Ideas.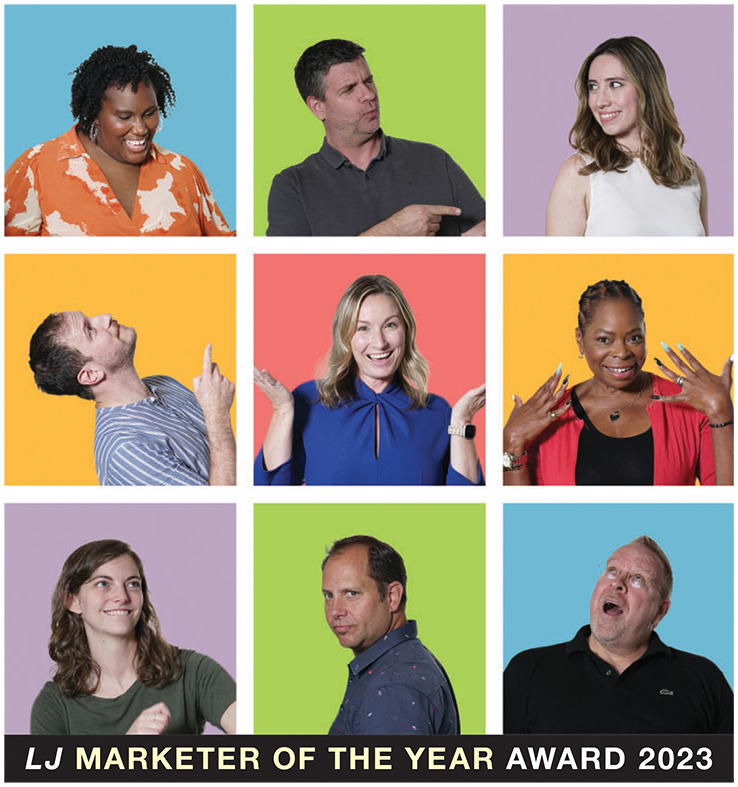 HERE'S A STORY Top right (l. to r.) Ashley Barnes, Digital Marketing Specialist; Eric Archibald, Graphic Designer; Vianey Becerra, Social Media Manager. Middle (l. to r.) Andrew Klein, Art & Design Studio Manager; Meghan McCorkell, Chief, Marketing, Communications & Strategy; Jamillah Abdul-Saboor, Graphic Designer. Bottom (l. to r.) Katherine Marmion, Graphic Designer; John Cassini, Photographer/Videographer; Jack Young, Graphic Designer.
FROM ONE TO NINE
From the start of her time at Pratt, Daniel knew she needed to focus on getting the word out about the programming and services the library offered. "I really wanted to have a robust team that could help us grow our audience," she says. "But if we're not telling our story correctly, we're doing a huge disservice to ourselves and to the community. They're not going to know about our services, they're not going to know how to access them."
Daniel and McCorkell began to build a marketing department that would be responsive and effective, bringing in relevant employees from inside and out of the library. Some were designers working in other departments, such as circulation or the print shop, while others didn't have library backgrounds. "I originally came from the Hill in Washington, DC," says Vianey Becerra, now Pratt's social media manager. "I was a legislative correspondent, but realized that's not where my heart was." She left politics to market for arts organizations in Baltimore before arriving at the Pratt. Under her management, the library's social media followings have doubled over the past five years.
McCorkell, a former reporter for Baltimore's QJZ-TV and a self-professed data fanatic, turned her attention to understanding Pratt's community and finding out what each slice of Baltimore's demographic pie needed most. She saw that data could be a driver in the library's marketing efforts, allowing them to target specific programs to the most relevant audiences. For example, to promote a program to help adults earn high school diplomas (rather than a GED), "I jumped into our census data," she says. "I figured out from the census where the highest number of adults who didn't have diplomas were." Determining which branches were next to those areas, she then sent postcards about the program to a targeted audience of 45,000. It can take between six and 24 months for someone to reach the graduation point, but since the Adult Online High School launched in August 2021, more than 20 students have graduated, 45 more are enrolled, and there's a waiting list for more spots.
All members of the team are passionate about promoting the library's work and feel that, no matter what their credentials, the experience they bring is of value to the Pratt. "I like the mission of the library because it's like that quote: All ships rise together," says Graphic Designer Young. "Specifically in a space like Baltimore, which has more of its share of troubles and economic strife, it's an extremely important institution to help people become their better selves."
The results of the team's promotions from 2017–19 demonstrated that their efforts worked. "We actually hit a nine-year high in terms of our usage statistics in 2019," says Daniel. "That was especially important because at the beginning of 2019, our Central Library was still under construction."
The reopening of Central in late 2019 showed just how well the team had reached its audience. "The night before, Meghan and I kept saying to each other that if we got 2,000 in the door, that would be so good," recalls Daniel. "So we were floored when there were over 9,000 people who came to the ribbon-cutting. It looked like a sporting event. The whole street was closed off and packed."
LOCKDOWN, SLOWDOWN
The team's determination to bring the library to the community met its biggest test when the Pratt closed in March 2020. McCorkell remembers racing to beef up the library's digital resources—but in the course of her data research, she had found that nearly 40 percent of Baltimore-area residents didn't have a home computer or reliable internet access. The thought that many patrons might not have connectivity or computers worried her. "On the administrative side, we were scrambling to provide services to people," she says. "On the marketing side, [we wondered] how do we let them know that we have these services?" At no time was any of the team laid off or furloughed, and McCorkell notes they worked full-time (and then some).
Once the library opened its doors again, the damage was evident. From 2019's high of 300,000 active cards, McCorkell says, "by the time we reopened in 2021, it was down to 60,000."
The team needed to act decisively, taking an even more granular approach while keeping within budget constraints. Their targeted marketing became increasingly sophisticated as they worked to reach specific people with distinct needs and wants. In addition, they looked at existing programming to see what might be due for a rethink—or rebrand.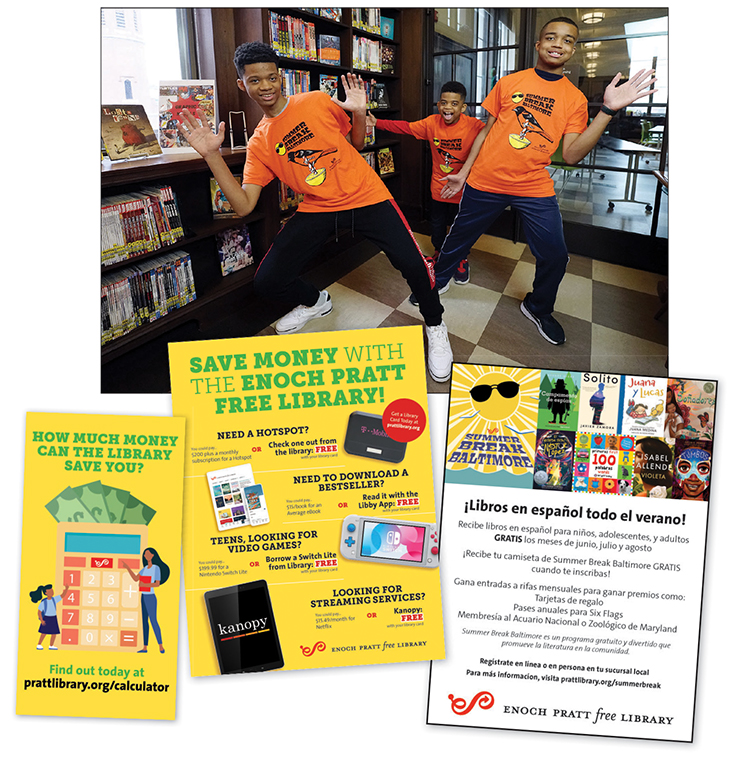 Top: Everyone loves the Summer Break Baltimore t-shirts! Bottom: Money Saver and Summer Break Baltimore campaign materials.
SUMMER BREAK BALTIMORE
The Pratt previously ran summer reading programs, but attendance was low—only 2,700 participants in 2020—and customer feedback showed that the use of different graphics every year was confusing. Working with the library's Programming and Outreach department, in 2021 the marketing team recast the program as Summer Break Baltimore, a free subscription service.
"You could sign up and have a box mailed to your home, or you could come in and pick it up" at any branch in the system, Daniel says. "We relaunched it, and marketing rebranded it and helped us market it as this cool thing." The boxes contained a Summer Break Baltimore t-shirt, a book, and related suggested activities. The first year, 11,000 patrons subscribed. By 2022, that number rose to 13,000, and at press time more than 21,000 people have signed up for 2023 subscriptions—a huge jump from 2,700 in 2020.
Enthusiasm was driven, in part, by the t-shirt designed by the marketing staff, featuring hometown references—an Oriole and a traditional Baltimore lemon stick (a peppermint stick in a lemon half). The shirt itself became a viral item. Daniel, on a run one day, spotted someone coming toward her wearing one. "At first I wondered if it was a staff member," she says. "As I got closer, I didn't know them. So I said, 'Hey, I love the t-shirt.' And he said, 'I got it at my local library!' "
The shirt was truly a team initiative, McCorkell notes. "One person drew it," she says. "I remember Katherine wanted that color. I really wanted the lemon. Jack thought about this, Ashley said something about that. When I look at the design, I can literally pick out all these influences, and I think there's some real beauty and synergy in that." The program's cheerful sunny logo is instantly recognizable on the postcards, flyers, bookmarks, and magazine and TV ads promoting it.
The books in the box are for subscribers to keep. "We wanted the effort to be about building a home library for people and doing it in a fun manner," Daniel says. "The marketing team was instrumental in helping us not only rethink the summer reading program, but make sure people knew and were excited about it."
Patron Staci Dize enrolled in Summer Break Baltimore in 2021 with her eight-year-old daughter and seven-year-old son. "We love to go down [to the library] and see what's going on, what activities are happening, during the summer," says Dize. "We were attending an activity when we found out about the reading program, so we signed up." Picking up the boxes at the library became a fun family outing, and she plans to enroll every summer, especially because she appreciates the diversity of the books in the program.
MONEY SAVER
The pandemic threw the economic hardship and unemployment faced by many in the Baltimore community into sharp relief. The team knew the library had resources that were valuable to those struggling financially, but again, were concerned with how to get the word out to the people who needed those resources the most. The library offered tutoring that might otherwise cost patrons up to $40 an hour, but if those who needed it didn't know about it, they couldn't use it.
Their solution: Money Saver, a campaign that would demonstrate how valuable library services are and how cost-effective they are—which is to say, free—compared to proprietary resources online or in the community. The marketing team worked with the IT department to create a web page that showed those savings, and to develop an online calculator where each customer could see exactly how much they could save by using the library, similar to other cost-savings promotions.
Keeping in mind that many people didn't have access to the internet or to a computer, they turned to another tool, the library's Compass newsletter. "At the time, it was a 16-page list of programs," McCorkell says. "We were already at the point of needing to expand it, because our programs no longer fit into 16 pages." Working with the art department, they changed the newsletter to a magazine format with additional information. A special fall 2022 edition, designed to mimic a business magazine, featured Money Saver cost-comparison ads.
Besides focused email marketing—for which they had an open rate of more than 50 percent—the team also placed full-page ads in the Baltimore Sun and Baltimore Magazine. McCorkell delved into the data to find the best locations for a targeted postcard campaign to low-income and high-unemployment areas. The Money Saver marketing ultimately resulted in a 20 percent increase in library card signups over the previous year, along with a 10 percent uptick in library usage.
CLOSING THE COMPUTER GAP
The pandemic closures also highlighted inequities of access to computers and the internet in the community. Before the 2020 shutdown, nearly 12 percent of all active cardholders visited the library primarily to use its computers. Without library access, many were cut off from the tools they relied on for medical care, homework help, social services, and more. Seeing the barriers this lack of connection posed, the marketing team began to think about how the Pratt could address the issue. When the branches reopened, people gradually resumed using the computers; currently the number of active library users focused on computer use has reached 8 percent, based on data from OrangeBoy's Savannah customer insight platform. McCorkell notes that it's not a perfect science but does provide a good estimate.
In 2022, the Pratt partnered with the Baltimore Digital Equity Coalition and Dell Technologies to give away 1,000 new Chromebooks, bundled with a digital skills training program, to students enrolled in the Baltimore City Schools. The Chromebooks were a gift, not a loan, and were distributed through library branches and other locations such as schools, barber shops, and boxing gyms. The marketing team emphasized the message that the giveaway was emblematic of how the library meets the needs of its community, to encourage continued fundraising for digital equity.
The program was a success, with stories in the local press, the creation of in-house impact videos, and a press event during the library giveaway. Using the Dell program as an example, the Pratt applied for and received Federal Communication Commission (FCC) Emergency Connectivity Funding to distribute an additional 10,000 laptops and 5,000 hot spots for long-term loans. Those devices are available to anyone with a Pratt library card. In February, Mayor Brandon Scott announced that he would award the Pratt $4.4 million to create new interior and exterior spaces in several branches for patron internet access, and a new program that provides one-on-one tech support to Pratt users.
Baltimore City Council member Zeke Cohen is a longstanding fan of the library, and sings the praises of the marketing team's work on its behalf. "Heidi and her team are willing to take risks and do things that are outside the box, big and bold, things that take some real heart and leadership," he says. "And they do it with a lot of heart and humility."
Daniel knows she has something special in the Marketing, Communications, and Strategy team, and is committed to making sure it can sustain its work. Multiple funding streams keep it going, from the operational budget—which primarily covers staffing—to private funding. Some money is allocated from unrestricted donations. And when applying for grants for programming and services, Daniel makes sure to build in support to market them, to ensure their ongoing reach.
Daniel has one final piece of advice for other libraries. "Don't be afraid of marketing," she says. "I think a lot of times libraries think of marketing as almost a dirty word.... It's not. We have to think of ourselves more like a business in that way. I'm running a company, and if no one knows about the successful things my company's doing, my company's going to fail if it's a consumer-based business."
---
Amy Rea is a freelance journalist living in Minnesota.
---

HONORABLE MENTION
PATCHOGUE-MEDFORD LIBRARY, NY
Laura Accardi | Head of Promotions & Development
Karen McCahey | Library Development Assistant, Promotions & Development
Kim Morales | Graphic Materials Designer
Tabitha Kirshey | Digital Services & Makerspace Coordinator
Carolyn MacLellan | Graphic Materials Designer
Evan Gape | Network & Systems Administrator
Peter Carew | Network & Systems Specialist I
When the Patchogue-Medford Library, NY, was considering a campaign to bring new community members in the door and advertise the 2022 summer reading theme, "Oceans of Possibilities!", the marketing team knew they wanted to cast a wide net. To spark curiosity, they used augmented reality to turn the library's front windows, on the town's Main Street, into a 30-foot interactive aquarium.
Laura Accardi, head of promotions and development, enlisted help from library administration and staff for the three-month marketing event, which created an augmented-reality display of wriggling sea life custom-colored by community members. The campaign was fun, interactive, and simple. Participants chose among eight drawings to color at home or at the library. People opted for bright hues and patterns, and some added their names. Once finished, they photographed their work and emailed it to the library, or had it scanned on-site. Each picture was then uploaded to the window "aquarium," appearing as a swimming sea creature; artists could identify their own creations, pick out those by their friends, and admire the continuously-changing display of virtual aquatic life. Creation stations remained crowded all summer, and more than 5,000 fish were launched into the tank.
Library tech staff dedicated a computer station to the project, installing the augmented reality app Quiver. The Patchogue Arts Council and North Stream, a local video production and projection company, helped Accardi set up the massive projection. Two laser projectors, along with QLab—a cue-based, multimedia playback software package—lit up the windows.
Signage and digital displays throughout the library promoted the aquarium, and information was added to the website, weekly email blasts, Facebook and Instagram posts, and YouTube channel. As community members posted their fish and tagged the library, the number of social media followers grew. The team collaborated with local businesses to help extend the campaign's reach, even showing a video clip at a movie theater.
The aquarium was a unanimous hit, and the number of library visitors rose by 34 percent between summer 2021 and 2022. New card signups during the same date ranges rose 25 percent, and summer reading registrations by 30 percent. The aquarium has closed, but the projection equipment is used for other window displays, highlighting community events and holidays—because when it comes to bringing in library users, as the team knows, there are always plenty of fish in the sea. —Lisa Peet