This article was published in LJ's June print issue prior to the announcement that Kanopy would be acquired by OverDrive
The popularity of public library streaming media entertainment spiked during the pandemic. What's next?
When the COVID-19 pandemic forced the temporary closure of library branches, K–12 schools, offices, and businesses in 2020, many people found themselves sheltering at home with a lot of time on their hands. Public libraries saw a spike in demand for digital resources, including audio and video streaming for entertainment, according to interviews with vendors and librarians as well as a survey by streaming platform provider Kanopy. Now the U.S. vaccine rollout is progressing well, many locations are reopening, and many people are eager to do everything they couldn't during the past year. Streaming media viewership is returning to normal, steady growth, although more people are now aware that their libraries offer streaming content that they can access from home.
"As people were looking for entertainment options—they were cooped up in their homes because there was nowhere to go—a lot of people discovered us as a source for ebook content and streaming content," says Robert Rua, assistant director of marketing and communications for Cuyahoga County Public Library (CCPL), OH. CCPL saw a 105 percent spike in circs on the Kanopy platform between February and April 2020. Rua added that last year, between March 13, when CCPL closed its branches, and June 1, when the library began offering curbside and drive-through service, 3,899 new CCPL library cards were issued online via OverDrive's Instant Digital Card feature.
From March 2020 through February 2021, OverDrive Video experienced 18 percent growth in users, and 36 percent growth in circulation compared with the same period a year earlier, according to David Burleigh, director of brand marketing and communication for OverDrive. Brian Downing, CEO of Library Ideas, says that patron use of the company's Freegal music streaming service increased 40 percent in 2020. At hoopla digital, movie circulation grew 62 percent, and television show circulation rose 116 percent in 2020, according to cofounder Jeff Jankowski.
To help libraries manage the sudden surge in demand, vendors offered a variety of special deals. OverDrive's COVID response collections, which are still available through August, include hundreds of streaming audiobooks and ebooks available in an unlimited simultaneous use model at no cost to customer libraries. Kanopy launched monthly curated selections of videos that patrons could borrow without incurring cost-per-circ charges, and hoopla launched its quarterly Bonus Borrows program with hundreds of titles that also incur no charges. Both programs are continuing for the foreseeable future.
Library Ideas negotiated with its music label partners to allow free, 24-hour per day streaming of Freegal's catalog from March 2020 through the end of June 2021. (The service's typical subscription model allows three song downloads per week and three hours of streaming per day per cardholder.) Separately, while Freegal normally requires annual subscription agreements, new customers were allowed to purchase month-to-month subscriptions, enabling many libraries to offer their patrons a new digital service during a time of budget uncertainty.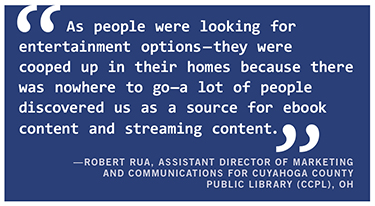 "With our model, library costs did not go up during the pandemic," Downing says. "We've been lucky that the music industry as a whole has been doing really well with paid services—Spotify, Apple—driving usage and revenue." With many new users discovering Freegal at their library last year, "I think it will be a permanent change with an increased level of engagement," he says. "What that number will be, I don't know."
AWARENESS UP, CIRCS STEADY
Beginning in April 2020, "like a lot of libraries…we did see a dramatic spike in circulation of our digital resources—hoopla, Kanopy, OverDrive," says Kaitlin Booth, technical services division specialist, collection development for CCPL. "Then throughout 2020 there were smaller peaks and valleys. Now, a
year plus later, it seems like hoopla and Kanopy have leveled out."
Using February 2020 as a baseline, Booth says that CCPL's circs on the hoopla platform were 13,559 the month prior to the onset of the pandemic. This spiked to 17,758 in April 2020—an increase of 31 percent. In April this year, hoopla circs were back down to 11,481.
Starting from a smaller base, Kanopy viewership spiked as well. In February 2020, CCPL had 3,950 circs on Kanopy, rising to 8,086 in April 2020—a 105 percent increase. In April 2021, there were 7,325 circs. Circulation has come down from the earliest stages of the pandemic, but remained 85 percent higher than pre-pandemic levels.
Booth and Rua both attributed Kanopy's year-over-year growth to increased patron awareness of the platform due to the pandemic.
"I think we gained a little better understanding of what keeps people coming back—what are the aspects of digital collections that retain people, that make loyal users out of the people who discover them," says Rua. "And also, I think we confirmed what we already knew—there were still a lot of people who didn't realize that we had these digital services."
Kevin Sayar, CEO of Kanopy, agrees, noting that the pandemic built "awareness among patrons of the breadth and depth of the resources that their libraries have." One key reason that many new users may be sticking with the platform at CCPL is its mix of classic movies, indie films, and documentaries that commercial streaming services such as Netflix and Hulu don't offer. "There's a lot of content on Kanopy that you really can't find anywhere else," Sayar says. "We go all the way back to the history of the moving image—some of the earliest silent era shorts. There's premium content in terms of films that have premiered at major film festivals, even within the past year."
CCPL's hoopla circulation declined to slightly below pre-pandemic levels. Booth attributed this partly to hoopla's recent loss of the popular children's program Paw Patrol, which had been CCPL's highest circulating show on the platform.
Paw Patrol "is moving to Paramount+, the new streaming service, and Paramount is pulling in all of the titles that they own, and taking them off of other streaming services," Booth says. "Unfortunately, that's a negative trend that I personally think we're going to keep seeing…. It seems like every studio is getting their own streaming service now—Disney, NBC Universal, and now Paramount.."
Booth views this trend as a near term challenge for streaming providers, but she expects the market to consolidate within a few years, with many studios returning to the model of licensing content to third-party platforms. "People are not going to subscribe to 15 different streaming services," she says. "I feel like some of these services might fall by the wayside pretty quickly."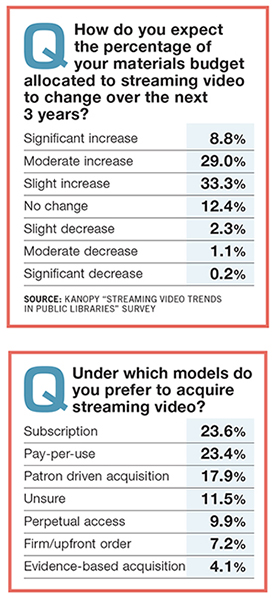 Jankowski says that hoopla's "best days are ahead in that department. Right now, it's a little bit of a gold rush. Production companies with assets are bidding up prices. The problem is that there's probably only room for a handful of winners."
Broadcast television is still very lucrative for entertainment companies, Jankowski notes, but as that wanes, libraries could be a "perfect opportunity—a channel to introduce some of these services" as hoopla is currently doing through deals with Acorn TV and the BBC. Entertainment companies are looking for ways for streaming services to augment their revenue, Jankowski adds, "and they're going to embrace libraries to do it and to introduce them to new consumers that want to subscribe directly, as opposed to [using] paid ads on Google or Facebook."
Separately, hoopla's diversified portfolio of content has led to a smooth transition as the pandemic subsides in the United States (U.S.) For example, as people have resumed commuting, its streaming audiobook circs are increasing.
FUTURE EXPECTATIONS
In fall 2020, Kanopy conducted a survey of 730 public librarians in the U.S. (79.6 percent), Canada (9.1 percent), Australia (9 percent), New Zealand (1.3 percent), and the United Kingdom (1 percent). While 35 percent of respondents said that they did not expect their library's streaming video budgets to change in 2021 compared with 2020, 23 percent said they expected a slight increase, 17.9 percent expected a moderate increase, and 6.7 expected a significant increase. Less than 6 percent expected a decrease, and 11.6 said they were unsure. It should be noted that many libraries had already reallocated their collections budgets during 2020 to emphasize online resources. As one respondent wrote in, "I expect our streaming budget to stay the same [in 2021] after it increased substantially during the COVID pandemic."
Longer term, a significant majority of respondents expect streaming budgets to grow, primarily at the expense of physical media such as DVDs. When asked how they expect the percentage of their materials budget allocated to streaming video to change over the next three years, 33.3 percent said they expect a slight increase, 29 percent said a moderate increase, and 8.8 percent said a significant increase. Less than four percent expected a decrease. By contrast, 27.2 percent expected a slight decrease in their library's budget for DVDs over the next three years, while 16.8 percent expected a moderate decrease, and 8.4 percent expected a significant decrease.
STREAMING BARRIERS
As these services continue to grow, the at-home convenience of streaming will doubtless be appreciated by many library patrons. However, some respondents wrote that the format presents barriers for others. One noted that many of their patrons "do not have [broadband]. Many patrons still only have dial-up as an option" in their service area—a persistent problem in many rural areas of the United States.
Another wrote that "many of our library members are older and don't have the technical skills or devices" to access a library streaming service. Similar concerns were echoed by several respondents who offered access to two or more streaming services, with one writing that "having multiple platforms that patrons have to navigate [is a challenge]. It didn't work well with ebooks and I expect to have the same issue with streaming video."
OverDrive's June 2020 acquisition of RBmedia's library business, including its RBdigital platform, might help address the latter concern. In April, OverDrive announced that most of the streaming content previously available on RBdigital—including IndieFlix movies, Quello Concerts and music documentaries, ArtistWorks self-paced string and band instrument video lessons, The Great Courses lectures, Learn It Live and Universal Class online courses, and Method Test Prep self-paced SAT and ACT preparation—will now be discoverable and accessible via OverDrive's Libby app. The company will also offer Craftsy, which features streaming video courses on a variety of crafts and hobbies. Libraries can now license these services through the OverDrive Marketplace.
Other challenges, such as growing a popular new service on a tight budget, are more intractable. "We don't foresee being able to sustain increasing monies for a new service that will be very popular and grow each year," one respondent wrote.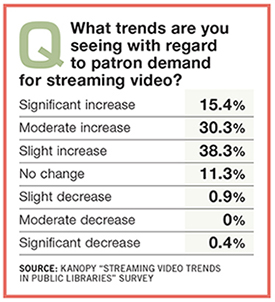 Vendors have worked to mitigate these budgetary challenges by negotiating a variety of licensing models with content providers. When asked by the Kanopy survey to select a single preferred type of licensing to acquire streaming video, the favorites by a significant margin were subscriptions at 23.6 percent, pay-per-use at 23.4 percent, and patron-driven acquisition at 17.9 percent. Only 9.9 percent of respondents chose one copy/one user perpetual access, 7.2 percent selected firm/upfront orders, 4.1 percent said evidence-based acquisition, 2.4 percent chose "other," and 11.5 percent were unsure.
Many libraries use a variety of licenses based on title, category, expected long-term usage, and other factors. One respondent explained, "philosophically speaking, if we expend taxpayer funds, we want to own what we have purchased [via one copy/one user perpetual access licenses] and not lease the item for a time period prescribed by the service. Financially speaking, it is much easier to budget for a subscription or purchase model."
However, patrons are becoming accustomed to instant access on commercial platforms, and Jankowski notes that one copy/one user licenses can lead to higher costs per circ than other licensing models, since fewer patrons are able to borrow a title.
"For one copy/one user vendors the spend for libraries increased 63 percent last year, but the borrows only increased 33 percent," Jankowski says. "Holds increased 44 percent, and cost per circ [for these one copy/one user perpetual licenses] increased 24 percent. So the holds and the spend were increasing faster than the borrows."
Jankowski believes librarians need better tools to manage all of these disparate licensing models in order to maximize budgets while meeting patron expectations. Hoopla's parent company, Midwest Tape, has recently updated its ecommerce platform to make it easier for libraries to compare different license types available for each digital title, as well as physical copies of those titles.
As the popularity of streaming media entertainment continues to grow, libraries will need to find ways to meet the demand, especially now that that stay-at-home orders have raised awareness of these relatively new library resources, and may have drawn new patrons to the library.
"I think there's going to be adjustments for everybody as things open up, but I think we've solidified a value proposition—not just for libraries, but for patrons," Sayar predicts.