Big-print titles to keep thriller readers busy.
Click here for additional new Prepub Alert columns
Adams, Taylor. The Last Word. Morrow. Apr. 2023. 320p. ISBN 9780063222892. $28.99. lrg. prnt. THRILLER
While housesitting on Washington State's rain-soaked coast, Emma Carpenter writes a highly disparaging review of a horror novel she's annoyed to have read and gets angry pushback from the author himself. Then weird things start happening that make her wonder if the author is stalking her. The author's No Exit is now an original HULU film; with a 100,000-copy first printing.
Brennan, Allison. Seven Girls Gone. Mira: Harlequin. (Quinn & Costa Thriller, Bk. 4). Apr. 2023. 352p. ISBN 9780778333470. $27.99. THRILLER
When St. Augustine, LA, police detective Beau Hebert arrests drug-addled Jean Paul LeBlanc for murder, Jean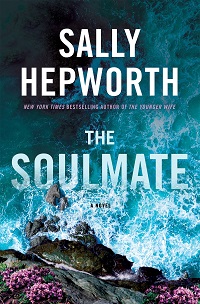 Paul tries to wriggle off the hook by claiming that he has information about the six women whose disappearance Beau is investigating. Then another woman disappears, Jean Paul is found dead in his cell, and Beau calls in an old Navy Seal friend, now with the FBI, who brings in LAPD detective Kara Quinn and his FBI team manager, Matt Costa. Next in the New York Times best-selling Brennan; with a 100,000-copy first printing.
Hepworth, Sally. The Soulmate. St. Martin's. Apr. 2023. 336p. ISBN 9781250229700. $28.99. CD. THRILLER
Gabe and Pippa Gerard's new cliffside cottage outside Melbourne seems ideal, except it's near a spot where people choose to jump to their deaths, and Gabe has talked several people away from the edge. But one jumper succeeds, and Pippa saw Gabe just afterward with arms stretched forward and palms flat out. Could he really have pushed the victim? From the New York Times best-selling author of The Younger Wife; with a 300,000-copy first printing.
Jackson, Joshilyn. With My Little Eye. Morrow. Apr. 2023. 336p. ISBN 9780063158658. 28.99. lrg. prnt. THRILLER
Fabulous film star Meribel Mills isn't bothered by the obsessive letters she receives from a fan writing in scented magic marker—until objects disappear from her house and the letters start featuring images of a tied-up, chopped-up Meribel. She moves herself and her daughter from the West Coast to Atlanta, but to no avail—she knows she's being watched and starts distrusting the men in her life. From the New York Times best-selling Jackson; with a 150,000-copy first printing.
Jennett, Meagan. You Know Her. MCD: Farrar. Apr. 2023. 368p. ISBN 9780374607098. $28. CD. THRILLER
New to the Bellair (VA) Police Department, Officer Nora Martin is on a case involving a mutilated customer found outside a bar and trying to prove herself to a squad room full of men. She suspects insouciant bartender Sophie Braam, even as other bodies are found, but can't convince her colleagues that the serial killer haunting their town is a woman. From bartender-turned-novelist Jennett; with a 75,000-copy first printing.
Kepnes, Caroline. For You and Only You: A Joe Goldberg Novel. Random. (You, Bk. 4). Apr. 2023. 448p. ISBN 9780593133811. $28. lrg. prnt. THRILLER
Joe Goldberg is back again, involved in the same kind of creepy obsessing that made You a huge hit—and the basis of a Netflix series. Now he's at Harvard on a writing fellowship, enthusiastic and hopeful until he learns just how elitist the mostly published students in his classes really are. At least there's Wonder, also unpreppie and unpublished, but why can't she commit to the writing life?
McLaughlin, James A. Panther Gap. Flatiron: Macmillan. Apr. 2023. 368p. ISBN 9781250821003. $28.99. CD. THRILLER
McLaughlin follows up the Edgar Award–winning Bearskin with the story of two brothers, raised by their father and two uncles on an isolated Colorado ranch, who have grown apart but must reconnect in their thirties owing to a promised inheritance from their grandfather. The inheritance is both illegal and a lot of trouble, bringing on ruthless criminal elements who want it for themselves. With a 125,000-copy first printing.
Medina, Nick. Sisters of the Lost Nation. Berkley. Apr. 2023. 352p. ISBN 9780593546857. $27. THRILLER/SUPERNATURAL
Bullied by classmates, teenager Anna Horn must also put up with condescending visitors at her reservation's casino. But she has worse things on her mind: the reservation is being stalked by some unknown horror, which she suspects is rooted in her people's past, and girls (including her little sister) are rapidly disappearing. Now Anna must act to counter evils old and new threatening those around her. A debut from Medina, of Louisiana's Tunica-Biloxi Tribe; with a 55,000-copy first printing.
Miranda, Megan. The Only Survivors. Marysue Rucci: Scribner. Apr. 2023. 352p. ISBN 9781668010419. $28; pap. ISBN 9781668020449. $17.99. CD. THRILLER
Ten years after a tragic accident, a group of former classmates gathers to comfort one another and commemorate the event. But when the survivors start disappearing, the remaining classmates start wondering whether that long-ago event didn't happen by chance. From the New York Times best-selling author of All the Missing Girls.
Mofina, Rick. Everything She Feared: A Suspense Novel. Mira: Harlequin. Apr. 2023. 352p. ISBN 9780778333401. pap. $17.99. THRILLER
A teenager plummets to her death, and the mother of the little girl she's been babysitting wonders whether it was really an accident; the girl's recent behavior hints at the history of family violence the mother has long denied. Meanwhile, a true-crime podcaster investigating a serial killer just released from prison learns that she left behind a daughter. Any connection? From former crime writer Mofina, a USA TODAY best-selling author; with a 75,000-copy first printing.
Mullen, Thomas. Blind Spots. Minotaur: St. Martin's. Apr. 2023. 320p. ISBN 9781250842749. $ CD. THRILLER
After a virus blinds the world's entire population, people must rely on a new technology that mimics vision, downloading visual data directly to their brains. But someone is tampering with the technology, blacking out a killer's actions from witnesses' "sight." It's happened to homicide detective Mark Owens, and now his investigations hinge on the invisible. Mullen's Lightning Men was short-listed for a CWA Dagger Award; with a 75,000-copy first printing.
Sherwood, Kim. Double or Nothing. Morrow. (Double O, Bk. 1). Apr. 2023. 368p. ISBN 9780063236516. $28.99. lrg. prnt. CD. THRILLER
James Bond is back…sort of. In this new take on the Double O phenomenon, Bond has gone missing, and Johanna Harwood (003), Joseph Dryden (004), and Sid Bashir (009)—intrepid agents, all—are asked to investigate the assertion by tech billionaire Sir Bertram Paradise that he can reverse climate change. British novelist Sherwood flips gears following her Bath Novel–award winning debut, Testament, about the Holocaust; she's planning a "Double O" trilogy.
Sternbergh. Adam. The Eden Test. Flatiron: Macmillan. Apr. 2023. 336p. ISBN 9781250855664. $27.99. THRILLER
The Eden Test: it's a weeklong retreat helping couples undo the knots in their marriage. Daisy is signed up with husband Craig, who's secretly planning to leave her for another woman, regardless. But Daisy has secrets of her own, with a burner phone to prove it, and the questions posed by the test administrators reveal the lies that have underlain this marriage all along. From the author of the Edgar finalist Shovel Ready; with a 75,000-copy first printing.