Friends, sibling, and mothers and daughters.
Click here for additional new Prepub Alert columns
Brodeur. Adrienne. Little Monsters. Avid Reader: S. & S. Jul. 2023. 320p. ISBN 9781982198107. $28. FAMILY
Brodeur authored the fraught family memoir Wild Game, best-booked by NPR and the Washington Post and being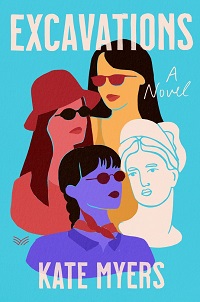 developed by Netflix, so it's no surprise that her fiction debut is a fraught family tale. After their mother's death, siblings Ken and Abby Gardner were raised single-handedly on Cape Cod by their oceanographer father. Now, Ken is a successful businessman and Abby a gifted artist still financially dependent on her brother, and they're competing to come out first with an aging, still ambitious father.
Harris, Terah Shelton. One Summer in Savannah. Sourcebooks Landmark. Jul. 2023. 464p. ISBN 9781728283975. $29.99; pap. ISBN 9781728265742. $16.99. FAMILY
When Sara Lancaster heads home to Georgia to care for her father, she's returning to the place where she was raped eight years previously—and with the brilliant, beloved little girl who was subsequently born. She wants to keep her daughter's identity hidden from the powerful family of the man who attacked her, but his identical twin brother, Jacob, has also returned home to seek the reason why his family is tumbling apart. Inevitably, he and Sarah meet. A debut from collection development librarian Harris.
Myers, Kate. Excavations. HarperVia. Jul. 2023. 288p. ISBN 9780063304512. $27.99. CD. FRIENDS
Accomplished excavator Elise. Art historian Kara, about to break off her engagement. Floundering undergrad Patty. And Z, who can't seem to keep a boyfriend or a job. They're all together at an archaeological dig in Greece, and against the odds, they all become friends. Fittingly, the excavation revolves around the question (actually debated by scholars) whether sports were invented by women. A debut with a 50,000-copy first printing.
Nguyen, Mai. Sunshine Nails. Atria. Jul. 2023. 256p. ISBN 9781668010495. $26.99; pap. ISBN 9781668011256. $17.99. CD. FAMILY
When the Toronto-based family nail salon of Vietnamese refugees Debbie and Phil Tran is threatened by the fancy chain salon that pops up across the street, it's the younger generation to the rescue. Daughter Jessica returns home after mishaps in work and love and joins with hard-driving brother Dustin and recent immigrant cousin Thuy to find a way to undermine the competition. Eventually, the parents question whether this scheming is right and whether it's worth undermining the family to save the salon.