Reframing key wellness issues.
Click here for additional new Prepub Alert columns
Greger, Michael, M.D. How Not To Age: The Scientific Approach to Getting Healthier as You Get Older. Flatiron: Macmillan. Dec. 2023. 608p. ISBN 9781250796332. $39.99. CD/downloadable. HEALTH/FITNESS
Author of the million-copy-selling"How Not To Die"series, Greger, a founding member and fellow of the American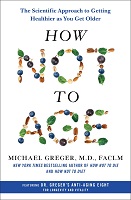 College of Lifestyle Medicine, here seeks to show readers how to slow the effects of aging. His main focus is diet. As he explains, autophagy, the body's way of cleaning out damaged cells, can be boosted by eating tempeh, mushrooms, and wheat germ, while "zombie" cells that prompt inflammation are nicely countered by onions, apples, and kale. With a 500,000-copy first printing.
Naidoo, Uma. Calm Your Mind with Food: A Revolutionary Guide to Controlling Your Anxiety. Little, Brown Spark. Dec. 2023. 304p. ISBN 9780316502092. $30. Downloadable. MENTAL HEALTH
How to counter anxiety, an issue now much discussed? Nutritional psychiatrist Naidoo presents the six pillars of calming the mind, then goes further to explain the relationship between anxiety and inflammation, anxiety and gut bacteria, and the foods that stop inquietude dead in its tracks. With a 75,000-copy first printing.
Otsuka, Tracy. ADHD for Smart Ass Women: How To Fall in Love with Your Neurodivergent Brain. Morrow. Dec. 2023. 304p ISBN 9780063307056. $28.99. CD. SELF-HELP
Though it is among the most diagnosed neurological disorders in the United States, adult attention-deficit/hyperactivity disorder (ADHD) remained critically underdiagnosed in women. Otsuka, who's a certified ADHD coach, attorney, and podcast host, explains the impact of ADHD on women—it differs from the impact on men—while revealing its benefits, like increased creativity and empathy. With a 75,000-copy first printing.
Souffrant, Jamila. Your Journey to Financial Freedom: A Step-by-Step Guide to Achieving Wealth and Happiness. Hanover Square: Harlequin. Dec. 2023. 320p. ISBN 9781335007797. $25. CD. SELF-HELP
Founder of the Journey To Launch platform and host of its award-nominated podcast, which boasts 4.5 million downloads, Jamaican immigrant wife and mother Souffrant here offer realistic money-saving techniques that allow you to save for tomorrow while still living a satisfying life today. With a 125,000-copy first printing.