ProQuest today announced the development of Rialto, which will integrate the features and capabilities of Ebook Central, OASIS, and Leganto within the Ex Libris Alma cloud-based Library Services Platform. Named after the Rialto Bridge in Venice, Italy, the company describes it as a product that will bridge gaps in current selection and acquisition processes for academic libraries, greatly simplifying workflows for Alma users.
Rialto is "a collaborative effort between ProQuest and the Ex Libris side of the [company] that really combines the workflow technologies that both companies have built" Rich Belanger, SVP and general manager, ProQuest Books, told LJ. "It brings together a lot of processes that today are siloed…and puts them in the Alma environment."
Audrey Marcus, VP, Products & Operations, ProQuest Books, explained that by consolidating these tools, Rialto will "eliminate the need to move files, to move data around, [deal with] disparate data sets, time delays between actions, [or] handoffs between different people."
Incorporating features of Ebook Central and OASIS will also enable the creation of a new, integrated marketplace with an expanded content offering.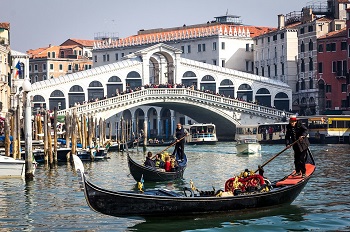 Rialto Bridge, Venice
"When we started this process…we quickly learned that in some cases, librarians were going to 15 to 17 different places to select and acquire content," Marcus said. "That's 15 to 17 different processes that you have to integrate into your acquisitions workflow. Each vendor does it differently…. Rialto is going to create a comprehensive marketplace with a variety of content to minimize or eliminate that need to go to [multiple] different places and have four screens open" to complete transactions.
"The expanded offering [will include] all types of content from different publishers…in different formats," Marcus said. "Whether it is books or video or multimedia, we'll be working with the publishing community to expand the notion of a marketplace."
Rialto will include enhanced support for multiple emerging acquisition and licensing models, Marcus added, describing print and ebook bundles as an example.
"Some [libraries] want a print copy along with an ebook copy, or they want the print copy until the ebook is available, or they want to add print once ebook usage gets above a certain level," she said. "But there hasn't been a great amount of technology to support it. The publishing community and the library community are looking for better ways to acquire content so that they buy what they need and use what they buy. Rialto gives you more options."
Analytics and opt-in peer institution benchmarking features will generate data-driven recommendations to inform a library's selection decisions, Belanger added, not only in terms of content, but also format and/or license type.
"Wouldn't it be great if you could look at titles that are similar to a new title that you are considering, and have the system show how content like this has been used in the past?" he said. "It will help the librarian decide 'should this be an ATO [access-to-own] purchase, a one-user or three-user license, a non-linear [metered, unlimited simultaneous use] license?' We think that the data that we have, certainly at the institution level, and hopefully at the broader community level, will be able to help provide librarians with much better guidance, and help them make better decisions regarding content and which model they should use to acquire [that] content."
Ten university libraries have been announced as initial development partners, including Boston University, Northeastern University, San Jose State University, Southern Methodist University, University of Texas at Dallas, and the University of Windsor, Ontario in North America, and the University of Edinburgh, University of Leicester, Northumbria University, and Imperial College London in the United Kingdom.
Marcus said that ProQuest and Ex Libris thought it was very important to get a good cross-section of development partners in terms of geographic location, type of university, type of library, budgets, collection strategies, use cases, and other factors.
"I'm thrilled with the success we've had in signing development partners that give us a great representation of the broader market," she said.
Next year, the roster of development partners will be expanded with university libraries in New Zealand and Australia. Following testing and further development, ProQuest is targeting early 2020 for Rialto's official launch.
"This is about reimagining how libraries select and acquire content in ways never before possible," Oren Beit-Arie, ProQuest Chief Strategy Officer said in the company's official announcement. "We are solving longstanding pain points and inefficiencies in the library through modern technology and innovation across our teams."