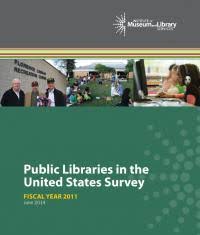 The Institute of Museum and Library Services (IMLS) issued its most recent Public Libraries Survey (PLS) Report on August 2, offering a look at public library use, financial health, staffing, and resources in the country's 9,068 active public libraries in FY 2015. At the same time, IMLS also released a set of state profile reports, which give snapshots, through tables and infographics, of public library data for each of the 50 states and the District of Columbia.

Among the survey's many findings are a total of 1.39 billion public library visits to in 2015—4.48 visits per capita, which was slightly down from 2014's 4.64. There were 255.88 million reference transactions or 0.82 transactions per capita, down from 0.86 in 2014. Libraries offered 4.7 million programs, which were attended by nearly 107 million people—five million more than in 2014. "That means that in 2015, for every 1,000 people in a library's service area, 341 patrons attended a public library program, up from 332 people the previous year," explained Marisa Pelczar, program analyst with the IMLS Office of Digital and Information Strategy.

Libraries made 1.31 billion collection items available, an increase from 3.78 to 4.28 materials per capita from the previous year. Overall circulation varied by library locale—higher in cities and suburbs than town and rural areas—for a total of 7.3 per capita, down from 7.5 in 2014.

While video material usage has remained relatively flat—and print materials continue to comprise most of the collections—e-resources, including audio, video, and ebooks, have seen substantial growth, with large increases in ebooks and audio materials (53.16 percent and 44.16 percent, respectively). Ebook use grew from 0.7 per person in 2014 to just over one ebook per person in 2015, and libraries provided patrons access to over a quarter of a million computers with Internet access.

CALL IT A COMEBACK

PLS data is gathered through a federal-state cooperative system, and regularly reaches response rates of over 95 percent. In FY 2016, that number rose to 98 percent, representing more than 17,000 central libraries, branches, and bookmobiles in more than 9,000 public library systems.

The U.S. Department of Education first established the PLS in 1988. IMLS took over its administration in 2007. Because PLS collection dates back three decades, it offers a long-term view of the changing roles of public libraries. Among other insights, the new report includes a ten-year analysis of how libraries are still working to rebound from the Great Recession of 2009 even as they expand programming and access to meet their stakeholders' needs.

While both operating revenue and expenditures per person increased from FY 2014 levels, continuing positive trends that began in FY 2012, they have yet to reach 2009 levels of nearly $13 billion—although FY 2015's operating revenue hit $12.42 billion, and total operating expenditures $11.62 billion. Staffing is relatively flat, having declined over the past 13 years by almost one staff FTE per 25,000 people served since FY 2006's 12.17 FTE; FY 2015's average is 11.19 staff per 25,000 people.

Ebooks and audio materials, on the other hand, have increased by over 2,600 percent and 250 percent respectively since 2006. Ebooks now make up 25 percent of all collection materials, as opposed to one percent in 2006.

"In today's rapidly changing information environment, public libraries are flexing and responding to their communities," said IMLS Director Kathryn K. Matthew in a statement. "We see this across indicators of resources, services, and usage. Our findings show robust use of reference services, the addition of more e-books and audio visual materials to collections, and increased use of public access computers, for example. Libraries are offering more programs on everything from early childhood to workforce resources, and public participation is also rising."

IMPROVING THE SURVEY

In addition to the report, public datasets, statistical tables, and state profiles, earlier this summer IMLS Labs released a beta version of a new Library Search & Compare tool that uses data from the FY 2016 PLS. IMLS is incorporating feedback from testers and making iterative improvements to the platform.

"The new components to this report make its stories, trends, and insights faster and easier to access," said Benjamin Sweezy, deputy director of the IMLS Office of Digital and Information Strategy, in a statement. "The expanded state profiles, data graphics, and comparison tables make this rich source of library data accessible to new audiences and actionable for government and library leaders across the country."

Current plans to improve data collection, noted Pelczar, include looking at ways to reduce the burden on respondents; IMLS will be studying the role of data sampling, as well as improving the quality of training for state partners.

The agency is also preparing to conduct a third-party study that will explore ways to introduce and modify data elements and statistical indicators. The first year of any new data element's life cycle is a trial collection year, in order to allow states time to add that element to their own state surveys and train libraries to collect the new data; a new data element for 2018, for instance, will be website visits, representing the annual number of sessions initiated by all users from inside or outside the library to a library's website.