Collections are still important. But as libraries acquire more digital materials, they're devoting less space to housing physical items. Instead, they're creating flexible, multiuse spaces for people to gather, interact, and learn new skills. The modern library is a coffee house, a digital creation studio, a multigenerational meeting place, and much more.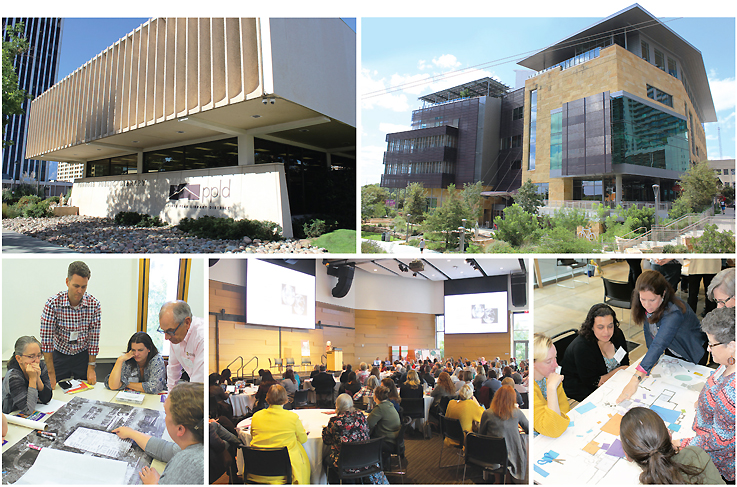 When creating sustainable library designs, planners start by looking at elements that can be reused. Much inspired and practical design has emerged by repurposing and building on or around what already exists: structures, materials, public spaces, personnel—and, as two recent Library Journal Design Institutes in Colorado Springs and Austin demonstrated—community.
OCLC has selected 15 public libraries to participate in its "Small Libraries Create Smart Spaces" project. This will be the second cohort to participate in the initiative, led in partnership with the Association for Rural and Small Libraries (ARSL). "Small Libraries Create Smart Spaces" was funded by a $223,120 award from the Institute of Museum and Library Services (IMLS) to create a second iteration of the original 2016 National Leadership Grant project .
Utter the phrase "student experience" to a higher education audience and the reaction, depending on the crowd, could be visceral—as in, "education, not experience." Yet academic librarians could benefit from and contribute to the growing interest in student experience.
May 17 is Global Accessibility Awareness Day. The idea started with a 2011 blog post by web developer Joe Devon, in which he argued that "it's more important to make a site accessible than pretty." As librarians at the University of Southern California (USC), we began a case study in December on accessible design for library instruction. We invoke Devon's humility, as well as his call to action, because it closely follows our own path of going from knowing very little to gaining more knowledge and becoming advocates for accessibility.
In a 2015 journal article for Weave: Journal of Library User Experience, Reed College Library's Annie Downey and Joe Márquez defined service design as "a holistic, cocreative, and user-centered approach to understanding customer behavior for the creation or refining of services." They laid out a flexible, user-centered approach to understanding user and service provider experiences using qualitative tools—and then creating holistic solutions.
When LibGuides 2 was released in 2015, Texas A&M University Libraries seized the opportunity to rethink radically our LibGuides program. Instead of transferring existing content to the new platform, we chose to start from scratch with a renewed focus on the user experience within Guides. A pivotal part of this reconstruction involved training more than 60 librarians and staff members who serve as LibGuides creators.
As librarians, we are always on the lookout for opportunities to improve the user experience. When you have a great idea and time to plan, focus groups can help uncover attitudes, experiences, and opinions through group discussion.
Participatory Design (PD) is a method for engaging deeply with users in order to build inclusive, future-oriented, user-centered services. This year I piloted a PD project with a group of four Native American students at Montana State University (MSU) called User Experience with Underrepresented Populations (UXUP). With 650 enrolled Native students, comprising four percent of our student population, this is a growing and important user community for our library.