Learn how to approach your practice, programs, and partnerships through a social emotional lens and better support your colleagues and community.

Course Description
Guest speaker sessions via Zoom:
Tuesdays, March 29, April 5, and 12, from 2:00 to 4:00 pm ET (recordings available)
Workshop:
Asynchronous, facilitator-led workshop over 3 weeks
Effectively serving the needs of your community requires an understanding of how to support their social and emotional needs in addition to their information and practical needs. It also requires self-care strategies and engagement tools for yourself, colleagues, and staff. You need to put on your own oxygen mask before you can help others!
Join us for this guest speaker program and online workshop, where you'll learn from experts how to support the 'whole patron' in your practice, programs, partnerships and services.
You'll complete assignments to create your own initiative over 3+ weeks in an interactive online classroom environment with personal coaching from an expert in the field. In addition, you'll have access to bonus content—rich supporting materials you can explore at your own pace, including a series of webinars from Library Journal and School Library Journal contributors, readings, activities, and videos.
The live sessions run on Tuesday, March 29, April 5 and April 12, from 2:00-4:00 pm ET with an ongoing facilitator-led workshop over 3 weeks. All sessions will be recorded and can be viewed at your convenience. Don't miss this opportunity!

When you attend this interactive online course, you'll come away with:
Tools for supporting the emotional well-being and self-care of staff and colleagues

Methods for dealing with conflict resolution

The building blocks for incorporating Social Emotional Learning (SEL) into your practice and programs

Strategies for identifying and securing supportive community partners to help deliver needed services
Who should take this course
Any librarian or educator who wants to bring a whole person approach to their practice and institution.
Live sessions are also available on demand
Can't make a live session? All guest speaker sessions are recorded and available on demand following the initial broadcast.
Certificate of completion provided
15 professional development credits are available
For support with online courses, please contact libraryjournal@edmaker.co
Inspiring Live Guest Speakers + Project-Based Learning
Engage with presenters via live video stream, visual presentations, and chats, and workshop practical solutions and personal work in a group environment, with guidance from an advisor.
Online Course Features
Instructor-led online course features personalized interaction over 3+ weeks

Real-time guest speakers and conversation via live video stream (with recordings available afterward)

Workshop assignments to help you make progress on your goals

Individualized attention from course facilitators who work with you in a coaching environment in the workshop to help sort out challenges

Ongoing group conversation via discussion forums

Supporting resources (articles, videos, worksheets) in the online classroom to provide a foundation for your work

Access all course content for six months after the course ends

Bonus: Register early and get immediate access to archival video recordings from related courses and other bonus content

Curriculum Advisor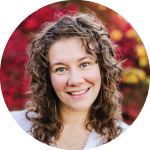 Megan Emery Schadlich
Author, Instructional Coach, and Creator of The Healing Library; former Experience Designer & Coordinator at Chattanooga Public Library
Group Rates
Discounted registration fees are available for groups of 3 or more.
To get details on group pricing, contact us.
By registering for this event you confirm that you have read and agree to our Code of Conduct.
For support with online courses, please contact libraryjournal@edmaker.co.

Week 1: Supportive Programs for Staff - Tuesday, March 29, 2022
Session 1 | 2:00-2:45 pm ET
Speaker: TBA
Intermission | 2:45-3:00 pm ET
Session 2 | 3:00-3:45 pm ET
Speaker: TBA
Week 2: Programs and Services to Support the Community - Tuesday, April 5, 2022
Session 1 | 2:00-2:45 pm ET
Speaker: TBA
Intermission | 2:45-3:00 pm ET
Session 2 | 3:00-3:45 pm ET
Speaker: TBA
Week 3: Whole-Person Partnerships with Mental Health, Social Work, and Other Organizations - Tuesday, April 12, 202
Session 1 | 2:00-2:45 pm ET
Speaker: TBA
Intermission | 2:45-3:00 pm ET
Session 2 | 3:00-3:45 pm ET
Speaker: TBA