Presented by: Ex Libris and Library Journal
Event Date: Wednesday, May 24, 2023
Academic libraries serve as a crucial resource for connecting users with the content necessary for their studies and work. While many users begin their information search on general search engines or consumer platforms, it is ultimately the library that provides them with access to trusted and authoritative scholarly material. However, user expectations are often shaped by the convenience and ease they experience with consumer platforms or newly emerging AI tools like ChatGPT.
In this session you will hear about new approaches, technologies and methods that can offer a new and improved information discovery experience, bridging between the institutions' education mission and users' expectations for convenience. You will gain insights into how artificial intelligence is impacting the education sector and libraries, explore the applications of linked data today and plans for it in the future, and learn about other innovations that can attract and satisfy user expectations in their pursuit of knowledge and resources.
Speakers:
Eyal Kirshner, VP Teaching and Learning Solutions, Ex Libris
Itai Veltzman, Director of Product Management, Ex Libris
Christine Stohn, Senior Director Product Management, Ex Libris
Sponsored by: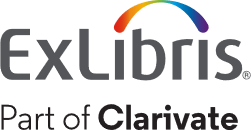 Follow us on Twitter! @LibraryJournal #LJExLibris
Need help getting registered? Send us an email describing your problem.