Learn vital skills for dealing with some of today's most pressing issues, including book banning, disinformation, patron and staff safety, and more, all from an equity and trauma-informed lens.

Course Description
Guest speaker sessions via Zoom:
Thursdays, October 20, 27, and November 3, from 2:00 to 4:00 pm ET (recordings available)
Workshop:
Asynchronous, facilitator-led workshop over 3 weeks
More than ever, librarians and teachers are expected to be on the front lines of challenging issues while serving their communities with empathy and compassion. In this course, you will learn tangible strategies for managing the toughest situations that arise in your libraries and classrooms. This hands-on, project-based course will give you the opportunity to engage in practice scenarios with peer and expert feedback to ensure you are prepared to tackle challenges with confidence. Along with learning to manage difficult situations, you will learn tips to maintain wellness and self-care, because working to increase the safety and comfort of any library or classroom must include staff, too.
You'll complete workshop assignments over 3+ weeks in an interactive online classroom environment with personal coaching from an expert in the field. In addition, you'll have access to our foundational bonus content—rich supporting materials you can explore at your own pace, including a series of webinars from Library Journal and School Library Journal contributors, readings, activities, and videos.
Our transformational online courses have given thousands of librarians the tools and vision for meaningful change. The live sessions run on Thursdays, October 20, 27, and November 3, 2022 from approximately 2:00-4:00 pm ET (recorded for on-demand viewing) with an ongoing facilitator-led workshop over 3 weeks. Don't miss this opportunity!


When you sign up early, you'll have immediate access to our Early Access On Demand Resources—a series of webinars from Library Journal and School Library Journal contributors along with rich, supporting materials in the form of readings, activities, and videos—to explore at your own pace.
Who should take this course
Any educator or librarian who needs support managing challenging or confrontational conversations, engaging in empathetic and trauma-informed conflict resolution, or advocating for critical information literacy and diverse materials amid censorship challenges.
Live sessions are also available on demand
Can't make a live session? All guest speaker sessions are recorded and available on demand following the initial broadcast.
Certificate of completion provided
15 professional development credits are available
For support with online courses, please contact libraryjournal@edmaker.co
Group Rates
Have a team attend and increase your impact!
Discounted registration fees are available for groups of 3 or more. When you register your team for our online courses, they will be placed in the same small workshop group, where discussions and project-based assignments receive feedback from an experienced librarian.
Send us a request for a quote.
If your group prefers to work separately, just let us know.
Curriculum Advisor
Martha Hickson
Martha Hickson has been a high school librarian since 2005. Her work has been featured in School Library Journal, Booklist, KnowledgeQuest, the ALA Intellectual Freedom blog, and School Librarian's Workshop. She has been a presenter at conferences and webinars, including the American Association of School Librarians (AASL), Future Ready Schools, and the Freedom to Read Foundation. She has coordinated successful defenses to six book challenges since 2019. In recognition of her work defending students' right to read, Martha has received intellectual freedom honors from AASL, NJLA, NJASL, and the National Council of Teachers of English. In 2022, the American Library Association presented Martha with the Lemony Snicket Prize for Noble Librarians Faced with Adversity.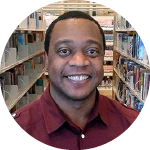 Rob Simmons
Rob Simmons started his role as Director of Social Services and Public Safety at Oak Park Public Library (IL) in March of 2016. Rob is one of the first social workers hired to integrate a social services model into a public library system in the United States. His innovative work has resulted in programs that provide resources such as: free mental health assessments and counseling, educational support for low-income students, supportive housing advocacy, and employment assistance. He earned a Bachelor's degree in Human and Organizational Development from Vanderbilt University, and a Master's degree in Social-Service Administration from The University of Chicago.
By registering for this event you confirm that you have read and agree to our Code of Conduct.
For support with online courses, please contact libraryjournal@edmaker.co.